Our Guide to Shower Enclosures
Our Guide to Shower Enclosures - Blog

Besides being an essential part of your shower, shower enclosures are a fantastic finishing touch to your bathroom design and will provide some added luxury to your space. With the number of shapes, sizes, and styles available, choosing the right one can be difficult.
Unsure where to start? Our in-depth guide will tell you all you need to know about choosing the best shower enclosure for your space!
Things to consider before buying a shower enclosure
When choosing a shower enclosure, several factors will impact your decision. This includes your bathroom design as well as your personal requirements.
Bathroom size
This is the most important thing to consider. If you're tight on space, consider a small, space-saving enclosure. A walk-in or offset shower enclosure is ideal for a bigger bathroom.
Bathroom shape
Your bathroom's shape will influence the kind of enclosure you need. Shower enclosures are usually available in three shapes: rectangle, square and quadrant. If your bathroom is irregularly shaped, a quadrant enclosure may be the best choice for you. If your bathroom is large with no awkward corners, you can opt for a large square or rectangular shower enclosure.
Glass thickness
The glass thickness will determine how robust your enclosure feels. It is an important factor to consider if you want a durable enclosure that's built to last. Shower glass needs to be able to withstand force, shocks, and movement when in use.
The standard thickness of most shower glass is 6mm as it has the ideal combination of weight and durability.
Accessibility
If you're living with restricted mobility, you need to consider the accessibility of the enclosure you're buying. Choose one that makes it easier to step in and out of the shower, with a door that's quick and easy to open.
Types of shower enclosures
Now that you know what to look for when buying a shower enclosure, here is a breakdown of our most popular models to help you make the right choice.
Quadrant shower enclosures are perfect for a small or awkwardly shaped space. They fit snugly in the corner of your bathroom or ensuite and have a streamlined, modern design.
We also stock offset enclosures for larger bathrooms. These are extended on one side, providing more room for a luxurious showering experience.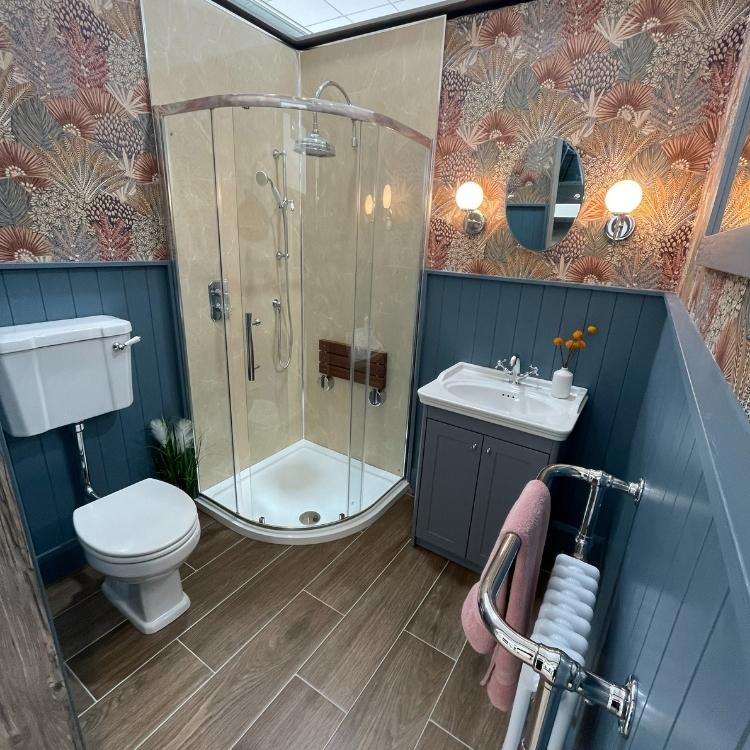 Bi-fold enclosures work by folding in on themselves instead of opening outward. This means your shower enclosure will take up less room. Bi-fold doors also allow for quick and easy access to your shower.
Ideal for smaller bathrooms and ensuites, these enclosures are becoming one of the most popular. Their shape allows them to fit easily into small nooks and corners, which is ideal for saving space. Our corner enclosures come in a variety of sizes, from 760mm to offset 1000 x 760mm for larger spaces.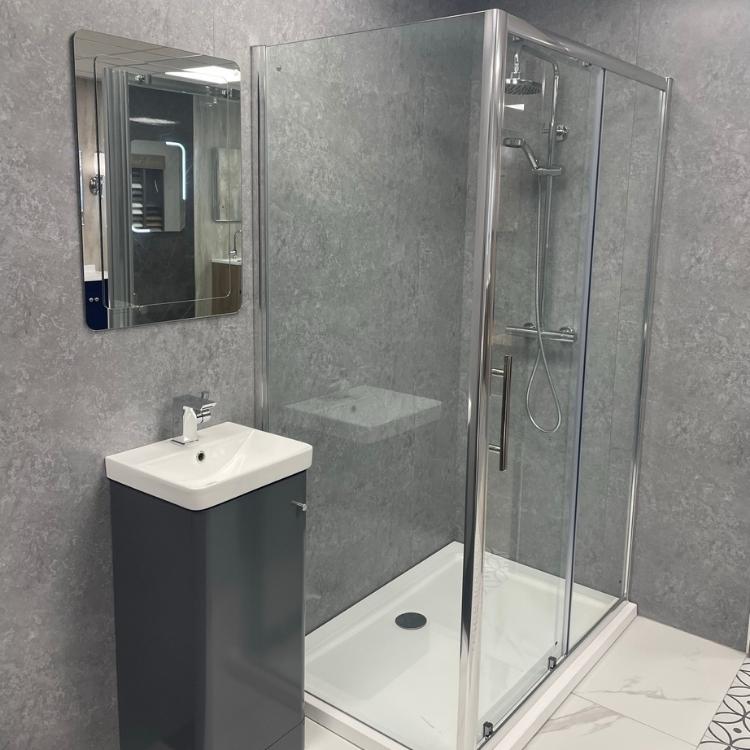 The door of this enclosure pivots on two pins at the top and bottom of the frame. It allows the door to open and close freely and provides you with plenty of space when exiting the shower. They open in either direction, which can be an excellent space-saver in smaller bathrooms. The doors even have adjustable wall profiles that allow easy installation in even the most awkward spaces.
The doors of this enclosure effortlessly slide to open and allow you to enjoy a shower that feels open and spacious. A sleek and modern addition to any bathroom, sliding shower doors are as stylish as they are practical.
These enclosures are hinged on one side, so the entire door opens outwards into your bathroom. This allows for easy access, with plenty of space to get in and out of your shower. All our hinged models come with a Lifetime Guarantee; if you have a busy household, you can be assured that your enclosure will withstand daily wear and tear.
Our hinged enclosures come in a wide range of sizes from 700mm to 1400mm, so we have something to suit bathrooms of most sizes. We particularly recommend these enclosures for large bathrooms. The door swings out into the generous space, providing the sleek functionality of a luxury spa.
A walk-in shower enclosure is perfect for creating an open plan feel. It makes your bathroom look bigger while providing plenty of space for a comfortable showering experience. These enclosures are also easier to clean as there are fewer nooks and crannies for dirt, mineral deposits, and bacteria to hide. Additionally, walk-in showers reduce trip hazards and provide greater accessibility for those with restricted mobility.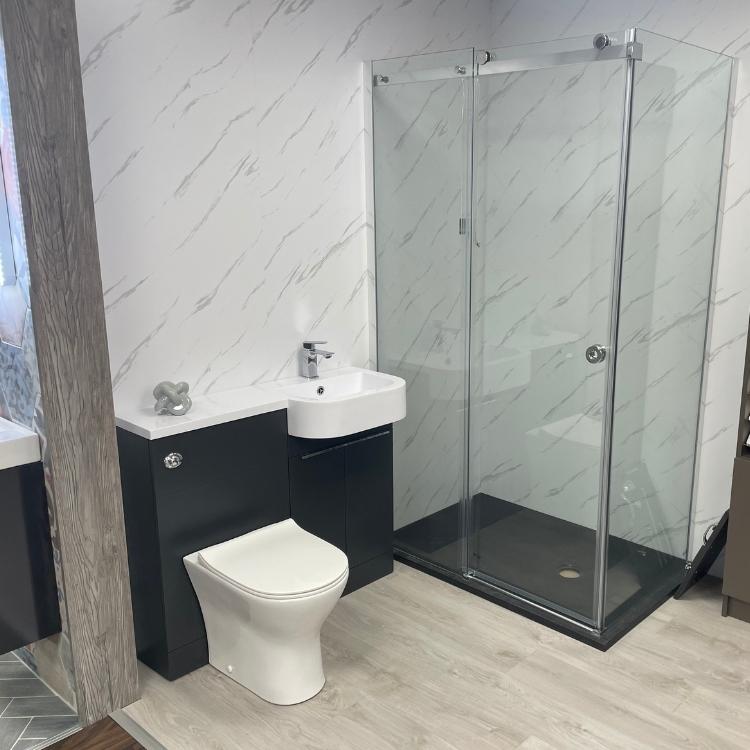 What do I need to complete my shower enclosure?
This is your enclosure's foundation, providing you with a secure and sturdy base to stand on. They also provide an easy-clean floor for your shower.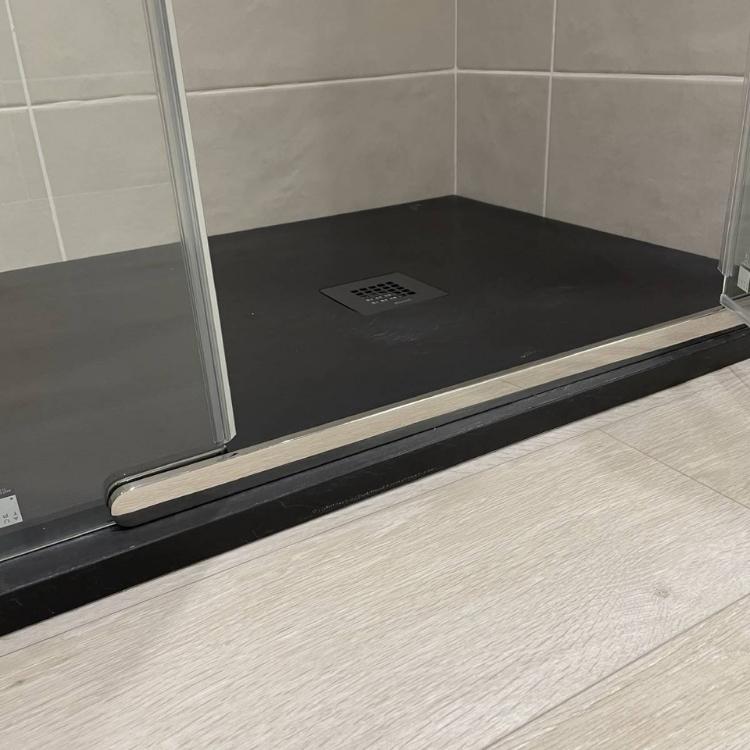 This is an essential part of a shower. It is fitted at the exit point in a shower tray to ensure your shower drains effectively. This prevents damage caused by leaking or overflowing water. It also helps prevent large objects and hair from falling down your shower drain, reducing the chance of a blockage.
Some of our shower trays already come with wastes included, so double-check the product information before buying.
If you or someone in your home is looking to make showering more comfortable, consider purchasing a shower seat. These seats are specially designed to assist independent showering. All our shower seats are easy to install, with many folding away to save space when not in use. Choose from a wide range of designs to find the perfect match for your bathroom décor.
Choosing the right style
The traditional look
Compared to baths, showers are a relatively new invention. This means that most enclosures will have a modern design. If you have a traditional bathroom, go for a chrome or white shower enclosure. These are classic bathroom colours that will work in any style of bathroom. You can complete your enclosure by adding a traditional-style shower.
Go frameless
Shower enclosures usually come with an aluminium frame which holds the glass panels and doors in place. However, for a more designer look, why not opt for a frameless enclosure? This is great for a minimalist design scheme and will help make your bathroom feel more spacious.
Contemporary black
For a stunning contemporary bathroom, go for a black shower enclosure! Bolder than chrome yet just as timeless, black will add drama and definition to your bathroom without overpowering the space. To tie the whole room together, coordinate with other black accents like a shower, taps or bathroom fittings such as a countertop basin.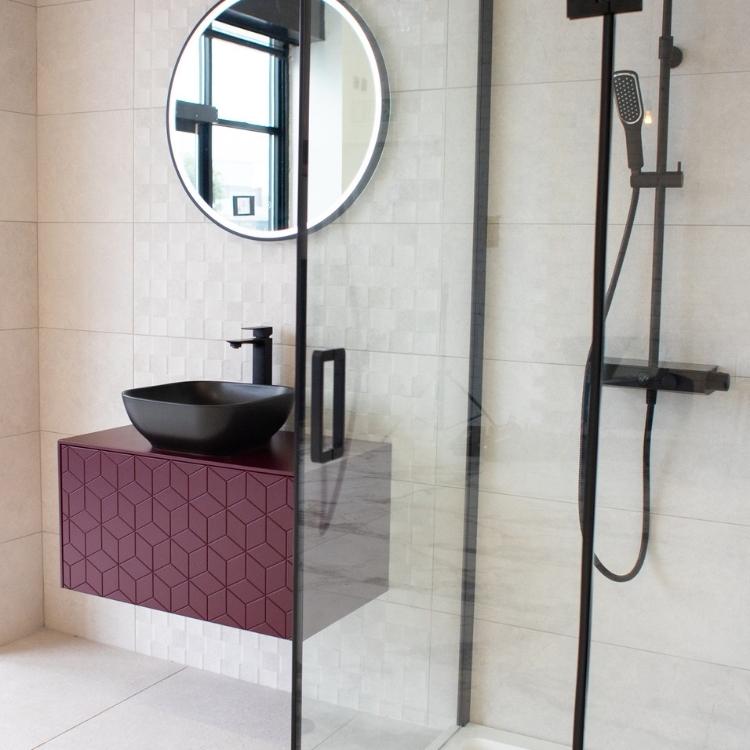 Ultra-modern style
Looking to bring your bathroom into the 21st Century? We have shower enclosures that provide the best in hi-tech bathroom luxury.
An enclosed shower cabin provides an all-in-one showering solution. They require minimum installation, so you do not need to worry about sealant, tiles, or electrical connections. They also feature a unique 'Leak-Seal' technology to prevent water from leaking onto your bathroom floor.
Some of these provide the option to sit down and relax as jets soothe your body. Other features include multi-coloured internal lighting, an FM Radio and Bluetooth connectivity, so you can play music from your devices via the built-in speakers. These many functions are operated with a remote or touch-screen control panel.
Steam Showers disperse steam around your body for a level of relaxation experienced in spas and saunas. Our steam showers offer the latest advances in modern technology. Some have whirlpool jets which provide a hydrotherapy massage. Others have multicoloured lighting and an aromatherapy function which infuses fragrances into the steam. Like our shower cabins, these have an FM radio and Bluetooth connectivity.
To find the perfect shower enclosure for your bathroom, browse the full range online or visit one of our showrooms on the island of Ireland. Whether you're shopping online or in person, our team will be happy to assist you. We also stock a wide range of showers and shower heads so you can complete your shower enclosure in style.