Filter By
Shopping Options
What do you think of our filters?
Thank you for helping us improve our filters.
Corner Basins
Free up space with a Corner Basin
Corner Basins are a fantastic solution if you have a bathroom where space is at a premium as they take up less space than other basins. They tuck away neatly into the corner of your small bathroom, cloakroom or ensuite, creating the illusion of more space and making the most of generally unused smaller areas.
Durable basins from leading brands
All our corner sinks are built to the highest standard from premium-grade ceramic, ensuring lasting quality regardless of your budget. Our range features sinks from Richmond and Heritage, two brands trusted for their high quality, reliable bathroom ware.
Choose a sink that suits your space
Whether you are looking for a modern designer style or something more simple or classic, you are sure to find a corner basin to suit your taste. We also offer 1 and 2 tap hole options; you can complete the look by pairing with one our taps. Shop our range today and find a sink that perfectly complements your bathroom. You can pop into one of our Northern Ireland showrooms, or shop online from the comfort of home. We deliver to every corner of Mainland UK & Northern Ireland. So no matter where you live, we'll deliver right to your front door…let that sink in.
Filter By
Shopping Options
1 - 3 Products of 3
Compare
0
| | | | | |
| --- | --- | --- | --- | --- |
| Price | £99.99 | £1234.56 | | |
| Color | Orange | Red | | |
| Size | 200mm | 500mm | | |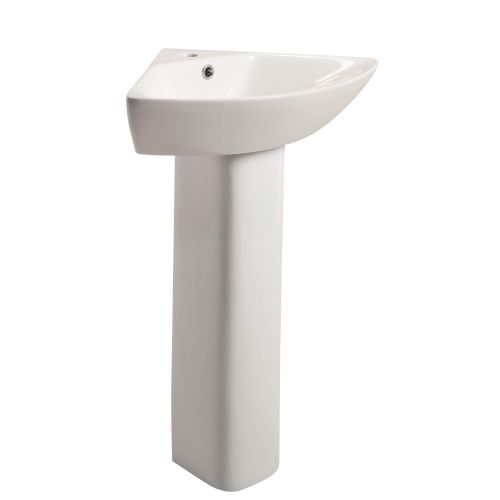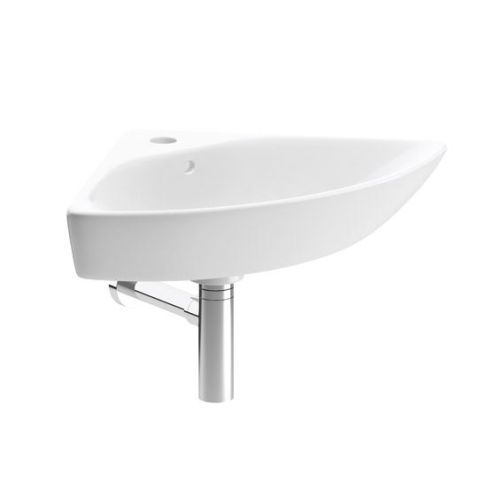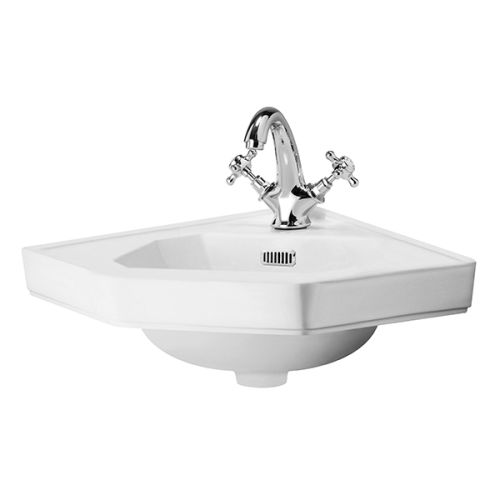 1 - 3 Products of 3
Compare
0
| | | | | |
| --- | --- | --- | --- | --- |
| Price | £99.99 | £1234.56 | | |
| Color | Orange | Red | | |
| Size | 200mm | 500mm | | |
FAQ's
What is a corner basin?

Self-explanatory in its title, a corner basin is designed to fit into the corner of your bathroom so its projects diagonally out.

What type of bathroom are corner basins designed for?

Corner basins are generally designed with cloakroom bathrooms in mind, as this is typically the smallest type of bathroom and thus requires space optimising effects that a corner basin promises.

Are corner basins suitable for small bathrooms in general?

Yes, although a popular feature across cloakroom bathrooms, corner basins boast the space-optimising qualities that make them an ideal choice for any bathroom that is lacking in space.

Does a corner basin offer anything in terms of aesthetics?

The overall sleek and compact design of corner basins creates a much sought after clean, contemporary look. Although saving space is at the core of a corner basin's design, it still features a unique, contemporary style that would see it adding a sleek look to your space. Pair it with other corner fixtures, like a corner toilet, for a cohesively stylish space.

What tap should I choose for my corner basin?

Although small in overall size, taps hold the potential for a large amount of impact in their ability to tie together, or even elevate a space. Choosing the right tap is thus essential when completing your bathroom. Check the number of tap holes (one or two) to determine what type of tap you can choose, then select a style of tap that will coordinate with your overall look for a seamlessly stylish space.