Filter By
Shopping Options
What do you think of our filters?
Thank you for helping us improve our filters.
Whirlpool Bath Suites
Filter By
Shopping Options
1 - 2 Products of 2
Compare
0
| | | | | |
| --- | --- | --- | --- | --- |
| Price | £99.99 | £1234.56 | | |
| Color | Orange | Red | | |
| Size | 200mm | 500mm | | |
Free Delivery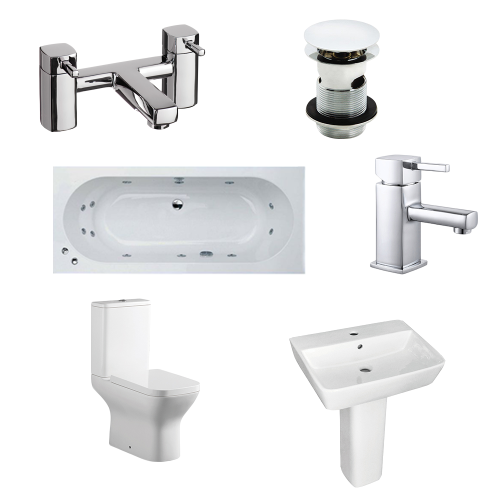 Free Delivery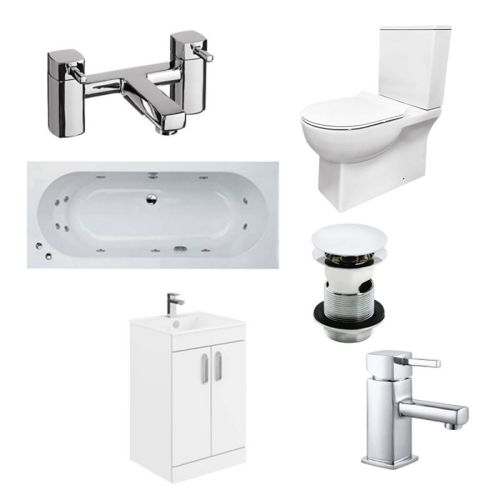 1 - 2 Products of 2
Compare
0
| | | | | |
| --- | --- | --- | --- | --- |
| Price | £99.99 | £1234.56 | | |
| Color | Orange | Red | | |
| Size | 200mm | 500mm | | |
FAQ's
Why choose from our whirlpool bathroom suites?

Whirlpool baths are known for their luxurious and relaxing effects, but choosing all the components that would go into a bathroom with a grand whirlpool bath can be a time-consuming and somewhat daunting task. So let us do some of the legwork by putting together your whirlpool bathroom suite. Additionally, you won't just be saving on time –these bundle deals feature excellent value for money and make bringing some luxury to your home incredibly affordable

What do I need to know about whirlpool bath suites?

These bundle deals are based around a stunning whirlpool bath. Made to order, this bath creates a level of luxury that only spas can rival. Just like all products at Bath Shack, the items of each bundle encompass style, practicality and quality so you don't have to make compromises of any form. Choose from one of our beautiful whirlpool bathroom suites and take the spa home with you.

How have these bundle deals been created?

These suites have not been put together flippantly; our expert item has carefully chosen each item so that it will beautifully complement every other item to result in a stylishly cohesive look. 

What style of bathroom would a whirlpool bath suite create?

These bundle deals feature a glossy white colour scheme and polished chrome tap to create a bright, modern look. What's more, the plethora of features within the whirlpool bath makes it a very suitable addition to the contemporary, tech-conscious home.

Is a whirlpool bath a good home spa?

The abundance of advanced features has been tailored to specifically allow for complete relaxation. Equipped with 2 air flow controls, 6 directional whirlpool jets and 6 back and foot jets, bath time will be taken to new levels of luxury and relaxation. The perfect way to wind down after a stressful day, or to relax and restore muscles after the gym.