Terms and Conditions
PLEASE READ THE FOLLOWING TERMS AND CONDITIONS OF USE CAREFULLY BEFORE USING THIS WEBSITE.
These terms and conditions are in place for your protection. Here we detail our commitment to you and provide a few simple guidelines to make your purchase as smooth as possible. Your order constitutes an offer to us to buy a Product or Products and is a binding contract. By purchasing goods from Bathshack.com you are agreeing to be bound by these terms. If you do not agree to these terms and conditions, please do not use this site.
NOTE: Before making a purchase, it's important that you don't schedule any installation work until your items arrive and have been checked thoroughly by you. We cannot be held responsible for any financial loss for plumbers' costs or for any damage caused to your items by your chosen trades person. We ask customers to make us aware of any damaged goods they have received within 48hrs of receiving product. You may contact us by email to info@bathshack.com, along with images clearly showing the damage.​
Order Acceptance and Processing
After placing an order, we will process your credit or debit card, or obtain funds from your PayPal Account, for payment. As soon as we have received authorisation for the payment from your card provider or PayPal we will begin to process your order through our system and we will send you an email acknowledging receipt of your order. This email constitutes acceptance by us and at this point a contract is formed. It is our policy to charge your card for payment upon taking an order even if the goods are not immediately available for shipment. Changes to an order once processed may incur an additional fee.
2. Description of goods
All images, product descriptions and specifications are for the purpose of giving an approximate description of the products. We always try to insure that this information is regularly updated. However, we advise that you seek technical advice from a qualified source prior to ordering and before any work is carried out.
We will do our utmost to ensure that colours of products represented in photos match as closely as possible to the physical product. However, some colours may vary slightly, this may be due to the way your monitor displays colour or the lighting of the image during the photography process.
3. Made to order products
Under the Consumer Contracts (Information, Cancellation and Additional Charges) Regulations 2013 (the CCRs), the right to cancel does not apply to "the supply of goods that are made to the consumer's specifications or are clearly personalised" Delivery times may be slightly longer on made to order products. ​
4. Pricing Errors
We reserve the right to make adjustments to the price of goods at any time. This can take into account any increase in our supplier's process or in any tax increases. Price changes will not affect any items that have already been purchased and paid for in full. ​
In the event that something has been mispriced on the website or in store Bathshack will inform you of the correct price and allow you decide whether or not you would like to buy the item at the correct price.
*The use of Promotional codes: Please note only one promo code can be used on valid orders. You cannot use two promo codes in conjunction with each other.
5. Delivery of Goods
Delivery may be affected in one or more instalments. Changes to the delivery address made by the purchaser after the goods have been handed to the delivery company will incur an additional charge of £20.00.
We aim to deliver stocked products within 2 – 5 working days. However, some items may take longer. Please be aware that the delivery dates given are always estimates and are not exact information.
Any items with express delivery and fast dispatch are usually shipped within 24hrs. However please note, if your order consists of items with express delivery and items with longer lead times your order will take longer to dispatch. We can only ship your order once all the items in your order are ready for dispatch.If you require items sooner please contact a member of the sales team as we may have alternative options we can offer you to help speed up your order.
Goods are subject to availability and delay in delivery of goods is sometimes out of our control.
We advise against booking any installers, or engaging in preparatory work until you are in full receipt of your goods and you have made an inspection of all items.
If you or whomever you have appointed to receive delivery are not available to receive the delivery on the assigned day and the courier has attempted to make delivery you are now liable for the additional re-delivery charge and goods will not be re-delivered until this fee has been paid.
If a pallet or parcel is visually damaged please detail all of this on the Proof of Delivery, we strongly suggest that you take photographs. If necessary you can reject the delivery but you MUST then contact Bathshack on the same day to report this.
Please use caution when un-wrapping the pallet(s) as items may have become unsteady during transit. It is advisable that 2 persons un-wrap the delivery.
We ask that you check your items upon delivery to the best of your ability before signing and accepting so that any issues with the delivery can be noted on your paperwork and resolved asap. We understand that not all orders can be checked straight away, in this instance we ask for the order to be checked within 48 hours and if any issues come to light that we are notified as soon as possible. ​
The delivery drivers are not insured to assist with the unpacking of deliveries. The delivery drivers are not insured to take their vehicles on roads other than public highways. If you live in a remote location and your home is not on a public road, e.g. if you live at the end of a farm track, then the driver will deliver the goods to the end of the public road only. You accept this when placing your order and if you refuse the delivery because of the driver being unable to drop at your door then you will be charged the actual delivery costs and collection fees. (This will apply to large or very large item orders arriving on pallets like bathroom suites or shower enclosures. Smaller parcels can be usually delivered on foot by the driver.)
All Pallet Deliveries will be kerbside delivery which means that items will be delivered to the nearest kerbside at the shipping address specified. Our kerbside pallet service offers delivery to the kerbside only, couriers will NOT be able to move pallets or goods inside the property.
Delivery dates are approximate and can sometimes be changed due to unforeseen circumstances or delays with suppliers getting items to us. For this reason, we strongly advise that no plumbers are arranged until the items have arrived with you and been fully checked to be suitable. ​
DO NOT arrange for a plumber to install the items until after they have been delivered and checked for discrepancies and to make sure they are undamaged.
In the unlikely event that an item has been damaged in transit please contact Bathshack within 48 Hours of receiving your delivery to ensure that you are provided with the replacement as soon as possible.
Once you have taken receipt of your delivery you or whomever you have assigned must thoroughly check the contents of your order to ensure that you have received all the items you have purchased.
In the unlikely event that an item is missing from your order we ask that you inform us within 48 hours of receiving your order. Once we have been notified this will be investigated and resolved within 48 hours' ​
All Claims for Missing items or Damages must be sent via email within the times allocated to info@bathshack.com, along with images clearly showing the damage.
If you have any questions regarding your delivery please contact us.
Faulty Goods
All products supplied by Bathshack come with a 12-month retailer's guarantee. Any guarantee periods longer than this quoted on the website for particular products are provided by the manufacturer. Once you contact us to make us aware of the fault we will liaise with the manufacturers and do all we can to get your issue resolved. Some suppliers ask that the customer go directly through them and not through us, if this is the case will advise you of all the information you will need to do so. For the avoidance of doubt if the manufacturer becomes insolvent you accept that the additional guarantee is lost. In many cases the manufacturers provide an after sales team of engineers who will come out and fix any problems that you may have with their products.
In the event that you are not satisfied with the service they provide then please contact us and we will endeavour to resolve any problems for you. Please contact info@bathshack.com to discuss any problems.
If the product has been installed and used for an extended period of time and no fault is found, you will not be refunded and the product will be returned to you. If your item has been installed and a fault is reported to the manufacturer they may require a service agent to make contact and check the product onsite - if the product has not been installed to manufacturer's instructions or has been damaged by misuse this will not be covered by the manufacturer's warranty and you will be charged for the call out fee and any additional charge deemed by the manufacturer, this in no way affects your contract with Bathshack.
Please note: Clearance items are not eligible for return. Contact a member of the sales team if you need more information before purchasing.
Returns Policy
At Bathshack we want to make your shopping experience to be as enjoyable as possible. In the unlikely event that you wish to return your order please follow the returns process below.
When receiving goods it is the recipients' responsibility, or whomever they have appointed, to thoroughly check goods for any damage. If an item or the packaging has been tampered with during transit please note this on the delivery docket, take some photos and contact Bathshack via e-mail to info@bathshack.com within 48 hours.
Please follow the returns process as detailed below.
Returns Policy
- Only goods in original packaging in a resalable condition will be considered for returns
- You are responsible for the cost of return via your chosen courier/carrier
- Made to order items cannot be returned
- We do not accept returns on any consumables (adhesives, grouts, silicones etc.)
- Returns to Bathshack Showrooms will be rejected, returns must always be returned to our warehouse in Antrim
Returns Process
How to return your order:
1) Request your return authorisation through our online returns form at the bottom of this page or call into customer service and they will assist with the process
2) Once your request has been processed you will be contacted by Bathshack Customer support to advise approval or rejection of your return.
3) An approved return will be issued with an RAN note (Returns Approval Number) this will be provided to you in a printable format to be attached to your item for return. (Any Item(s) returned without an RAN will be rejected. Please affix this label to your item with CLEAR TAPE ONLY.
4) All items must in original unopened packaging and fit for resale, any items returned which are non-compliant will be rejected. It is your responsibility to return items in good condition and to ensure they are suitably packaged to avoid damage in transit. Bathshack DO NOT offer a free of charge collection service.
5) Items can only be returned to the address provided on the RAN note, please do not attempt to return items to showrooms as they will be rejected.
6) Hand over the goods to your chosen courier/carrier for return to Bath Shack. It is recommended that you use a tracked delivery service with a reputable courier/carrier. Please also advise Bathshack that the items are on their way by emailing to returns@bathshack.com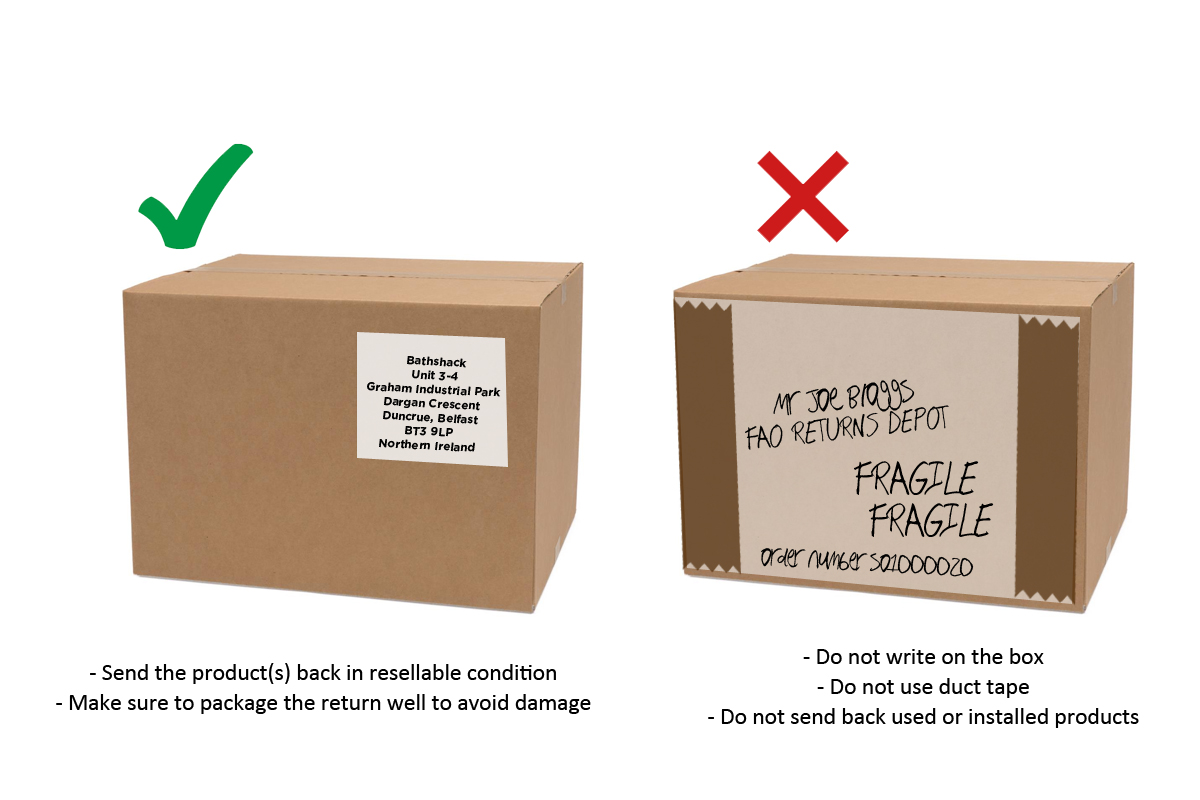 Please note
7) Once we are in receipt of your return, it will be inspected by our returns department and if accepted this will trigger the refund process. Please note this process may take 7-10 days from date of receipt of your item. Please contact returns@bathshack.com for more information.
Order Cancellation
We understand that occasionally an issue may occur with your chosen items, and you might wish to cancel your order. If this is the case, please contact us as soon as possible to let us know you wish to cancel your order. In the case that the order has already been processed and shipped it will be the recipients' responsibility to return the order. In this case the customer is liable to pay return postage/carriage and must ensure the items returned are in full resalable condition with no marks or damage. We recommend that you use a tracked delivery service with a reputable courier/carrier.
8.Disclaimers and Limitations
Bathshack are retailers and not technical experts in the field of heating, plumbing or installations of goods.
All staff are instructed not to give any form of technical advice. If you have a technical query, it should be directed to a suitably qualified professional I.E a Corgi registered gas installer or a member of the institute of plumbing. You agree that any advice given by a member of Bathshack will not be relied upon without verification from a suitably qualified professional.
External Sites
This site may contain links to other sites on the Internet that are owned and operated by third party vendors and other third parties (the "external sites"). WWW.BATHSHACK (IRELAND).CO.UK LTD. Is not responsible for the availability of, or the content located on or through, any external site, nor for any transactions between you and such sites including as to cookies, personal data, confidential information, or purchases of goods or services. You should contact the site administrator or webmaster for those external sites if you have any concerns regarding such links, content or transactions.
(v4) updated May 2022