30 Days Returns
At bathshack we want to make your shopping experience as enjoyable as possible. In the unlikely event that you wish to return your order please follow the returns process below.
When a product has been used and is thought to be faulty you must contact Bath Shack, in line with our Returns Policy - Faulty Goods. Once an item has been returned to our depot we will check the product to confirm if/ where the fault lies and agree a solution
Returns Policy
- Only goods in original packaging in a resalable condition will be considered for returns
- You are responsible for the cost of return via your chosen courier/carrier
- Special order items or items made to the customers specifications cannot be returned
- We do not accept returns on any consumables (adhesives, grouts, silicones etc)
- Returns will only be accepted within 30 Days of Delivery
- Return requests will only be processed through our online returns form
- Returns to Bath Shack Showrooms will be rejected
Returns Process
How to return your order:
1) Request your return through our online returns form at the bottom of this page (This is the only way to request a return)
2) Once your return has been processed you will be contacted by the customer service team to advise approval or rejection of your returns request. Your order must be returned in original condition, or your returns request will be rejected.
3) An approved returns will be issued with an RAN note (Returns Approval Number) and this will be provided to you in a printable format to be attached to your item for return. (Any Item(s) returned without an RAN will be rejected) Please affix this label to your item with CLEAR TAPE ONLY.
4) All items must be in original unopened packaging and fit for resale, any items returned which are non-compliant will be rejected. It is your responsibility to return items in good condition and to ensure they are suitably packaged to avoid damage in transit. Bathshack DO NOT offer a collection service.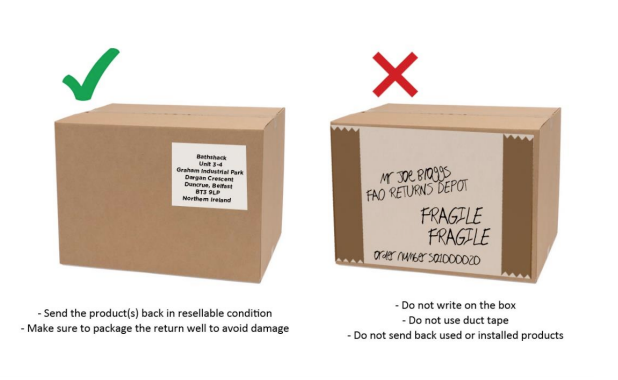 Please note
5) Items can only be returned to the address provided on the RAN note, please do not attempt to return items to showrooms as they will be rejected.
6) Hand over the goods to your chosen courier/carrier for return to Bath Shack. It is recommended that you
use a tracked delivery service with a reputable courier/carrier. Please also advise Bath Shack that the items
are on their way by emailing to returns@bathshack.com
7) Once we are in receipt of your return, it will be inspected by our returns department and if accepted will trigger the refund process. Please note this process will take 7-10 days from date of receipt of your item.
Visit our T's & C's for more information or contact us info@bathshack.com.