Delivery Information
Free Delivery On Orders Over £500
Service

Small Deliveries

Large Deliveries

UK Mainland - Standard Delivery

2-3 days from shipping

£10.99

£29.99

Northern Ireland - Standard Delivery

Next working day from shipping

£10.99

£29.99

Republic of Ireland - Standard Delivery

1-2 days from dispatched

£10.99

£39.99
Dispatch and Delivery Times
We aim to dispatch your order within 5 working days. From time to time products may be out of stock and it may be impossible to do so. If this is the case we will inform you by email and give you the option to wait on the arrival of new stock, or we will offer you an alternative item. If you require a certain item to be dispatched sooner, please contact us and we will do our utmost to assist you.
Any items with express delivery and fast dispatch are usually shipped within 24hrs. However please note, if your order consists of items with express delivery and items with longer lead times your whole order will take longer to dispatch. We can only ship your order once all the items in your order are ready for dispatch.
If you require items sooner please contact a member of the sales team as we may have alternative options we can offer you to help speed up your order.
Once your order has left our warehouse you will receive an e-mail to tell you that your order has been dispatched and give you an estimated delivery time. You can log into your account at bathshack.com at any time to track the status of your order.
Upon dispatch, orders should be received the next working day for Northern Ireland, 1-2 working days for Republic of Ireland and 2-3 working days for UK Mainland deliveries. Please allow more time for remote rural areas for example the Scottish Highlands.
It is important that we have a contact number for the delivery recipient. as in most cases our couriers will contact the recipient before delivery to agree an acceptable delivery time and or to obtain directions.
Upon delivery of products a recipient should be present in order to sign for goods and to also check products to ensure that they have not been damaged during transit and that the correct goods were dispatched.
Please note: All Pallet Deliveries will be kerbside delivery which means that items will be delivered to the nearest kerbside at the shipping address specified. Our kerbside pallet service offers delivery to the kerbside only, couriers will NOT be able to move pallets or goods inside the property.
2. Delivery Charges
Delivery charges can be easily calculated by adding the required items to your shopping cart and entering your address on the checkout page.
Please be sure to enter Country, County and Postcode or Eircode. If you do not have a Postcode or Eircode where you live, perhaps the address is a new build, you may enter "0000", to obtain an estimated charge which may be subject to final confirmation.
3. Cancellation of an Order
Once an order has been dispatched it cannot be cancelled. You may however, after delivery, return the unopened, unused item. This is at your own expense and must be in line with our 30 Day Returns Policy.
Once your return has been approved by our team the price of the product will be refunded. You are responsible for the product until it reaches our depot so it is advised that you use a tracked delivery service.
Please note: Made to order products are manufactured to the customers specifications and CANNOT be cancelled, returned or exchanged once ordered, unless the item arrives damaged. Delivery times may be slightly longer on made to order products.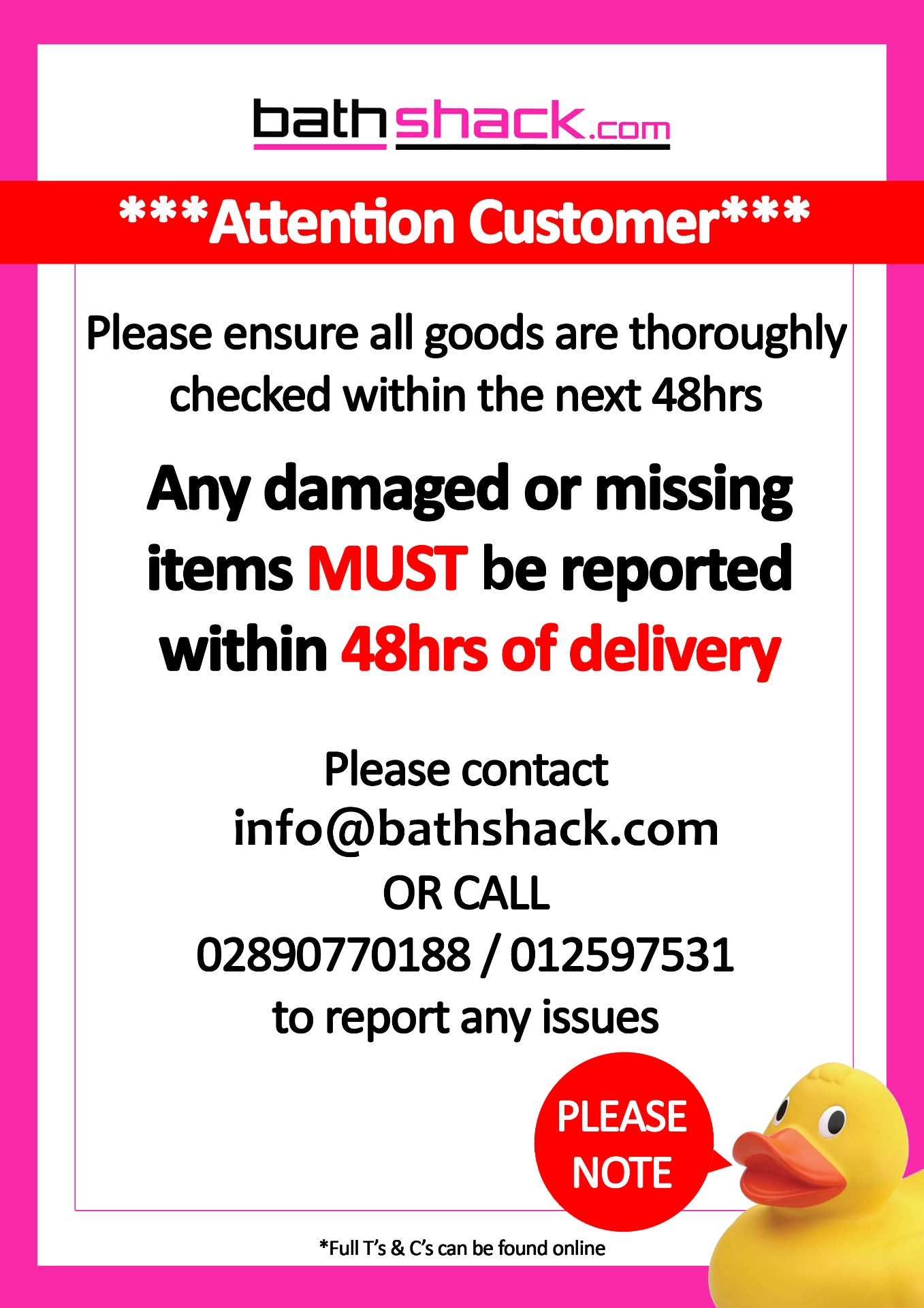 Directions for Receiving Your Order
If a pallet or parcel is visually damaged please detail all of this on the Proof of Delivery, we strongly suggest that you take photographs. If necessary you can reject the delivery but you MUST then contact Bathshack on the same day to report the situation.
We advise that 2 people un-wrap the pallet.
Please use caution when unwrapping the pallet, as items may have become unsteady during transit.
All outer wrapping must be removed & all content must be checked prior to signing & accepting delivery, If the courier will not wait for the goods to be checked DO NOT sign for your delivery as "Unchecked" you must indicate on the Proof of Delivery "No time given to fully unwrap and check".
In the unlikely event of damages please contact Bathshack within 48hr of delivery.
Bathshack will not accept responsibility if the Proof of Delivery is signed without stating damaged items.
Claims for damages will not be accepted after this period.
Visit our T's & C's for more information or contact us info@bathshack.com.