Filter By
Shopping Options
What do you think of our filters?
Thank you for helping us improve our filters.
Shower Towers
Choosing a shower used to be a simple process but with so many styles currently on the market why should you select a shower panel?
Panel showers are suitable for all bathrooms, as they won't impose on your bathroom space. Instead, they can be teamed with your existing appliances by finding a model to suit any kind of design. Our contemporary shower towers come with different water outputs meaning that you will have everything you will need for a unique showering experience right at your fingertips.
Here at Bathshack, we supply a range of high-quality shower panels that have either thermostatic or manual functionality. Our thermostatic shower panels are great for seniors and children. Not only that, our shower tower panels will allow you to control the temperature of the water so that you will never have to step foot in a freezing or scalding shower again.
1 - 3 Products of 3
Compare
0
| | | | | |
| --- | --- | --- | --- | --- |
| Price | £99.99 | £1234.56 | | |
| Color | Orange | Red | | |
| Size | 200mm | 500mm | | |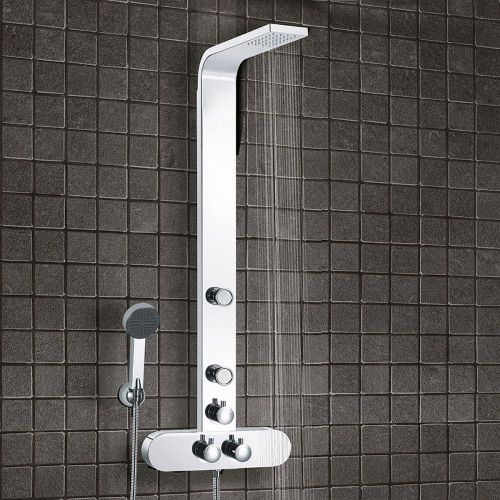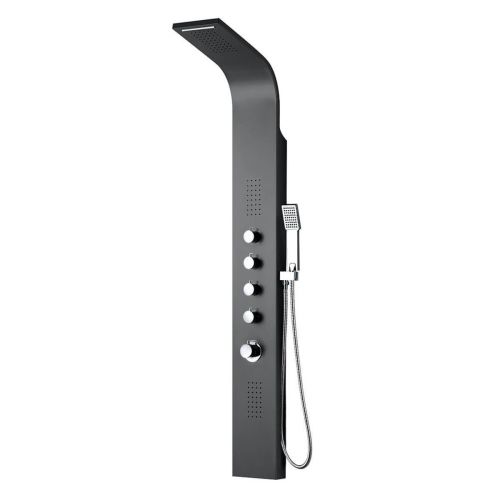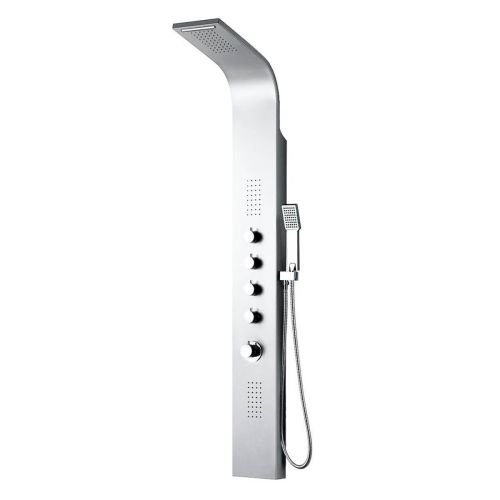 1 - 3 Products of 3
Compare
0
| | | | | |
| --- | --- | --- | --- | --- |
| Price | £99.99 | £1234.56 | | |
| Color | Orange | Red | | |
| Size | 200mm | 500mm | | |
FAQ's
What is a shower tower?

A shower tower incorporates the shower head, hand shower, body jets and controls into the one tall column for a beautifully sleek effect. Pipework and fixtures are neatly hidden away in order to ensure a neat and stylishly minimalistic finish.

What is thermostatic control?

In order to ensure the safety and comfort of our customers, our range of shower towers are equipped with thermostatic control. . Although regular showers of course allow you to control water temperature, they don't allow for the level of control of that thermostatic showers offer. There is a reduced risk of scalding with thermostatic showers, which means it offers peace of mind for households with more vulnerable individuals, such as children and elderly relatives.

What's great about a shower with a rainfall head?

Our shower towers are equipped with the added luxury of a rainfall head shower, which luxurious experience that traditional showers with a steady stream of water can't quite deliver. The rainfall shower head creates a supply of water which will completely engulf whoever is using it, making for a full-body, revitalising experience. 

What is the purpose of the handheld shower head?

Our shower towers feature a handheld shower head, which can be detached from its stand and moved around to allow for the level of flexibility needed a full clean. It also a great tool for cleaning/ rinsing down the shower after you've used it.

What does a shower tower add in terms of style?

Along with its plethora of features that will transform your showering experience into a spa-like experience, a shower tower provides benefits even when not in use. Minimalistic in its tidy compactness but striking in its overall sleekness, this product will elevate your bathroom to new levels of style with its modern aesthetics.