Why Are Most of Our Baths Acrylic?
Why Are Most of Our Baths Acrylic? - Blog

Acrylic tubs are made from vacuum-formed sheets of acrylic, a transparent plastic material with outstanding strength, stiffness, and optical clarity. However, some of us may have reservations about purchasing a 'plastic' bath; is this not a cheap, low-quality material? Do these baths last, or are they prone to scratching? However, acrylic is by no means a cheap material. In fact, most modern baths are now manufactured from acrylic, and for very good reason. Here, we will discuss the benefits of acrylic baths, how they compare other bath materials such as cast iron and steel, and the correct way to clean and maintain them.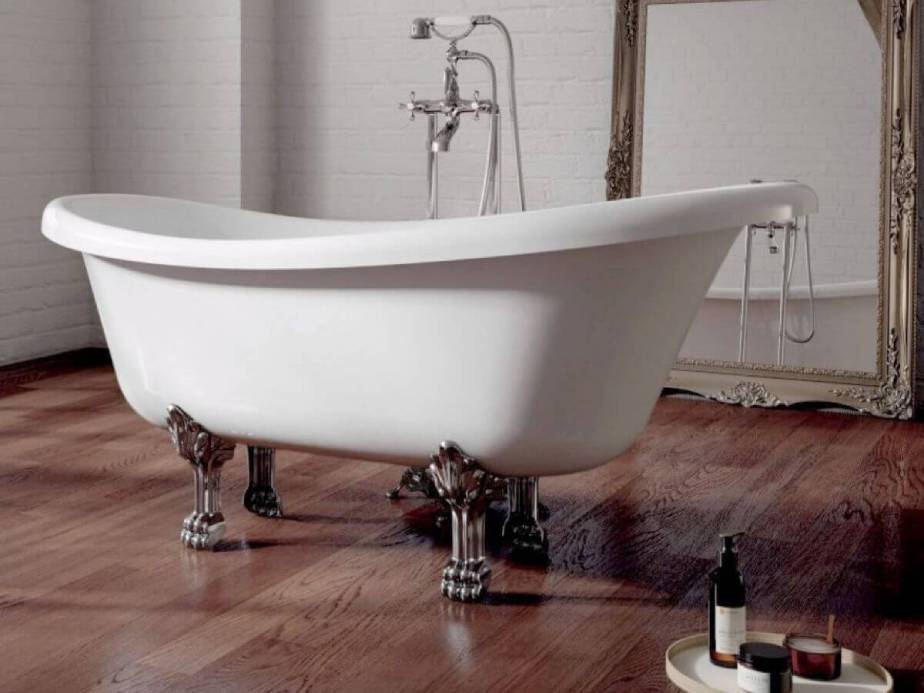 The Benefits of Acrylic
Besides being very affordable, acrylic baths have many advantages. So if you choose to buy acrylic, you won't look back.
- Acrylic is a highly durable material, which results in a very hardwearing, low maintenance tub. This makes acrylic baths resistant to cracks, scratches and dents, and are easily repairable. So if you have a busy family home, or you wash your dog in the bath, you can be assured that an acrylic bath is ready for whatever you have to throw at it and will last you for years to come. Most of our range even come with a Guarantee of up to 20 years for added peace of mind
- As acrylic is a smooth, non-porous surface, it is very easy to keep clean; all you need to do is wipe it with a non-abrasive detergent and microfibre cloth or sponge (see below). The nature of acrylic's surface also makes bath time more enjoyable, as it is comfortable to lie in and is excellent at retaining heat. Therefore, you can enjoy a relaxing soak for longer without getting uncomfortable or having to add extra hot water.
- Acrylic makes for a very versatile bathtub. It's lightweight, so it can be installed on any level of the home. And since the material is inherently soft and malleable, it's available in virtually every shape, size, and configuration, as well as with every system available. Choose between a straight or modern bath, a vintage clawfoot or freestanding tub to make a striking statement. You can also choose a luxury Whirpool bath for an invigorating or soothing experience.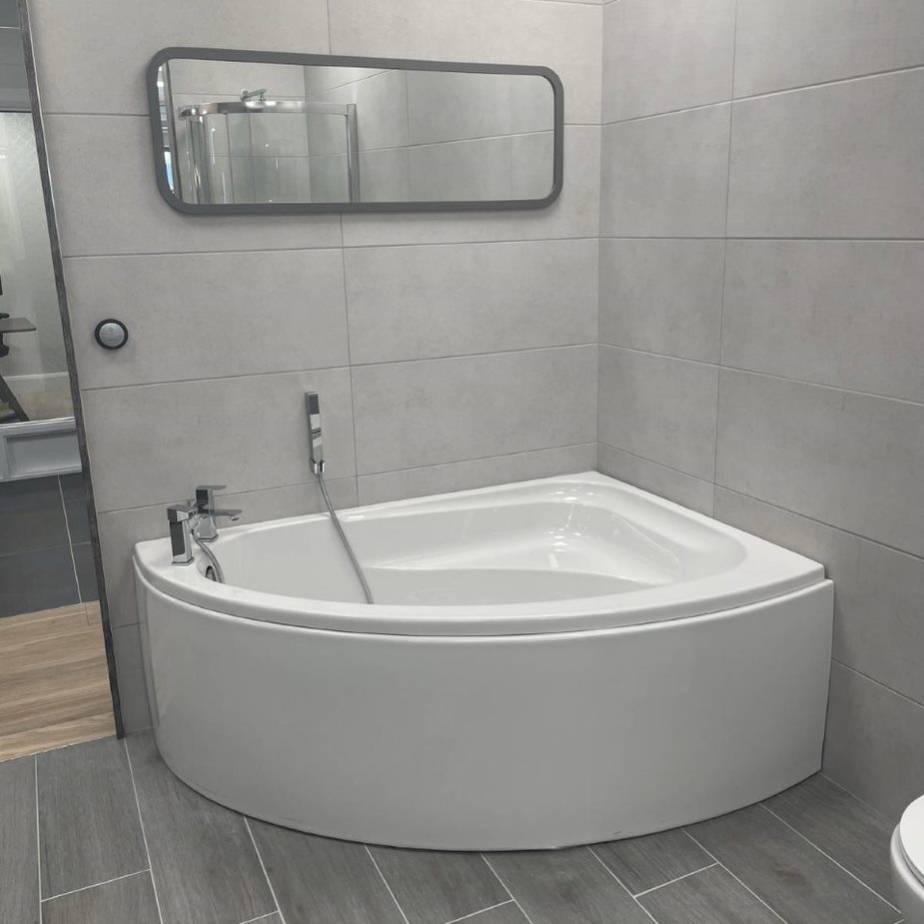 Acrylic vs Cast Iron
Cast iron bathtubs are very strong, durable and can last for generations with proper maintenance. They are also visually stunning, creating an ideal centrepiece in a vintage bathroom. However, acrylic baths have some added advantages that might make it a better option for you, depending on your needs
- Cast iron baths are much heavier than acrylic bathtubs which makes them more difficult to install (you will need several people to install one of these tubs). Because it is so heavy, the floor underneath a cast iron tub may also have to be reinforced. Acrylic bathtubs are easier to install than cast-iron tubs because they are not nearly as heavy.
- Cast iron is known for its ability to keep a hot bath warmer for longer as they are much slower to cool down that other bath types. However, this means that they take longer to heat up than acrylic, which is naturally warmer to the touch. If you lead a busy lifestyle and need a hot back quickly, an acrylic bath may be a better option for you.
- Cast iron baths are also more expensive. So if you are on a budget, you may want to opt for acrylic. Despite its cheaper price tag, acrylic does not compromise on style, quality or durability. You can therefore enjoy the benefits of a premium-grade bath for less.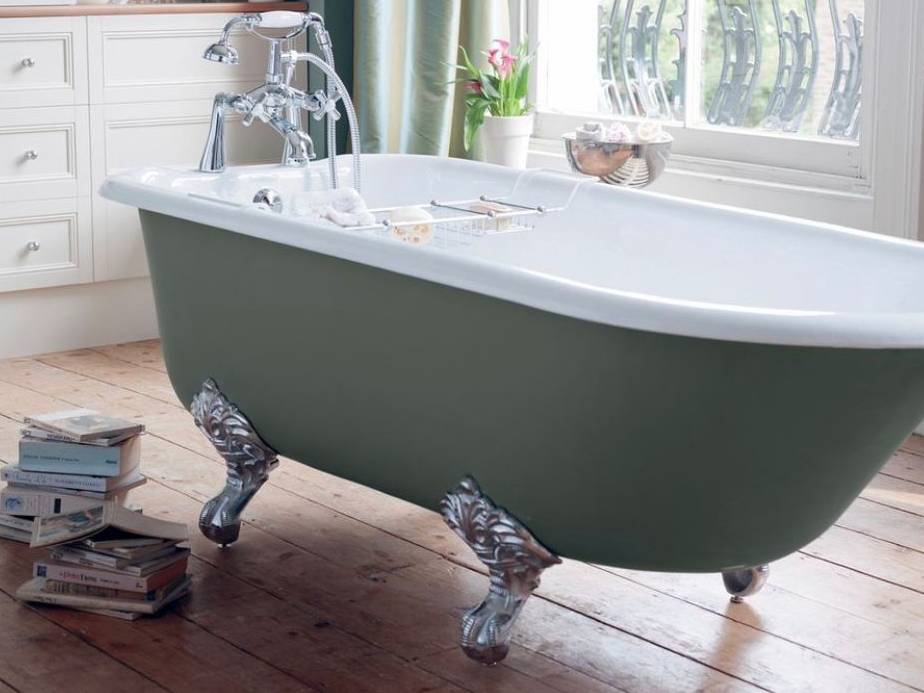 Acrylic vs Steel
Streel baths look beautiful and feel sturdy to the touch. Since it is pressed into shape, steel can be formed to create striking designs. But like cast iron, acrylic has some similar advantages over steel that you might want to consider.
- Similar to cast iron, acrylic baths usually cost less produce than steel baths, which is great for those on a budget.
- One common misconception is that steel baths are much stronger than acrylic. While steel is very robust, an acrylic bath is just as tough. This is what makes acrylic baths great for families and everyday use, while steel baths are more suited to designer bathrooms and careful owners.
- Acrylic baths are better for bathing in the cold winter months. Unlike steel baths, acrylic is warm to the touch, making it a much better option for homes in our country!
How Do I Clean an Acrylic Bath?
While acrylic tubs are very easy to maintain, there are cleaning processes you can do that will extend your tubs lifespan, and others that will greatly reduce it.
- You do not need to buy a special bathtub cleaner to maintain your tub. Just use mild, nonabrasive cleaning agents and materials. For example, you can fill the tub with warm water and a few squirts of dish soap, leave it for a few minutes, then wipe with a soft cloth or sponge. Make sure you do not use the rough side of a sponge or any other rough cleaning apparatus, as this can scratch the tub.
- The good news is that baking soda will it not scratch your acrylic tub. In fact, it's great for scrubbing off stubborn stains. When the interior of your bath is wet, sprinkle it with baking soda then spray it with water. Let it sit for a few minutes, then gently scrub with a nonabrasive cloth or the soft side of a sponge.
- To keep your tub shiny, you can apply car wax a few times a year for a sparkling showroom look. This also makes the bath easier to clean and even more water-resistant.
- Avoid using any solvents on your tub to prevent damage. For example, acetone and acetone-based cleaners should not be used on an acrylic bath. If an accidental spill occurs, rinse it out immediately.

Repairing an Acrylic Tub
In the unlikely event of any damage, acrylic baths are easy and inexpensive to repair. Mild surface scratches can be buffed away using toothpaste and a damp cloth. To get rid of deeper scratches, thoroughly clean the bath, then use a sheet of fine-grit sandpaper to sand them out. Finish by buffing the surrounding area with car wax and the damage will disappear!
Can I paint my Acrylic Bath?
A great advantage of acrylic is that it's available in lots of different fade-proof colours to complement any colour scheme. For example, we even have Copper, Silver Leaf and Black options available. But if you decide to change your bath's colour, you can paint it with a two-part epoxy paint. Make sure you protect all surrounding tiles and materials before you begin, or you may risk damaging the rest of the bathroom.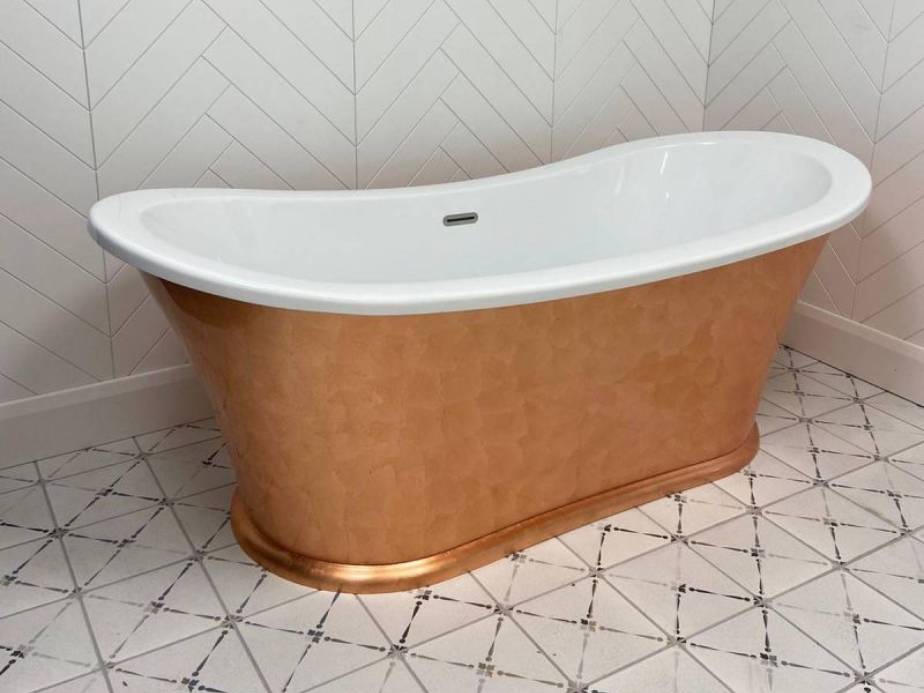 Convinced on acrylic? Browse our range of high-grade Acrylic Baths today to find the right one for your bathroom. Or if you need further guidance on choosing or maintaining your bath, we have 6 showrooms across the island of Ireland (and 2 new stores on the way!), with plenty of experts on hand to help you with any advice you may need. You can also request a callback from our Customer Service team, or book a free virtual consultation with one of our showroom specialists.