Using Bold Colour in Your Bathroom

Bold colour is a fantastic way to make an impact in your bathroom. It is also an easy way to transform a room if you don't have the budget or the time for a full renovation; even just one pop of bright colour will add visual interest and transform the look of the bathroom!
Our guide will offer tips and advice on where and how to use bold colours, as well as what colours to use.
Where & How to Use Bold Colour
Bold colours can work in both large and small bathrooms. We recommend a warm, bright colour such as in smaller spaces with an absence of natural light. For brighter and larger rooms, you are free to play around with darker colours such as black.
Looking to add a pop of colour to a dull room? A bold accent tile can be used as a border to break up a single block of plain colour. It can also be used as a feature wall to highlight certain areas such as a shower enclosure, bath, vanity area, kitchen backsplash or stove. Alternatively, a bold floor tile can completely transform a room!
A vanity unit in a bright colour also makes an eye-catching centrepiece for any bathroom. For example, a yellow vanity will add a stunning splash of colour to a grey bathroom. if you are fitting more than one piece of furniture in your bathroom, make sure they are all in the same bold colour to create a sense of uniformity.
No matter what colour you choose and where you use it, make sure it is the only bold accent in the room. You should also contrast it with a plain colour to add definition and balance to the space.
What Bold Colour Should I Choose?
Here are the most popular bold colours available at Bathshack. These are all classic colours, so they will suit bathrooms of any style.
Blue
Blue creates a calm, serene ambience to boost your mood. If you are looking to add invigorating colour to your bathroom without overpowering the space, then blue is the hue for you.
Our blue tiles are very versatile and come in a wide variety of shades. Whether you're after a nautical look, an exciting accent colour or an eye-catching pattern, you can achieve it with the right shade of blue. For example, choose between Navy Metro Tiles or the rich blue of the Atlantis Mosaic Sheet. To provide balance and contrast, we recommend pairing your blue tile with white tiles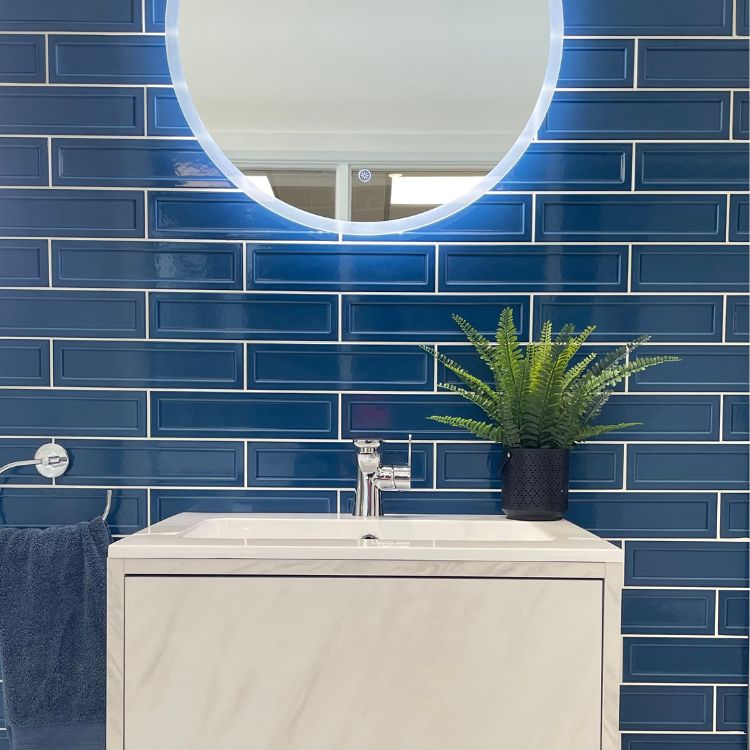 Do you like cool blue tones? Go for the Josef Martin Avoca Floorstanding Vanity Unit & Pebble Worktop! Clean, crisp, and stylish, it is the perfect feature piece for a contemporary bathroom. It works beautifully with black fittings, so complete your unit with a Black Countertop Basin.
Yellow
Yellow will help brighten up a room, especially one with limited natural light. It also helps to keep your bathroom feeling warm and cosy.
A mustard yellow tile will add a bright pop of colour to your bathroom. Our yellow tiles work well with neutral tones such as crisp white or grey or contrasted with an icy blue. The Mustard Palm Striped Hex Tile is perfect for a quirky feature wall around your vanity unit, while the Olden Mustard makes a wonderful floor tile.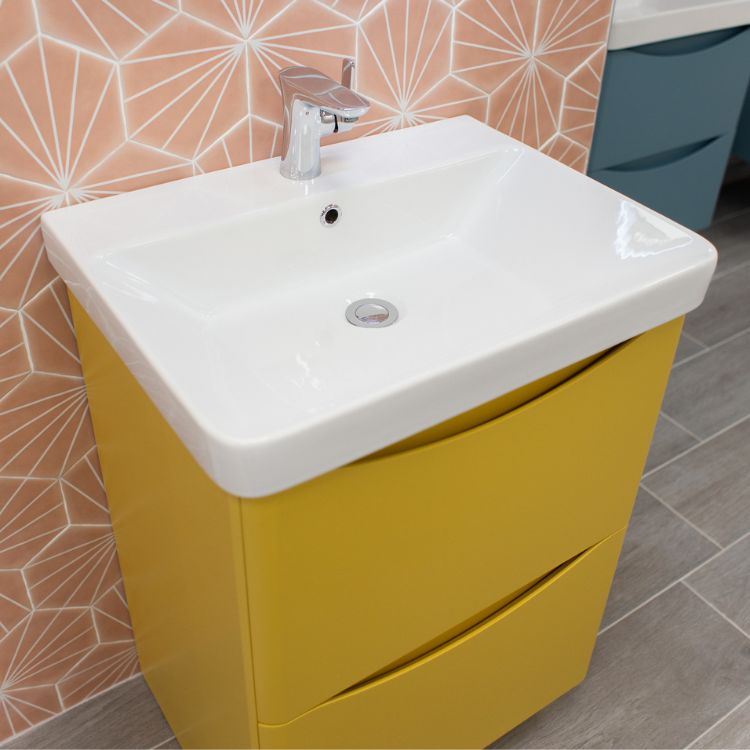 A yellow vanity unit is a stunning focal piece, adding a cheerful pop of colour to your bathroom. Our Yellow Happi Vanity Units have a space-saving, neat design which looks great in modern bathrooms both big and small. They also provide enough storage to keep your bathroom clutter-free. For a statement look, pair one of these units with a pink tile (see pictured)!
Pink
Pink is back in style, in a huge way! This fun shade will add retro glamour to your bathroom, which is currently a huge trend in interiors.
Add some elegant pink to your room the Chevron Vanity Unit. This unit is a subtle nod to the Art Deco design movement, combined with a modern silhouette. It is available as a wall-mounted or floor-standing unit and the handle and overflow come in black or brushed brass. There is even an option to fit a black or brass frame under the unit which adds extra height, storage, and style!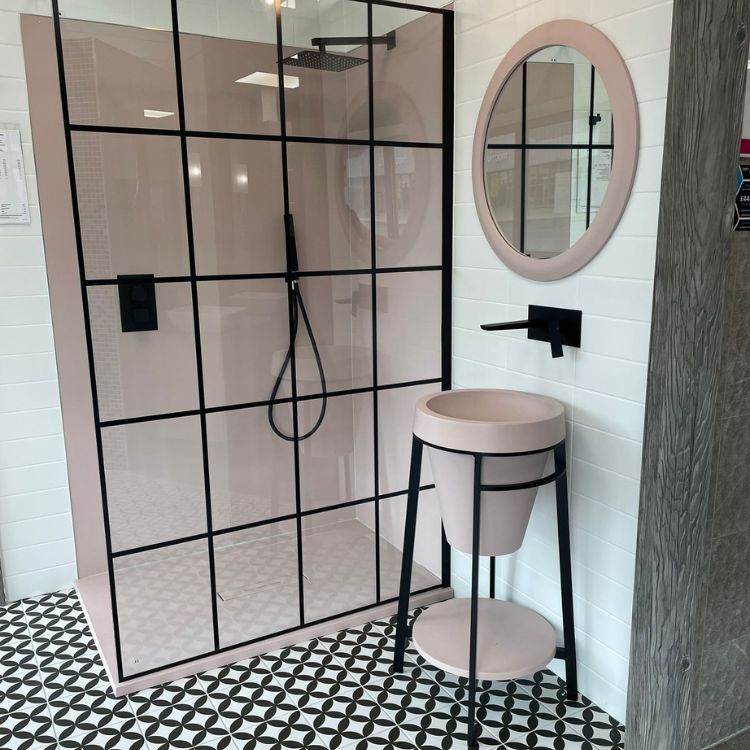 With a baby pink background and contemporary design, the Metro Rosa Pink Metro Tile will rejuvenate any bathroom! Alternatively, tile your floor using the Olden Pink Tile.
Want to go the whole hog with pink bathroom fittings? The Poalgi Pink Range has all you need to kit out your bathroom!
The pink shower tray is a unique touch to any bathroom and can be installed flush with the floor to create that walk-in look so many people want today.
The Poalgi Panela Alta Washbasin looks stunning with black accents such as a black wall-mounted tap.
With a simple round design, matt pink frame and ultra-clear glass, the Poalgi Panela Round Mirror combines traditional style with functionality.
Green
Green is reminiscent of nature, so it can transform your bathroom into a tranquil sanctuary!
This Mykonos Emerald Tile is a true statement piece. It's perfect for adding energizing colour to a contemporary bathroom. Use it as a feature tile, contrasted with a simpler tile to make it stand out. You will soon feel like you are on a Greek getaway! For retro vibes, go for a bottle green tile. The Metro Verde Tile is on-trend and adds classic luxury to a room. For extra glamour, pair with brushed brass accents such as taps, light fittings or a towel rail.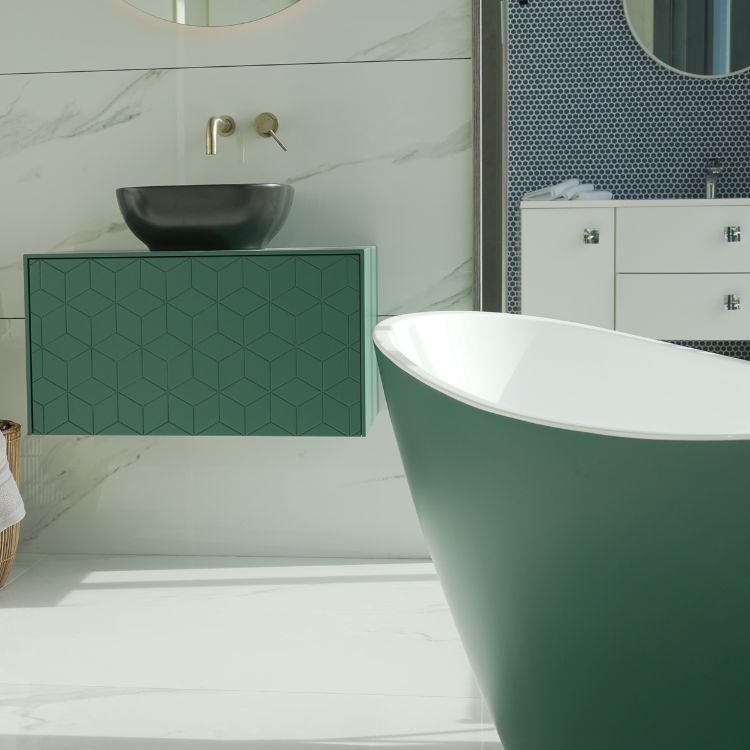 Forest green is a rich, warm colour which is perfect for keeping your bathroom cosy over the winter months. Our Josef Martin Urbano Vanity Unit comes in a stunning shade of forest green that's perfect for a contemporary bathroom. Despite its compact design, it provides plenty of storage space.
Black
Gone is the old misconception that black is a dark, gloomy colour. When used in the right way, black will create a look that's visually striking, modern, and luxurious.
Our Black Tiles come in a wide range of shapes, styles, and patterns such as marble, metro, mosaic, and stone. We recommend using lighter grout with black to break up black tiles and make the layout pattern pop. You can also warm up a black tiled room with opulent brushed brass or copper fittings!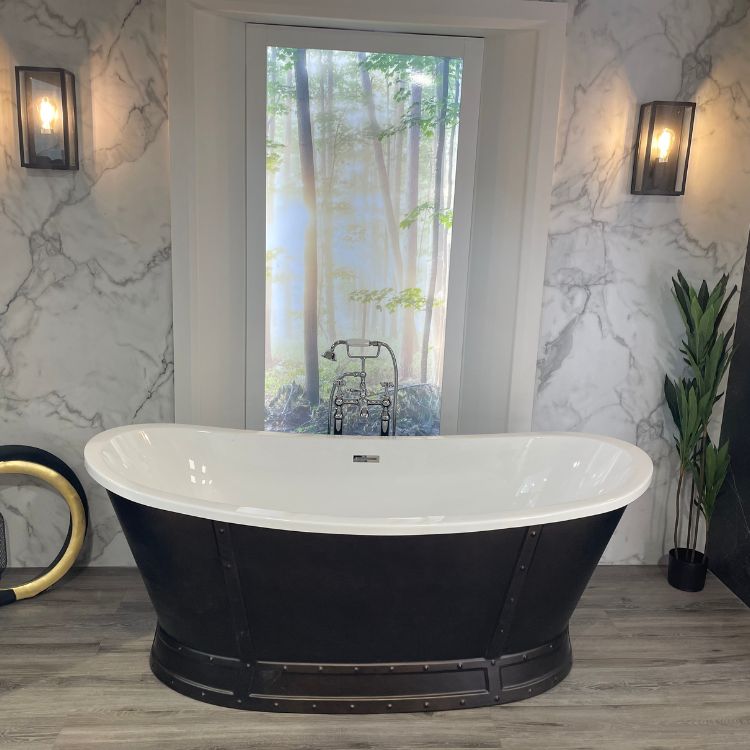 Adding black fittings to a white add bathroom will add stunning definition and contrast to the space. Or if your bathroom is feeling a little outdated, black accents will make it look more modern. You can add black taps, furniture or a beautiful black bath such as the Viktor Benson Taha Freestanding Bath! Just make sure you add a few black accents around the room for a cohesive look.
Have you chosen your favourite colour? Transform your bathroom today! Shop our full range of products online, from tiles and taps to furniture. You can also visit one of our showrooms to view a range of products on display. Our showroom staff will be happy to advise you on what colour works best for your space.