Nail the Trend: Organic Texture Tiles
Texture is a fundamental part of any design scheme. It can make a room that's missing something feel complete. It creates a look that's rich and full of depth, stimulating your senses for greater visual impact. A fantastic way to achieve this is with Organic Texture tiles. Organic textures are timeless as they continue to be a stand-out design trend in 2022. We will guide you through the organic texture tiles we have on offer and how you can incorporate them in your bathroom, kitchen or elsewhere for maximum effect. If your space is looking a bit flat and lifeless, our tiles will help you bring the whole room together.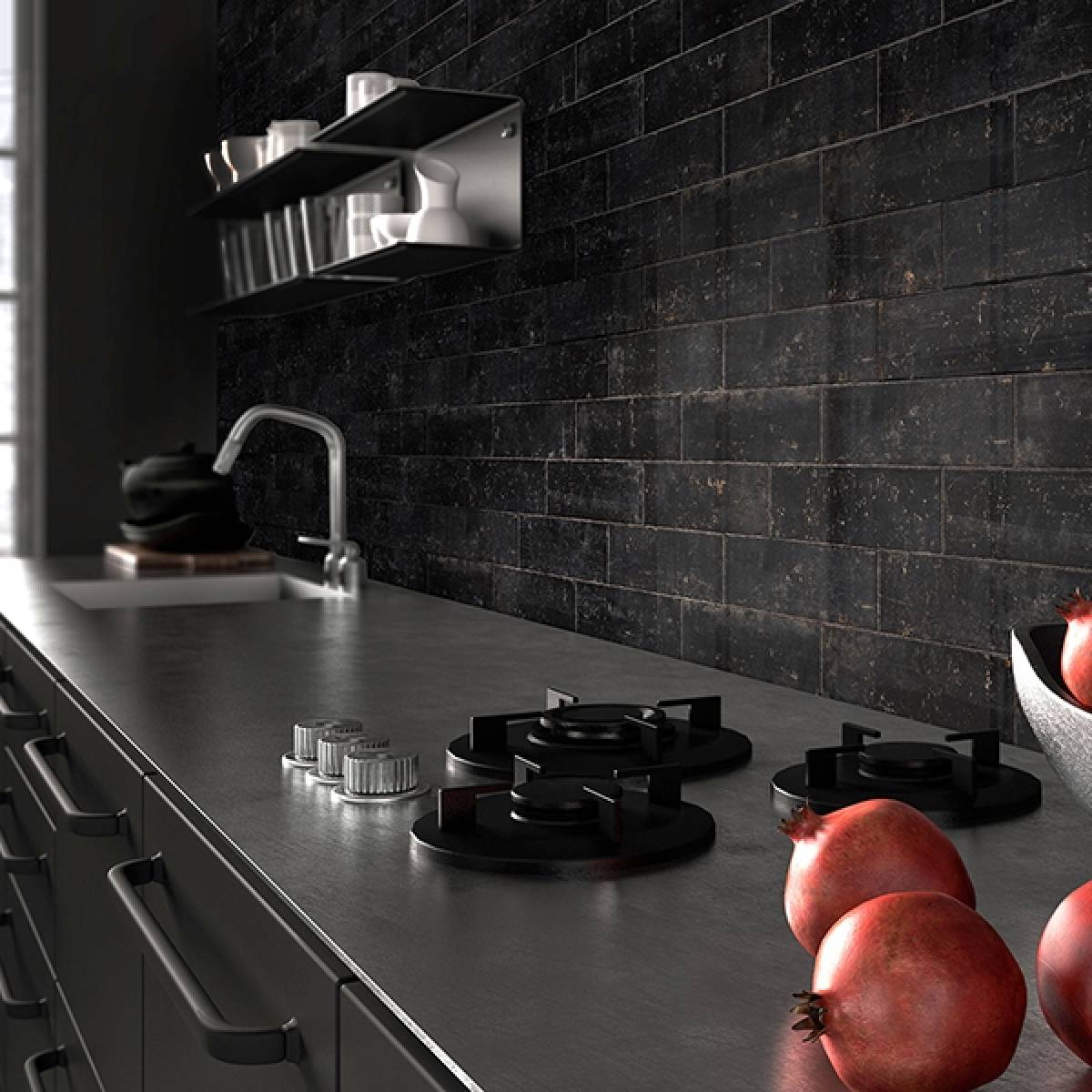 Mad About Marble
We all know that white is a classic look for any room, especially in your kitchen or bathroom. However, designing an all-white room isn't as effortless as it seems. A lack of different textures can easily make a white room feel one-dimensional and 'clinical'. A great way to add layers of texture to these rooms is a marble effect tile. A timeless look, marble has a warming effect on a room and is synonymous with opulence and luxury. And since organic interiors crave natural light and open spaces, white marble effect tiles will look fantastic in these spaces while helping to make your room look bigger.
When your eyes need something to focus on in a white kitchen, a white marble effect backsplash will add texture and a visually appealing element to the room. This neutral, organic backsplash will also allow you to get more creative with your space. For example, you can hang your mugs or kitchen accessories over it, or install floating shelves above it to store crockery or containers to create a stunning, open look in your kitchen. A subway tile is particularly ideal for this kind of backsplash. Rather than just using standard square tiles, a subway tile will add more personality to your space; you could even arrange them in a chevron design for a bolder effect.
Like your kitchen, the texture of marble effect tiles will give a white bathroom a lift, especially if your bathroom suite is also white. To add extra depth and drama to the space, pair your tiles with a vanity unit in an accent colour, or incorporate contrasting fittings such black or brass taps. You could even combine a marble tiled wall with wood effect floor tiles. These two organic textures work together beautifully to create a welcoming, warm and unique atmosphere.
You can shop our full range of marble effect tiles here. Some of these tiles come in a mosaic pattern, which is great for creating a feature wall in your bathroom or tiling your shower area to create a focal point.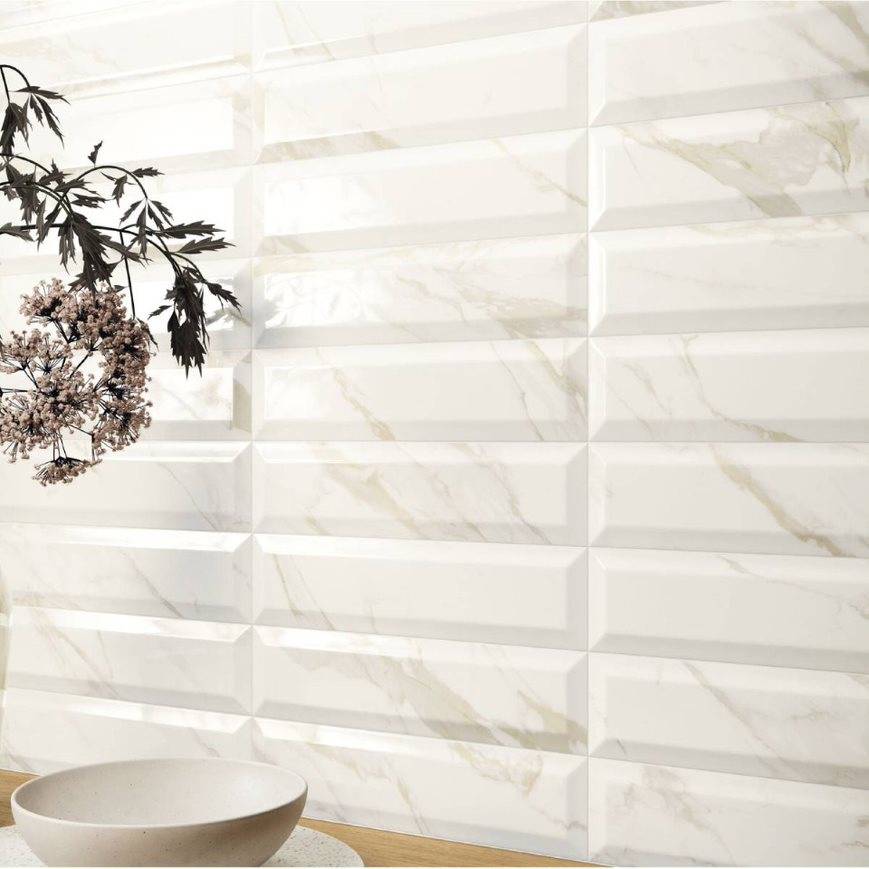 The Stone Effect
If you're looking to make a statement, then look no further than stone effect tiles. These tiles are a perfect example of how organic textures can add depth and drama to your space. They also allow you to enjoy the aesthetic beauty and warming effect of real stone without the high price tag. Use stone effect in any room to create a stunning focal point and tie the space together.
- For example, create a feature wall around your fireplace; this will be a show-stopping centerpiece that elevates the whole room. It will also enhance the warmth exuding from your fireplace. Our Llerena range stone effect tiles are perfect for creating a feature wall, not just around your fireplace, but in any room of the house including your kitchen or bathroom. Highly textured, this range is suggestive of exposed brickwork. Each individual tile has colour variations which results in stunning depth of texture and a rustic, mosaic effect.
- Our River Scrat Grey tile is perfect for creating a rustic focal feature in any room of the house, whether it be your living area, bathroom or kitchen backsplash. With its unpolished finish and horizontal stripe detailing, this contemporary tile has the character and texture of raw, natural stone – almost as if it has been chipped straight from the earth. We particularly like this tile in a bathroom setting, as you can tile the wall around your shower or bath to create a spa-like aesthetic. Combine it with a neutral, untextured tile to create depth to your space. Pairing it with contrasting fittings such as a matte black shower or tap will also create a stunning combination. Or, use bright pops of colour with a vanity unit, hand towels and bathmats to make your space your own.
- With an authentic concrete finish, the Reprise Gris tiles are perfect for any contemporary or modern space. Grey is also very versatile, as you can pair it with essentially any colour to keep space tied together. These tiles are perfect for both wall and floor use, so you can install them on either or both – whatever works best for your space. For example, you could use it in select areas of your kitchen as an accent tile.
- Our superb line of stone effect floor tiles such as the Orla Grafito give off the appearance of a grand, expensive stone floor, perfect for adding depth and texture to a room with plain paintwork. Coordinate with other organic elements such as hanging plants and warm wood to soften the look and create a Scandi vibe.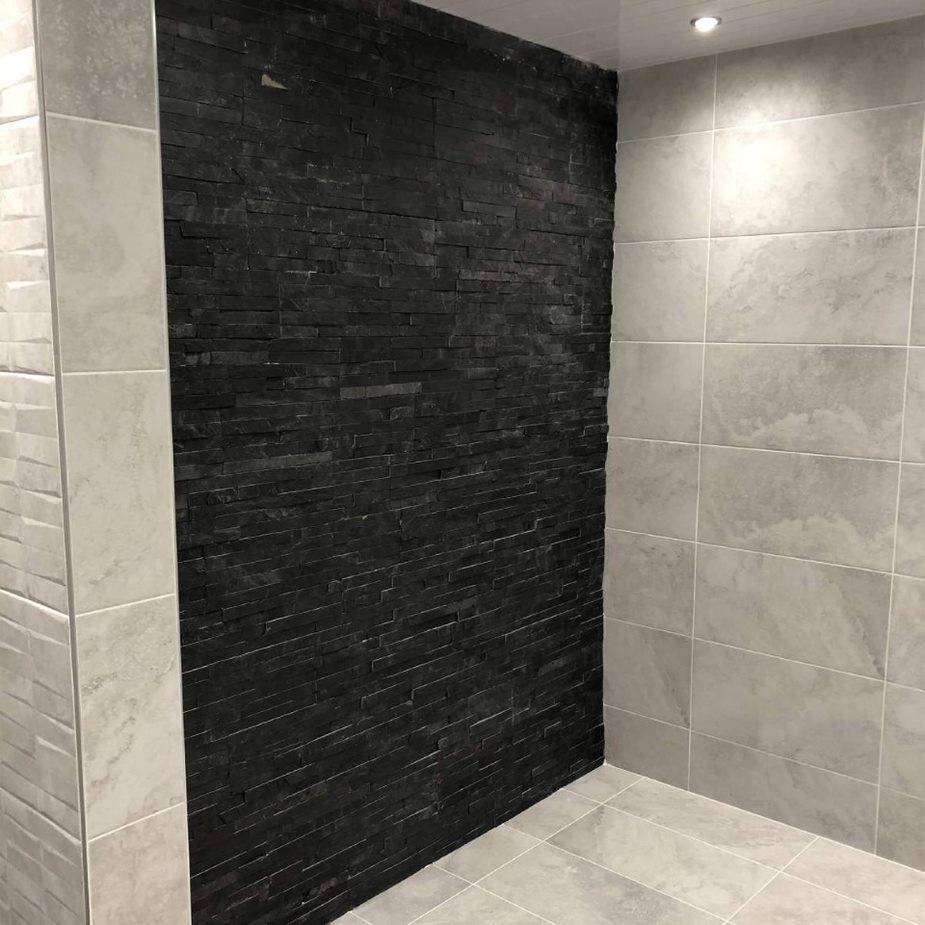 Wow Factor Wood-Effect
Using wood effect tiles in an organic modern design scheme will never fail. They can be dressed up easily to fit the space; whether they are adorning a backsplash, laid on the floor or used on a feature wall, the versatility is endless. What's more, they are more hardwearing and much less expensive than natural wood, while looking just like the real thing
Use wood effect tiles to create a light and airy feel in your bedroom or living room. They will also add extra texture and much-needed warmth to bare floors in any room of the house, ensuring that your feels inviting and complete without carpet underfoot. They are much easier to maintain than carpet, which ensures a cleaner, more contemporary look. What's more, a wood effect tile in bathrooms will create a felling of rustic coziness, or that on-trend weathered look in your wet room of shower enclosure.
We stock wood effect tiles for both walls and floors in wide range of colours, from greys to browns. No matter where you choose to use these tiles, we recommend that you coordinate with other natural touches for that refreshing, modern organic style. For example, pair with ratan or wicker furniture, or plants.
The beauty of Organic Texture Tiles is that there are seemingly endless ways to incorporate them into your home. Whether you use them in your kitchen or bathroom, bedroom or living room, the possibilities are endless. We have 6 stores across the island of Ireland (and 2 new stores on the way!), with plenty of sales staff on hand to help you with any tile advice you may need. Or if you prefer, you can request a callback from our Customer Service team or book a free virtual consultation with one of our showroom experts today.
Related Products