How to Make Your Bathroom Look More Expensive

Everyone wants a luxurious bathroom for their home. However, the bathroom is one of the most expensive rooms in the house to renovate. With the cost of living on the rise, most of us are also working with tighter budgets. Luckily, you don't need a complete renovation or very expensive products to make your bathroom feel more luxe. By swapping out some hardware or adding the right colour, you can fake the fancy look without breaking the bank! Our guide will provide you with some tips to make your bathroom look more expensive for less.
Update your Lighting
Changing your bathroom lighting is one of the easiest ways to make it look more high-end. We recommend swapping out your old ceiling light for a glamorous and elegant chandelier! We stock chandeliers in a range of styles, from hanging to flush mount chandeliers.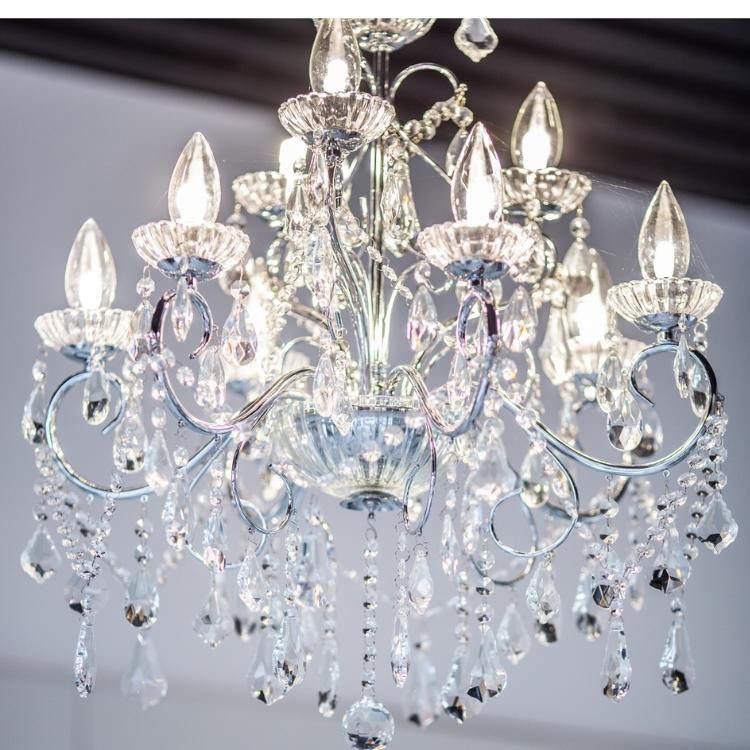 Instead of the standard light bar above your mirror, we recommend installing stylish wall lights on either side for a designer look. Is your bathroom mirror looking a bit shabby? Pair your updated lighting with a new bathroom mirror to elevate your space even more.
Don't underestimate the mirror
Simply swapping out your old mirror can transform your bathroom to make it look more expensive.
Choose a mirror with personality and character. For example, you could go for a traditional mirror with vintage detailing such as one from our Clear Look Bibury range, or an interesting shape such as a round mirror.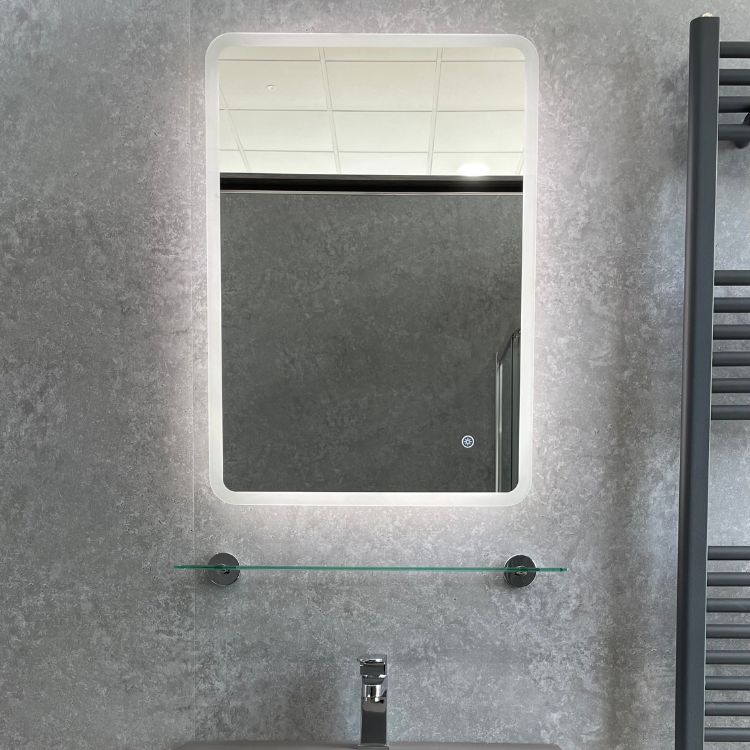 A mirror that adds plenty of light will also make a room look more luxurious. Achieve this by adding a large mirror, or one with built-in LED lighting. Most of our mirrors have LED lights. LED bulbs are less harsh than traditional bulbs and are the best source of task lighting – a must for an 'expensive' bathroom.
High-end white
Reminiscent of luxury hotels, a white colour scheme will make your bathroom look elegant. You can get the look with white bathroom furniture or tiles.
However, designing an all-white room isn't as effortless as it seems. A lack of different textures can easily make a white room feel one-dimensional. A great way to add layers of texture is to use two white tiles in different styles. For example, you can mix and match white mosaic, metro, hex, or plain tiles. Or, warm up a white-tiled room with wood tones.
Swap out your chrome fittings
Instead of classic chrome fittings, why not change things up? Brass or gold taps will add instant glamour and warmth to a traditional bathroom, while black will add stunning definition to a modern space.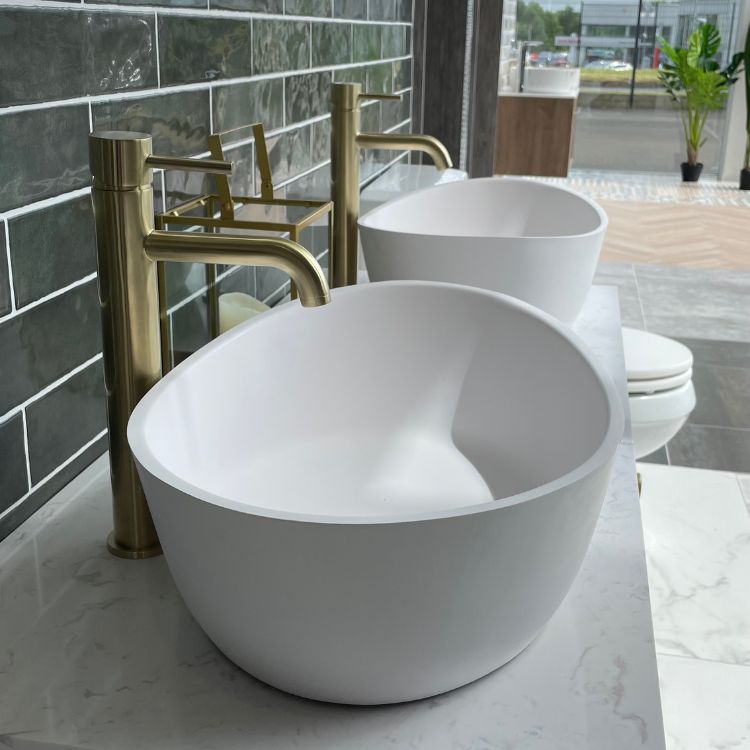 If you are on a tight budget, you don't necessarily need to replace all of your taps to make your bathroom look fancy. Even a new soap dish or towel rail in your chosen finish can make all the difference.
The magic of marble
Marble is a timeless and fool-proof way to make your bathroom feel more opulent and expensive. It also makes a room feel bigger and warmer, essential for a luxury bathroom.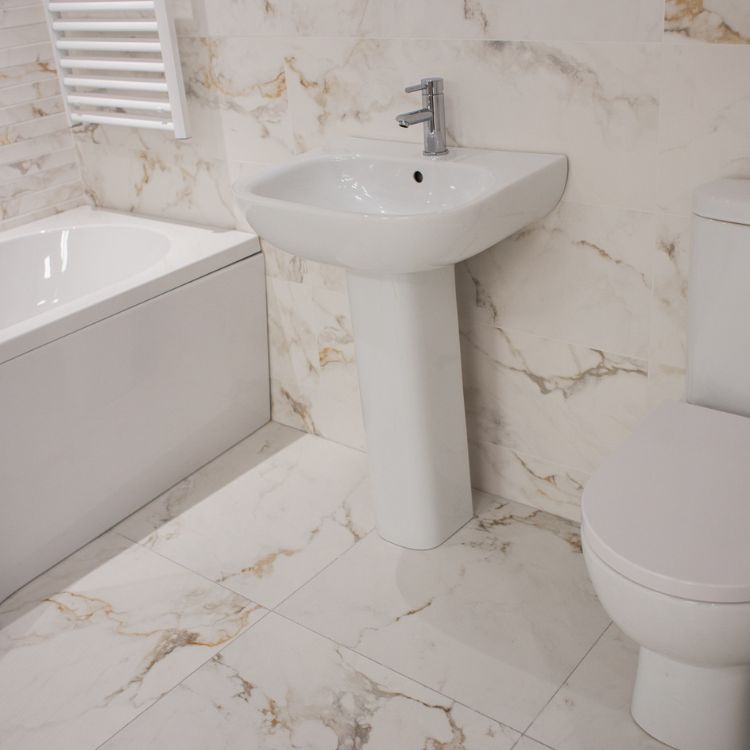 Real marble is very expensive. For the look of marble at a more affordable price, opt for marble effect products. We stock a wide range of marble effect tiles, wall panels, furniture, countertops, basins, and more, so you can make your bathroom look high-end without blowing your savings! Marble effect can also be coordinated with other 'expensive' touches, such as gold-plated accents and wood tones.
Bring the outdoors in
The most expensive bathrooms incorporate the outdoors as a design element, such as hardwood and stone. However, these materials can be costly and require more maintenance. Our wood effect and stone effect tiles look just like the real thing, without the high cost and upkeep. They are also resistant to heat and moisture, which makes them more suited to a bathroom environment. Use to tile the floor, your shower enclosure, or a feature wall to create a spa-like atmosphere.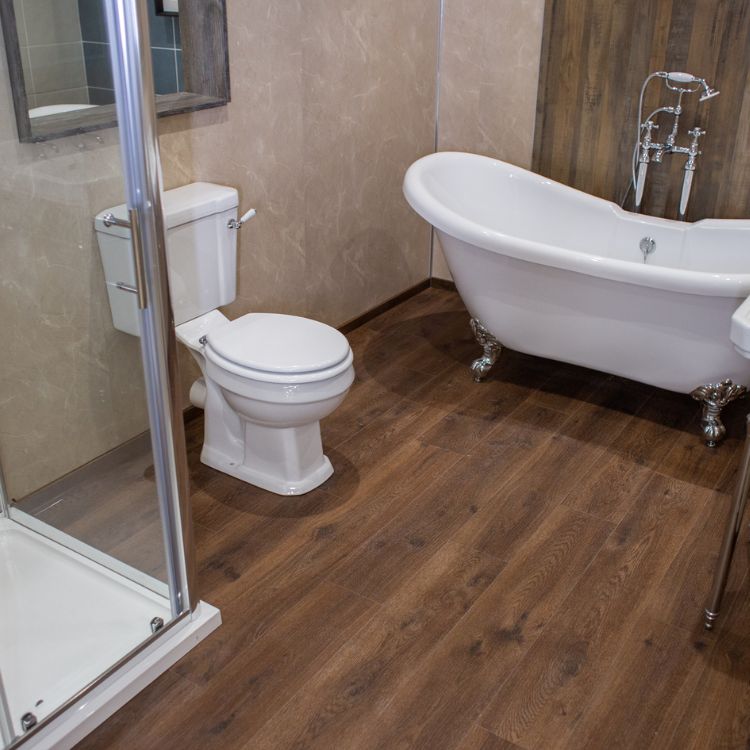 If you don't want a tiled floor, our flooring is cost-effective, extremely durable, waterproof and looks like natural wood or stone. Choose between vinyl, laminate, and engineered wood flooring.
Dark tiles
A dark colour scheme doesn't have to be drab and gloomy. If you want rich, regal colour like that of Victorian bathrooms, incorporate a dark blue navy tile like this Gemstone Sapphire Tile. A bronze tile will also make your bathroom feel more affluent.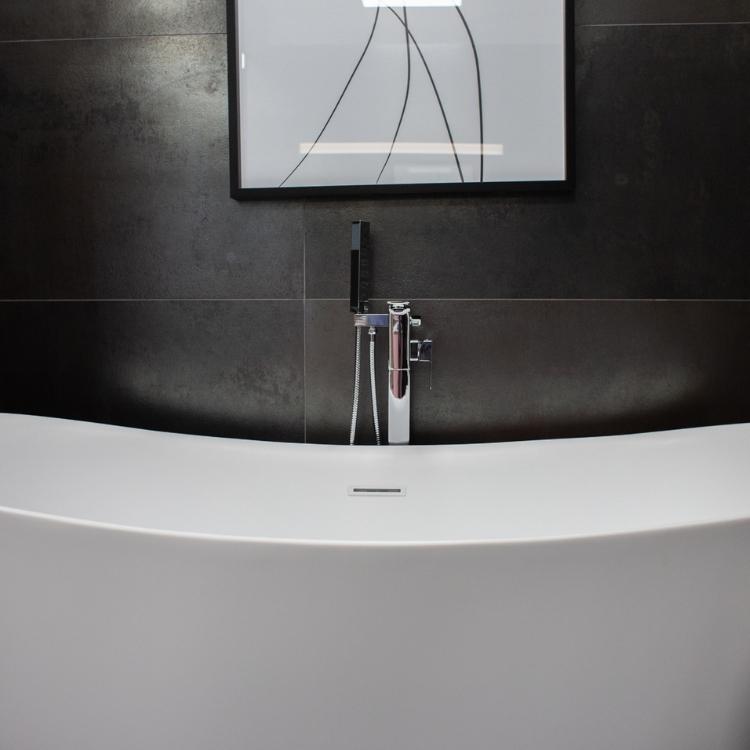 One interior trend that's been becoming more and more popular in luxury bathrooms is the black tile. To get the look, tile your shower enclosure with black metro tiles or mosaics. If you have the budget, finish with brushed brass taps for added character and shine.
If you go for a dark colour scheme, ensure you have adequate lighting.
Painted furniture
Sometimes all you need to create a luxurious-looking bathroom is a statement vanity. Choose one that adds a pop of colour while keeping your space clutter-free. Our bespoke Josef Martin units are made to order and can be customised to suit your needs. All vanities can be spray painted in your chosen colour. For a high-end look, go for a rich colour such as maroon or deep blue. If you have the budget, you can repeat this colour throughout the bathroom with towels or tiles.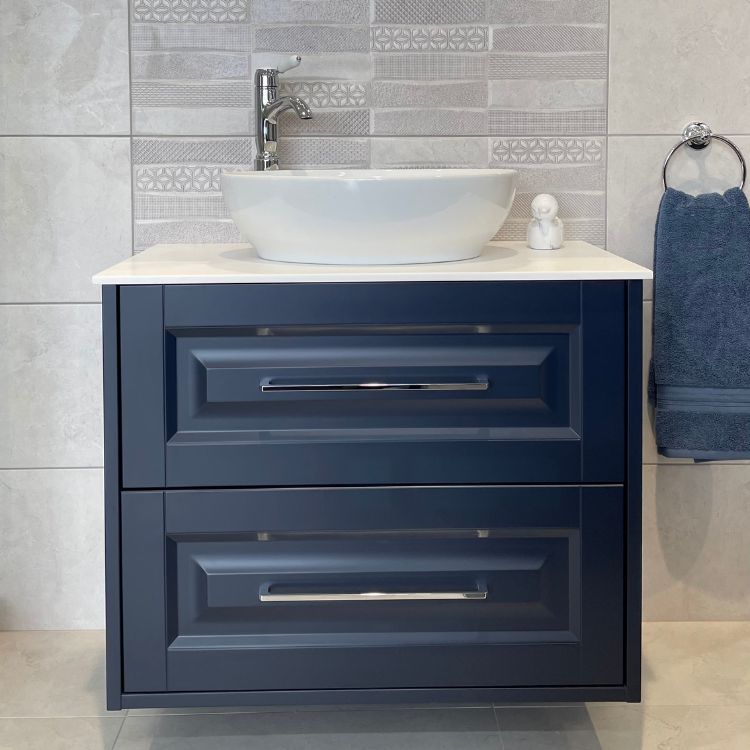 A rich grey or brown vanity will also give your bathroom an expensive look if you prefer a neutral colour scheme.
Add a bath caddy
A bath caddy is a simple addition to your bathroom, but it can make all the difference. It allows you to unwind in the bath with candles, a book, your tablet, or a drink, taking your relaxation time to the next level!
Change your shower head
Rainfall shower heads have grown in popularity in recent years, as their design upgrades a bathroom instantly. These shower heads are usually larger and hang directly over your head. They provide a relaxing showering experience that simulates warm summer rain so you can enjoy the feeling of an eco-retreat in your own home!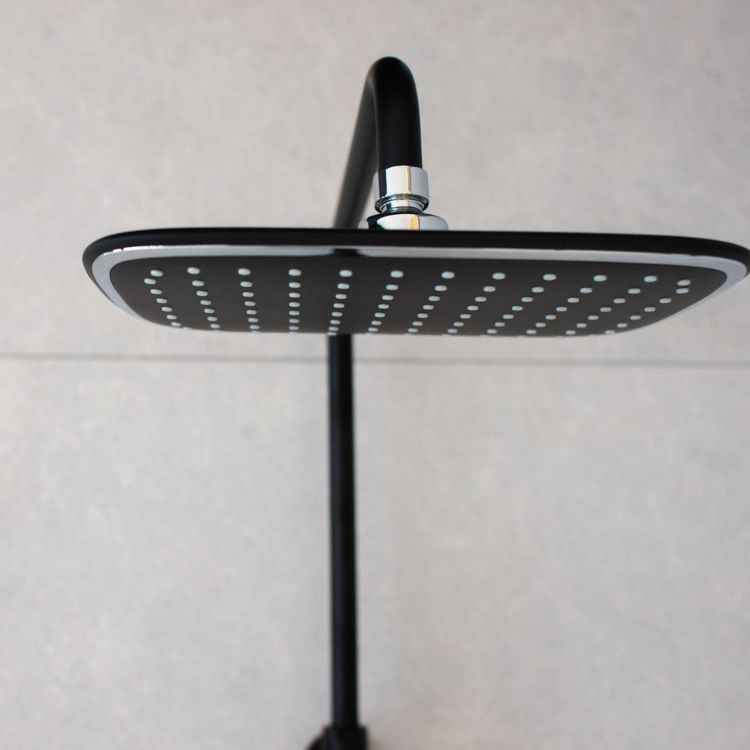 While specific models can be costly, there are more affordable options that allow you to enjoy a more expensive-looking shower for less.
You don't need to incorporate all of the above to make your bathroom look more expensive. Even one simple, cost effective touch can make any bathroom feel more luxurious! Whether you decide to swap out a light or bathroom fixture, change your vanity or mirror, or add a luxurious tile or colour to your space, the choice is yours.
To begin your transformation. browse our product ranges online and discover luxury for less. You can also visit one of our showrooms on the island of Ireland to view our products up close and discuss design ideas with the team; we will be happy to work within your budget.