Style Guide: How to create a spa experience with your shower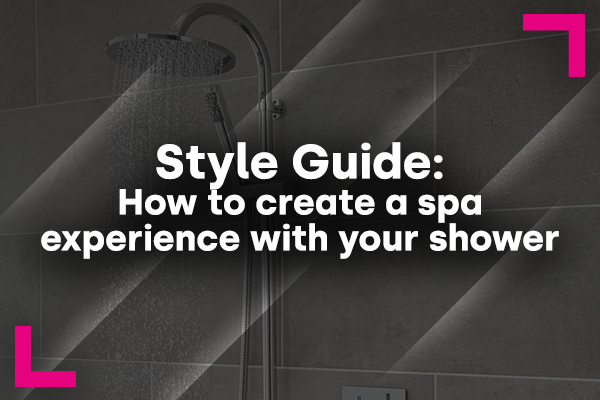 With the trend for turning your bathroom into something akin to a spa still proving popular throughout 2023, you'd be forgiven for thinking that you need to invest in a fancy freestanding bath to achieve this vibe.
However, with an increasing number of people preferring to upgrade their showers – these taking up less floor space, saving water and complementing the minimal aesthetic – if you want a spa experience, then it's time to show your shower some love ...
Use your (shower) head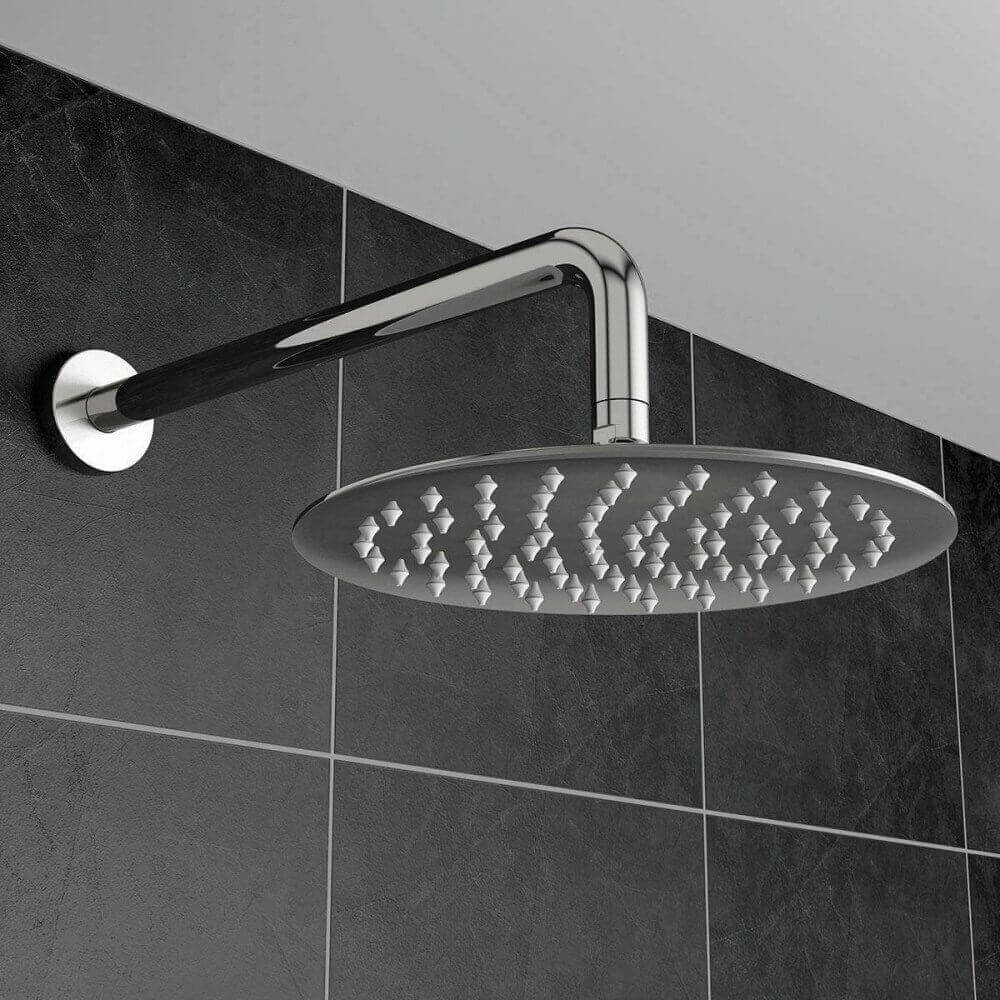 Adding a new shower head like the Stainless-steel Round Fixed Head in Chrome, can instantly elevate your existing shower.
Rainfall shower heads are a great way to add some instant luxury to your shower. What's more, if you rent or are on a budget, then there's no need to buy an entirely new shower – you can simply swap out the existing head to enjoy that spa-like experience.
The Stainless-steel Round Fixed Head in Chrome is a 400mm shower head which can be both wall or ceiling-mounted (wall arm sold separately) and comes with that sought-after rainfall feature which fully immerses you in water.
Meanwhile, if you do want to go all out and invest in a brand new shower, then the Eliseo Ricci Exclusiv Round Handle, Head and Handset Riser Shower in Brushed Brass will be a stylish addition to any bathroom – and will certainly deliver that spa aesthetic.
With a beautiful brushed brass finish and an elegant contemporary design, this rainfall shower will bring instant luxury to your showering experience. It also comes with two handle options – diamond crosshatch and a smooth version – so you can choose which one you prefer.
If you like the minimal look and want something equally elegant but with a different design, then consider the Eliseo Ricci Monsoon Waterfall Shower Tower in Chrome Stainless Steel. The waterfall shower tower design of this product has a smooth, sleek aesthetic and comes complete with easy-to-use thermostat control and two body jets, for the ultimate pampering spa experience.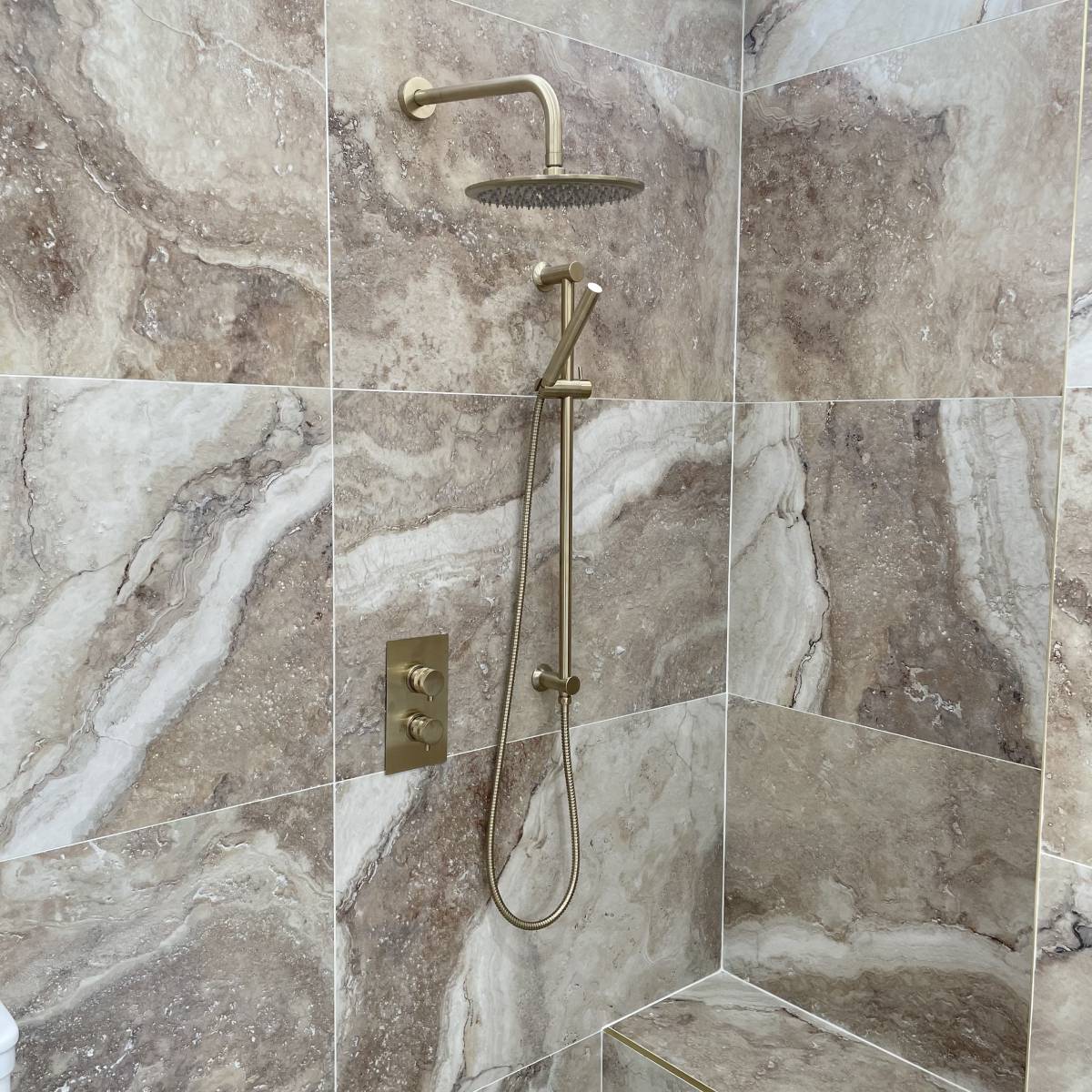 The Eliseo Ricci Exclusiv Round Handle, Head and Handset Riser Shower in Brushed Brass.
There's also a handheld shower head for added convenience, while you can get the shower tower in black if polished chrome isn't to your taste.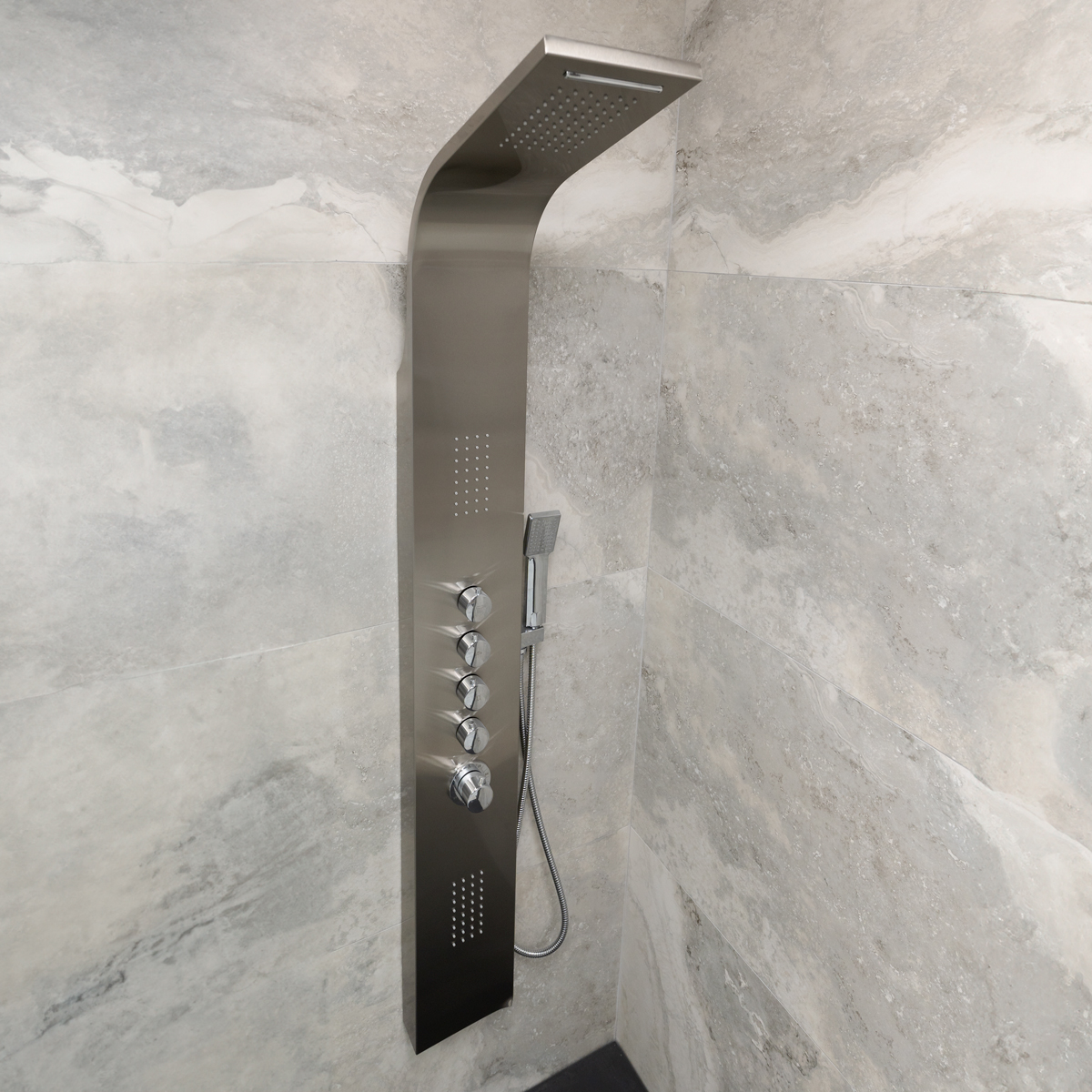 The Eliseo Ricci Monsoon Waterfall Shower Tower will bring the spa experience into your bathroom.
Add in artful accessories
With bathscaping already having turned into something of an artform, showerscaping isn't far behind it, as bathers switch out long soaks for shorter and more luxurious showers. The key to showerscaping is along the same lines – essentially, it's all about creating a visually appealing and pampering space around your washing area.
With this in mind, consider everything from lighting and heated towel rails (fitted within easy reach, of course) to shower bombs and music you can wash along to via a handy Bluetooth mirror.
Heated towel rails are a practical as well as luxury addition to any bathroom – and are increasingly popular with homeowners as a replacement for more traditional radiators. Easily wall-mounted, they free up floor space and come in a range of designs and finishes which will add style and character to your bathroom – as well as bringing in that all-important spa vibe.
Whether you want a modern matt black, or prefer an elegant brushed brass or classic white look, there's something to suit every taste. The Roma Straight Heated Towel Rail in White Stainless Steel has an attractive matt white finish and 22mm bars for maximum heat output. It also looks stylish and will complement a wide range of décor. As well as this, it has a dual fuel option, for added convenience, so can use your central heating system, or go electric, as you prefer.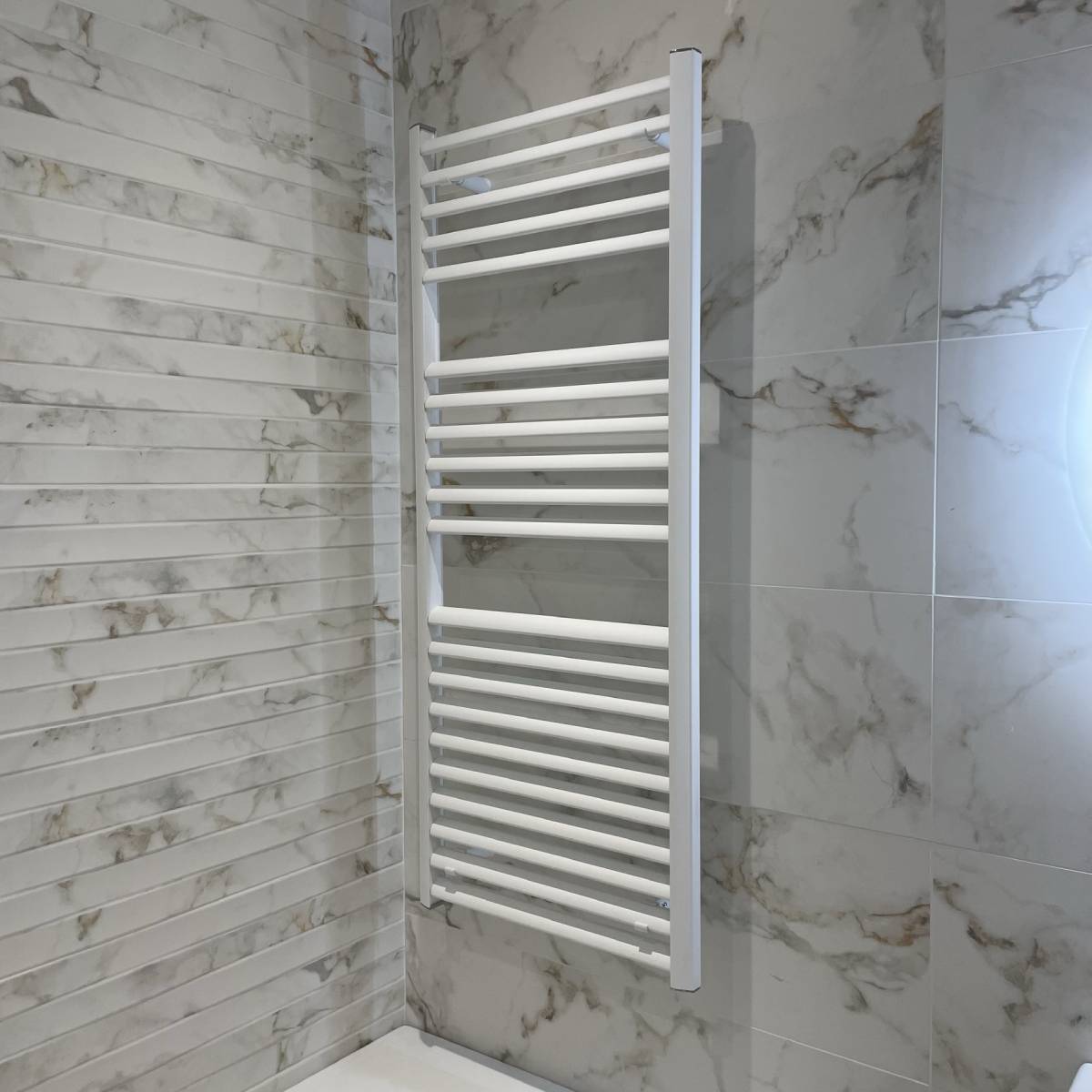 The Roma Straight Heated Towel Rail in White Stainless Steel.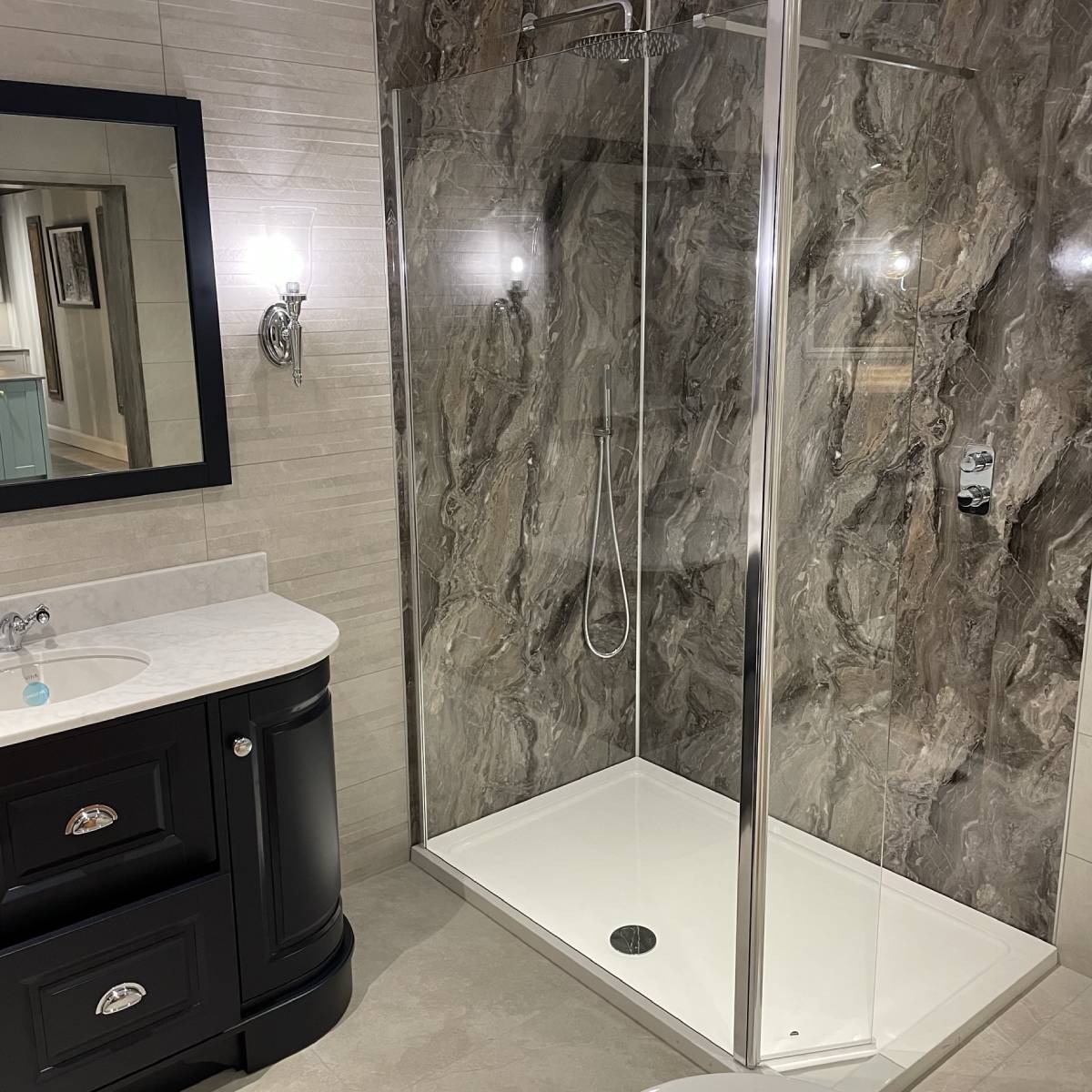 The Pele Heated Towel Radiator in Brushed Brass.
The Pele Heated Towel Radiator in Brushed Brass, meanwhile, is a designer towel rail with a sleek modern design and attractive brushed brass finish which will not only provide efficient heating but, again, also add a luxury, spa-like look to your shower space. Truly reminiscent of a fancy hotel or spa retreat, the heated towel rail is catching on quickly as an easy way to bring a touch of decadence to your bathroom. When it comes to creating a pampering experience, it's all about those extra-special little touches, after all.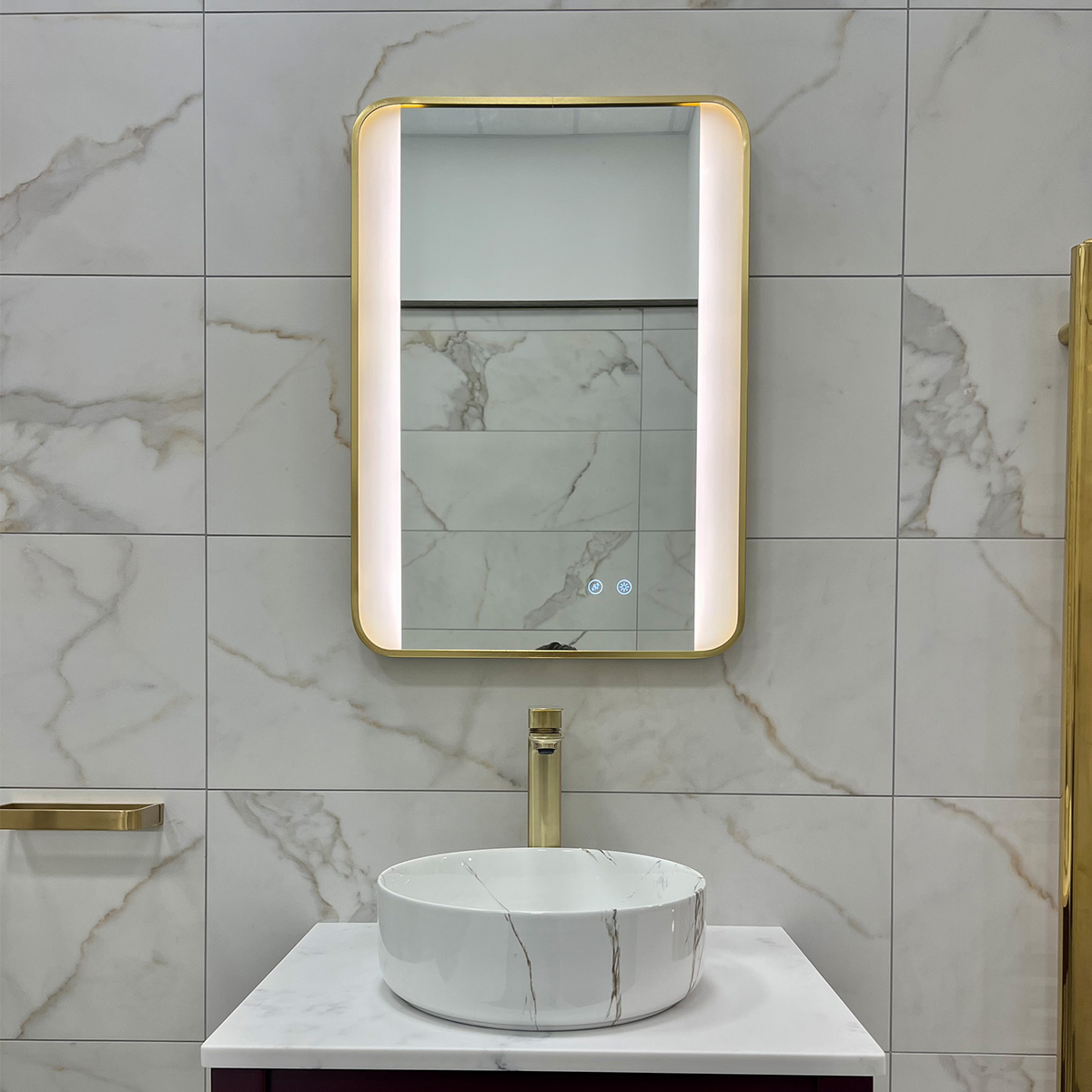 Bluetooth mirrors like the Brushed Brass Bluetooth Frame Mirror with Colour Change.
On that note, you can shower along to your favourite tunes – or listen to the latest podcast – if you add a Bluetooth mirror into the showerscaping aesthetic.
Mirrors like the Brushed Brass Bluetooth Frame Mirror with Colour Change, for example, can be synced up with your devices so it can play whatever you'd like to listen to.
Spa experience achieved and, indeed, elevated, as you get to curate your very own soundtrack at the touch of a button and there's even colour change lighting inbuilt, so you can tailor this to your liking as well.
Shake it up with shower doors and wet room revamps
Shower doors and screens and are another way to elevate the showering experience, with fluted shower screens an increasingly popular choice – and bringing with them an elegant Art Deco style. They also enhance lighting within the bathroom, with the ribbed glass design diffusing light more quickly, while also adding texture with their vertical columns of glass.
The Nuie Fluted Wetroom Screen and Support Bar (available in brushed brass, matt black and polished chrome) subsequently brings a classic look right into the modern world with its sleek, minimal style.
An inspired choice if you want to create the spa experience in your home, this will add instant visual appeal as well as making showering something that extra bit special.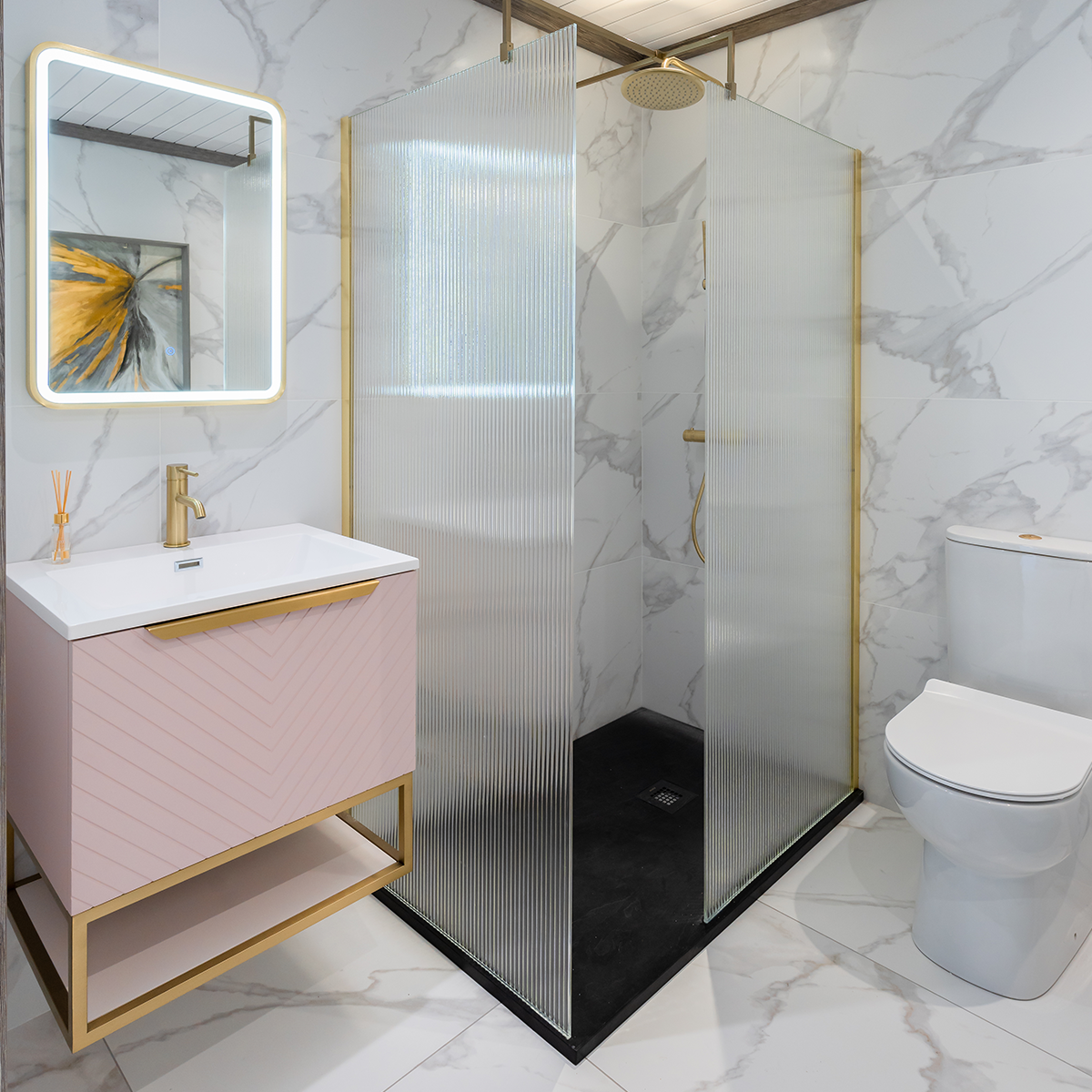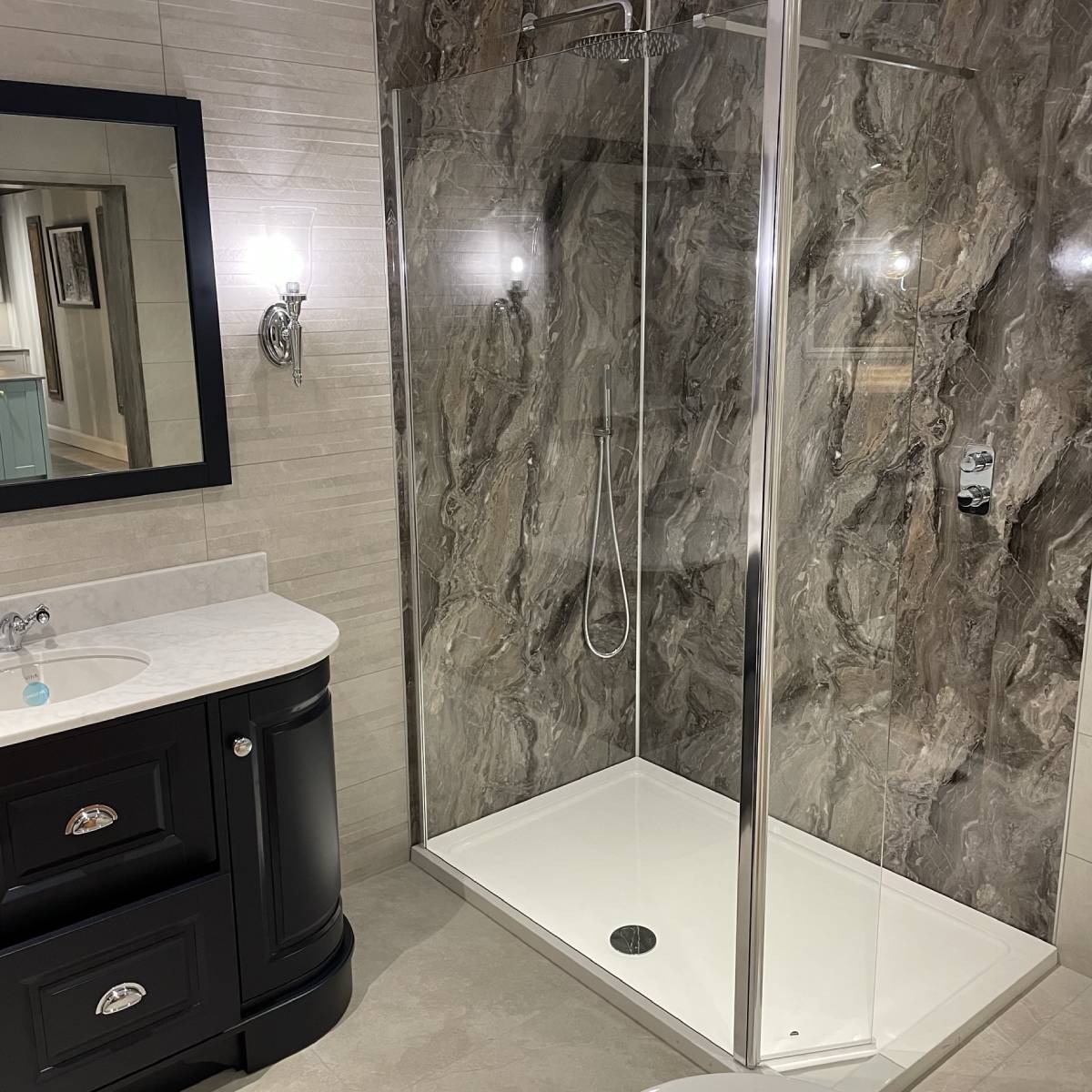 The Kiimat Aqua Wetroom Panel in Chrome has a minimal aesthetic.
If you have the space, meanwhile, then installing a full wet room is another way to enjoy the spa experience, with a wide range of sleek and stylish wet room panels and trays available to create your dream space.
For example, the Kiimat Aqua Wetroom Panel in Chrome will create that designer spa ambience with its minimalist style, so you'll feel like you're in a luxury hotel rather than your own home.
Whatever look you want to create, if it's a spa shower experience that you're after, then there are lots of ways you can bring a little – or a lot – or luxury into your bathroom. Bathshack supplies a full range of products which will help you achieve your dream space so, if you want to indulge in a spot of showerscaping, why not browse our range ...?
If you'd like to see our range of shower, wet room and related products, why not visit your local Bathshack showroom and have a chat with one of our team? Alternatively, email us at info@bathshack.com or call (028) 9077 0188 .