How To: Change A Shower Head

If your bathroom is looking a little worn, you can easily give it a refresh with a new shower head. No one likes showering under an old, rusting showerhead! A new showerhead can also help you to use less water, as older models tend to leak water or use more than necessary.
Changing a shower head is not only affordable; it is also relatively easy and does not require any tools. Follow this how-to guide to learn how you can do this yourself.
Step 1: Switch off the shower
Make sure the shower is switched off to prevent water from leaking out as you work. It is not necessary to turn off your water supply.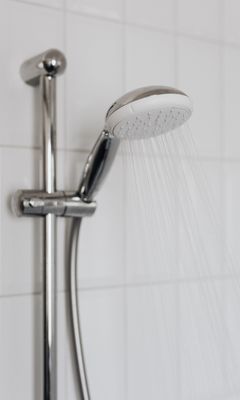 Step 2: Protect the floor of your shower or bath
Lay a protective sheet or tarp on the floor of your shower or bath. This prevents any potential debris from falling onto the surface of the floor or down the drain.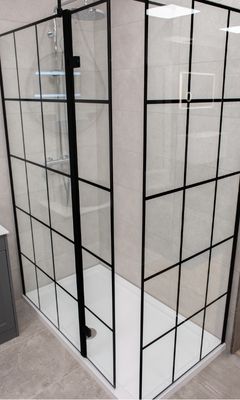 Step 3: Remove the old showerhead
Next, simply unscrew the old shower head and hose by twisting it with your hands. Check the washer inside the hose and replace it if there is any corrosion.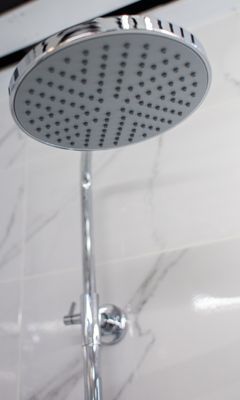 Step 4: Clean the showerhead thread
Using a clean rag, clean the showerhead thread to get rid of any built-up grime, minerals, and rust (a showerhead thread is an opening that connects the shower head to the pipe from which the water flows).
Step 5: Fit the new showerhead
Now you can screw on the new shower head, using your hand to tighten it.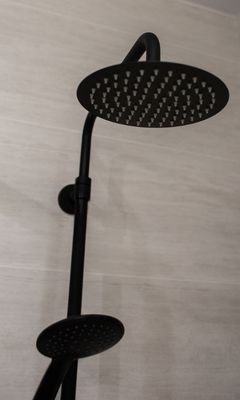 Step 6: Check for leaks
Next, check the new shower head for leaks. If there are leaks, try tightening it a little more. If you keep finding leaks, you may need to unscrew it and start again.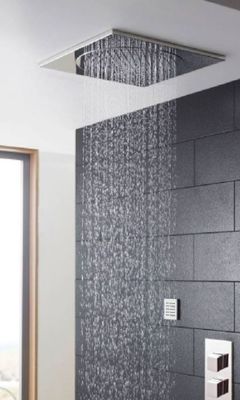 Top tips
You will need to clean your shower head regularly to ensure it works well and looks sparkling new for longer.
When buying a new showerhead, you must first check that it is compatible with your water pressure.
What types of showerheads are available at Bathshack?
You must purchase the same type of showerhead as your old one. Here is a breakdown of the different showerheads at Bathshack to ensure you choose the correct one for your shower.
This showerhead is fixed to the wall, and the spray is directed down at a fixed angle. Our models boast contemporary functions such as adjustable spray patterns and flow strength.
A rain head shower does exactly what its name implies. It simulates realistic rainfall for a shower that energises you in the morning and relaxes you at night.
A detachable shower handset is designed for use with a shower rail kit. This showerhead fits into a height-adjustable bracket that's fixed to the wall. It is the most common showerhead found in homes as it is highly practical and very affordable.
To find the perfect showerhead for your bathroom, shop the full range online or visit one of our showrooms.