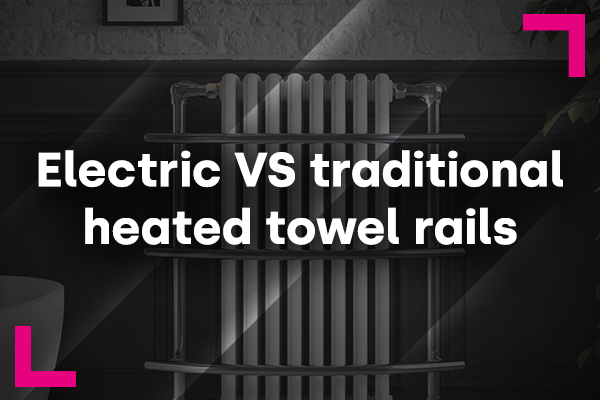 When it comes to installing bathroom heating, towel rails are a great way to save space while also keeping your interior nice and cosy. As well as providing heat, they do, of course, also warm your towels and keep them dry, preventing dampness and ensuring the ultimate comfort.
Available in a range of sizes, designs and finishes, you can tailor your towel rail to your preferred interior décor, so they're also a versatile choice for your home. The two main varieties in terms of functionality are electric and traditional towel rails, so we've highlighted the key differences between these below to help you decide which might suit you best.
If you're looking for a heated towel rail, then Bathshack has a great selection of products, so we've also included some examples of our range in case you need any inspiration.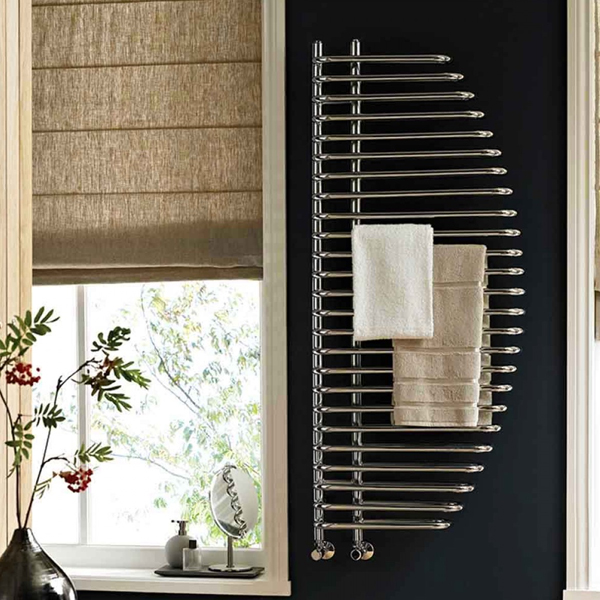 Heated towel rails can be a great practical and space-saving addition to your bathroom.
The low-down on heated towel rails
The key difference between electric and traditional towel rails is the fact that traditional-style rails operate from your central heating system while electric towel rails don't (although some of them do also have this option if they're dual-fuel). By not relying on your main heating system, electric towel rails subsequently heat up independently and more efficiently.
While a towel rail won't emit the same level of heat as a dedicated radiator, they're still a great option for many bathrooms – particularly small to medium-sized spaces – and can also complement radiators in larger bathrooms. If you have a smaller room then they're also great space-savers, as they can be wall-mounted, so you can free up floor space while also benefiting from heat and keeping your room and towels warm and dry.
Key features of electric towel rails:
More efficient as they operate independently of your home heating system.
More cost-efficient, as they don't use a lot of electricity.
Energy-saving as they use an 'on demand' heating system.
More accurate temperature-control.
Can use in the summer months to warm towels without having to turn on the central heating as well.
Warm towels, drying them to avoid dampness.
Can help keep your bathroom cosy by heating the immediate space around the rail.
Wall-mounted option, to save space.
Available in a wider array of styles, sizes and finishes so can be easily matched to your décor.
Can create a more visually appealing aesthetic.
Can have the option of being dual-fuel or an electric-only operation.
Key features of traditional towel rails:
Have a more classic look, so can add character to your bathroom.
Generally take longer to warm up, but are slower to cool down.
Can have less precise temperature control, if operated solely off the central heating system.
Combine the traditional radiator look with a more modern style, so are more visually appealing.
Need to turn central heating on to make use of the towel rail, making them less efficient. Not ideal if you want to use in the warmer summer months.
Less eco-friendly, as they rely on a boiler being fired up for the central heating.
Can also be wall-mounted for saving space.
Warm towels, drying them to avoid dampness.
Heat the surrounding space.
Energy-efficient electric options
If you're interested in electric towel rails then you can choose from longer or shorter styles in finishes including chrome, matt black, anthracite, brushed brass, white and grey. From those with squared-off edges and cylindrical pipes to towel rails with closely spaced slats or those placed artfully further apart, there's a look to suit everyone.
The Roma Straight Heated Towel Rail in White is a stainless-steel towel rail which has the dual-fuel option, so it can be plumbed to operate on central heating, or you can use it as an electric towel rail. With a modern matt white finish, it will easily complement a range of décor, so this is a versatile choice which can easily be incorporated into your interior.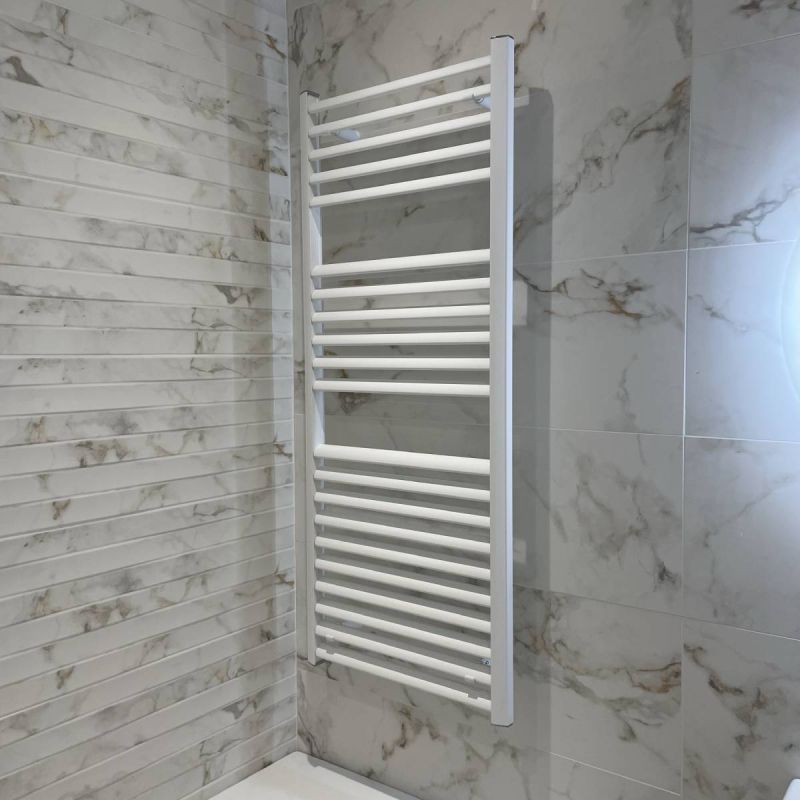 The Roma Straight Heated Towel Rail in White has a dual-fuel option.
The Lauda Heated Towel Rail in Anthracite is another electric-style towel rail which comes with the dual-fuel option and has rails with squared-off edges which give it a more contemporary look. This, together with the matt anthracite finish, adds visual interest and texture, which will, again, integrate well with other décor, as this is a very versatile shade.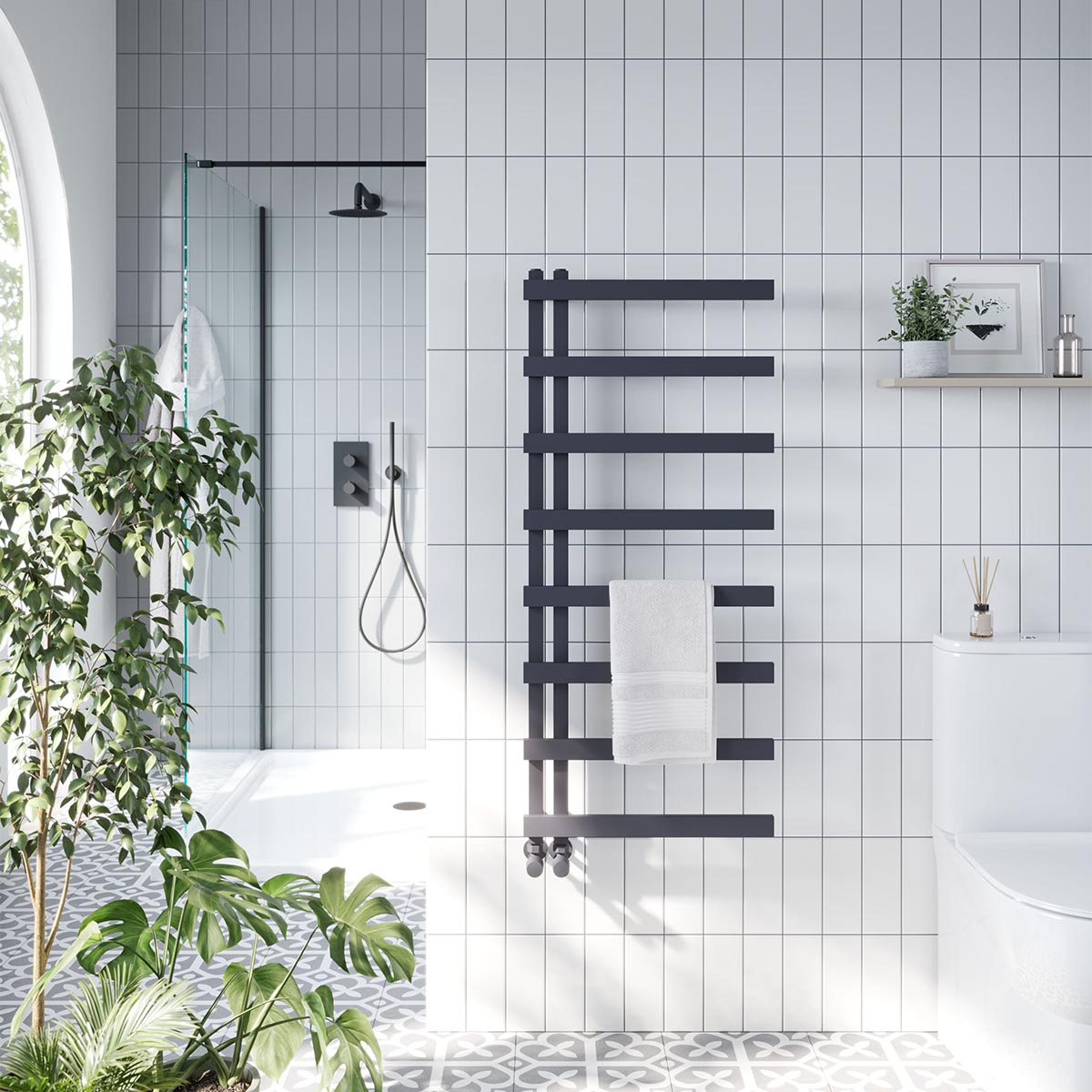 The Lauda Heated Towel Rail in Anthracite has a modern aesthetic.
Taking the traditional towel rail route
For a more classic towel rail style, the Traditional English Balmoral Cast-iron Bathroom Radiator in Chrome Steel operates from the central heating and features an integrated towel rail alongside a traditional radiator for high heat output.
With the pipework in a shiny chrome finish and the radiator in white, this is another flexible option which will integrate well with different décor. It also combines a period style with a more modern design, so will work both within a contemporary and classic-style bathroom.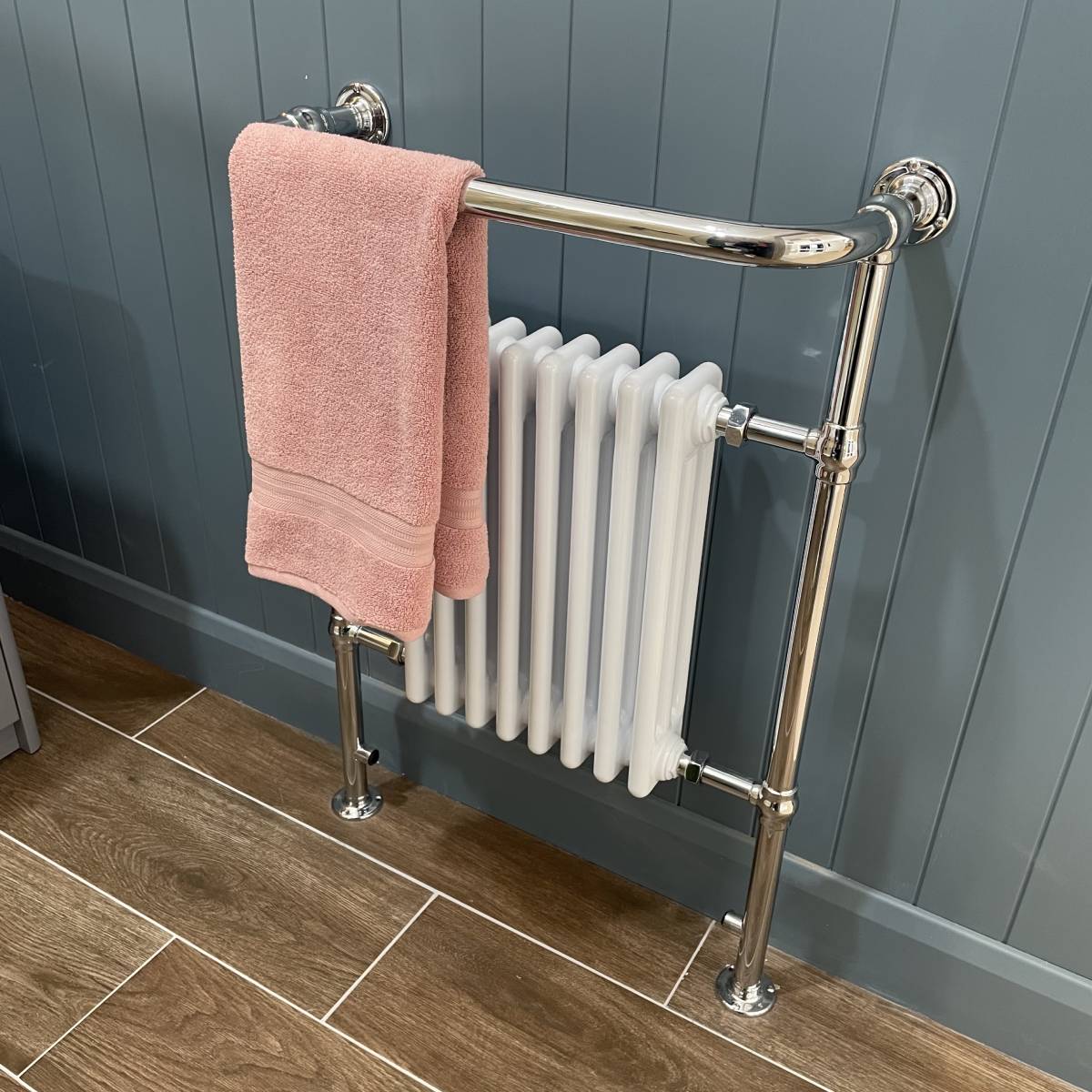 The Traditional English Balmoral Cast-iron Bathroom Radiator in Chrome Steel.
Another traditional towel rail option is the Hudson Reed Epsom Traditional Radiator in Chrome, a designer product which again embodies a more classic style with its shiny chrome finish and simple design.
Great if you prefer a more minimal look, this towel rail will add timeless elegance to your bathroom and, once again, operates off your central heating system.
The Hudson Reed Epsom Traditional Radiator in Chrome.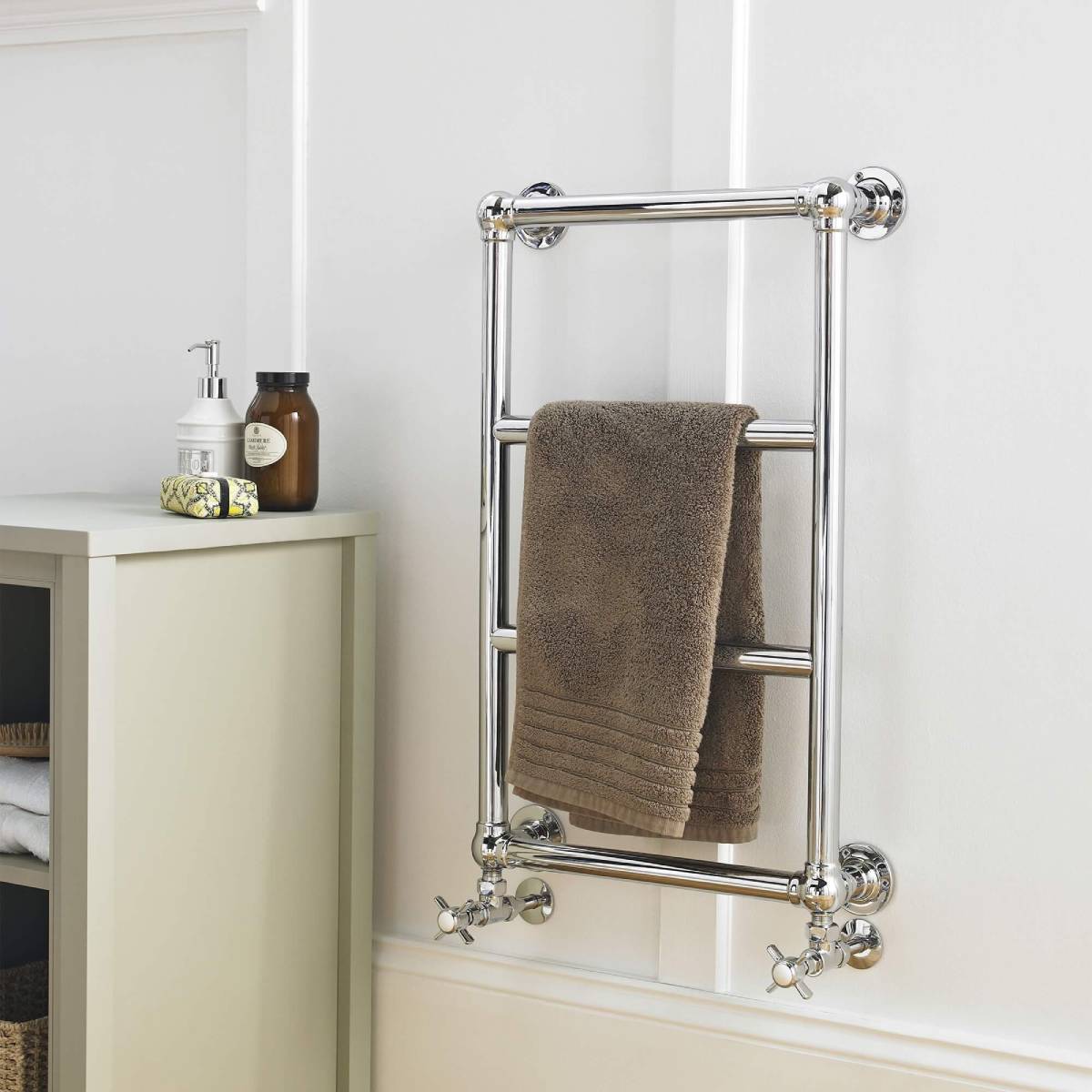 Radiators vs towel rails
When it comes to keeping your bathroom cosy, if you do have a larger space then a radiator will ensure the entire room is heated more thoroughly, as towel rails are primarily for heating towels. However, they do also warm the space immediately surrounding them, so in smaller bathrooms or cloakrooms, this will help heat the room more quickly and can negate the need for a radiator as well.
Towel rails are ideal for use all-year round, as electric heated towel rails can be used independently of the central heating system, so you can enjoy warm, cosy towels even in the warmer months without having to put the home heating on. Many people do like to do this throughout the year, so it's worth bearing in mind if you want this option.
Whatever type of heating you're looking for, Bathshack has a great range of traditional and electric towel rails, as well as a fantastic selection of radiators available in a variety of styles and finishes. From cast-iron radiators and column-style, to designer radiators and more, if you want to cultivate a cosy bathroom, then we have you covered.
If you'd like some help with choosing heated towel rails or radiators, just email our team at info@bathshack.com or call us on (028) 9077 0188. Alternatively, our online chat is also available if you have any queries.