Create Warm and Cosy Vibes in Your Bathroom

Now that the evenings are getting colder and darker, you might want to update the look of your bathroom to create a warm and cosy atmosphere. This makes stepping into the shower on a cold, dark morning easier and creates a relaxing atmosphere for soaking in the bath on chilly evenings. This guide will suggest different ways you can create warm and cosy vibes in your bathroom in time for winter, from lighting to warm colours and more!
Mood lighting
Mood lighting is the most effective way to achieve that warm and cosy look. We recommend using wall lights or ground lights to achieve this effect, as they will spread a warm glow up your walls. You can then switch off your main light while relaxing in the bath, allowing your mood lighting to create a snug and welcoming atmosphere!
Upping the glam factor of your lighting can also help make your bathroom feel warm and cosy. Why not swap out your main ceiling light for a chandelier? This will add a touch of luxury to your bathroom and make it feel more inviting.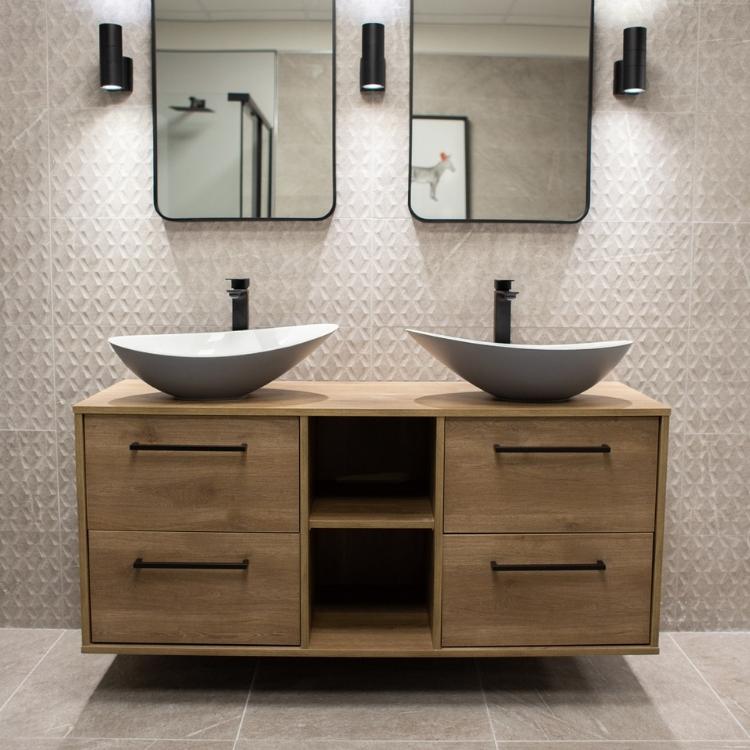 Adding a few candles will also add to the atmosphere! Choose candles with a winter scent such as cinnamon, orange, or something spicy like ginger, as this will enhance the warm and cosy vibes. Our bath caddy is perfect for holding your favourite candle while unwinding in the bath on a winter's evening.
Warm colours
If your colour scheme is too vibrant and cool, you'll lose that cosy feeling. Autumnal colours and off-whites work well when creating a warm atmosphere in your bathroom. These include browns, beiges, and warm greys – all comforting colours which can be styled in a variety of ways. These neutral tones work well together, so feel free to mix and match! Avoid choosing shades that are too dark; if you want to darken things to create the right mood, dim the lights and light some candles.
Shop from our wide range of tiles to create your warm colour scheme. We have warm tiles in a range of styles for walls and floors, so you are sure to find the right one for your design scheme. We also have a huge range of bathroom furniture in beautiful warm shades. To shop the entire collection, click here.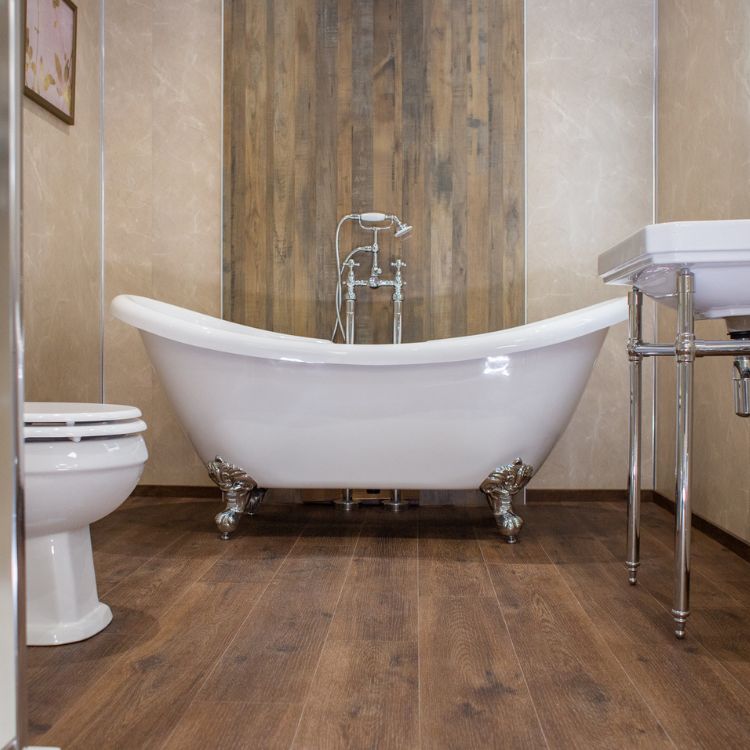 Want to add more colour to your bathroom? A rich green, such as the Metro Verde Bottle Green Tile, is the perfect accent for a warm and cosy bathroom. Pair it with brass features and some wall lights to up the cosy feel. If green is not your style, we recommend maroon for a warm pop of colour. You can check out our range of maroon vanity units here.
Organic textures
Can't afford a spa getaway this winter? Adding a touch of nature to your bathroom will help make the space feel warm, cosy, and rustic – just like a high-end spa!
Wood effect floor tiles are a cost-effective way to add organic texture to your bathroom. They look just like natural wood but are better suited for the bathroom as they are more durable and lower maintenance. Our range offers a choice of colours – we advise choosing a rich brown to create a warm and cosy feel. As an alternative to tiles, our vinyl and laminate flooring is super easy to install and looks just like luxury hardwood! They are also a great insulator, which helps to keep your bathroom warm and toasty.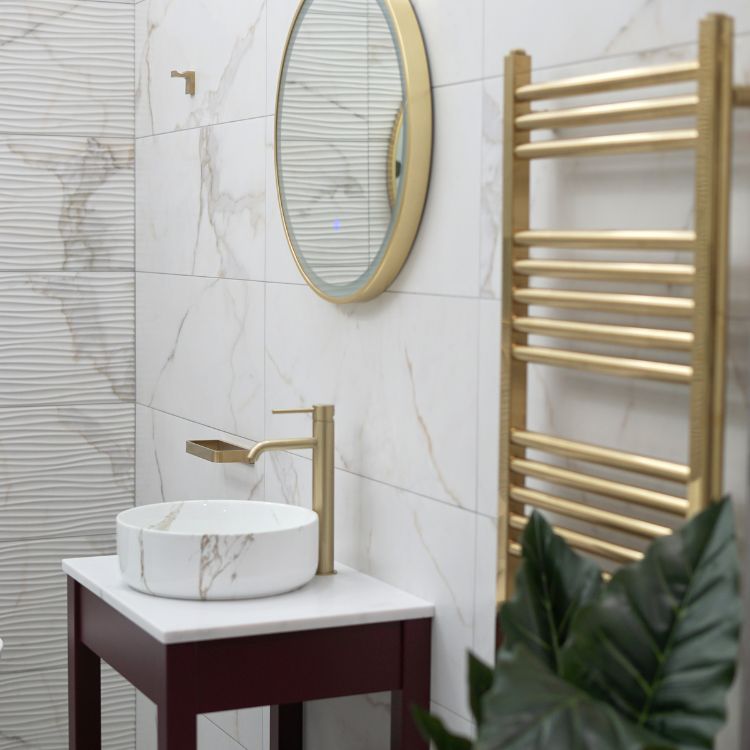 Pair your new floor with wood tones throughout your bathroom to tie the room together. For example, our range of Baltimore Chestnut Furniture is the perfect rich shade for a warm and cosy look.
White marble effect is also an excellent way to add warmth and opulence to your bathroom. We recommend mixing two different marble tiles for visual interest and texture, such as large-format tile with a metro or mosaic. To complete your warm and cosy look, pair with gold or brass accents in the form of taps, a shower, or a mirror.
Metallic accents
Glistening metallic accents are an on-trend way to bring a warm and cosy feel to your bathroom.
Brushed brass fittings are a warmer alternative to chrome, adding a glamourous glow to your bathroom. We stock a wide range of brushed brass taps, showers, framed mirrors, lighting fixtures, and accessories, so you can coordinate your whole bathroom in style.
Alternatively, you could make a statement with a copper leaf bath! These tubs complement any bathroom décor, be it traditional or modern. This Marseille Luxury Freestanding Bath will warm up any bathroom that feels a little cold.
A bronze tile can also make a space feel warmer. For this look, we recommend our Devon Metallic Bronze Subway Tile. These shimmering tiles have an uneven surface and a dark, shadowy bronze finish. The light reflects off them in unique ways, so they look different from every angle. Use it to tile your shower enclosure or the area around your bath or vanity.
Toasty towels
When creating a cosy space, it's not just the look of the bathroom that's important—you must also consider its functionality. A heated towel rail will make your bathroom feel warm and inviting. There's nothing quite like stepping into a warm towel after a bath or shower, especially during the winter months! To shop our heated towel rails, click here. Many of our towel rails have a high heat output to heat the whole bathroom, serving 2 functions in 1. Add a soft bathmat to your space to increase the cosiness.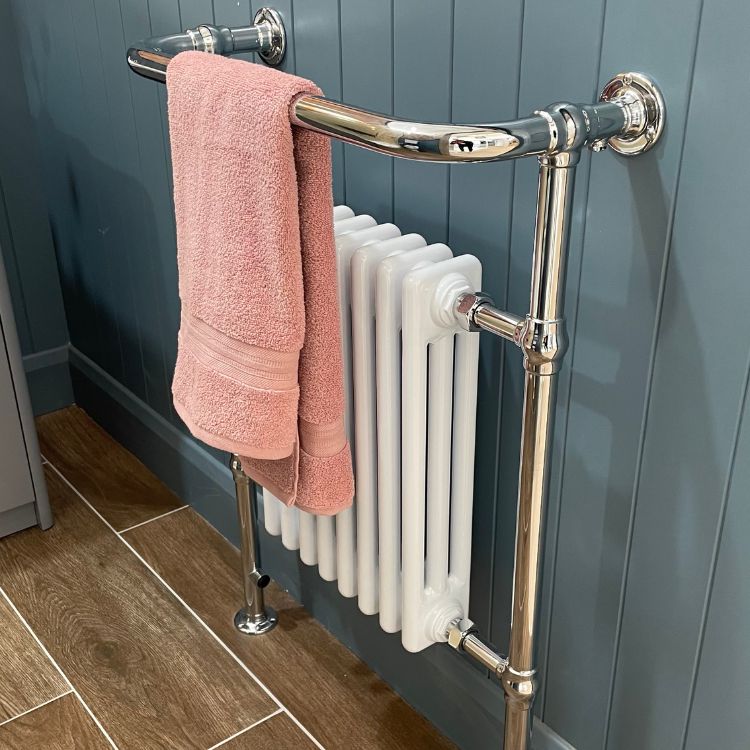 We also advise investing in some fluffy towels and displaying them openly in your bathroom. As well as being functional, a stack of pretty towels will make your bathroom feel much cosier. Store them on your towel rail or a vanity with open shelving such as the Josef Martin 800mm Havana Wall Mounted Vanity Unit.
Wallpapered walls
It may not be the first thing you think of when decorating your bathroom, but wallpaper is great for creating warm and cosy vibes in a traditional design scheme. It is an elegant, classic look that's reminiscent of a country cottage! If you're looking to buy wallpaper for your bathroom, then look for waterproof and water-resistant options.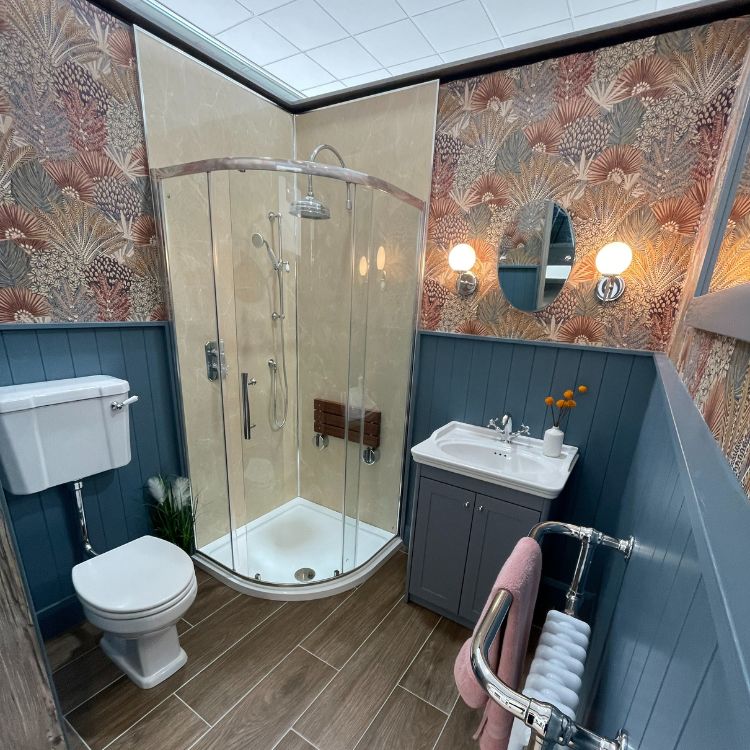 Check out the wallpapered walls in this bathroom display in our Coleraine showroom (pictured). To replicate this look in your bathroom, come and pay us a visit in Coleraine.