Choosing the Right Furniture for your Bathroom

Are you in need of new storage for your bathroom? Our bathroom furniture comes in all shapes, forms and finishes, from compact cloakroom units to basin & toilet furniture runs. The kind of storage you need will depend on your needs and size of bathroom. However, bathroom furniture is more than just functionality; it can also be a stunning design piece for your bathroom. Our below guide will help you choose the right furniture for your own bathroom as you consider your storage needs, room measurements, layout, and desired design scheme.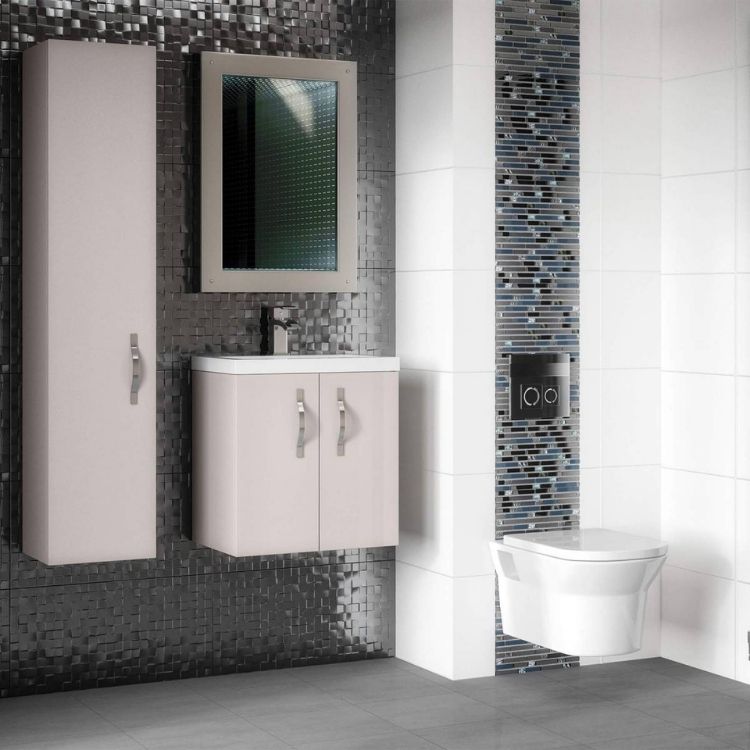 First, Decide What You Need to Store
The type and size of storage furniture you need will depend on what you'll be storing. Do you just need a place for toilet roll and toiletries? Will you be storing your towels in the bathroom? You should also consider whether your bathroom storage needs will increase as the years go on. For example, you may be planning on growing your family. If you think ahead, you won't have to worry about squeezing in extra furniture later.
Room Measurements & Layout
Before purchasing anything, you will need to measure the space you have available in your bathroom so you can determine what kind of furniture you can fit and where it can be positioned. To help you plan the perfect bathroom, you can use our handy Bathroom Planner. When you finish your layout, we can give you a call and advise you on how to maximise your design.
It is also important to leave enough space between particular elements in your bathroom. For example, take into account how far the doors or drawers of your furniture will open, so you can avoid collisions with the bathroom door or other furniture.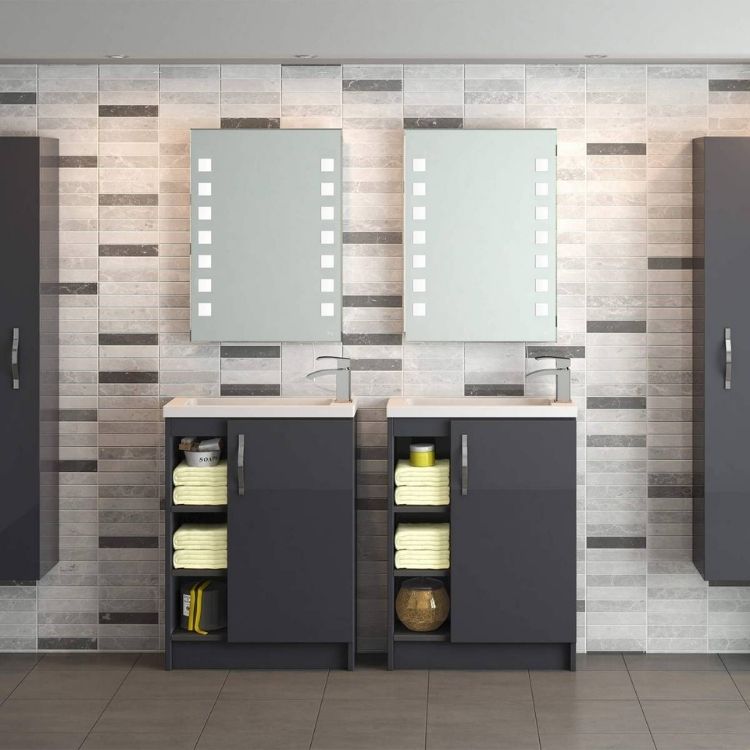 Different Kinds of Bathroom Furniture, Explained
Once you know the differences between our different kinds of bathroom furniture, you will be able to make a more informed decision on what to include in your bathroom. As always, we recommend hiring a plumber to fit any furniture involving basins or toilets to make sure it's done correctly and without any damage.
Cabinets & Storage Units are an excellent solution for storing anything you need for your bathroom in one convenient place, from toiletries and medicines to cleaning products and towels. Choose between cabinets that have drawers, cupboards, or both. Our Cabinets & Storage Units are designed to conserve as much space in your bathroom as possible while providing ample storage at the same time. Therefore, we have Cabinets & Storage Units to suit bathrooms of every size, even ensuites. Our tall units make use of vertical space, while our wall hung options free up the floor.
Vanity units are ideal as both storage and washing spaces, keeping all your toiletries, make-up and other essentials to hand while doubling up as a basin unit. This makes them a clever and stylish storage solution, creating a clutter-free environment while combing two functions in one to save floor space. Install one of our Bathroom Mirrors over your vanity so you can apply make-up, shave or brush your teeth with ease. We have compact units that are specially designed for small bathrooms, cloakrooms and ensuites, as well as larger units with plenty of countertop space for storage and a Countertop Basin. No matter what size you choose, you will be guaranteed generous storage space in the form of drawers, cupboards or both.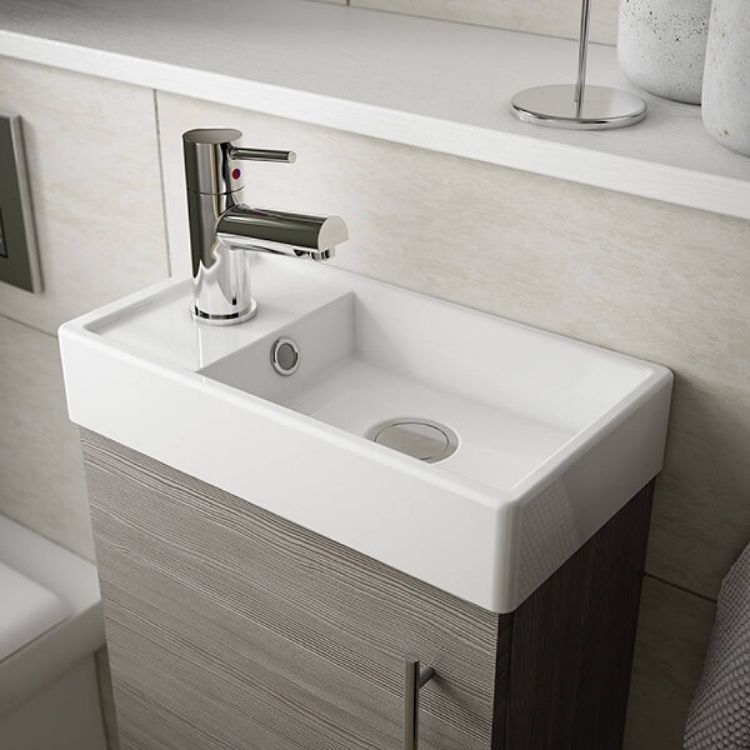 Basin & Toilet Furniture Runs consist of a toilet, basin and vanity combined in one practical, compact unit. These runs are perfect for small bathrooms and ensuites as they conserve space without compromising on style. Our elegantly designed runs look just as stylish in larger bathrooms too. In purchasing in a furniture run, you can also maintain a consistent design theme throughout your bathroom quickly and easily.
A WC unit is a toilet pan connected to a back-to-wall unit which covers the cistern. This can look much neater than standard toilets and cisterns while also coordinating with your bathroom's colour scheme. Another advantage of these units is the extra shelf space they offer. Styled like a vanity unit, this product will provide somewhere for you to store toiletries and bathroom accessories.
Should I buy Wall hung or Floorstanding Furniture?
Floorstanding furniture usually provides more storage space. They are perfect for bathrooms where saving space isn't an issue. Since they're not fixed to the wall, you won't have to worry about weight or drilling holes into the wall. When purchasing floorstanding furniture, make sure you plan your bathroom layout carefully to leave the room feeling as spacious as possible.
Ideal for smaller bathrooms, wall-mounted bathroom furniture has the advantage of freeing up the floor underneath. This creates the illusion of more space while also providing a place underneath for storing items as waste bins. Bear in mind that your walls may have to be strengthened to support wall hung furniture, so consult a builder for advice.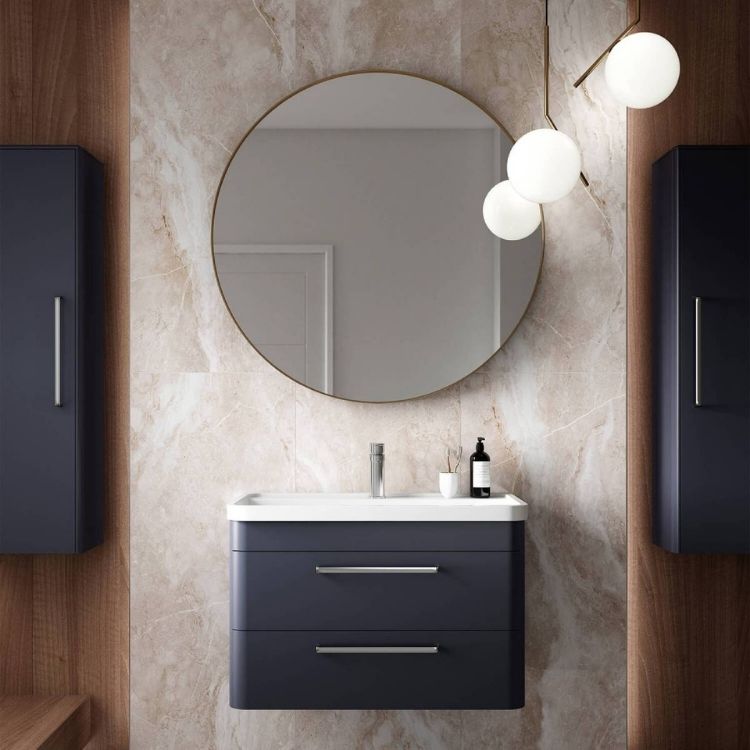 Choose The Right Style for Your Bathroom
When purchasing your bathroom furniture, make sure you choose products that complement the look of your bathroom. Our bathroom furniture comes in a huge variety of designs and finishes, so no matter your design scheme, we have the perfect furniture to elevate your space.
- If you have a traditional bathroom, opt for furniture in muted colours such as white, cream, grey or dark blue, or furniture with a wood effect finish. Cupboard doors and drawers with knobs instead handles will also look stunning in a traditionally styled bathroom.
- If you have a more modern bathroom, why not go for black bathroom furniture? More dramatic than other finishes, black is becoming a hugely popular trend in contemporary bathrooms. It is great for adding depth and contrast without overpowering your space. Furniture with angular handles or push-to-open drawers will also fit seamlessly into a modern bathroom.
- Looking to push the boat out a bit? You could incorporate a piece of furniture in a bold colour to create a stunning focal feature in your bathroom and make the space 'pop'. For example, our luxurious range of furniture by Josef Martin includes stunning bright colours such as yellow, pastel pink and rich greens.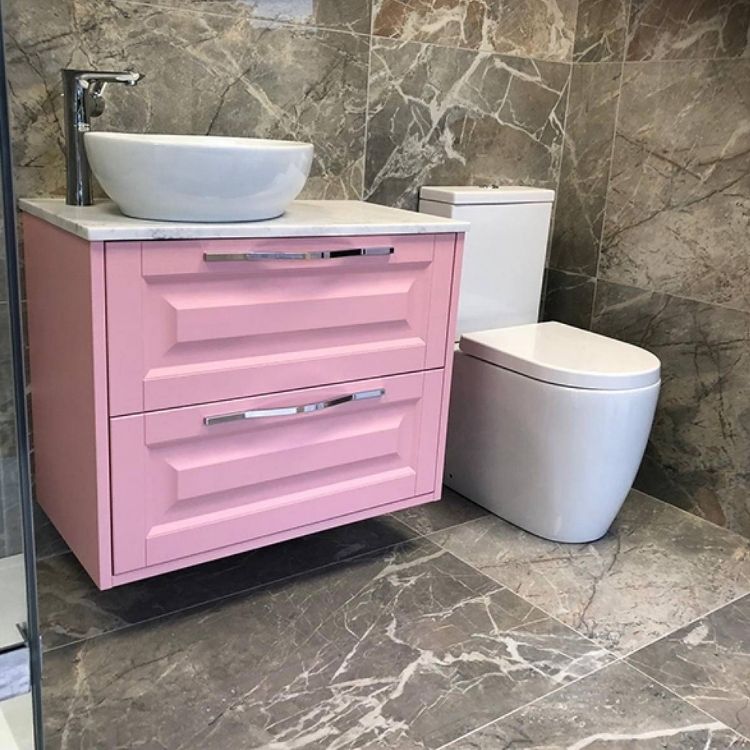 Choose Furniture That's Suitable for Bathrooms
Almost all our bathroom furniture is constructed from MDF (Medium-Density Fibreboard), a kind of engineered wood. Unlike natural wood, this material is resistant to moisture and fluctuations in temperature, so it won't warp over time or suffer water damage. This makes it the perfect material for durable bathroom furniture, so you can be assured that whatever you choose is built to last.
Still not sure what bathroom furniture to buy? Pay a visit to one of our showrooms, where are amazing staff are on hand to guide you through your purchase. You can also Contact Us by phone or Live Chat, or book an Online Consultation with one of our showroom staff. We will help you kit out your bathroom in no time.