Back to School Bathroom Hacks

It's almost that time of year again when we prepare for the return to school in September! Besides sorting schoolbooks and uniforms, it's also a good idea to organize your bathroom to make your family's morning routine and bathroom upkeep as easy as possible. Making getting ready for school as stress-free as possible will allow you to appreciate this precious family time before the school run. Read on to discover our top back-to-school bathroom hacks for young, busy families.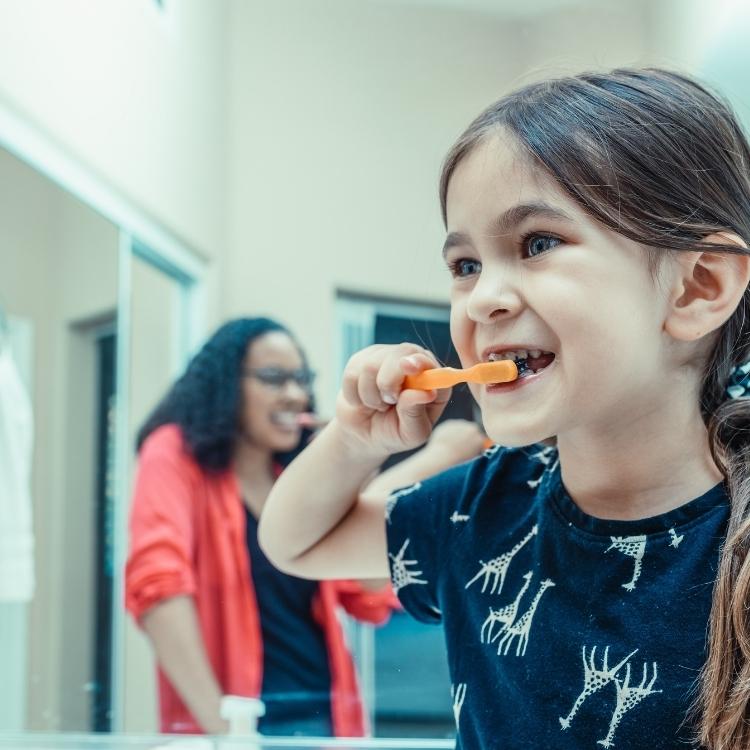 Keep things simple & easy to clean
A family bathroom should be simple as it makes it easier for everyone to use. It also makes your bathroom much easier to clean and maintain. In a clutter-free, minimalist bathroom, you can easily clean up spills and wipe away fingerprints caused by young hands. Choose a bathroom suite with a minimalist design, such as this Nuie Freya Back to Wall Toilet with a plush plate. Fittings like these have fewer nooks and crannies for dirt and germs to gather, so you can simply wipe it clean. If you have a hectic morning routine at home while everyone gets ready for school, you can at least be assured that the cleanup will be easy!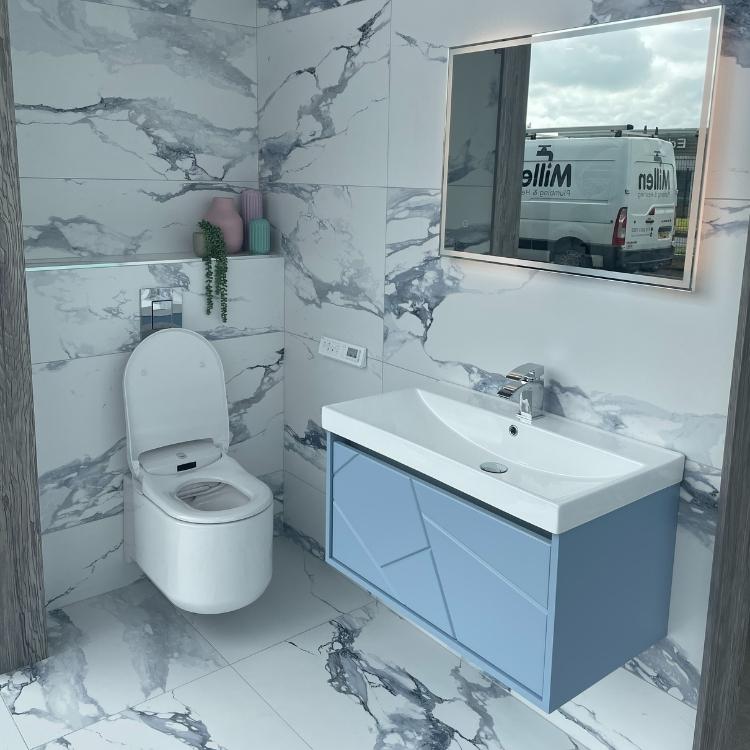 Towel hooks for everyone
Morning can be chaotic in a busy family home, especially if everyone has a wash before school. We recommend assigning a towel hook for each member of the family. It will avoid confusion over who owns each towel while keeping them within easy reach to make everyone's routine more efficient. Hooks also keep towels dry and off the floor for easy reuse and a more organized bathroom. Unlike towel rails, individual hooks mean you can adjust the height for each family member. This means even the littlest ones in the home can easily take down and hang up their own towel!
Keep your shower organised
Like towels, it helps to keep the kids' shampoos and body wash in one convenient place for an even quicker shower or bath in the morning. A shower basket is the best way to keep all shower essentials neat, organised, and within easy reach. If you have a large family where everyone has their own preferences (e.g., two children might prefer different scented shampoos), you can purchase a 2 or 3-tier basket. It means each child can have their own assigned basket to avoid confusion or arguments. Or, you can have one basket for the kids, and another for the grown-ups on the higher tier!
Our shower baskets come in a choice of finishes, from classic chrome to modern black. We also have space-saving corner baskets available for smaller bathrooms. No matter your bathroom's design, we have a basket to complement it perfectly.
Tidy up your basin area
Is your basin area or bathroom countertop looking a bit cluttered? Put your soap in a dispenser and purchase a bathroom tumbler cup for toothbrushes and toothpaste. It will help make your morning routine quicker and less hectic. We offer a wide range of tumblers with wall mounted holders, so you can easily find one that suits your bathroom's style. If you have a large family and a spacious bathroom, you could even install a tumbler holder per child. This Double Tumbler is perfect for separating different toothbrushes and accessories.
Invest in a digital shower
A digital shower is a fantastic investment for a busy household, especially with children who are just old enough to shower by themselves and are getting to grips with shower settings. These showers allow for greater water temperature control to a degree. They also have customisable presets, so each family member can easily save their preferred shower settings to save time in the morning.
The controllers for our digital showers are wireless, allowing you to position them on the wall of your choice and at your preferred height. It means even the smallest in the house can switch on the shower themselves and select their preferred setting. And with an easy-to-read, full-colour digital display, it's perfect for weary little eyes first thing in the morning.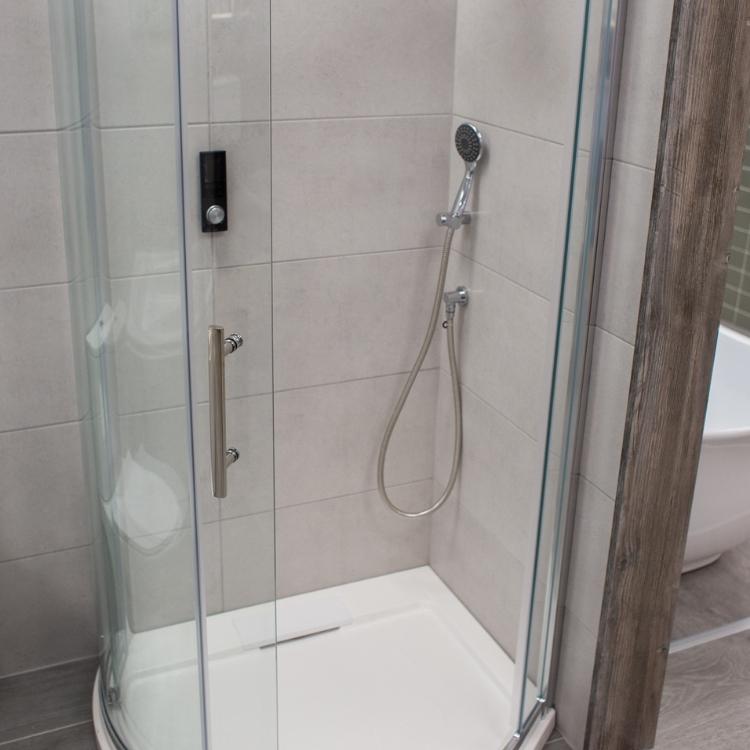 Our digital showers also have thermostatic control to maintain your chosen water temperature for the entire duration of your shower. This prevents any external actions like a flushing toilet or the turning on of a tap from changing the temperature, preventing scalding. Therefore, when the whole family is getting ready for school in the morning at the same time, the person showering will not be surprised by a sudden burst of hot water!
All our digital showers come from top manufacturers Triton and Mira, so you know you are purchasing a high-quality, reliable product. All Triton showers in this range come with a Manufacturer's Guarantee. Our Mira digital showers feature a maximum temperature setting, ensuring safer showering for all the family. They also display a 5-minute timer when the Eco Function is selected, which can help children be aware of how much time they are spending in the shower in the morning – (hopefully) no more being late for school because of excessive rinsing!
Make sure you have enough lighting
Good bathroom lighting is necessary for everyday tasks before school, such as teeth brushing and face washing. It is also vital for your children's safety, as it reduces the chance of knocking against objects and slipping on a wet floor while they rush to get ready. This is especially important for those dark winter mornings.
Invest in a good ceiling light for your main light source, then add task lighting to light up specific areas. For example, a shower light will illuminate a dark shower or bath, while an LED Mirrored Cabinet will provide excellent lighting over your basin along with a mirror and extra storage.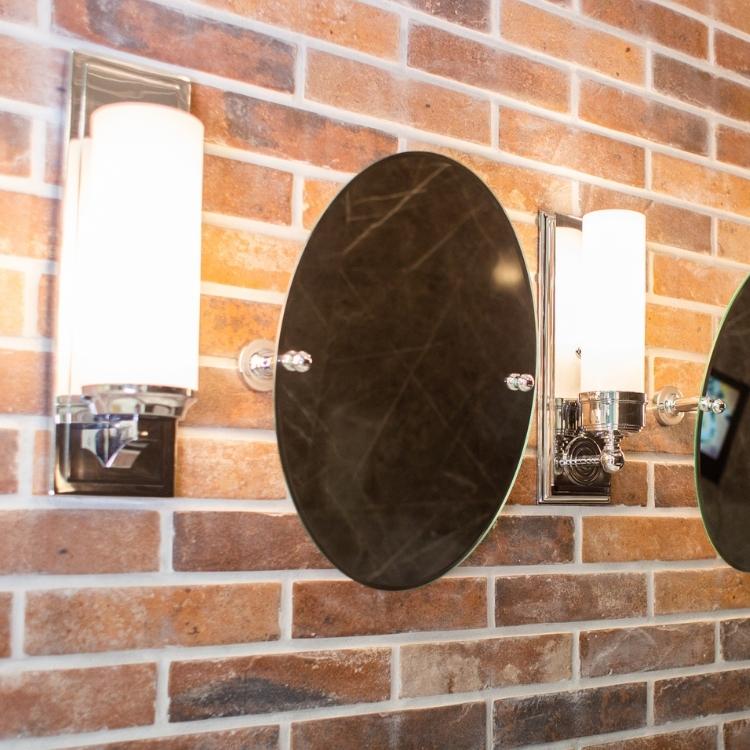 Ensure you have enough storage
You can never have enough storage for a busy family bathroom! Providing enough storage for spare towels and everyone's bathroom essentials will ensure the family are well prepared for the mornings. We have a wide range of bathroom storage furniture including cabinets, storage units, tallboys, and vanity units, catering to all your storage needs.
If you have the space, invest in furniture that provides one shelf or drawer for each child, so everyone can easily access all they need to get ready for school. If you have a smaller bathroom, our compact furniture will still provide ample storage space. We recommend purchasing a product with soft close hinges or drawers to prevent slamming noises, trapped fingers, and damage to the unit.
Inject some fun colour
Getting ready for school isn't the most fun family activity, but you can make your bathroom routine as enjoyable as possible by adding funky colour to your space. A bold colour or pattern in your bathroom's design will help to boost everyone's mood for the school or working day.
We offer wall and floor tiles in a wide range of colours and patterns, allowing you to brighten up your bathroom in style. Why not get the kids involved by asking what colour they would like in the bathroom?
When buying tiles for a busy family home, choose one with an easy clean surface. Gloss tiles have a protective coating that makes them very easy to maintain. We also recommend porcelain tiles for the floor as they are best for heavy foot traffic.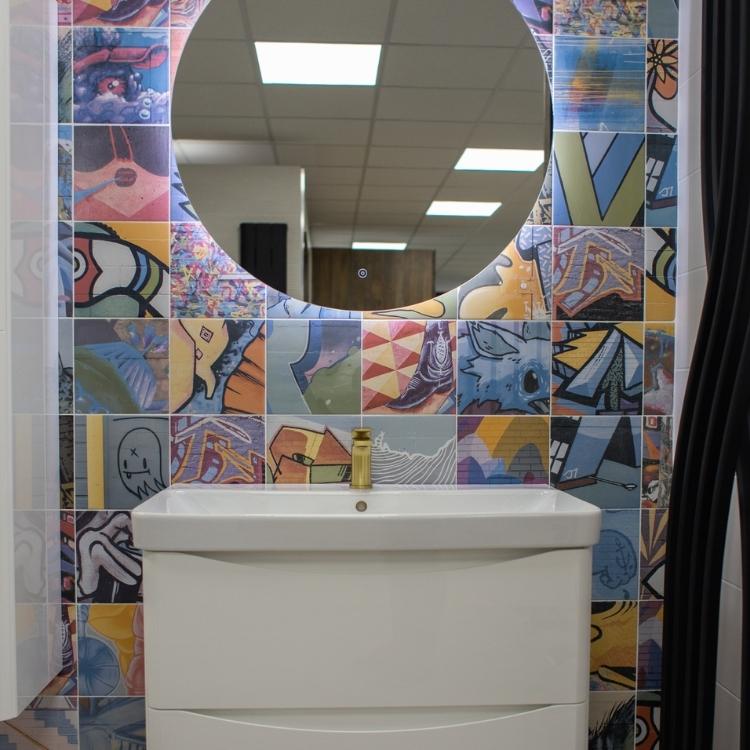 We really love these Tag Graffiti Tiles for a family bathroom. They are ideal for those looking for something special and unique. Inspired by street art, each tile features a different design which is part of an art mural. The versatile patterns allow you to be highly creative, using your imagination to add colour and texture to dull spaces. Even just a few tiles will give you a bold burst of colour!
The Tag Graffiti Tiles are also very easy to maintain. They have a matt finish and a quick-wipe surface, so you'll be able to keep them looking sparkling new for longer. Made from high-grade porcelain, they are durable enough to last in even the busiest of bathrooms.
Ready to prepare for September? Shop the full range of bathroom ware and accessories online today to find all you need for back-to-school. Unlike our competitors, we deliver all over the UK & Ireland. You can also pop into one of our showrooms on the island of Ireland, where our team will be happy to help you find the right bathroom products for your family's needs.