5 Freestanding Bath Ideas

Nothing says bathroom luxury quite like a freestanding bath!
A freestanding tub gives you greater flexibility when planning your bathroom layout. While built-in baths are positioned against the wall, you can place these baths wherever you wish. If you have the space, you can put a freestanding bath in the centre of the bathroom for a dramatic centrepiece and a spa-like feel. Since these baths do not support deck mounted taps, you can add a fabulous freestanding tap.
Most of our freestanding baths are double ended, which means the overflow hole is positioned in the centre to allow for two sloping sides. It means you can comfortably lie at either end with your legs stretched out or share with your significant other.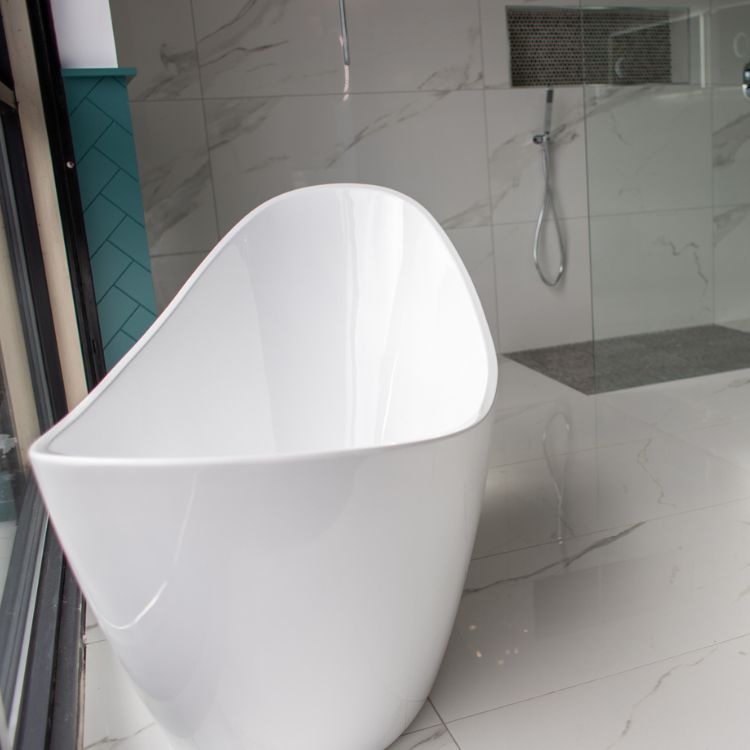 Not sure where to start when choosing a freestanding bath for your bathroom? The following guide is sure to inspire you!
Modern luxury
A modern freestanding bath combines the elegance of a classic bath with a clean, contemporary design, which is perfect for achieving a designer feel in a modern bathroom. Our modern models include rounded, curved, and rectangular designs, so it's easy to find a bath that best serves your space. Most of these baths have thin, sharp ledges to give them a refined and contemporary look, so you don't have a bulky, awkward bath that takes up too much space.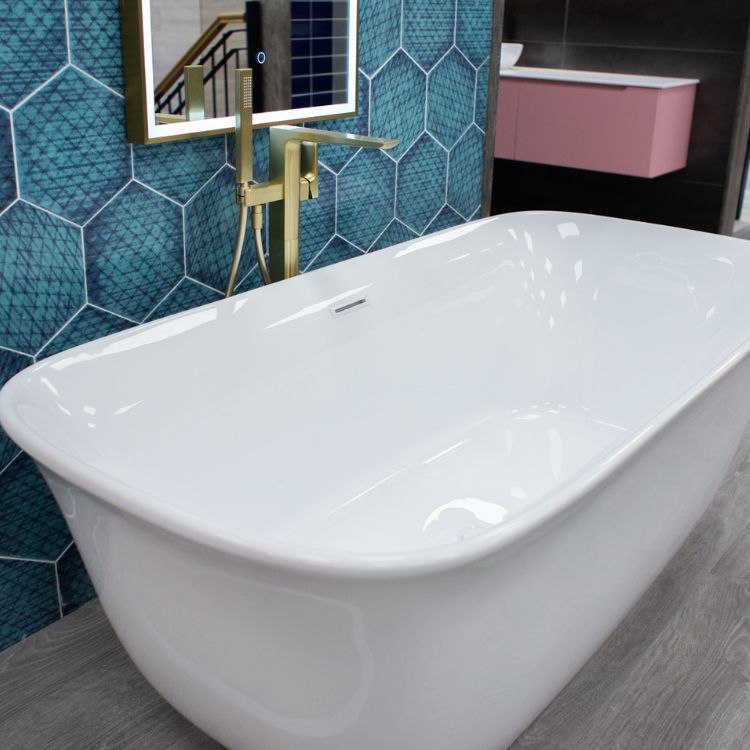 The Viktor Benson Cancun Bath has a beautiful curved design and is deep enough to completely submerge yourself in luxury! We also love the Moods Bathrooms to Love Edmonton Freestanding Bath. The elegant egg shape is very modern and upscale, which is ideal if you want something more unique.
Pair a modern freestanding bath with a black tap and accessories, a very on-trend look that adds definition and drama to a modern bathroom. We also recommend adding organic textures such as wood effect wall panels or stone effect tiles around your bath. This will help make it the focal point of the room and create modern spa vibes at home!
Traditional elegance
With additional features such as claw and ball feet and roll top edges, the traditional freestanding bath boasts a whole new level of refined glamour. Whether you have a vintage-leaning bathroom or you enjoy the softness of a traditional bath, these tubs create a look that's seeped in luxury and class.
The Balmoral 1700mm Double Ended Bath has roll-top edges, elegant curves, and decorative feet which make it a timeless classic! Maintain the traditional theme by adding a freestanding tap with exposed pipework. These taps come with a shower attachment included, giving you the flexibility of a shower bath. Get the most out of your bath by adding other traditional touches to your bathroom such as a classic vanity or a traditional basin.
Back-to-wall style
Do you have a smaller bathroom but still want all the style and luxury of a freestanding tub? Fear not! We offer a wide range of freestanding baths designed to be positioned against a wall, which is perfect for saving space. Pair your back-to-wall tub with a wall mounted bath tap in your favourite style.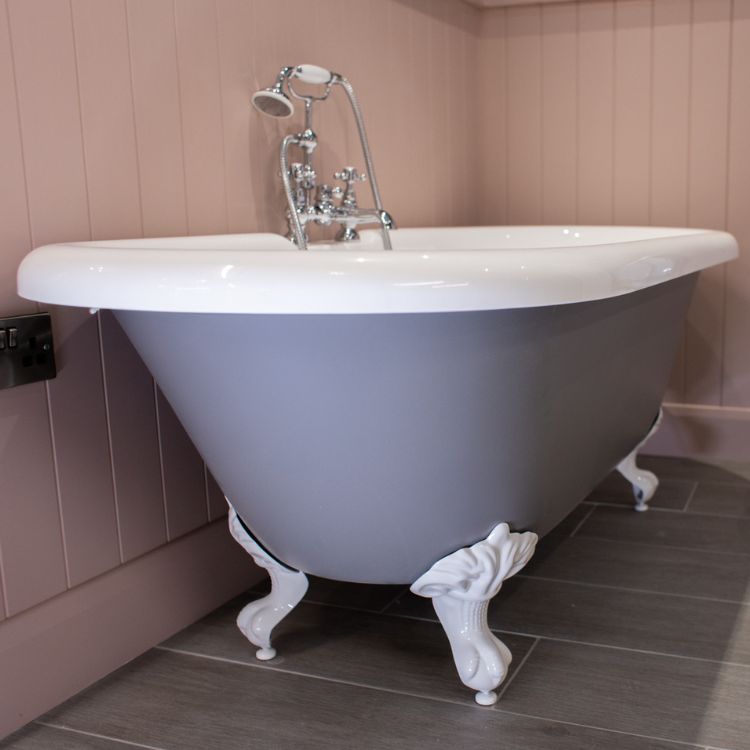 With an angular design and clean lines, this Milan Bath will look stunning against the wall of a modern bathroom. Or, if you have a more classic bathroom, a freestanding shower bath is a good option. These are designed to fit neatly into the corner and will provide you with a bath and shower in one. We recommend a freestanding shower bath from the Balmoral range. Inspired by period style, these classic baths will make any bathroom look authentically traditional.
The slipper
The slipper is a deep bath with a traditional roll-top sloping shape. While it originated in the bath and washhouses of the Victorian era, it is known today for providing a luxurious bathing experience while supporting the body. If you want to enjoy a long soak that's comfortable for your back, a slipper bath might be the one for you.
Generously sized and solidly built, the Traditional English Bateau Slipper is a true vintage beauty! Add the Eliseo Ricci Bath Shower Mixer, and your tub is ready to go. We recommend this bath if you are designing a Victorian bathroom, which is a timeless trend that has grown in popularity this year. You can achieve the Victorian look throughout your bathroom by incorporating a floor tile with geometric patterns, traditional bathroom furniture, and regal colours like deep blue or maroon.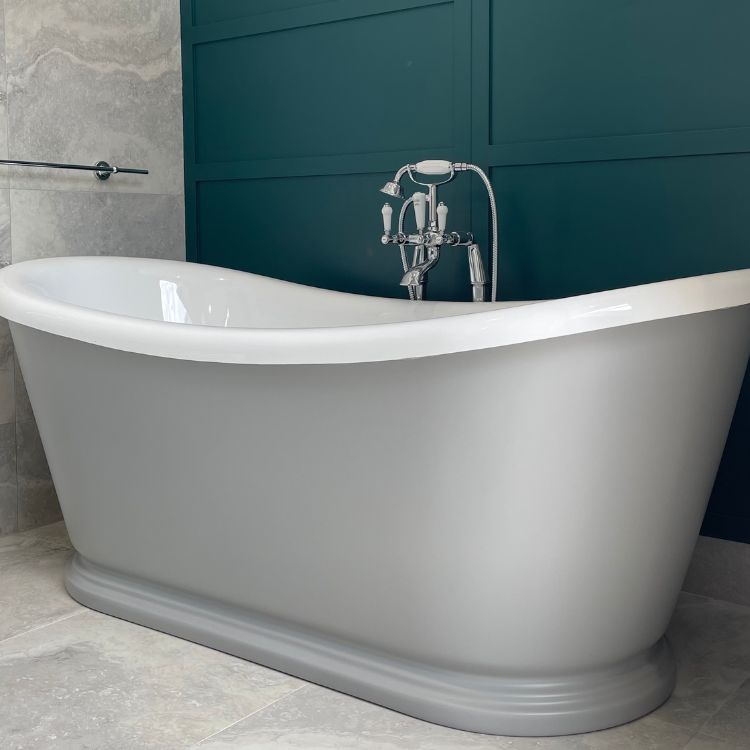 If you have a more contemporary bathroom, we have plenty of slipper baths for you to choose from! For example, the Synergy Slipper is a large, streamlined bath that effortlessly creates a sense of indulgence in a modern space. Like all our modern slippers, the tap holes are located in the centre to give you plenty of space to bathe. Enhance the look of this bath with black or dark grey wall tiles, or coordinate it with light neutrals.
The metallic look
A metallic plated tub will complement any bathroom décor, be it traditional or modern. They make a statement in any large bathroom, but they're also suited for smaller spaces where they can become a central feature. Keep the rest of your bathroom neutral to make your bath stand out and avoid overpowering the space. If you want to up the fancy factor, these baths look great with a white marble floor tile.
This Marseille Luxury Freestanding Bath from the Viktor Benson range is specially designed to steal the spotlight! Its contemporary, curved design and copper leaf finish put a modern twist on a timeless classic.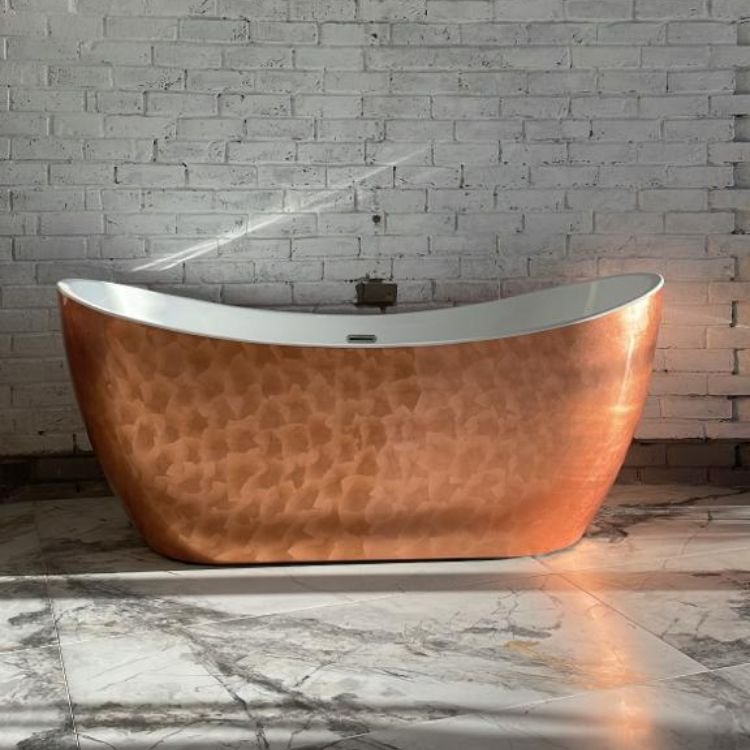 If copper is not your style, why not go for silver? The Heritage Hylton has a similar design to the Marseille and is finished with real metallic leaf. Coated with a high gloss acrylic surface, this high-quality bath will maintain its lustre for years to come!
If you want a comfortable, luxurious bath that transforms your bathroom, you can't do better than a freestanding bath. Available in a huge range of classic and contemporary designs, it is also a highly versatile product. No matter the style or size of your bathroom, you are sure to find the perfect match for your space! Order yours online today, or visit one of our showrooms to view the wide selection we have on display.