Filter By
Shopping Options
What do you think of our filters?
Thank you for helping us improve our filters.
Corner Toilets
The perfect toilet for a smaller space
Great for space saving, our Corner Toilets are ideal for small bathrooms, cloakrooms and ensuites. These toilet and cistern combos fit snugly into corners and provide a practical solution to awkwardly shaped or small spaces. Our range of Corner Toilets even includes a comfort height model. This ensures a more comfortable seating position, designed especially for users who feel pressure on their knees and joints. What's more, all our Corner Toilets come complete with dual push button flush mechanism for a more hygienic, efficient toilet.
A quality, luxury toilet
All our Corner Toilets are from the iconic Dorchester range. Taking its name from the luxury hotel, Dorchester's toilets are renowned for their subtle glamour, ensuring a more sophisticated bathroom. They are also made from high-quality white ceramic to ensure a durable, luxury toilet. For added peace of mind, these toilets come with a 25-Year Manufacturer's Guarantee
Buying a toilet, made simple
To complete your toilet, choose from our wide range of toilet seats to find the perfect size and style. If you want to view any of our toilets and toilet accessories in person, pop into one of our showrooms. Or if you prefer to shop online, we deliver all over Mainland UK & Northern Ireland.
Filter By
Shopping Options
1 - 2 Products of 2
Compare
0
| | | | | |
| --- | --- | --- | --- | --- |
| Price | £99.99 | £1234.56 | | |
| Color | Orange | Red | | |
| Size | 200mm | 500mm | | |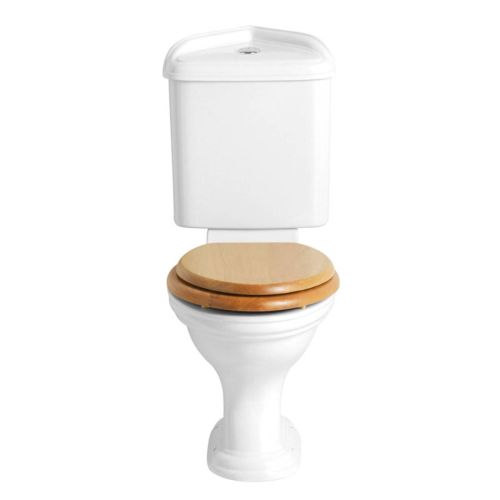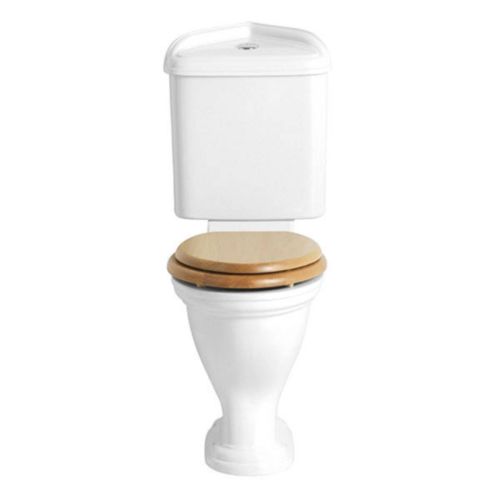 1 - 2 Products of 2
Compare
0
| | | | | |
| --- | --- | --- | --- | --- |
| Price | £99.99 | £1234.56 | | |
| Color | Orange | Red | | |
| Size | 200mm | 500mm | | |
FAQ's
What is a corner toilet?

A corner toilet is essentially the same as a close-coupled toilet, with the main difference being that the former is positioned to project diagonally out of the one corner. The cistern features a triangular design so that it fits snuggly into the corner. In spite of the triangular-shaped cistern, a corner toilet works in much of the same way as a close-coupled toilet.

Is a corner toilet ideal for smaller bathrooms?

The compact design of a corner toilet's cistern so that it fits into the corner of your bathroom makes for an innovative space-saving solution. It is a great choice if your bathroom seems a bit short on space or feels overcrowded, as it is often the projection of a toilet that occupies the most room. With a corner toilet, the amount of space it takes up in sticking out from the wall is greatly reduced for fantastic space-optimising effects.

Do corner toilets add anything in terms of aesthetics?

The compact streamlined design of a corner toilet makes it perfect for achieving that much sought after sleek tidiness. What's more, as it works to maximise on room, it has the potential to transform your entire space by creating a more open bathroom.

How much space is needed for a corner toilet?

Most plumbing codes require the corner toilet to be installed at least 15 inches from the centre of the toilet to the side of a wall or obstruction (such as a basin), and not any closer than 30 inches to other sanitary fixtures. We advise speaking to a member of our staff before purchasing to ensure a corner toilet will fit your space.

What style of bathroom would a corner toilet suit?

The unique and compact design of corner toilets is a great addition to smaller spaces, or within bathrooms after that sleek, compact look. To complete the minimalistic sleekness of a corner toilet, why not pair it with other corner units such as a corner unit and basin for a seamlessly compact look.