Stylish taps are essential for a beautiful bathroom. They draw the eye to important features in the bathroom and tie the design scheme together. If your bathroom is starting to look grimy or dull, brand-new taps will make it look more hygienic, fresh, and shiny.
A deck-mounted tap is directly attached to your basin or bath through drilled holes. Changing one of these taps is not a difficult job and can be easily done by yourself once you know the correct steps (although we always recommend consulting a professional plumber if you are unsure about anything). This how-to guide will show you how to replace a basin or bath tap to help make your bathroom look like new again!
Step 1: Switch off the water
The first thing you should do is turn off your water supply. Then, run the taps until they drain the system dry. Make sure all your taps remain 'open'.
Step 2: Remove the old tap
Get under your basin or bath and using a wrench, unscrew the nut that locks it to your old tap. This can be a bit fiddly at first, but once the nut is loosened, it should come off easily. You should also make sure the tap doesn't rotate as you try to unscrew the nut. Once the nut has been removed, you can simply remove the old tap from the pipework.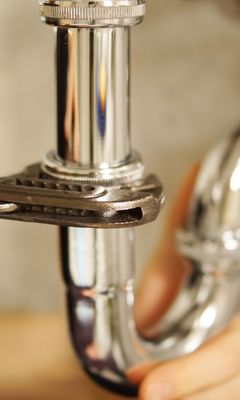 Step 3: Check your fittings and plumbing
After removing the old taps, make sure to clean the whole area to remove any old adhesive and dirt. You should also check the condition of your pipes, fixings, and joints to ensure there's no damage.
Before fitting the new tap, you should confirm that its fittings work on your old pipework. You may need to get a connector if there is any discrepancy.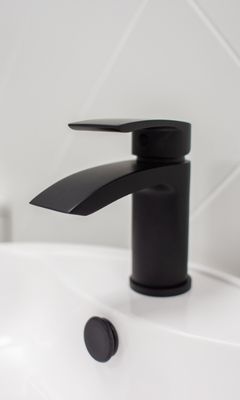 Step 4: Fit your new tap
Now you can screw on the new shower head, using your hand to tighten it.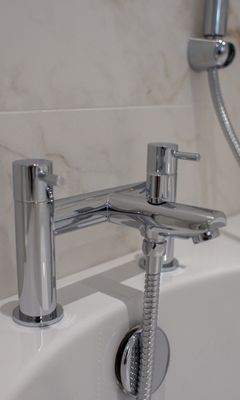 Step 5: Check for leaks
Next, switch the water back on and gently run the taps. Check all around the taps and the connections to see if any water is leaking. Even the smallest drip can lead to damage over time, so it's important to be thorough. If you find a leak, simply tighten the nuts and connections, and check again. If you continue to find leaks, you may need to take it apart and try again.
What kind of deck-mounted taps are available at Bathshack?
Knowing the difference between the different kinds of taps will ensure you choose the right one for your bathroom. Here are the deck-mounted taps we offer at Bathshack: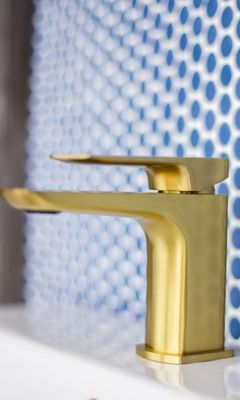 Mixer taps mix your hot and cold water through one spout, giving you greater control over your water temperature and flow. Mixer taps include:
• Mono mixers – these are designed for basins with one tap hole.
• Filler taps – designed for baths and require two tap holes.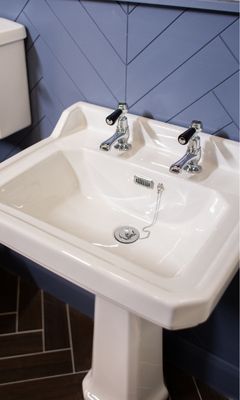 These classic taps have separate hot and cold spouts, so they require two tap holes. They are usually found in traditional bathrooms – you may have had a pair of these beauties in your childhood home! Our pillar taps come in both traditional and modern styles.
Knowing how to change a tap will save you a fortune on labour costs. It also means you can fit your new tap right away instead of waiting for a plumber! Shop our full range of basin and bath taps here to find the perfect one for your bathroom update. We stock modern and traditional taps in range of finishes, from chrome to black and brushed brass. We highly recommend matching your basin and bath taps for a cohesive look.