Buying Guide - Shower Enclosures
Your shower setup is now an essential feature in your bathroom. It offers more than merely a place to get yourself clean, as it plays a significant part in the appeal or aesthetics of your bathroom. If you're in the market for a new shower enclosure, rest assured that you're spoilt for choice. But there's one problem with that - how do you choose the right one among the vast range of options? And that's why we've taken the time to put together this Ultimate Shower Enclosure Buying Guide just for you. So, let's get right into it.
No matter the size, shape, or design of your bathroom, there is always the perfect shower enclosure available for you. We have covered every essential thing you need to know, from shower enclosures designed for very tiny spaces to the lavish walk-in options intended for a little larger space. Before we go on, if you're not sure what a shower enclosure is, it comes with one or more glass panels, which encloses your bath area, and prevents splashes from spreading to the other area of your room.
Why Buy A Shower Enclosure?
There are several reasons why you should add a shower enclosure to your bathroom space. We have already mentioned that it prevents splashes from reaching other areas of your bathroom and helps keep the space clean. It also adds to your bathroom's aesthetics, providing a more stylish and practical way to take your baths, unlike using the bathtub.
But that's not all; with a shower enclosure, you can step into and exit it with a lot of ease. You can also use a shower enclosure to replace a bathtub that you hardly use. Plus, shower enclosures come in so many designs available for any bathroom type, size, or design.
However, you must determine what type of bathroom you want to use the shower enclosure in, as that will influence your choice. Do you want something for a busy family bathroom or a small en-suite? To help you make the right choice, let's find out how to choose the most suitable shower enclosure.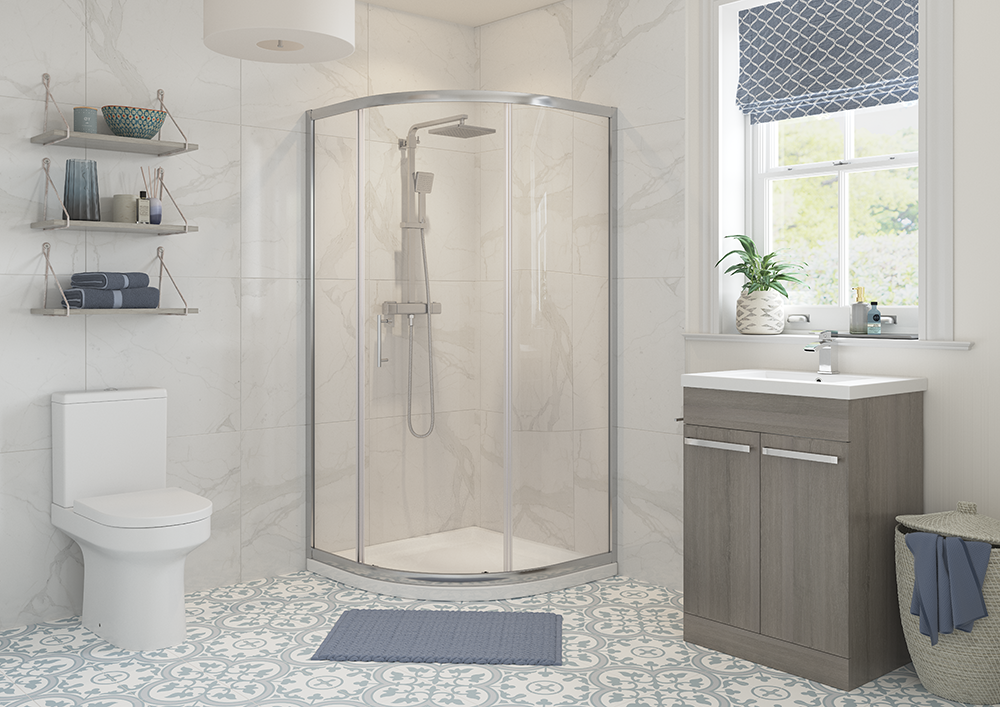 How To Choose The Right Shower Enclosure. Things To Consider
So, how do you select the proper shower enclosure for your home? Before you dash off to the store, here are some things you need to consider first.
Size
Your ideal shower enclosure size will vary, depending on your bathroom's overall size and the amount of attention you want to give your shower area. The average enclosure size ranges from 700mm for small en-suite sizes to 1600mm for three-sided walk-in enclosures. In between these sizes are numerous options available for any space. However, the most important thing is that you take the time to measure your space before making your order. Start by marking out the shower area's width and length with chalk from the walls to the bathroom floor. Doing this will help ensure that you know what shower enclosure size you need.
Shape
Once you're sure about the enclosure size you need, it is time to find the right shape for you. The shape of a shower enclosure will depend on the shower tray it comes with unless you plan to fix the panels directly on your bathroom floor - in which case you will have more freedom. There are various shapes of shower trays to use as the base for your glass panels, from the standard four-sided shape to quadrant and unique pentangle shapes that work pretty well in irregular spaces. But if you're looking for something more generic or simple, your safest option should be the standard square or rectangle shapes or trays. You can also opt for a quadrant shape that comes with a curve to the front edge if you want to soften up the aesthetics a little.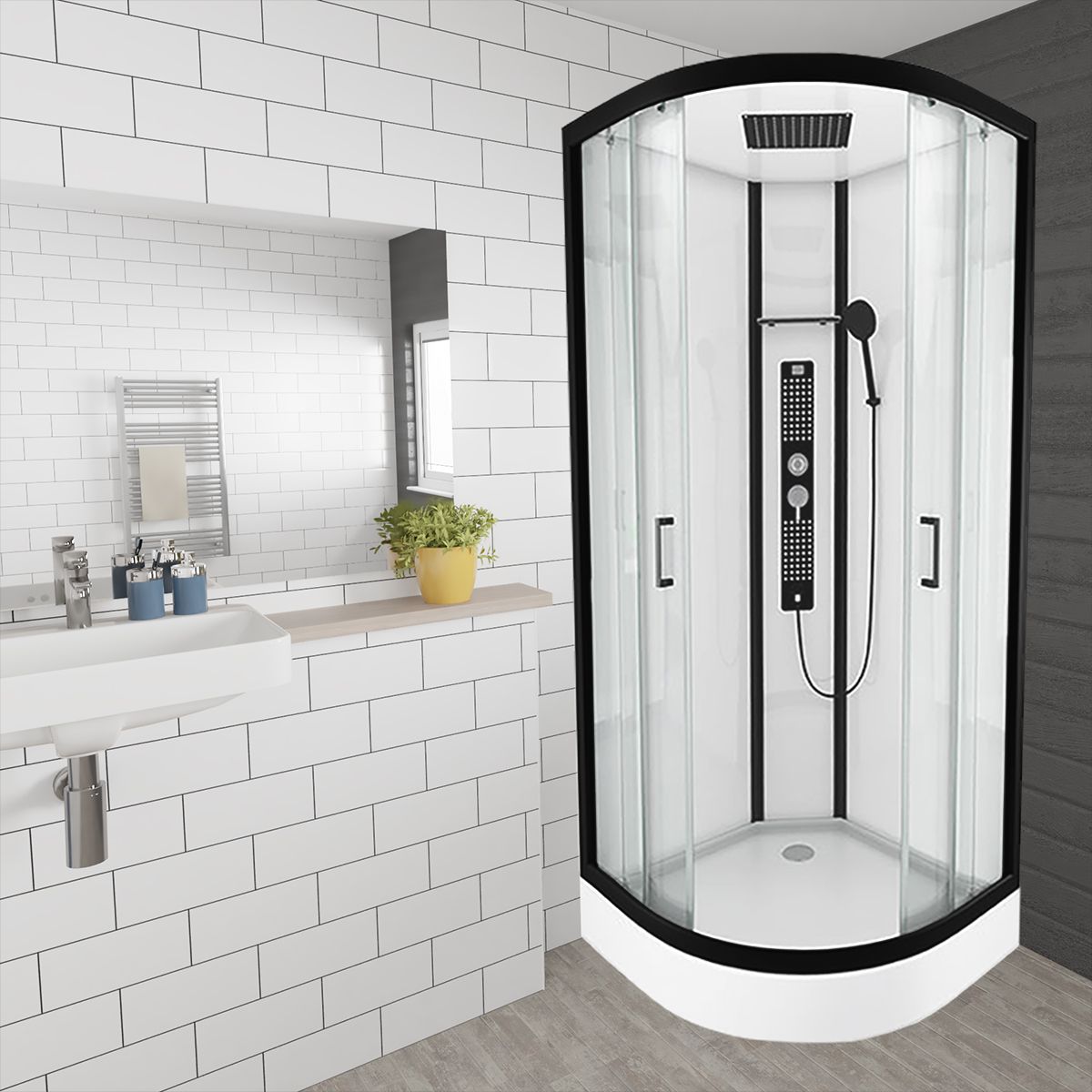 Positioning
Because most shower enclosures have at least one side at 90 degrees, the most convenient position will be in a corner. Plus, this positioning is perfect if you don't have too much space to spare. If space is not a problem, you can relocate the position to a more central part of your wall and structure a more centralized appeal.
Door Type
The door type will also pretty much depend on the shape of the enclosure. However, you can also select from a wide range of designs, from the classy to the modern and traditional design. You can also decide to go doorless if you're looking for a more ultra-modern appeal. But if you prefer functionality to style, then ensure that the door fits perfectly and gives you enough freedom to step in and out of your enclosure without resorting to some body-gymnastics to meander your way. Also, ensure that the door type matches the rest of the bathroom. You can select from either the pivot or hinged doors for larger bathrooms, as they need enough space to operate. If you have a smaller bathroom, you should find sliding doors more convenient.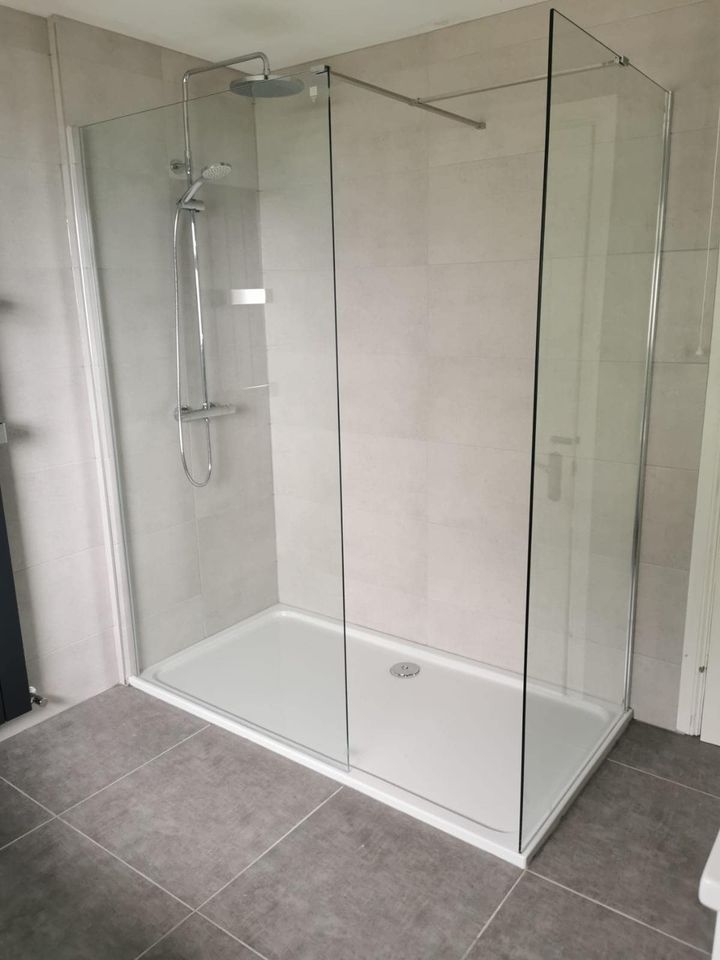 Glass Type
There are different glass sizes and thicknesses to choose from. However, this shouldn't pose much of a process as you can expect high-quality no matter the type you choose. Nevertheless, it is essential to consider the glass type or size when picking out your preferred shower enclosure type. Speaking of types, let's move to our next focus.
Budget
At the end of the day, everything pretty much boils down to how much you can afford. However, the most important thing is to take the time to save up if you need to. So many factors will affect the price of a shower enclosure. They include things like the size, glass thickness, materials, design, and accessories it comes with. So, let's talk about the accessories now.
Extras And Accessories
There are some other extras and accessories you may want to consider when picking out your ideal shower enclosure. Things like grab rails, body jets, shower seats, etc., might not be essential things to have, but if you prefer them, it is best you look for the enclosure sets that have them.
Types Of Shower Enclosures
There are various types of shower enclosures available to choose from, depending on your preference.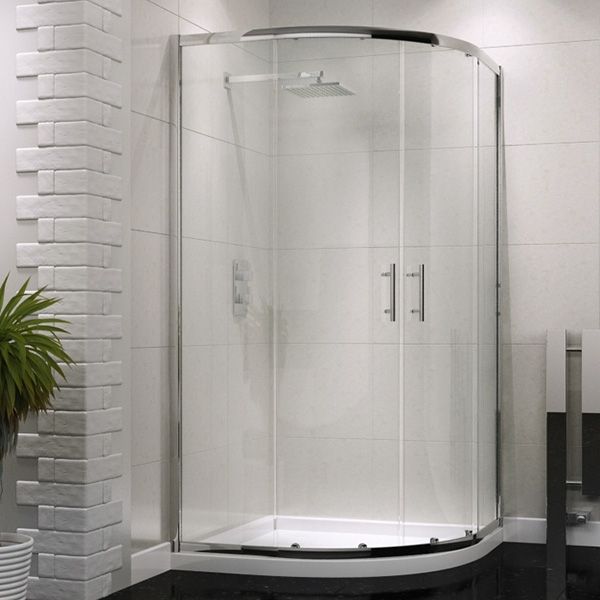 Quadrant Shower Enclosures
Quadrant shower enclosures are ideal if you are concerned about space. They usually feature curved shapes, which makes them perfect for small bathrooms or en-suites and areas with notable corners and tight spaces. They come in different design variations, which makes it possible to choose from either longer or shorter door curves and a different number of sides.
Square Or Rectangle Shower Enclosures
Rectangle shower enclosures are one of the most preferred by many, even though this design may not be the most space-saving. But this type offers more versatility in terms of use when compared to the quadrant shower enclosures. For one, you can fix them on any area of your wall. Again, your biggest challenge may have to do with how much space you can afford. If space is a problem, you can opt for a square shower enclosure instead, as they offer a fairly compact design which is ideal for smaller bathrooms and en-suites. A square shower with bi-fold shower doors, for example, is perfect for a small bathroom. Plus, the bi-fold door design ensures that you do not need to have too much space when stepping in and out of the enclosure.
Recessed Shower Enclosure
Basically, all you will need for a recessed shower enclosure is a door. It is perfect if you already have tiles on your bathroom wall. This way, all you need to do is pick the ideal corner in your bathroom and fix your adjoining enclosure doors, connecting them at a 90-degree angle.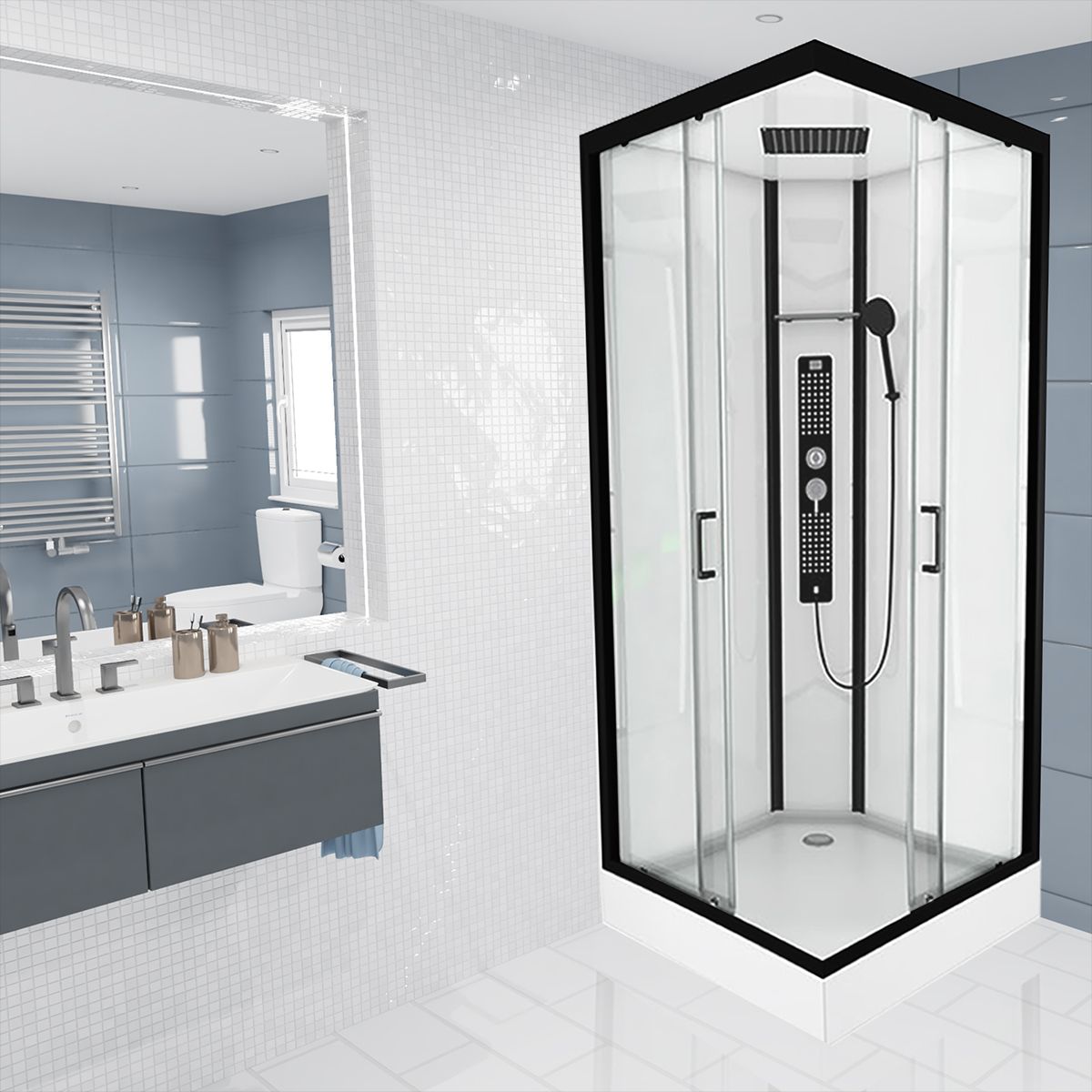 Shower Cabins
You can also opt for a shower cabin if you're looking for something that comes in a single piece. Most shower cabins are molded from very high-quality acrylic material with adjustable body jets. You may even find some types with already fully-installed accessories like an internal towel rail, a mirror, or even a seat. Some even come with aromatherapy features.
Wet Rooms And Walk-In Shower Enclosures
Walk-ins and wet room shower enclosures are great choices if you're looking for something with a more modern appeal. Although a walk-in shower enclosure uses a try, it still offers the user a lot more room. That makes it an excellent alternative for places where a wet room is not recommended. The wet room offers complete waterproofing for the rest of the bathroom and generally requires tanking before use. Plus, it does not require a shower plate. One great advantage of a wet room is that it can help eliminate moisture problems from your home.
Choosing a suitable shower enclosure depends on so many factors that range from design to functionality. And because there are currently so many shower enclosure options available on the market, your decision-making process is now considerably more complicated than it may have been a decade or more ago. Hopefully, this article has helped point you in the right direction, considering every essential factor.
Visit the Cube3x3 tutorial, an awesome website dedicated to the puzzle cube. Learn the easiest layer-by-layer method.