Top tips for an eco-friendly bathroom
Top tips for an eco-friendly bathroom - Blog

More of us are trying to be more eco-conscious now than ever before. If you're looking for ways to be kinder to the environment in your everyday life, start with your home. Although one of the smallest rooms in the house, the bathroom has a great impact on your home's carbon footprint. Here are our top tip on how to make your bathroom more eco-friendly, from controlling the amount of energy you use to reducing your water consumption.
Choose quality bathroom fixtures and fittings
If you want a more sustainable bathroom, buy high-quality fixtures and fittings that will stand the test of time. This is because bathroom fittings can be very energy-intensive to produce. Buying cheaper products means you will have to replace them sooner, which isn't great for the environment. At Bathshack, we pride ourselves on providing quality bathroom ware at some of the most competitive prices on the market. This is ideal for those on a budget who don't want to compromise on quality.
Buy Local
For an eco-friendlier bathroom, you should try and buy as locally as possible as your products will have fewer miles to travel. With the range of top bathroom brands available in the UK and Ireland, it's possible to create a stylish bathroom that's kinder to the planet. We stock bathroom ware by renowned UK Manufacturers such as Asquiths, Grohe, Heritage, Hudson Reed and many more.
We also offer a bespoke furniture collection by Josef Martin, who are based just outside Ballymena in Co. Antrim. Josef Martin is a local, family-run organisation that makes their furniture to order rather than mass producing them in a factory – you can't get more sustainable than that!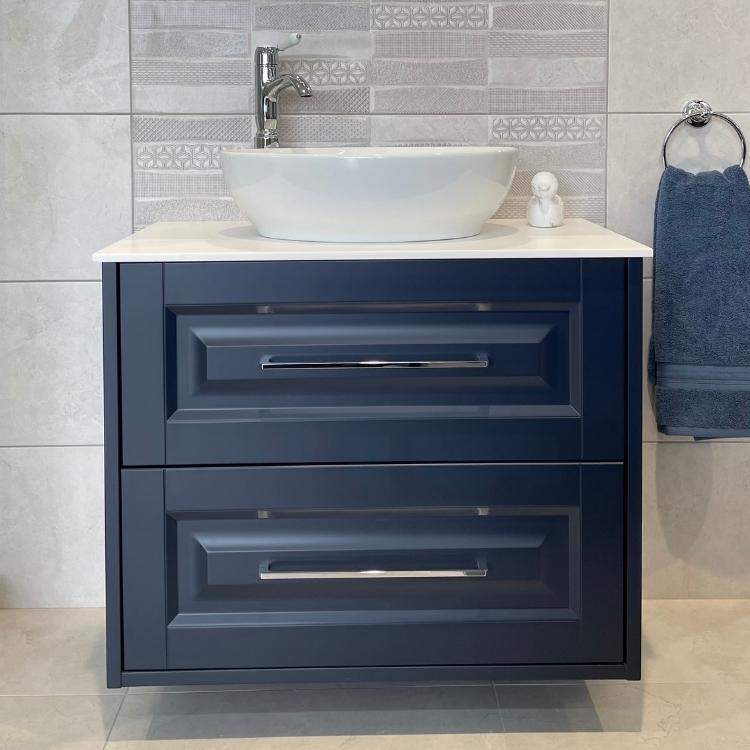 Use LED bulbs
LED bulbs are much more energy efficient than traditional incandescent lights. We stock a wide selection of LED bathroom lighting. For example, all Josef Martin lights have an LED setting. We also have a range of LED Mirrors and Mirrored Cabinets. These have built-in LED bulbs, so you won't need to install any more lighting on the wall above or around your mirror.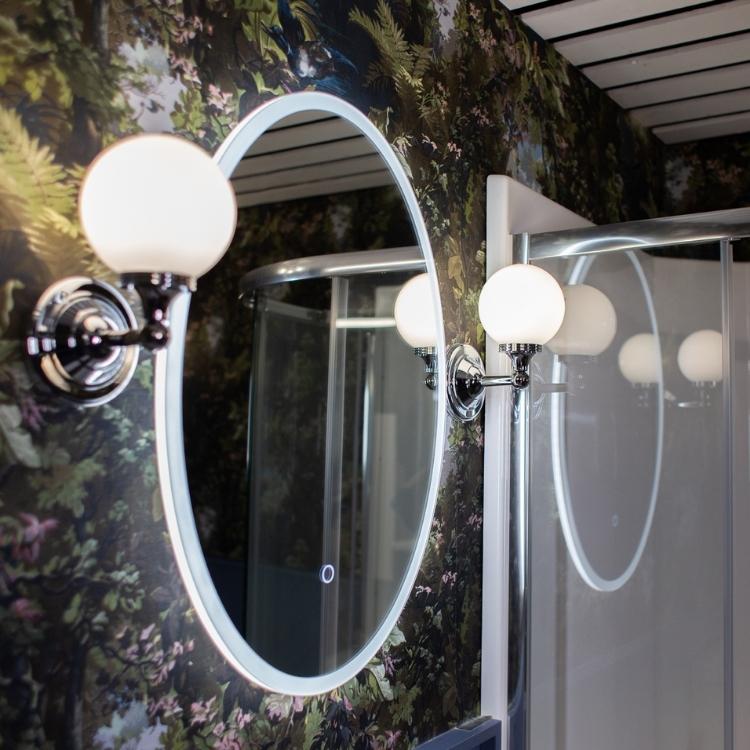 Choose eco-friendly flooring
Select a flooring solution that is made from sustainable materials or has heat insulating properties.
Laminate flooring is mostly made of wood fibres and wood pulp, just like paper. As wood is a sustainable and renewable resource, laminate is an ecologically low-impact product. Our laminate flooring is manufactured to be highly durable and comes with a 20-Year Guarantee, so you know you are choosing sustainable flooring that's built to last.
You can increase the insulating properties of vinyl flooring by using underlay. Underlay is a layer that's fitted on top of a sub-floor and underneath solid, engineered wood or laminate flooring. Normally made from sponge rubber, foam, felt, or crumb, it acts as a thermal insulator to help to keep the whole house warm. This means you won't have to keep the heating on as much, which is much kinder to the environment.
Alternatively, vinyl flooring has great insulating properties. Our vinyl flooring replicates more expensive and less sustainable flooring solutions such as wood, tile or stone. This is perfect for those who want the appearance of luxury floors for less money, upkeep, and damage to the natural world.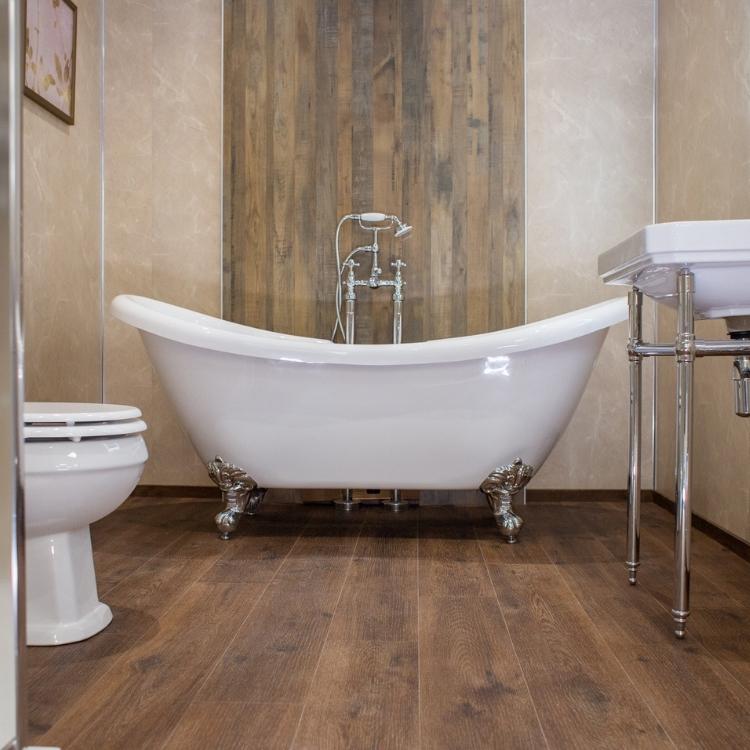 Fit an economical radiator
Heating uses the most energy in the home, so choosing an efficient radiator is very important. Central heating radiators are one of the most economical radiators on the market. They have the greatest heating efficiency of all radiator styles, making them the most effective heating option for an eco-friendly bathroom.
Dual fuel radiators are another good option. They can be heated by either electricity or central heating, which is a flexible and efficient method of heating. They can be used to heat just the bathroom, so you won't have to switch the central heating on for the whole house.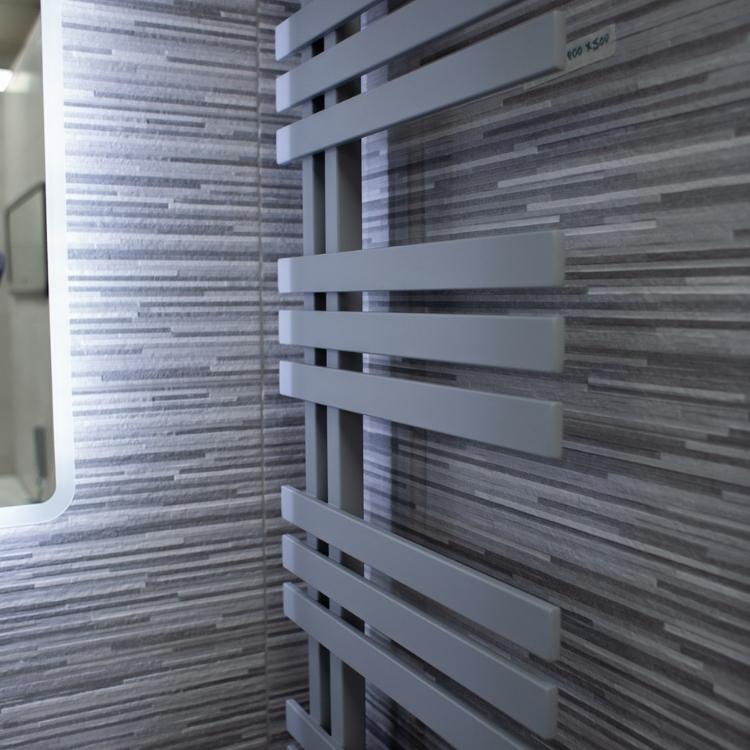 Radiators come in a range of different materials, make sure you choose the most eco-friendly option. Aluminium is an excellent conductor of heat, which means it heats up to your desired temperature very quickly. This means that less energy is used in bringing your radiator up to temperature, compared to other radiator materials.
You can shop the full range of bathroom radiators here.
Reduce water consumption
There are many simple and cost-effective things you can do to reduce the amount of water you use in the bathroom.
Dual flush toilets
Traditional lever flush toilets normally use a large amount of water with every flush, so we recommend switching to a dual flush design. With dual flush toilets, half the water is used for liquid waste than is used for solid waste, which allows you to save on water. All our modern close-coupled and back-to-wall toilets have a dual flush button. For wall-hung toilets, add a flush plate.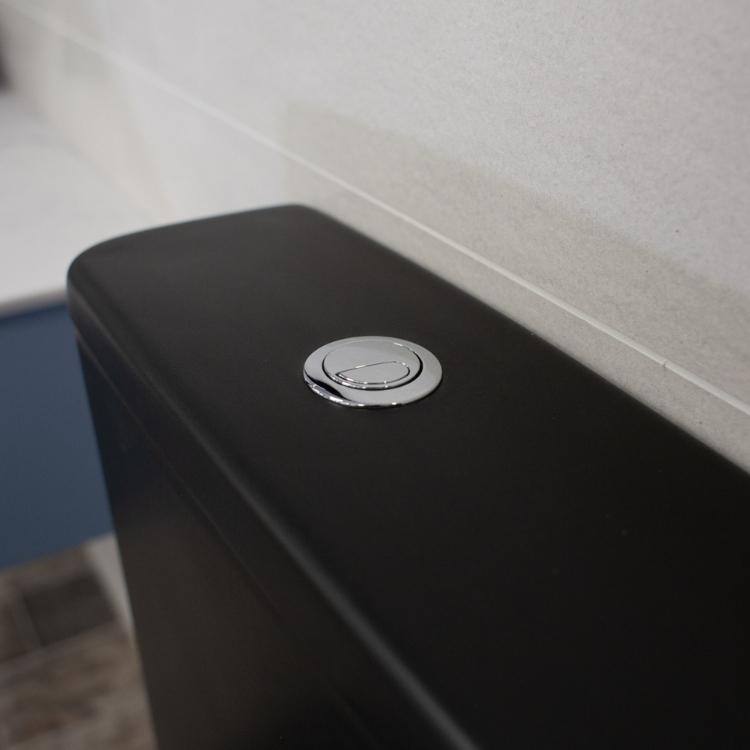 Reconsider your bath
Many of us enjoy a long soak in the bath as a way to relax. However, baths use a lot more water than showers, which isn't very eco-friendly. If you must have a bath, choose a smaller capacity tub and use less water instead of filling it to the brim. A shower bath is ideal as it provides you with the option of a shower, which uses significantly less water than a bath.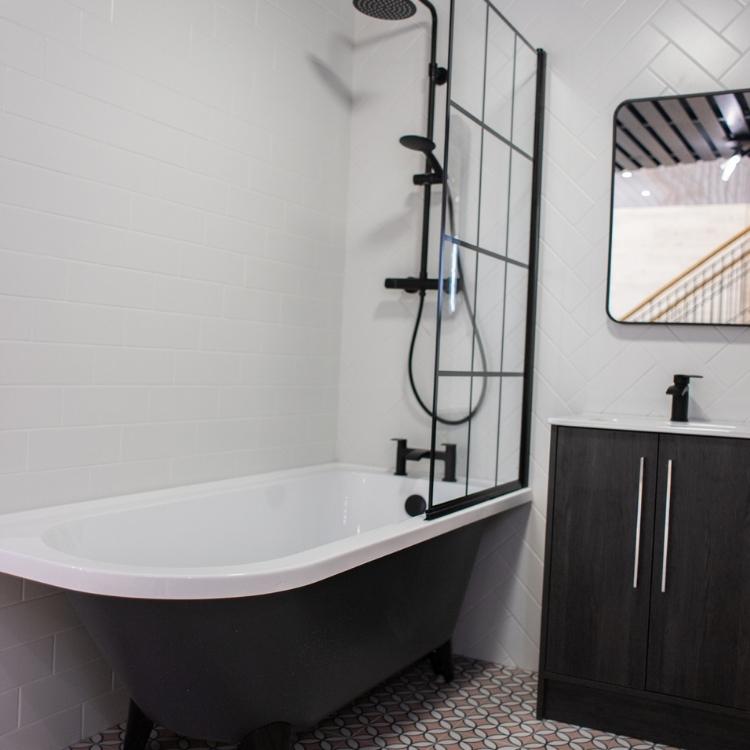 Eco-friendly showers
Showers are eco-friendlier than baths, and some are better for the environment than others. Surprisingly, electric showers are one of the most economical. They rapidly heat only the water you need as it flows towards the shower head, so you don't need to switch on your water heater.
Another option is to install an eco shower which helps to conserve water and energy. We stock a wide range of eco electric showers and mixer showers by Triton which allow you to restrict your water flow and temperature.
Digital showers are also great for an eco-friendly bathroom. They give you greater control over your water flow and temperature, with the option to save your preferred settings.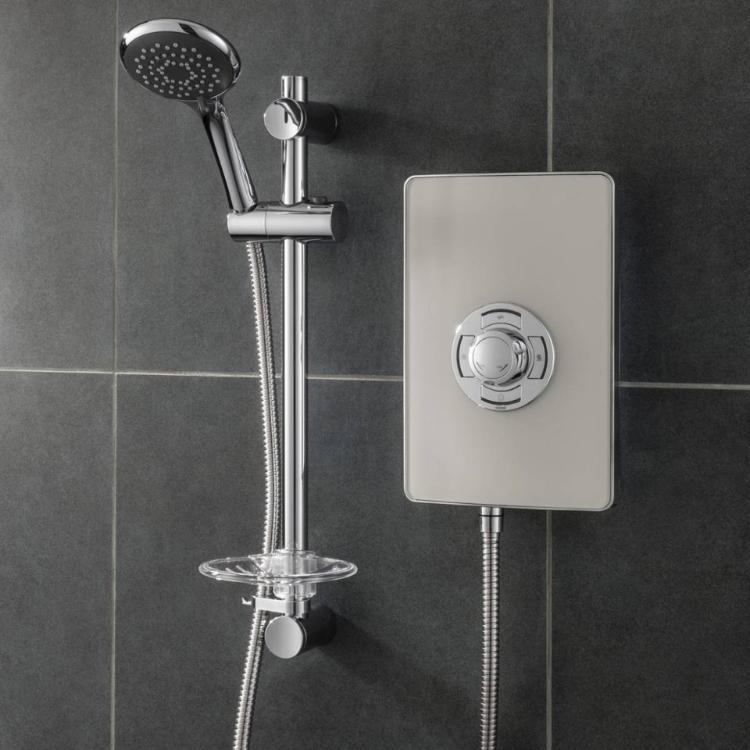 Low pressure taps
A lot of water can be wasted when washing and brushing our teeth every day. An ideal solution is to restrict your water flow with a low pressure tap. Low pressure taps are a must for a low pressure water system, but they will also work on high pressure systems too (although if there is any doubt, check with a plumber first). We offer low pressure taps in a range of styles and finishes from sleek chrome to vintage gold, so you are sure to right tap for your décor.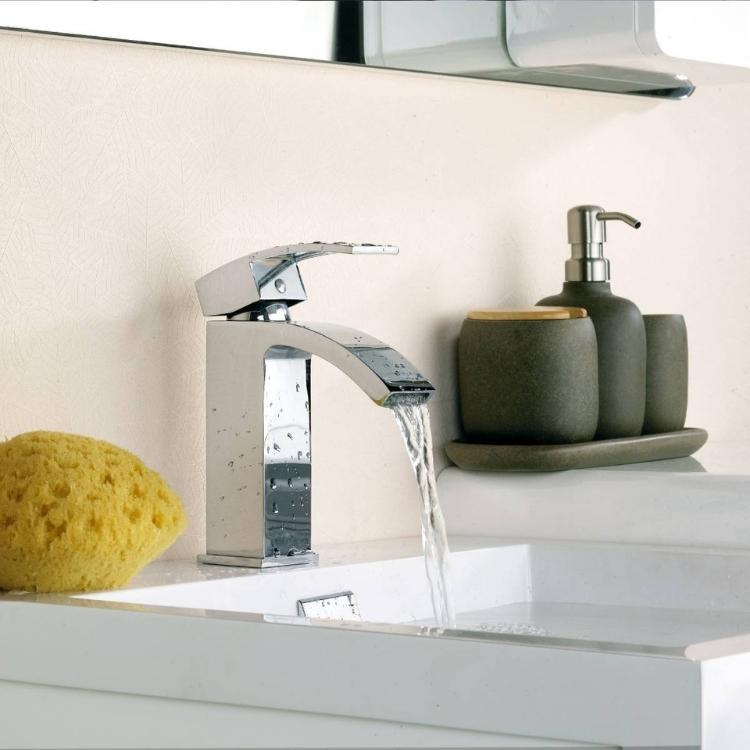 Ready to design a more sustainable bathroom? Browse our full range of bathroom ware online to find the best eco-friendly options for your space. If you would like further advice on our greener products, don't hesitate to Contact Us or call into one of our showrooms on the island of Ireland. We are always happy to help!