Simple Touches to Transform Your Bathroom
Simple Touches to Transform Your Bathroom - Blog

Is your bathroom in need of a refresh? Sometimes, making one small change in your bathroom is enough to transform the space. It could be adding a new piece of furniture, changing your taps or lighting, or adding a splash of colour. This is good news for those who don't have the budget or the time for a complete bathroom renovation. Whether changing up your main bathroom or an ensuite, here are our top suggestions on how simple touches can transform your bathroom.
Swap out your vanity
The vanity is often one of the first things you see when entering a bathroom. If yours is looking a little shabby, consider switching it out to freshen up the room. Tidying up your bathroom is also a quick and easy way to transform your space, so choose a vanity with plenty of storage. We have compact vanities designed for small bathrooms, cloakrooms and ensuites and larger units for larger bathrooms. No matter what size you choose, you will be guaranteed generous storage space to keep your bathroom clutter-free!
Choose a vanity that enhances the look of your bathroom. Our vanities come in a wide range of designs and colours, so you will easily find the perfect match for your décor!
- Choose a vanity in a bold colour to create a focal feature in your bathroom and make the space 'pop'. Our bright colours include yellow, pastel pink, maroon and green.
- Want something more understated? Your vanity doesn't need to be bright and bold to be eye-catching! If you have a traditional bathroom, opt for a unit in a muted colour such as white, cream, grey, dark blue, or wood effect. Units with knobs instead of handles will also look beautiful in a traditional bathroom.
- For a modern bathroom, you could go for a black vanity. More dramatic than other finishes, black is great for adding depth and contrast without overpowering your space. Furniture with angular handles or push-to-open drawers also fit seamlessly into a modern bathroom.
- We even have our own bespoke furniture range by Josef Martin, a small, family-run organisation located just outside Ballymena, Co. Antrim. All our Josef Martin units are made-to-order, so you can choose the colour and size of your vanity. This allows you to put your personal stamp on your bathroom transformation.
Need a bit more storage? Our bathroom furniture range also includes storage cabinets and tallboys to keep your bathroom as neat as possible. Coordinate the colour and style of your furniture for a cohesive look.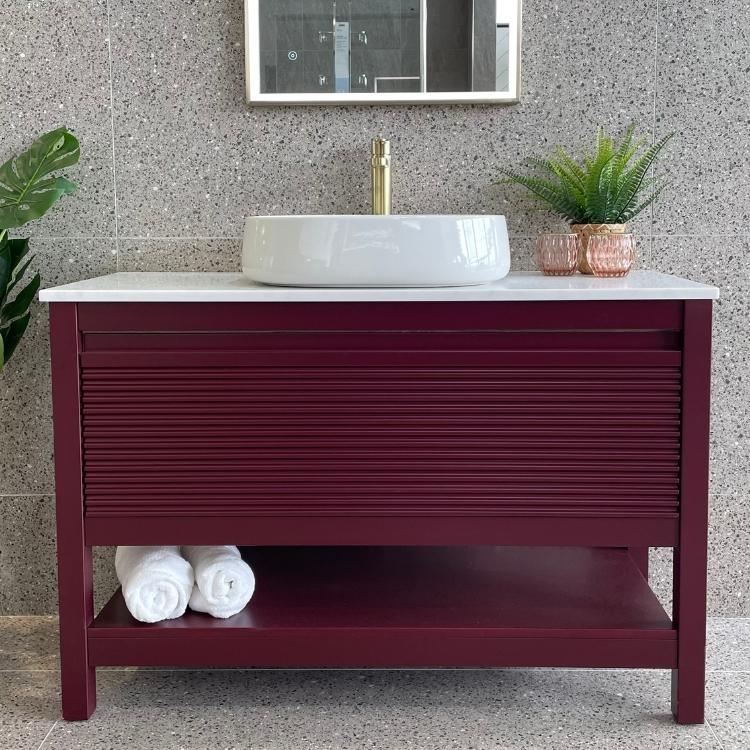 Accessorise!
Transforming your bathroom could be as simple as adding all the accessories you need for a fully functioning space. Bathroom accessories also double up as stylish design elements to enhance your décor.
- Help keep your bathroom clutter-free, germ-free and stylish with a soap dish or dispenser.
- Add a towel ring, hooks or bars to keep your towels neatly stored in an easy-to-reach location. A robe hook will do the same for your dressing gown.
- Keep your shower neat and tidy with a shower basket, or get a caddy for your bath; this is a stunning feature that will hold your glass, book, or candle while you soak.
- Don't forget your toilet brush!
All our accessories come in a wide range of styles and finishes, so you can easily find the right product for your bathroom design.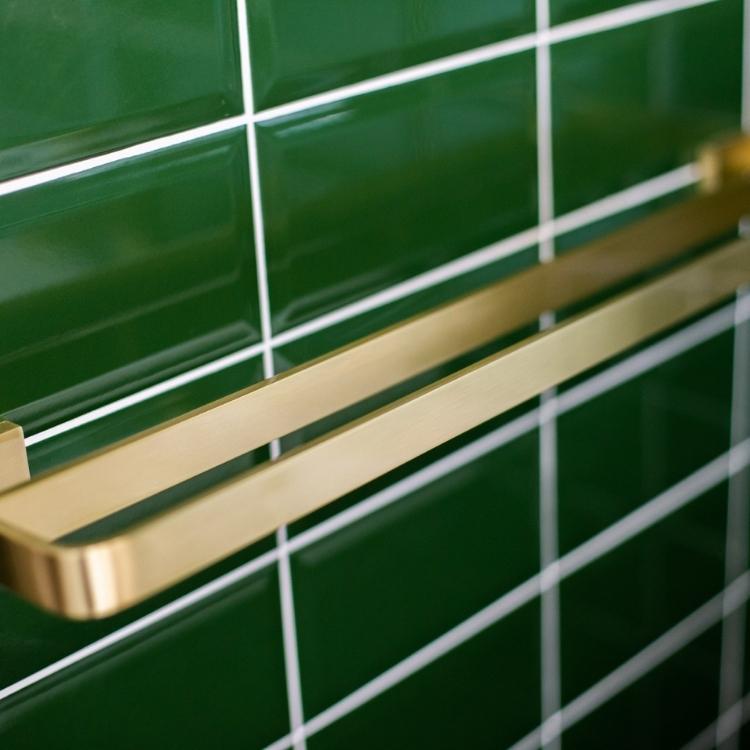 Change your taps
Although a small detail, the right taps will transform the look of your bathroom. Coordinating your bathroom and basin taps will also tie the room together. With so many choices available, shopping for taps can be confusing. The choice will depend on your fixture type, water pressure and how you like to control your water temperature. You also need to take your bathroom's décor scheme into account. Here is a breakdown of our collection to help inspire you:
- Designed for basins with one pre-drilled tap hole, Mono Mixer Taps mix hot and cold water into one steady stream. They are the most popular choice for modern bathrooms, but we have traditional styles too.
- A Tall Basin Mixer will look great in a contemporary bathroom! These striking taps are the perfect match for a countertop basin.
- Pillar Basin Taps are an ultimate classic. They consist of separate hot and cold taps and are perfect for traditional bathrooms.
- Wall Mounted Basin Mixers will add a touch of luxury to your bathroom for that high-end hotel feel. They are perfect for modern and minimalist bathrooms.
- For bath taps, choose between Freestanding, Wall Mounted and Deck Mounted, depending on your type of bath.
Our taps come in a wide range of finishes like vintage gold, modern black, and classic chrome or brushed brass. Choose one that best enhances your bathroom décor.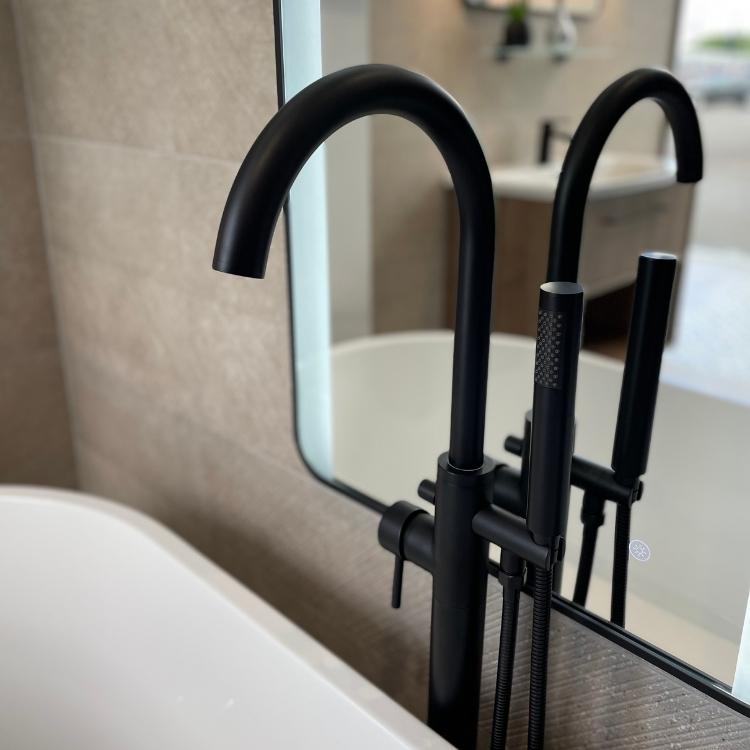 Change your lighting
Bathroom lighting is vital for providing enough illumination for daily bathroom tasks. Your choice of lighting can also completely change the look and mood of your bathroom.
To create the right bathroom ambience, go for warmer lights instead of harsh, bright ones. If possible, opt for lights with dimmers so you can easily adjust the brightness in the bathroom according to mood and use. Your bathroom lighting should help you feel good and ready in the mornings and relaxed in the evenings, whether you're getting ready for bed or unwinding in the bath.
Like taps, changing your lighting is a simple touch that can elevate your bathroom décor. At Bathshack, we have many types, styles, shapes, and sizes to choose from. Enhance your bathroom's ambience with a pendant ceiling light or shaded wall lamps, or turn up the glam factor with a statement light like a chandelier! When it comes to finishes, brass and chrome will give a bathroom a classic feel and complement most décors. For a more modern look, go for black. We also recommend coordinating your lighting with your taps for a uniform look.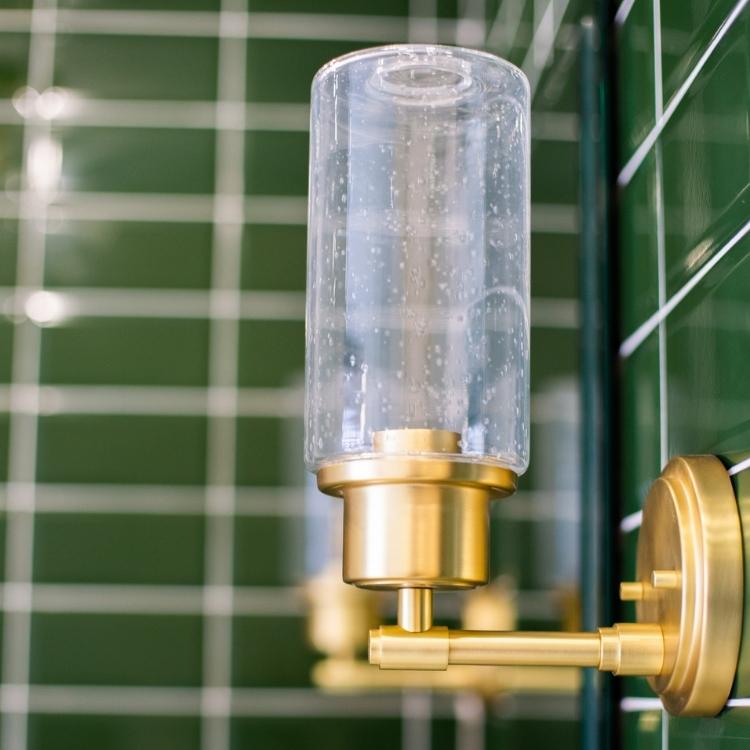 Incorporate an accent tile
Creating a feature wall or border with a contrasting tile is a fantastic way to transform your bathroom without tiling the whole room. This could be a contrasting colour, pattern, texture or shape that stands out. If you want a timeless and classic look, opt for neutral tiles. Or if you're looking for something trendier, be bold with colour or pattern. To shop our full range of tiles, click here.
If you want subtle variation in your tiles, use the same tile but in different formats. For example, if your existing bathroom has square tiles, use a rectangular tile in the same style or colour for the area around your vanity or shower enclosure. For example, metro subway tiles are a simple and fool-proof way to add interest to your space.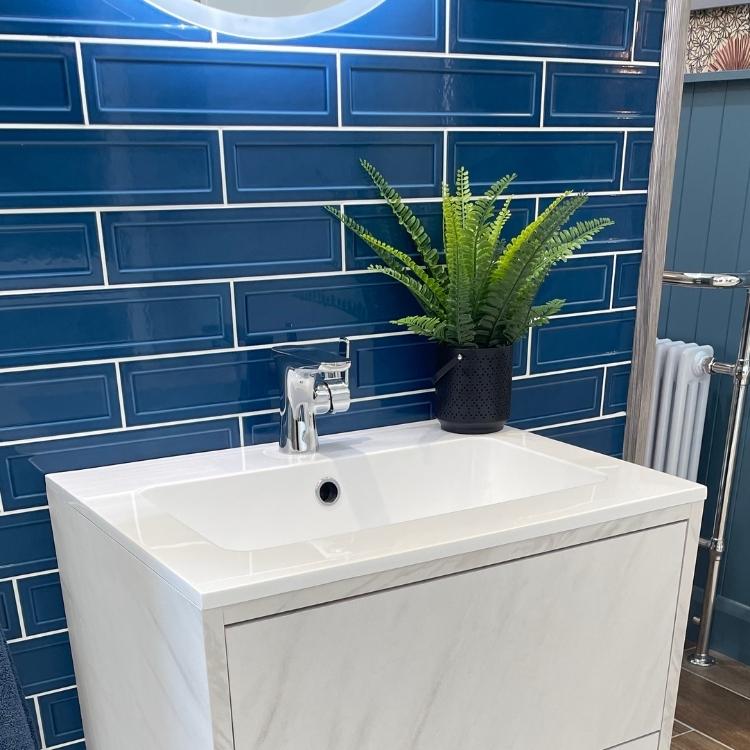 Make a Statement with a Mirror
A new mirror is one of the easiest ways to add visual interest to a bathroom. Once you find one (or two!) that works with your design scheme, all you have to do is hang it up! At Bathshack, our range includes everything from traditional and modern mirrors to mirrors that double up as bathroom storage and lighting.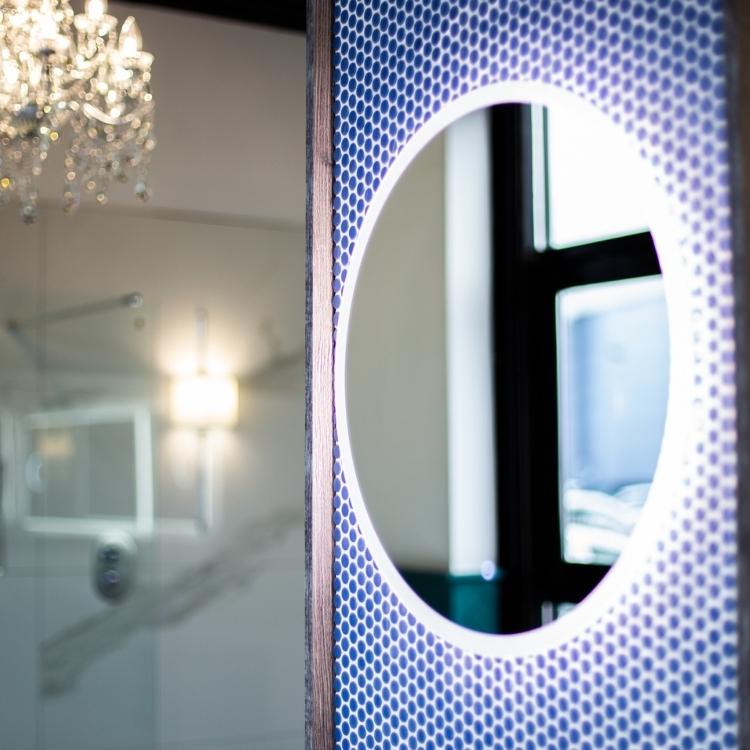 Have you discovered the best simple touch to transform your bathroom? Shop our full range of products online today for delivery all over the UK & Ireland. If you need further advice, don't hesitate to Contact Us or visit one of our showrooms on the island of Ireland. Our team will be happy to offer their top tips!