Product of Choice: Viktor Benson Arc Flat Top Freestanding Bath
Want to know our top product picks for our stunning Belfast Boucher Road showroom? Showroom manager Riain recommends the Viktor Benson Arc Flat Top Freestanding Bath with Modern Black Feet.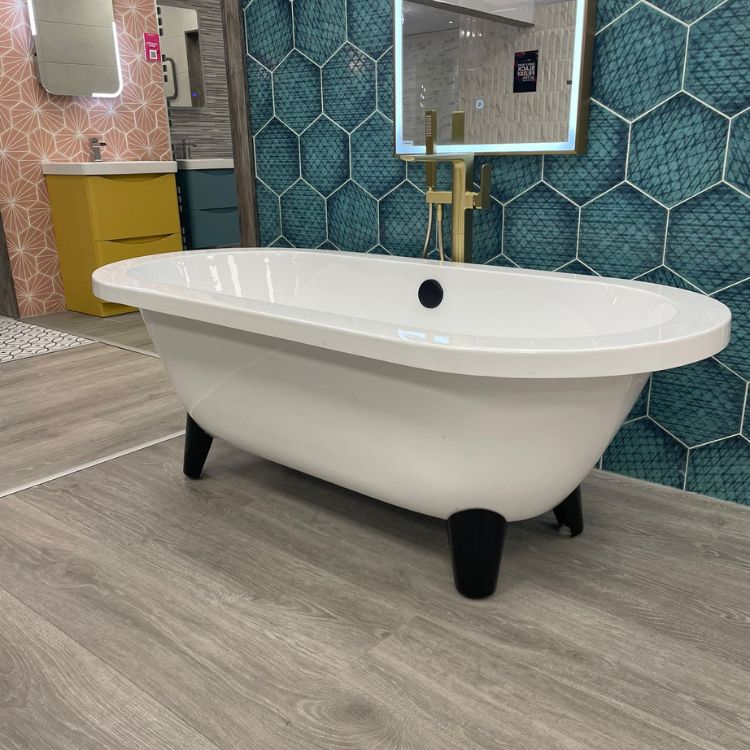 Simple and elegant, the Viktor Benson Arc combines traditional and modern style. It features flat top edges and subtle curves, with added black feet for that modern touch. With a gloss white finish, it makes a sophisticated addition to any bathroom.
As a double-ended bath, the overflow hole is located in the centre so you can comfortably lie at either end while stretching out your legs. As a freestanding bath, it also gives you greater flexibility when it comes to your bathroom layout. While built-in tubs are installed against the wall, this bath can be placed anywhere in the room. If you have the space, position it in the centre of the room for a spa-like aesthetic.
The Viktor Benson Arc supports deck-mounted taps, so you can complete it with a tap from our range. Our showroom team at Boucher can help you find the perfect tap for your bathroom design. You also need to add a waste to your purchase, so pick one in the same colour as your chosen tap. You can also opt for chrome bath feet if black is not your style.
The tub is made from premium-grade acrylic, so it is very durable, easy to clean, comfortable to lie in, and excellent at retaining heat. It is manufactured by Viktor Benson, a brand that is exclusive to Bathshack and specially chosen by us for its high-quality bathroom ware.
To view the Viktor Benson Arc bath for yourself, come and visit us on Boucher Road. Our fantastic team will be happy to assist you in any possible! For showroom opening times and directions, click here.
Related Products