Product of Choice: The Poalgi Slate Effect Shower Tray
Want to know what's popular in our Cork showroom? Showroom manager Gavin recommends a Poalgi Slate Effect Shower Tray!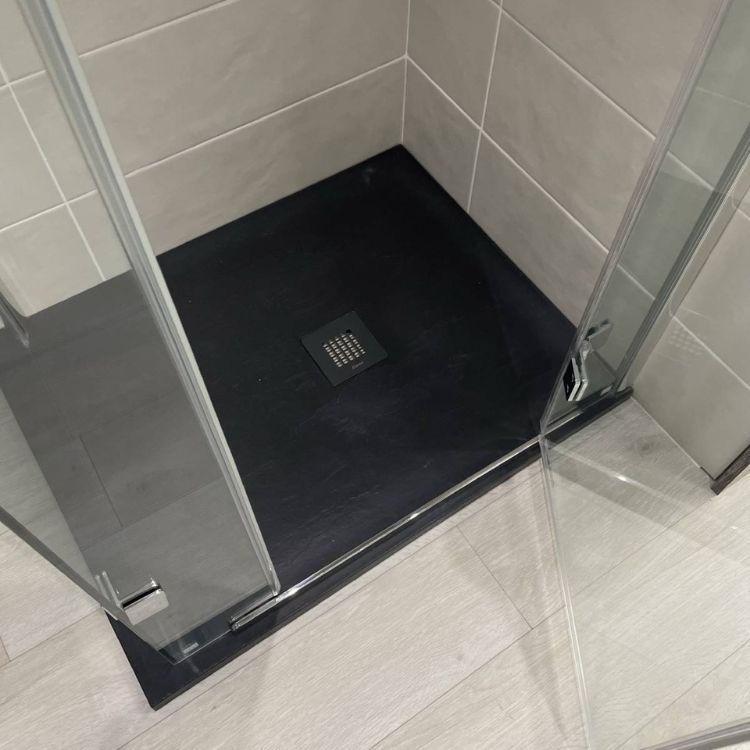 The Poalgi shower tray is the perfect, more cost-effective solution for anyone who wants a wet room, but is opposed to a plain white shower tray or a tiled mosaic floor. Not only do these wet room trays look fantastic, but they are also highly practical as they offer a non-slip surface which is anti-bacterial and non-porous.
The Poalgi shower tray is much easier to install than other types of wet room flooring. Mosaics require a lot of grout and extra work, as your tradesperson would need to slope the shower floor for drainage and prepare the floor for tiles. What's more, tiling a wet room floor upstairs is usually not advised. The Poalgi shower tray has these slopes already built in, which saves you a lot of work and money. It can also be installed both upstairs and downstairs!
The Poalgi trays are considered slate effect due to their finish, which is a UV-treated gel coating. However, they are constructed from over 30 types of natural minerals and resins, which makes them incredibly dense, durable, and hard-wearing. The tray is also warm to the touch, so cold feet in the shower are no more!
The trays are only 3cm thick, so they can be installed flush with the rest floor to create that walk-in enclosure so many people want today! Although they come in an array of shapes and sizes, they can also be cut to a specific size if your shower area is 'off-standard' (tray cutting is something that would be carried out on-site by a qualified installer, not completed by Bathshack).
Along with the range of sizes, The Poalgi tray comes in 4 colours – Antracita (pictured), Polar, Cemento and Perla. This makes it easy to find a shape, size, and colour to suit your requirements. You can also choose a matching Poalgi waste grate to match the colour of your tray (sold separately). These are all made from stainless steel, which prevents rust.
The Poalgi shower tray boasts a 15-year guarantee for extra piece of mind. Therefore, you know you are purchasing a high-quality product designed to stand the test of time.
To find the perfect Poalgi tray for your wet room, visit our Cork showroom where the team will be happy to assist you! To browse the full Poalgi collection online, click here.