Product of Choice: The Cannes Luxury Freestanding Bath
Want to know what's popular in our Lisburn showroom? Team member Rachael recommends the Cannes Luxury Freestanding Bath in copper.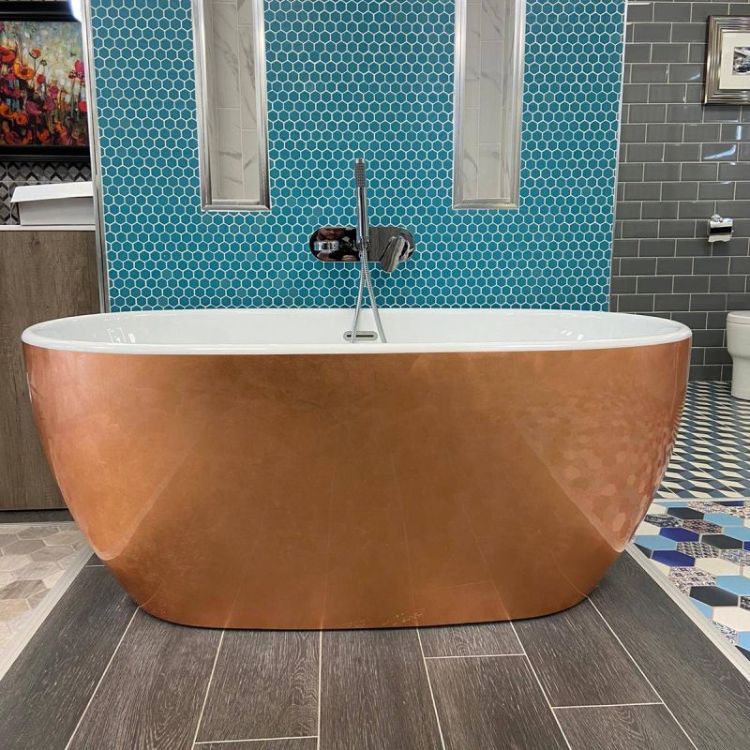 This tub is the perfect stand-out feature for a modern bathroom. With a curved contemporary design and a copper leaf finish, it is both visually striking and luxurious. If you want a boutique hotel feel at home, this is the bath for you.
As a double-ended bath, the overflow hole is located in the centre so you can comfortably lie at either end while stretching out your legs. A freestanding bath also gives you greater flexibility when it comes to your bathroom layout. While built-in tubs are installed against the wall, this bath can be placed anywhere in the room. If you have the space, position the Cannes in the centre of the room for a spa-like aesthetic. This bath is designed to take centre stage!
The Cannes bath does not support deck mounted taps, so you can complete it with one of our freestanding bath taps. Or if you've positioned it against a wall, opt for wall-mounted taps. Our showroom team at Lisburn can help you find the perfect tap for your design scheme and bathroom pipework. The bath comes with a waste included, so no need to add one to your purchase.
This tub is made from premium-grade acrylic, so it is resistant to scratches and cracks and excellent at retaining heat. For your peace of mind, it comes with a 25-Year Manufacturer's Guarantee. The bath is manufactured by Viktor Benson, a brand that is exclusive to Bathshack and specially chosen by us for its high-quality bathroom ware.
The Cannes is available as a 1500mm and 1700mm bath. While only the 1500mm is on display in Lisburn, it gives you a sense of what the range looks like, with the option to order the 1700mm if you wish. To get your Cannes bath, pay a visit to our Lisburn showroom today. Our team will be happy to help you with your order!
Related Products