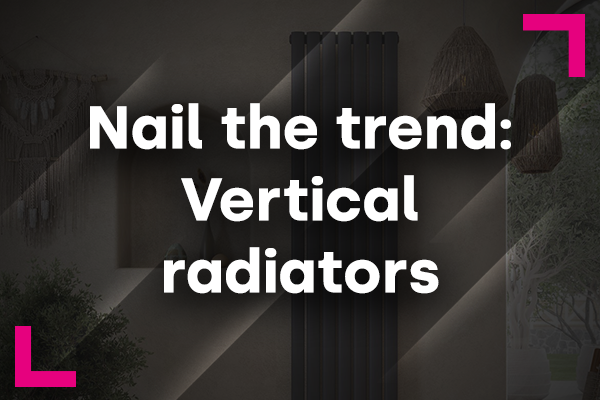 If you're looking for bathroom heating then an ongoing trend in the world of radiators is the vertical variety, which features a range of designer options that will elevate your bathroom style as well as providing effective heating, of course.
If you want to incorporate a bit of contemporary style into your interior, then vertical radiators are therefore an inspired choice. Available in a range of sizes, designs and finishes, you can match them to your existing décor and even make them into a focal point within your room.
Here's how you can nail the trend when it comes to vertical radiators and why, if you're undecided on this particular style, you should maybe consider giving them a go ...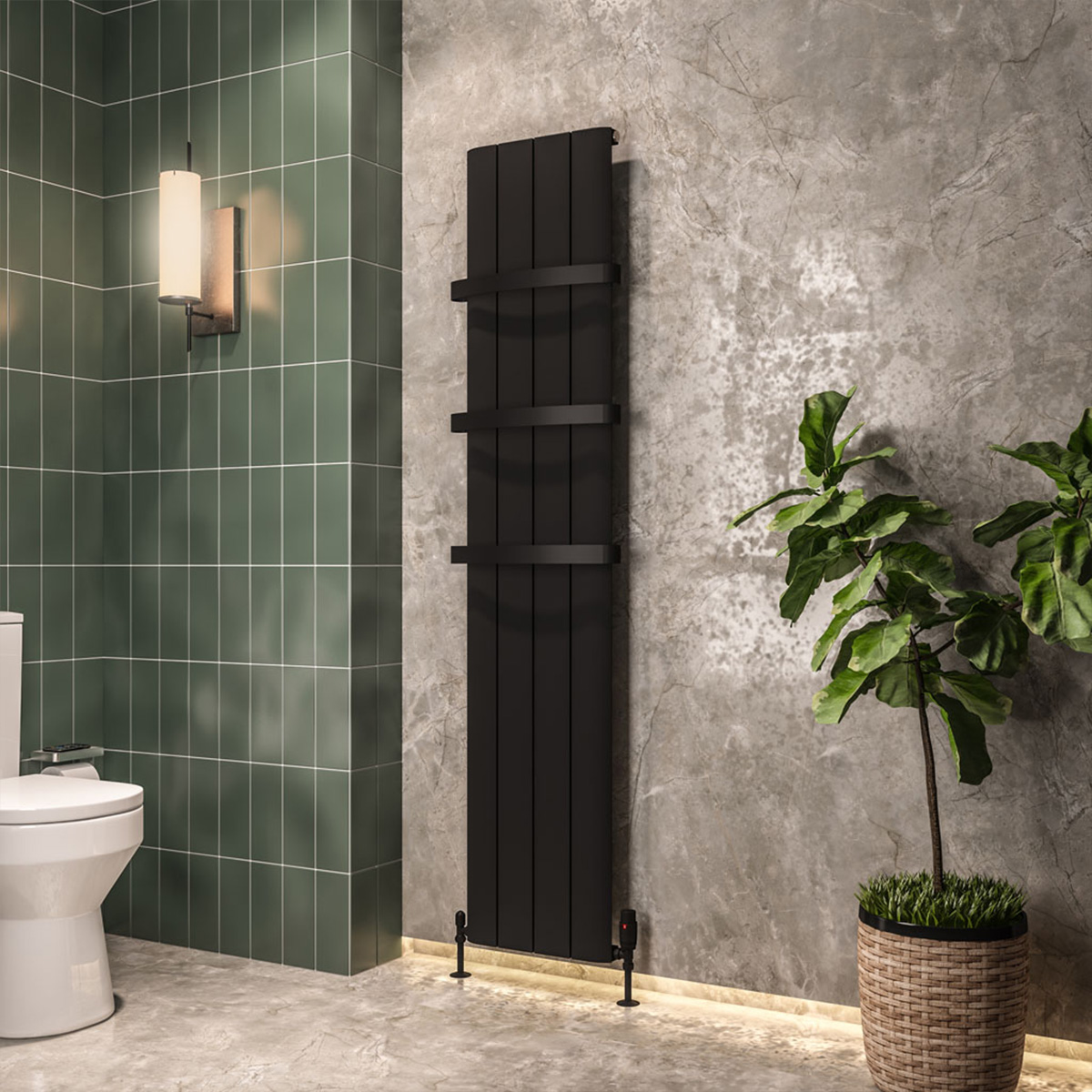 Vertical radiators are an increasingly popular heating choice and are both practical and stylish.
Benefits of vertical radiators
First up, if you want to get in on the vertical radiator trend, then it's good to know the ins and outs of why they're so popular. They do, of course, have an eye-catching appearance, but there's more to these radiators than meets the eye, although this is definitely all part of the appeal.
If you have a smaller bathroom, then vertical radiators are great for saving on space, as they can fit into narrow gaps and won't take up much room. You can therefore enjoy a cosy interior without feeling crowded. They also work well in hallways and other more compact spaces.
Vertical radiators also have a high heat output and warm up quickly, so are an energy-efficient option for your home, as well as having good durability, so they're a good investment.
Meanwhile, if you want to achieve a stylish, contemporary look, then you can choose from a range of finishes and colours and easily find one that suits your personal taste and complements your décor. Designed to be stylish as well as functional, vertical radiators can be used to create a focal point within the room and enhance your overall aesthetics. You can also customise them according to your specific needs, for example, by adding towel rails and hooks.
Easy to install, vertical radiators are supplied with wall brackets for straightforward fitting and you can plumb them into your existing central heating system.
Choosing your vertical radiator
When it comes to picking the right radiator for your home, there are a few things to consider, including budget, size and style.
If you have a larger room then it goes without saying that a taller vertical radiator will benefit your room more, while a shorter one will work best in smaller spaces, although you can, of course, go taller if you like. As well as the overall room size, you also need to factor in the size of the wall space that you have for your radiator, so make sure you know the exact measurements before buying.
The heat output of the radiator will also influence which one you ultimately choose, depending on what you're looking for and what exactly you need to heat the space you have. Choosing a radiator with the correct BTU/wattage for your room will subsequently aid efficiency and ensure that you have a cosy space.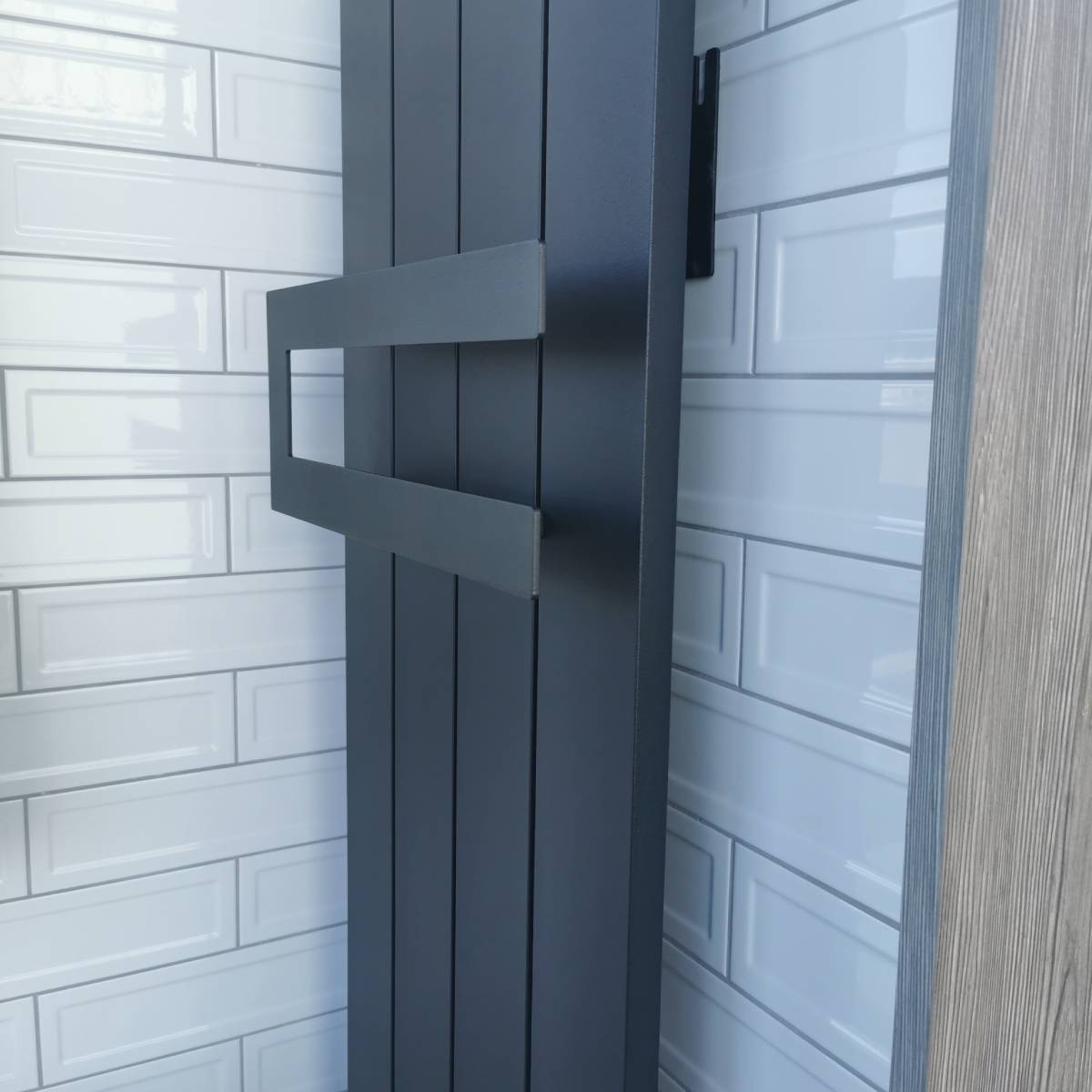 You can add towel rails/hangers to your vertical radiator for further practicality.
The material of your radiator will also impact upon heat output, with steel, cast-iron and aluminium all possessing different conduction properties. Material type will further influence the weight of the radiator, along with cost and longevity, so it's worth considering all of these factors before you buy.
Meanwhile, the radiator you choose will also depend upon your preferred style, whether this is more traditional or modern.
Venturing into vertical radiators
At Bathshack, we supply a range of high-quality vertical radiators so, if you think this is the style you want for your bathroom or elsewhere, then here's some inspiration for you …
The Peretti Aluminium Radiator in Matt Black has a modern design with a matt black finish which will add that contemporary vibe to your interior. Made from aluminium, it heats up quickly and has high heat output which will keep your room warm and cosy.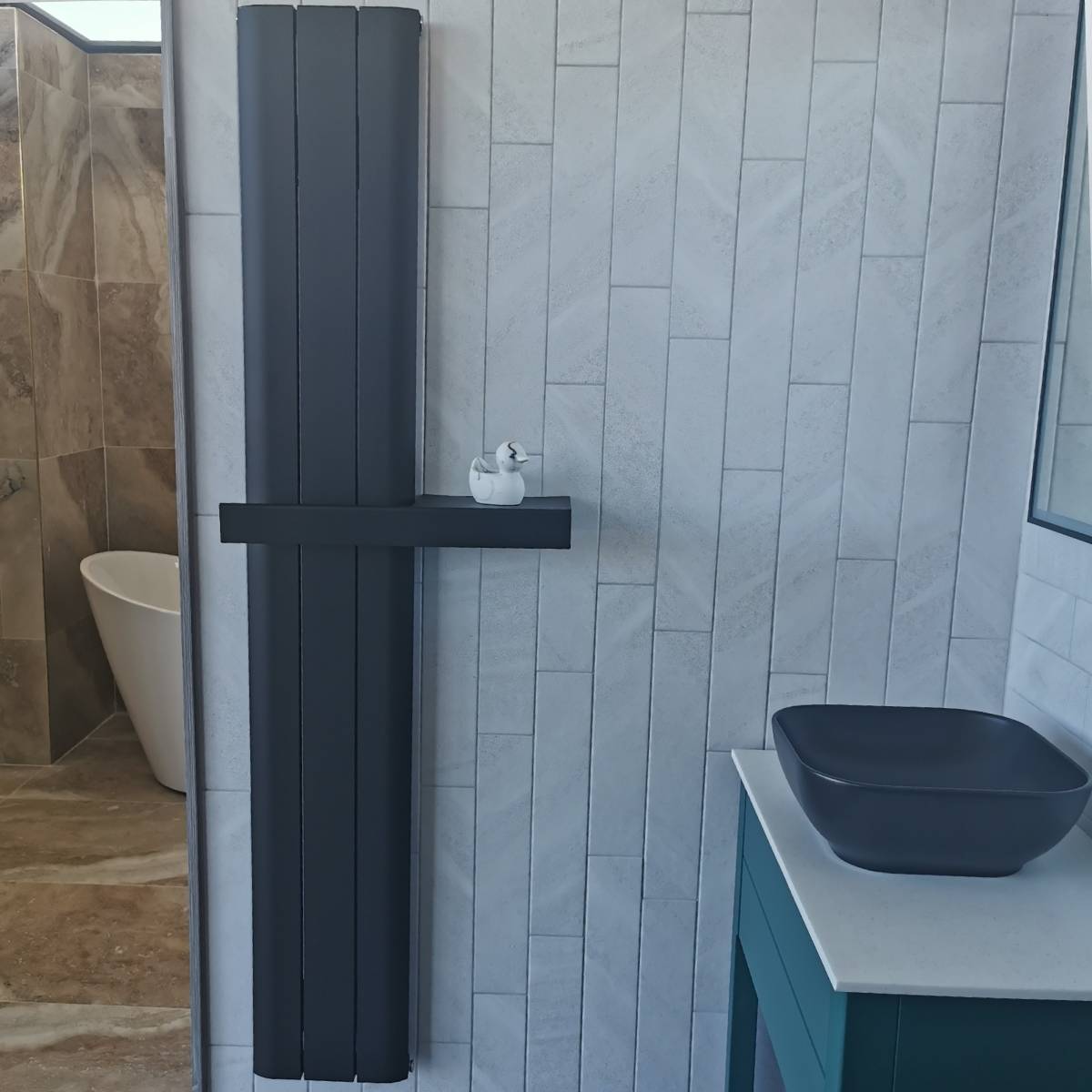 The Peretti Aluminium Radiator in Matt Black has a stylish, modern look.
Another vertical radiator that will add style to your home is the Wingrave Flat Panel Designer Radiator in White, which is made from high-quality steel and again, has a high heat output. With a flat panel cover, this gives the radiator a sleek, contemporary look which can be accessorised with additional towel rails/hangers (sold separately).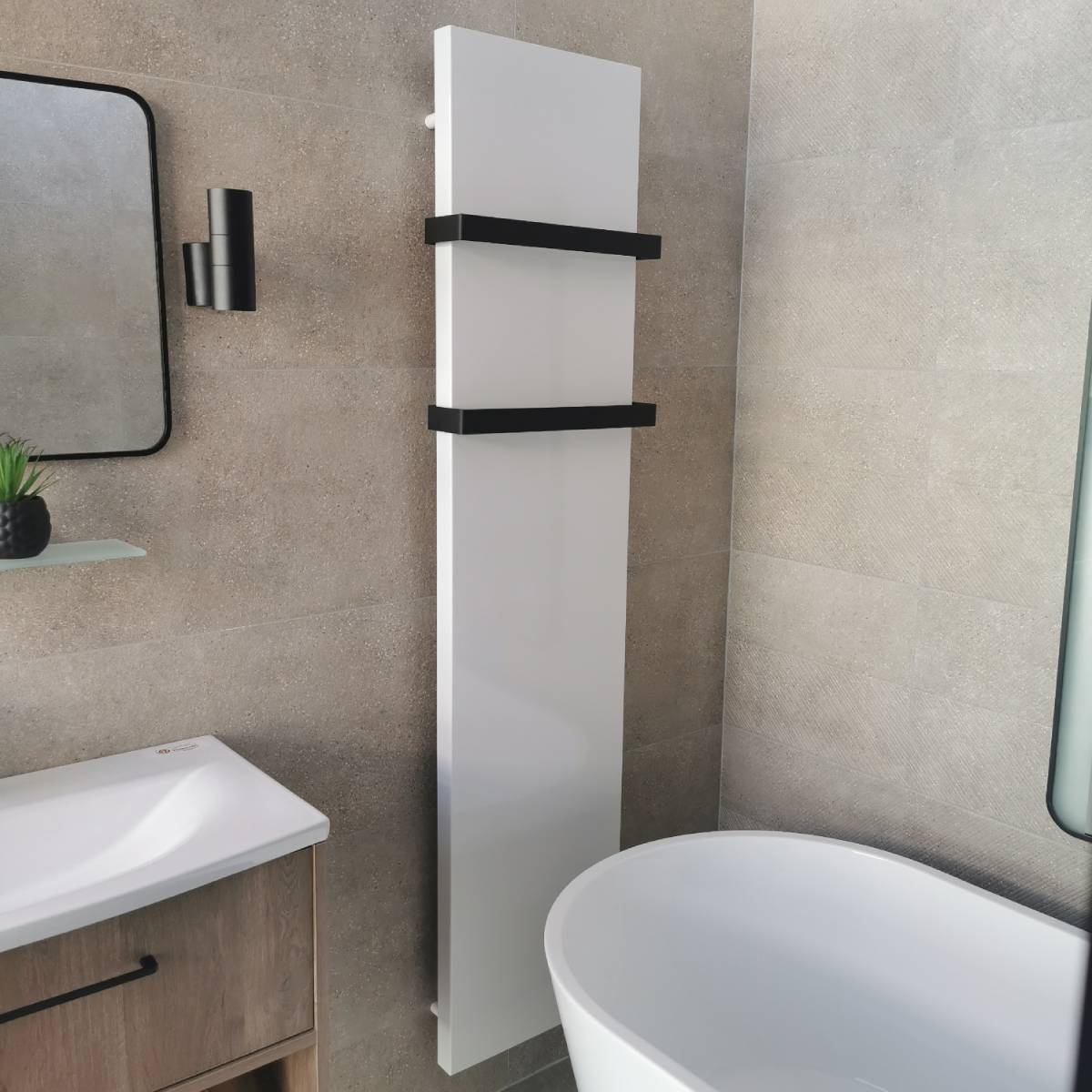 The Wingrave Flat Panel Designer Radiator in White.
If you like the white look then the Rosano Aluminium Radiator in Matt White has that same elegant aesthetic, but with the added definition of three radiator columns. The matt finish and vertical length keeps the style modern, while you can also add further practicality by purchasing towel rails to attach to the radiator, in a complementary or contrasting tone.
This radiator once again has high heat output and will soon have your bathroom warm and cosy.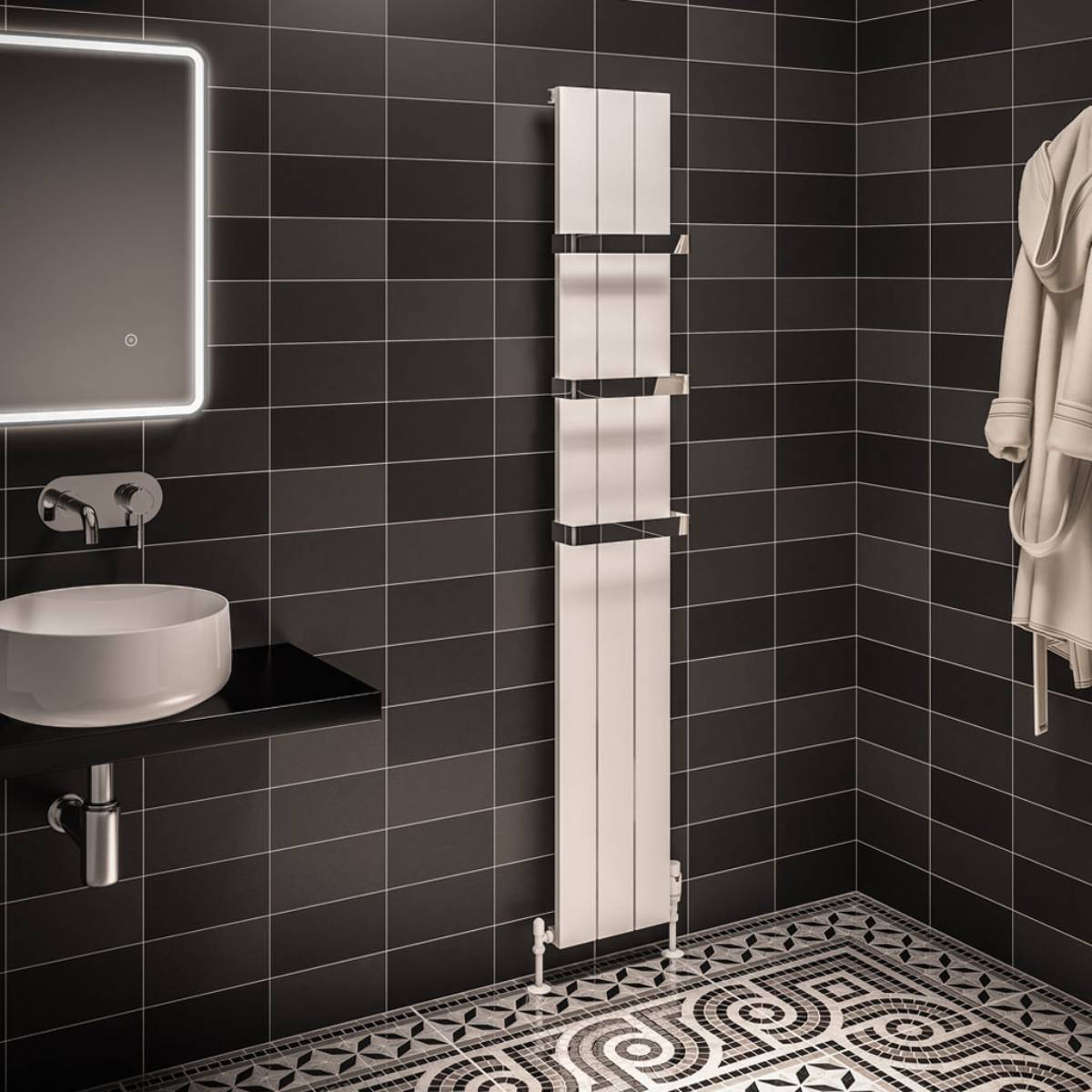 The Rosano Aluminium Radiator in Matt White.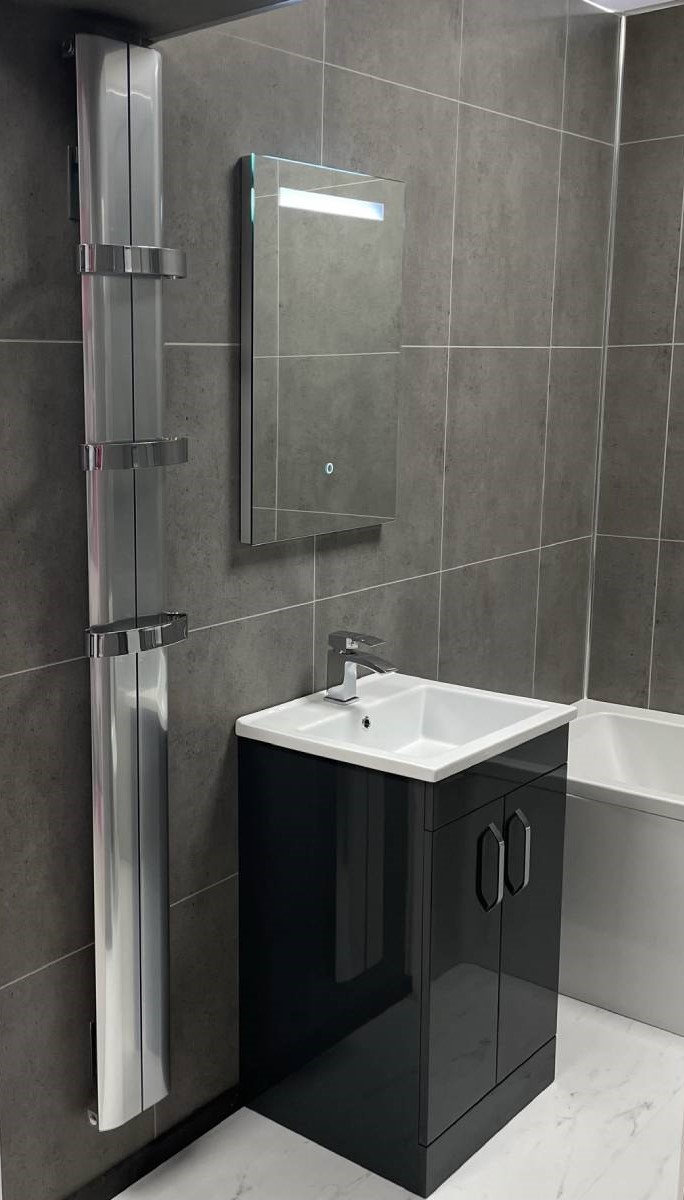 The Peretti Aluminium Radiator in polished chrome.
With a polished chrome finish, the Peretti Aluminium Radiator, will add instant elegance to your bathroom with its attractive sheen. Great for matching with a wide range of bathroom-ware, this versatile radiator has two defined panels and offers great heat output.
With a slimline design and suitable for accessorising with towel rails for added convenience, it's ideal for fitting into narrow spaces and delivers on both functionality and style. It's also very lightweight, so you don't need to worry about fixing it to the wall, while it only requires a low water volume to operate.
If you're looking for a modern vertical radiator which will elevate your bathroom design, then this is an all-round good choice.
If you feel inspired by our lowdown on vertical radiators, then we have plenty to peruse on our website and in-store, while our friendly team is happy to answer any questions you might have. Whether you prefer a modern or more traditional style, we have a full range of vertical radiators in an array of sizes, designs and finishes, so there will always be something to suit your personal preference.
If you'd like some help with choosing vertical radiators for your home, just email our team at info@bathshack.com or call us on (028) 9077 0188. Alternatively, our online chat is also available if you have any queries.