If you're planning a visit to our Lisburn showroom, then don't forget to check out our Manager's Specials – two top products specially selected by the showroom manager as being particularly worthy of your attention ...
Recommended bathroom product
If you're doing up your bathroom and are in need of a new toilet, then look no further than the Cali Comfort Height Rimless Fully Back-to-wall Toilet and Soft-close Seat – previously priced at £369 and now just £299.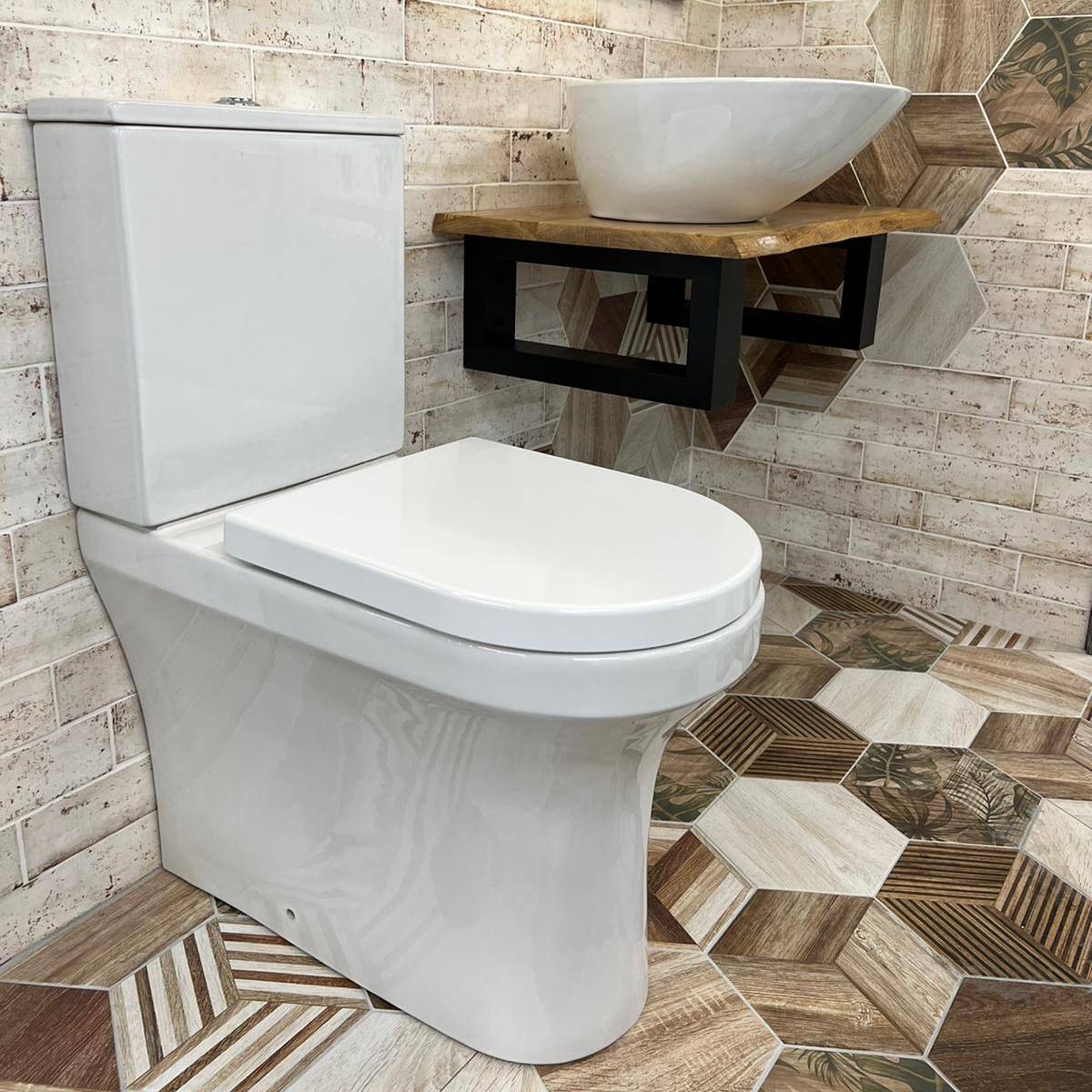 The Cali Comfort Height Rimless Fully Back-to-wall Toilet and Soft-close seat.
This top-quality toilet is uber stylish and will fit neatly into your bathroom without taking up too much floor space, thanks to its practical design. Being fully flush to the wall, the Cali Comfort Height Toilet also minimises cleaning, as you won't have to worry about getting in behind it, while the cistern is sleek and compact, giving it a slimline look without added bulk.
"The smooth, minimalistic fully back-to-wall design makes this a versatile product which is easy to love and easy to clean, the rimless design providing an ultra-hygienic solution," adds our Lisburn manager.
Indeed, there's a lot to love about this bathroom product, with its push-button flush feature and attractive high-gloss white finish, while the soft-close seat keeps things quiet and prevents the lid from banging down. Made from hard-wearing ceramic, the comfort height of the Cali means this toilet really has it all – it's stylish, takes up little space, is easy to clean and comfortable to use. It's also fantastic value so … what more could you want?!
Recommended tile product
Moving onto tiles and, in our Lisburn showroom, the Shetland Moon Rectified Porcelain Tile in Grey is definitely worth a look, as this attractive design will add instant elegance to any space.
As our showroom manager says: "Bold, beautiful and stylish, the timeless design of the Shetland Moon Tile allows it to fit perfectly into both contemporary and traditional settings, so this is a great all-rounder."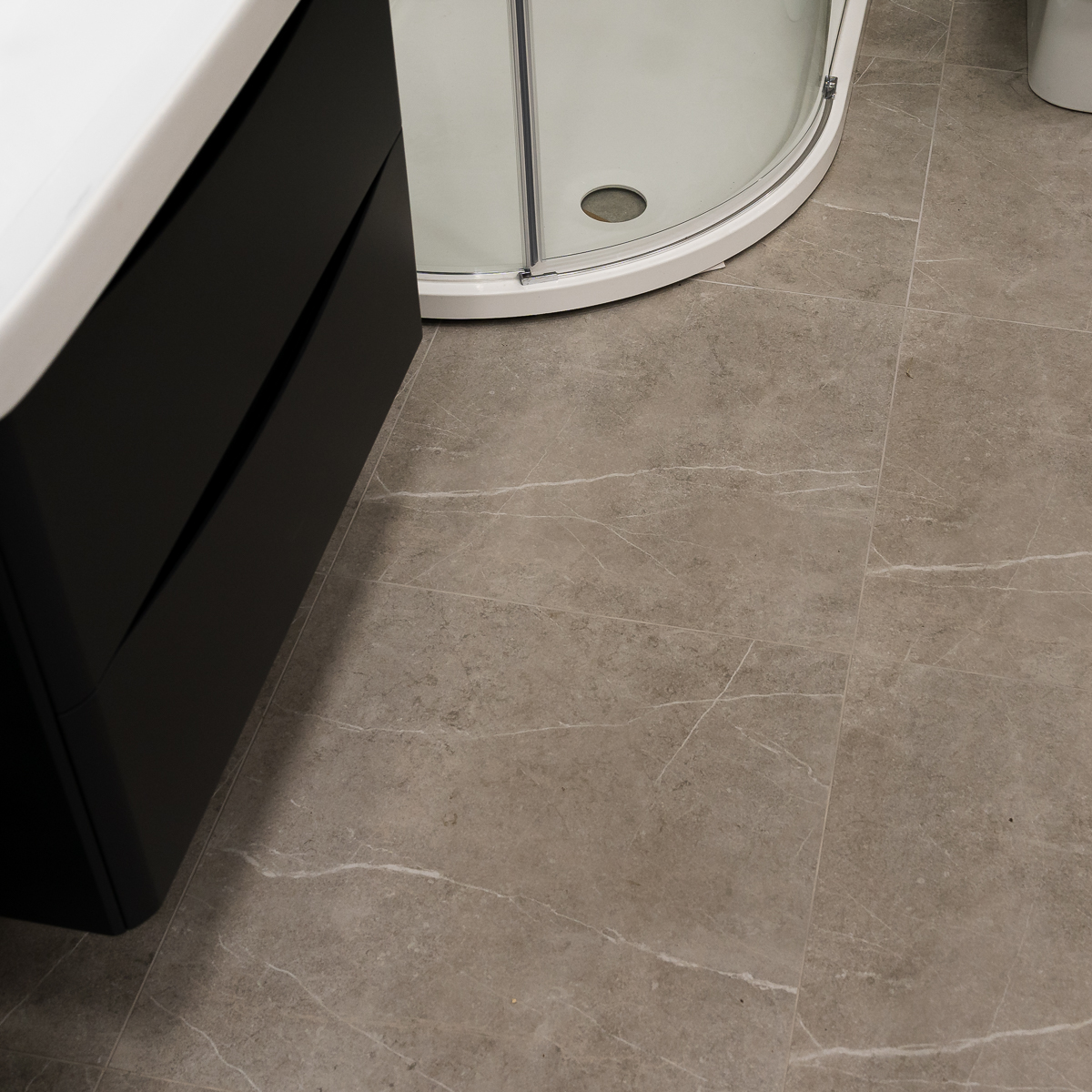 The Shetland Moon Rectified Porcelain Tile in Grey is a large format tile which will add elegance to your bathroom.
A large format tile, the Shetland Moon will help to make your bathroom appear more spacious, as the minimal grouting creates a flowing, seamless look. Having fewer grout lines also means that cleaning is much quicker and easier, so it's a win-win.
The matt finish further gives these tiles a contemporary edge which won't easily date, while the grey tone of the porcelain with white vein detailing gives them an authentic stone-effect look which evokes a natural aesthetic. The overall effect is cool and calming – a look that will instantly elevate your bathroom, giving you all the benefits of a high-quality marble-effect tile without the hefty price tag that comes with natural stone.
If you'd like to find out more about our Managers' Specials, then why not visit our Lisburn showroom for a firsthand look? Our team is also available at info@bathshack.com or you can give us a call on (028) 9077 0188 if you'd like information about any of our tiles and bathroom products.