Make your Bathroom Romantic for Valentine's Day

With the freezing icy chill of winter finally starting to ease off, we can start to look ahead and embrace the incoming milder temperatures and hopeful sense of optimism that comes with Spring. So, as we leave the January blues behind and step into the shortest month of the year; the month of Violets and Primrose's for you flower lovers out there – but most widely known as the month that celebrates St Valentine!
Let's face it: we've all been through a lot these past few years and so it makes Valentine's Day and everything it represents even more meaningful. Here, we're going to look at all the virtues that Saint Valentine represents, such as love, romance, appreciation, and thoughtfulness and how we can implement these traits in our bathroom to show that special someone in your life just how much you love them! Regardless of budget, we've got ideas to suit every household. Remember, it's not about how much you spend, but the thought that counts.
Imagine this setting – your partner has had a long busy day of work, it's still cold outside, and they come back home after a stressful day. That's where you come in! You have dimmed the lights awaiting their arrival, with some rose petals sprinkled over the staircase, guiding the way to the bathroom where peace and serenity awaits. They walk into the bathroom, and smell invigorating cedarwood scented candles, some relaxing jazz music playing and a tantalising scented bath ready and waiting. At the foot of the bath awaiting them is the Viktor Benson Bamboo Bath Caddy & Bath Board with a bubbly glass of champagne and a few luxury chocolates. Ahh, absolute bliss!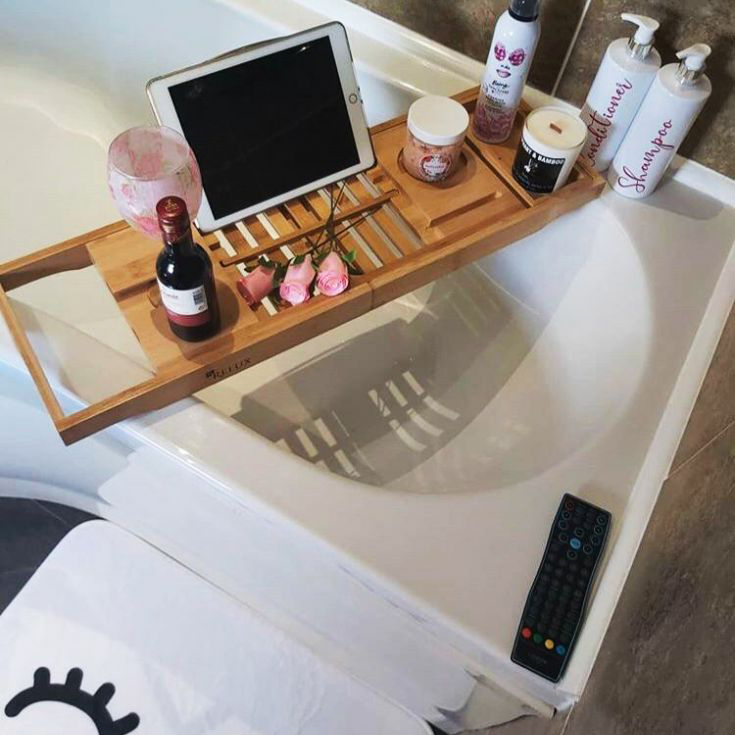 A romantic bath experience doesn't have to be just for your significant other. "Love only grows by sharing" to quote the motivational speaker Brian Tracy. With this in mind, why not share the bath with your partner. Our Marseille 1700mm Luxury Freestanding Bath in an iconic Silver Leaf Finish is perfect for relaxing in alone, or with company. As this is a double ended bath, the sink hole is positioned in the middle which allows for two identically sloped sides ensuring maximum comfort and relaxation for you both. Not only a treat for a special romantic occasion, the bath is also practical and grants greater flexibility with your bathroom layout. The taps can also be customised to fit in with your own unique style. Looking to create a memorial Valentine's Day for your significant other, whilst also giving your bathroom an eloquent and permanent upgrade? We've got you covered!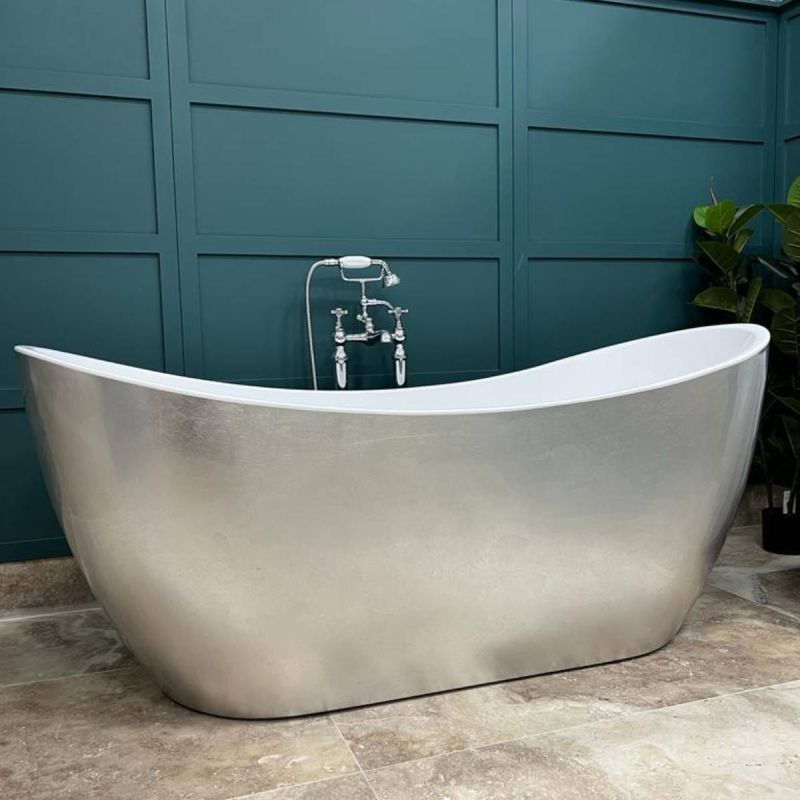 Not interested, or don't have the space for a bath? We hear you! This Eliseo Ricci Cube Plus Thermostatic Rain Shower with Diverter which comes in a very classy Brush Brass or the slick Matte Black Finish will make you both feel rejuvenated and euphoric as you will both feel like you are showering under a waterfall in the amazon rainforest. We recommend going that extra mile by decorating the shower with some artificial hanging plants and playing some tropical rainforest sounds to give you that wild primal sense of wonder. The thermostatically controlled bar valve means the temperature is regulated which prevents the risk of scalding. Remember, it doesn't always have to be "lovey dovey" and red roses – something you can experience together and strengthen your bond is the true essence of what Valentine's Day is all about!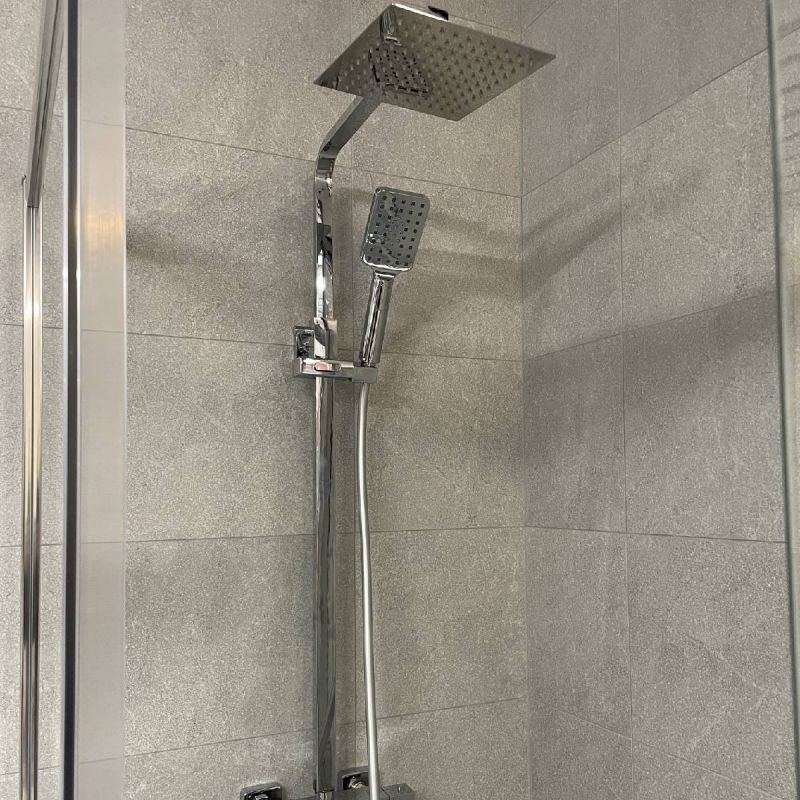 Wine and Chocolates, Baths, and Rose Petals. These things both go together. Music and Light is another important piece of the Valentines Day experience that is instrumental but may not immediately spring to mind. Let us explain. Ambient music in a romantic setting doubled with seductive and inviting mood lighting can help enhance any romantic experience. With our Brushed Brass Bluetooth 700mm x 500mm Frame Mirror with colour changing features this can be the centrepiece of your romantic endeavour. The mirror has a fitted heater demister pad, meaning you don't have to worry about the mirror steaming up even if the bathroom gets steamy (if you catch our drift). The built in speaker lets you dictate the mood with your music choices to suit any setting, and the colour changing frame provides a relaxing and restorative aura during your bath or shower and even afterwards when applying any moisturizer or accoutrements in helping to enhance the spa like experience from the comfort of your own bathroom.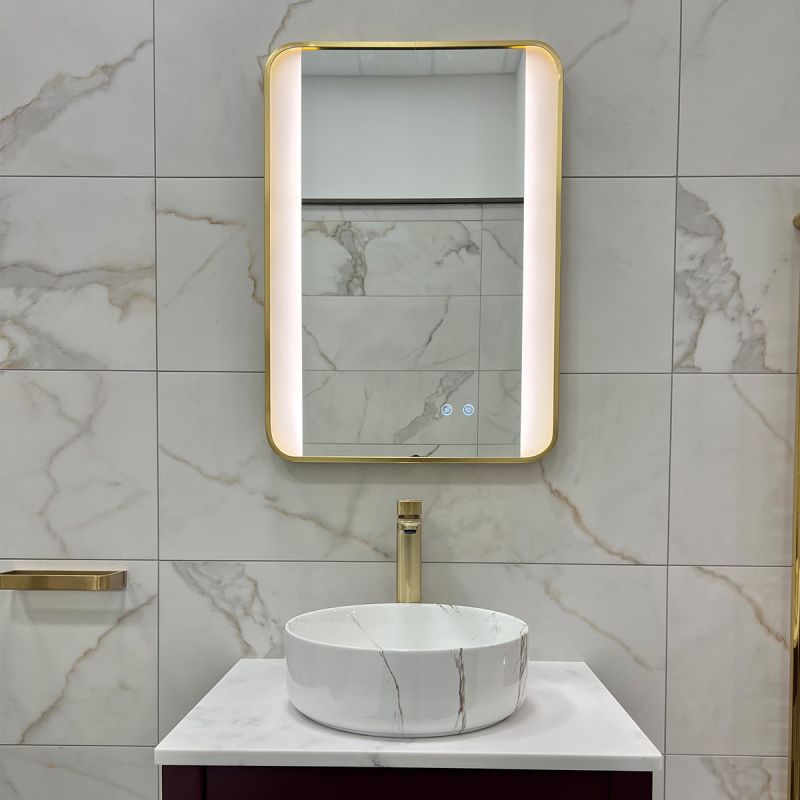 The word luxury always suggests it must be something premium, and something which costs a lot of money. But with these ideas and products from Bathshack, we can help you bring luxury to the comfort of your own bathroom for less. All of these ideas can be added to or customised to suit your own tastes, and if you have any specific ideas you would like to concoct from our love potion of products this Valentines Day, please get in touch – we'd love to play cupid for you and your significant other!
Lovebirds in our Valentines Day Sale can get up to 50% off selected lines.
Related Products