January Sale: Our Top Picks

Not sure what to buy in our January Sale? Fear not! We've compiled a list of our top product picks for your consideration. From vanity units to showers, these picks will help you kit out your whole bathroom for less. Start the year by making your bathroom dreams come true.
Nuie Freya Rimless Close Coupled Toilet & Soft Close Seat
Featuring all you need in a modern toilet, the Nuie Freya is the perfect choice for any homeowner. It is a close-coupled toilet, meaning the cistern is attached to the toilet bowl and pipes are hidden within the casings of the toilet. This, combined with modern curves, creates a clean and compact look which is well-suited to smaller bathrooms and awkward corners. It also comes with a push button flush which uses less water and is more hygienic than a lever.
The Nuie Freya comes with a soft-close seat to prevent noisy slamming, trapped fingers, and damage to the toilet bowl. They are ideal if you have children, or your bathroom is next to a bedroom – no one wants their sleep disturbed in the middle of the night by a slamming toilet seat!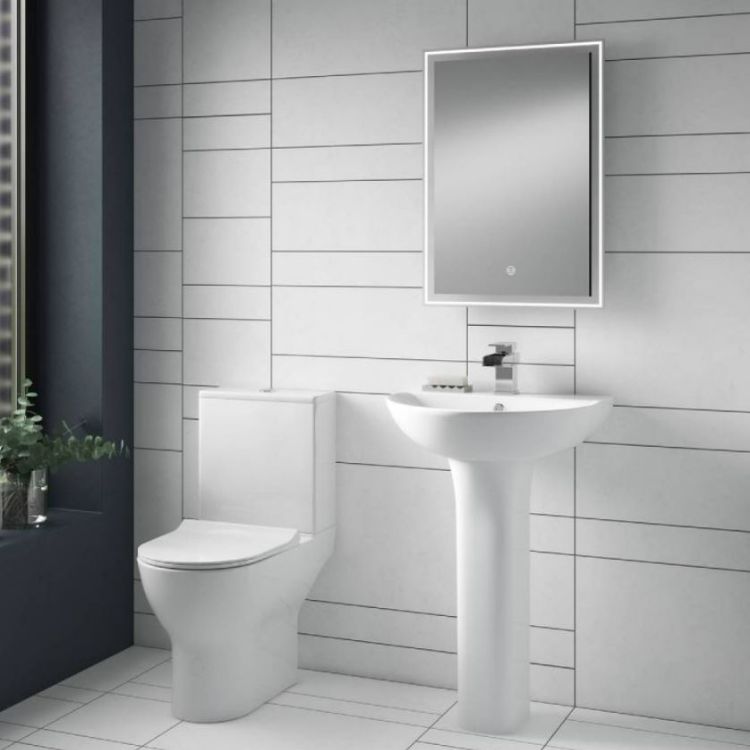 The Nuie Freya is a rimless toilet. This prevents the build-up of disease-causing bacteria and limescale, which can happen within the nooks and crannies of a rim. It makes the toilet much easier to clean as you can see exactly what you're doing - simply wipe in one smooth motion with no need for a toilet brush. It also features a direct flush technique, so it shoots water from around the edge of the pan instead of water flowing around a rim and into the bowl. This cleans your toilet much more effectively and uses less water, so it's powerful as well as eco-friendly!
Happi 500mm Floorstanding Vanity Unit & Basin - Gloss White
The Happi vanity unit is designed to keep your bathroom neat and clutter-free. The two drawers provide plenty of storage so you can keep all your bathroom essentials out of sight. The unit also comes with a basin, so it combines two functions in one and hides any unsightly pipework. The basin has one tap hole, so you will need to add a mixer tap to your purchase. To find the perfect tap for your space, click here.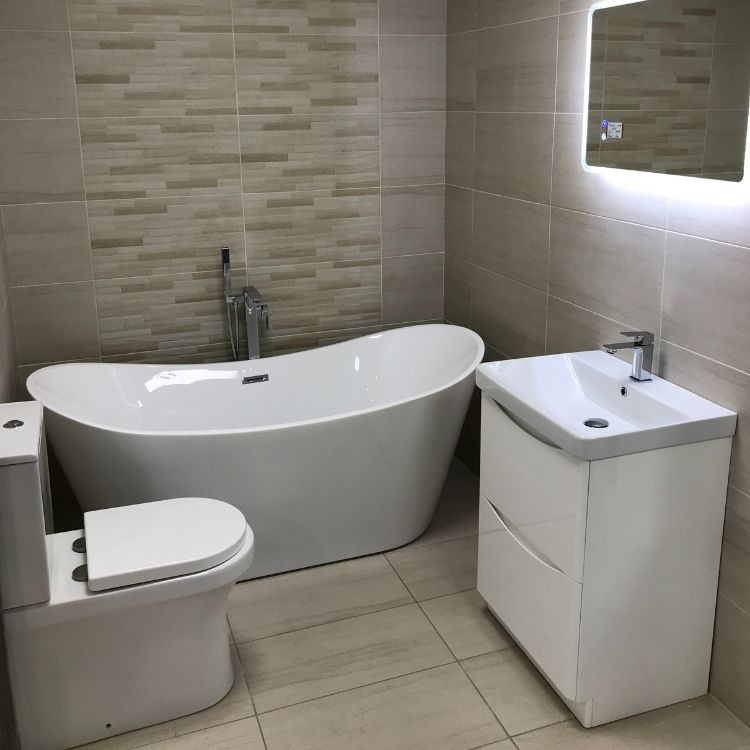 With a gloss white finish, simple design and integrated handles, the Happi has a compact look that's perfect for a minimalist or modern bathroom. The drawers are also fitted with soft close hinges to prevent slamming, trapped fingers, and damage to the unit – perfect for busy households with children!
The Happi is made by Objekt Ceramica, a manufacturer exclusive to Bathshack. They have been selected by us for their high-quality bathroom ware and wide range of designs. The unit is made from custom-engineered wood that's perfect for a bathroom environment as it is more moisture and temperature resistant than natural wood, while the basin is made from durable ceramic. If you are looking for a highly functional and neat unit, then the Happi may be the one for you.
Viktor Benson Cancun 1700mm Freestanding Double Ended Bath White Waste
This designer bath is deep, luxurious, and an absolute beauty! This makes it one of our top-selling tubs, and now is your time to get it at an amazing discount.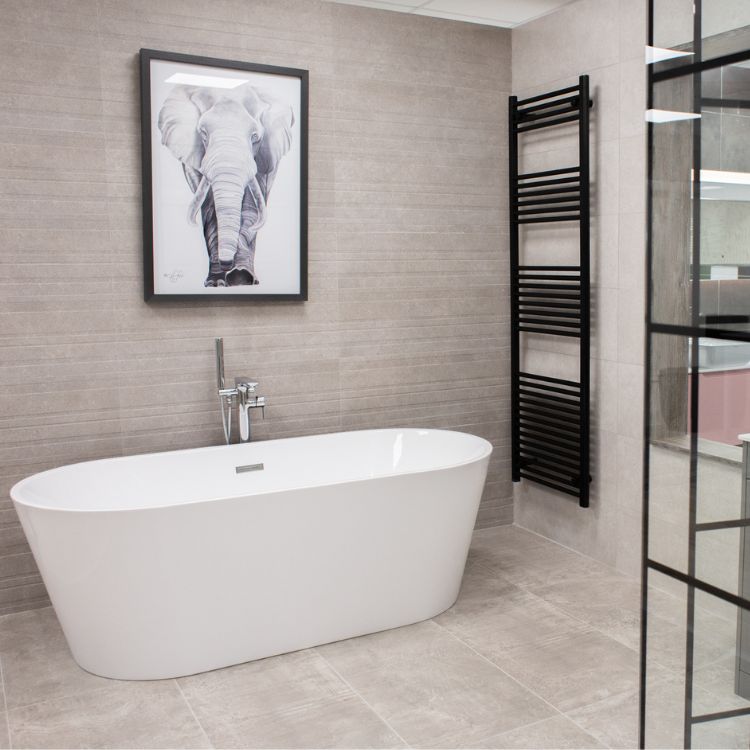 With its clean curves and understated design, it helps create a tranquil atmosphere in your bathroom – perfect for a calming bath after a long day. Unlike fitted baths which are installed against the wall, this freestanding bath can be placed anywhere. If you have a larger bathroom, we recommend placing it in the centre of the room. This creates a luxurious focal piece which will make your bathroom look more upscale. It is also double ended so you can comfortably lay your head on either end. This is ideal if you want extra room to stretch out and unwind, or for two people sharing!
Stream 700 x 500mm Bluetooth LED Mirror
As smart devices are becoming more popular throughout the home, it's now time to take your bathroom into the 21st century!
The Stream has all you need in a high-tech luxury mirror. The Bluetooth connectivity means you can sync up your devices from up to 10 meters away and stream your favourite music, podcasts or radio from the mirror's speakers. It also comes with a charging socket for your electric toothbrush and shaver. The energy-efficient LED bulbs provide the best source of task lighting possible, while the heated demister pad keeps the mirror steam free. To switch the mirror on or off, simply use the infrared touchscreen switch.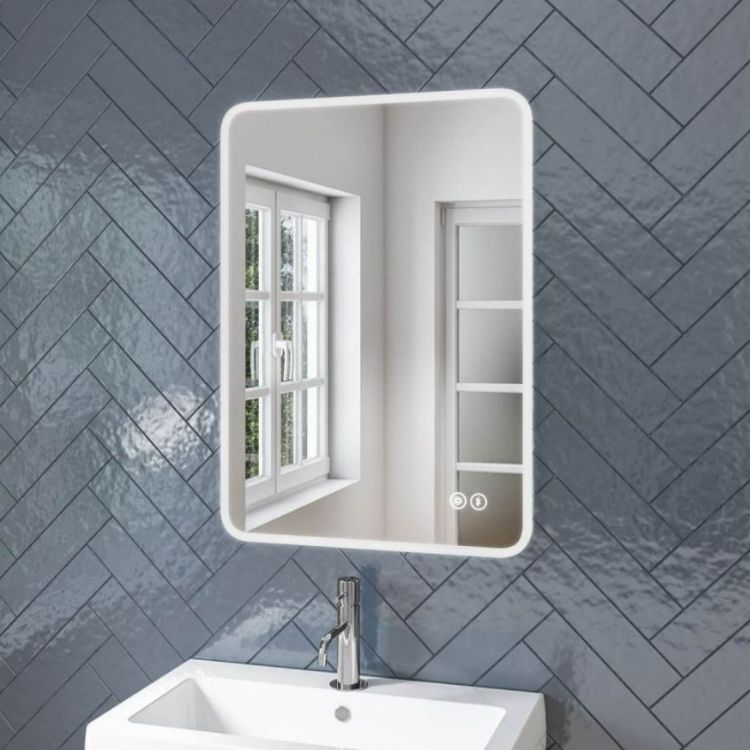 Despite the mirror's modern features, the curved edges and soft design means it works beautifully in both modern and traditional bathrooms. It can also be fitted in a portrait and landscape style, making it a versatile choice for any bathroom.
Roma Straight Heated Towel Rail - 1200mm x 500mm – Anthracite
There's nothing quite like stepping out of your bath or shower and straight into a toasty towel! As well as warming your towels for that luxury hotel experience, the Roma Heated Towel Rail also keeps your bathroom at a comfortable temperature. With a high heat output, it can double up as your main bathroom radiator. This is ideal for smaller bathrooms, as it can be put up higher on the wall which takes up less space than a standard radiator.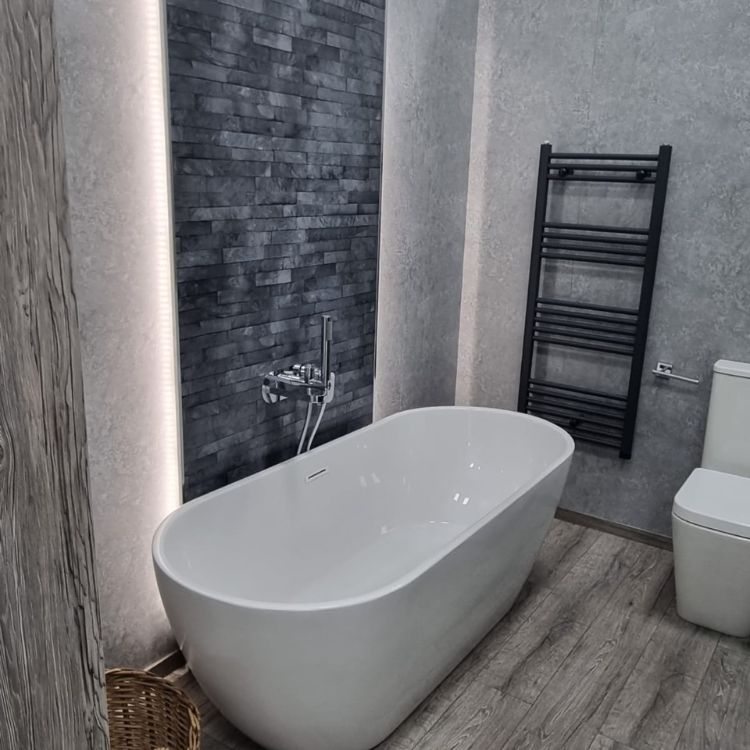 With its dark finish, the Roma is a stylish feature piece that fits perfectly into any modern bathroom. It is also dual fuel, which means it can be operated by central heating or electricity. This can help you save money on your heating bills; if you don't need to turn on the central heating for the whole house, you can simply switch the radiator on. With a 5-Year Guarantee, you can be confident that you are buying a high-quality, durable product.
Eliseo Ricci Cube Plus Thermostatic Rain Shower with Diverter
Complete your modern bathroom with this Rain Shower by Eliseo Ricci! With its cubed design and rust-resistant chrome finish, it is sleek and sophisticated. It features a rain shower head so you will feel like you are taking a shower in a luxury hotel! It also comes with an easy clean, detachable shower hose for more thorough rinsing and cleaning of the shower enclosure. With a telescopic slide rail kit, you can adjust the shower to your high preference.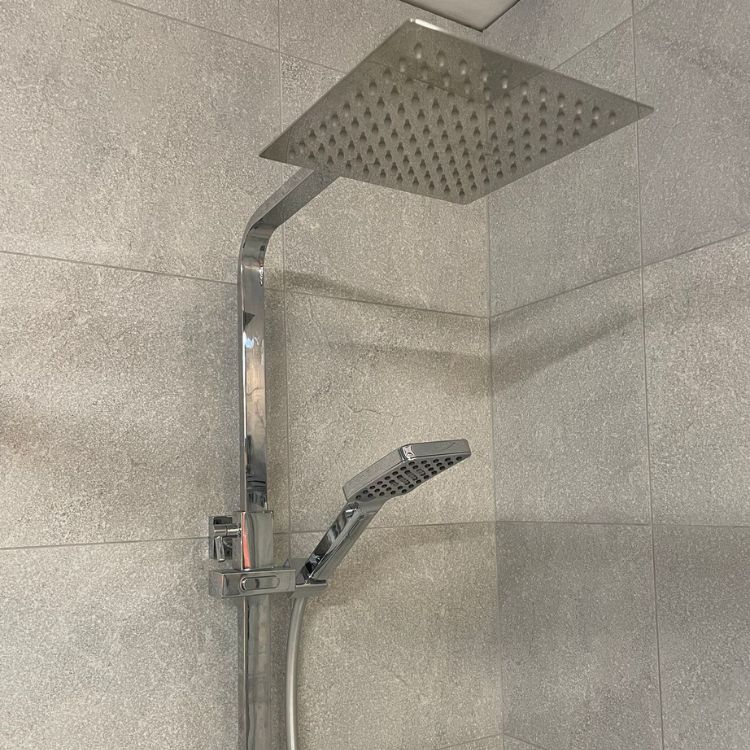 The Cube comes with thermostatic temperate control to keep the water at your chosen temperature. So if someone turns on a tap in the kitchen, you won't be shocked by a sudden blast of scalding water! The shower is also suitable for both high and low-pressure systems – just check what water pressure you have at home before buying.
Milan 550mm Floorstanding Vanity Unit & Basin - Gloss Anthracite
Practical and chic, the Milan has all you need in a bathroom vanity. The cabinet provides plenty of storage to keep your bathroom tidy, while the doors are equipped with soft-close hinges to prevent noisy slamming. It has a slim design which is ideal for smaller spaces and a compact look that keeps your bathroom looking neat.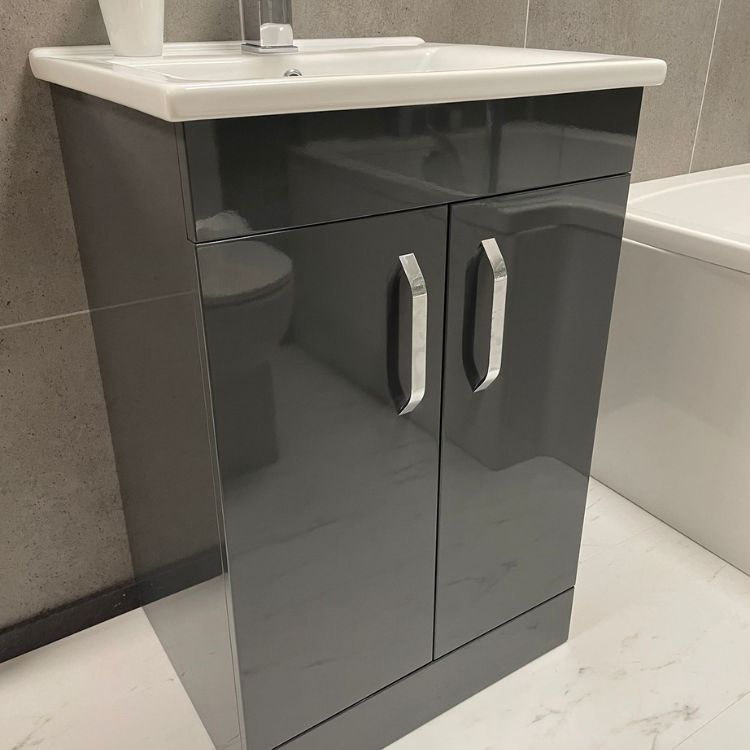 The gloss anthracite finish of the Milan is very versatile as it looks good in both traditional and contemporary bathrooms. It works well in many colour schemes; add it to a monochrome bathroom, or pair it with a splash of colour. It is also high-quality, with a 10-year manufacturer's guarantee for your peace of mind. Taps are not included, so you will need a mono mixer tap as well as a waste.
Have you chosen your favourite products? Head on over to our January sale and get up to 70% off selected products both online and in-store. Create the bathroom you've always dreamed of today!