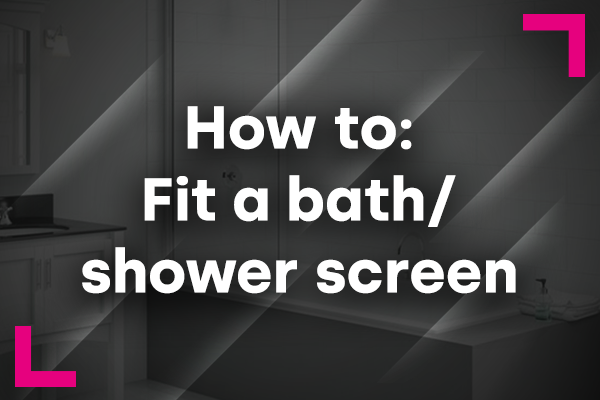 If you have a straight bath in your bathroom then, chances are, you might have also opted for a bath-shower combi. These are a great way to save space and offer a practical solution if you want to have both a shower and bath in the same room but don't want to install a separate shower enclosure.
If you choose this option, however, then you'll also need to fit a bath shower screen to keep your floor dry while the shower is in use.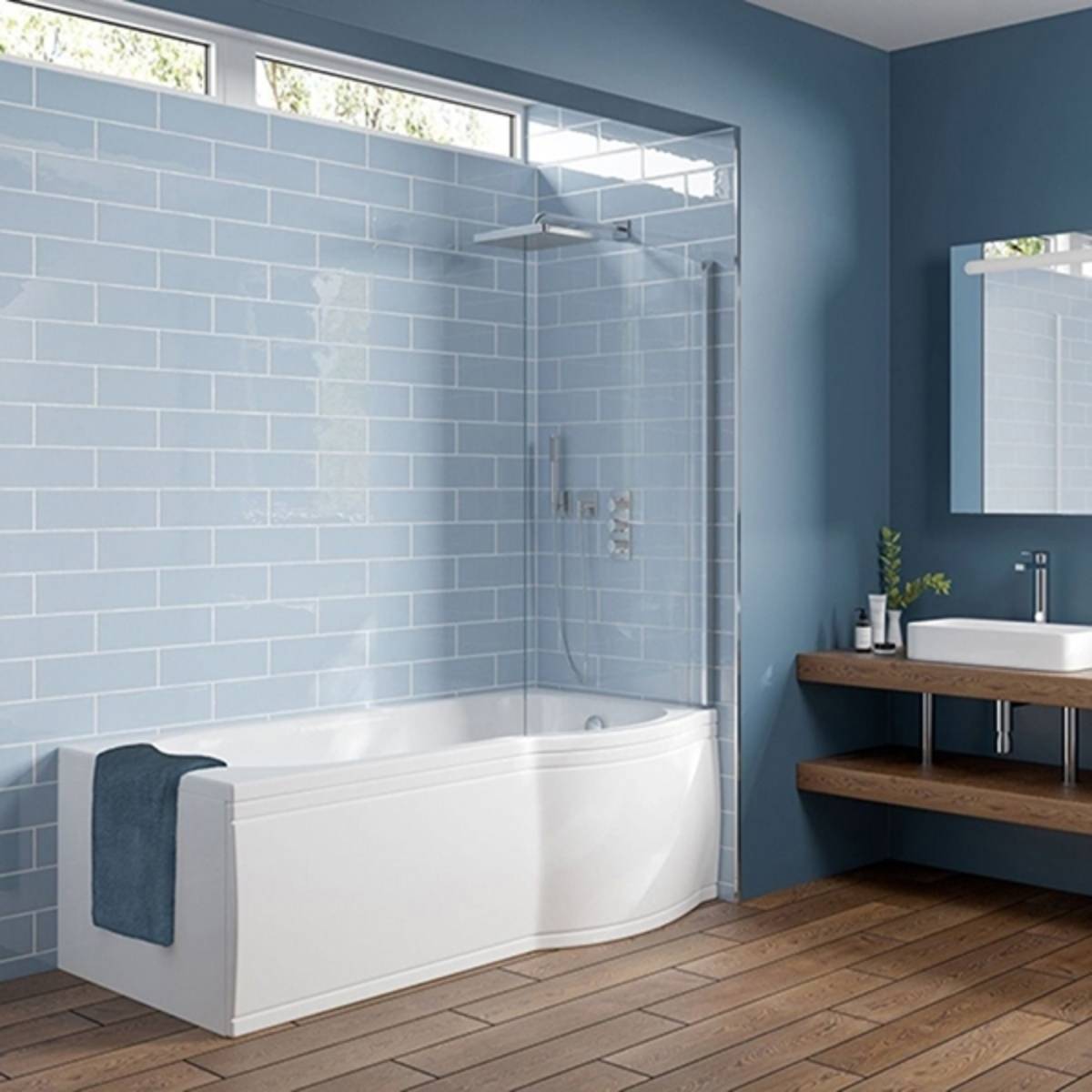 The Ari Shower Bath, Panel and Screen – Righthand in Acrylic
What exactly is a bath shower screen?
This is basically a screen fitted onto the side of a bath which has a wall-mounted shower at one end, so the bath can be used for both bathing and showering. It can also be referred to simply as a bath screen. A shower curtain may be used instead but a glass screen has become more popular over the years and offers a more pleasing aesthetic within the room.
Types of bath shower screens include:
Hinged – these screens can move inwards or outwards, away from the bath.
Static – these screens are fixed in place and don't move.
Folding – these bath shower screens fold back on themselves and can be pushed to one side when you're getting in and out of the bath.
While you can fit your own bath shower screen if you're keen on DIY, we would always recommend hiring a professional to do the work. However, if you want to know more about the installation process, then we've included a step-by-step guide of what's involved below.
Tools required for fitting a bath shower screen:
Tape measure
Pencil and masking tape
Hammer and screws
Screwdriver
Electric drill
Spirit level
Sealant
Sealant gun
Bath shower screen and components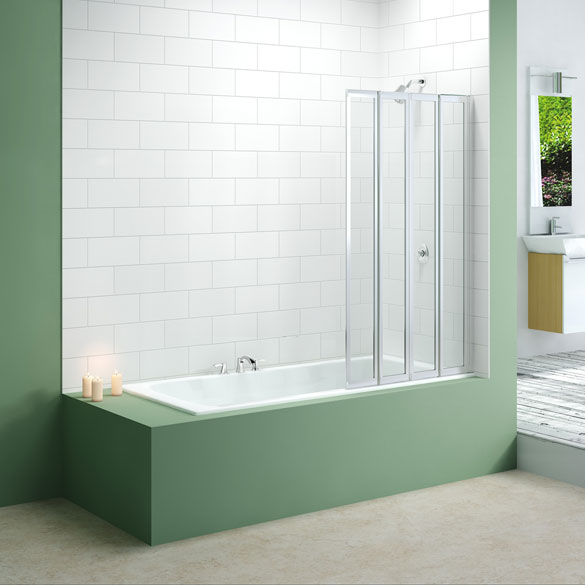 The Meryln Four-fold Shower Screen in Chrome.
Installing your bath shower screen
The first step is to check that you have all the correct tools and that the screen isn't damaged.
Next, check that the wall channel has the required holes for the screws which will attach to the shower screen. If it doesn't, you'll need to drill these yourself.
Use a spirit level to check that the wall channel is lined up straight on the wall and then mark where you'll drill the holes for this with a pencil. This should be approximately 40mm out from the bath. NB Always remember to check for any wiring and pipes before drilling.
Using your electric drill, drill the necessary holes into the wall. If wall plugs are required, you can use a hammer to tap these into place.
Attach the channel to the wall using your screws and screwdriver.
Insert the glass shower screen into the wall channel, making sure the seal is in contact with the bath for a watertight fit. Also attach the handle or towel rail at this stage if your bath shower screen comes with one of these.
Use sealant along the outside edge only of the wall channel to secure the bath shower screen and then leave to dry for 24 hours.
Shop bath shower screens at Bathshack
At Bathshack we have a range of high-quality shower screens for baths, including those for straight baths as well as L-shaped and corner baths.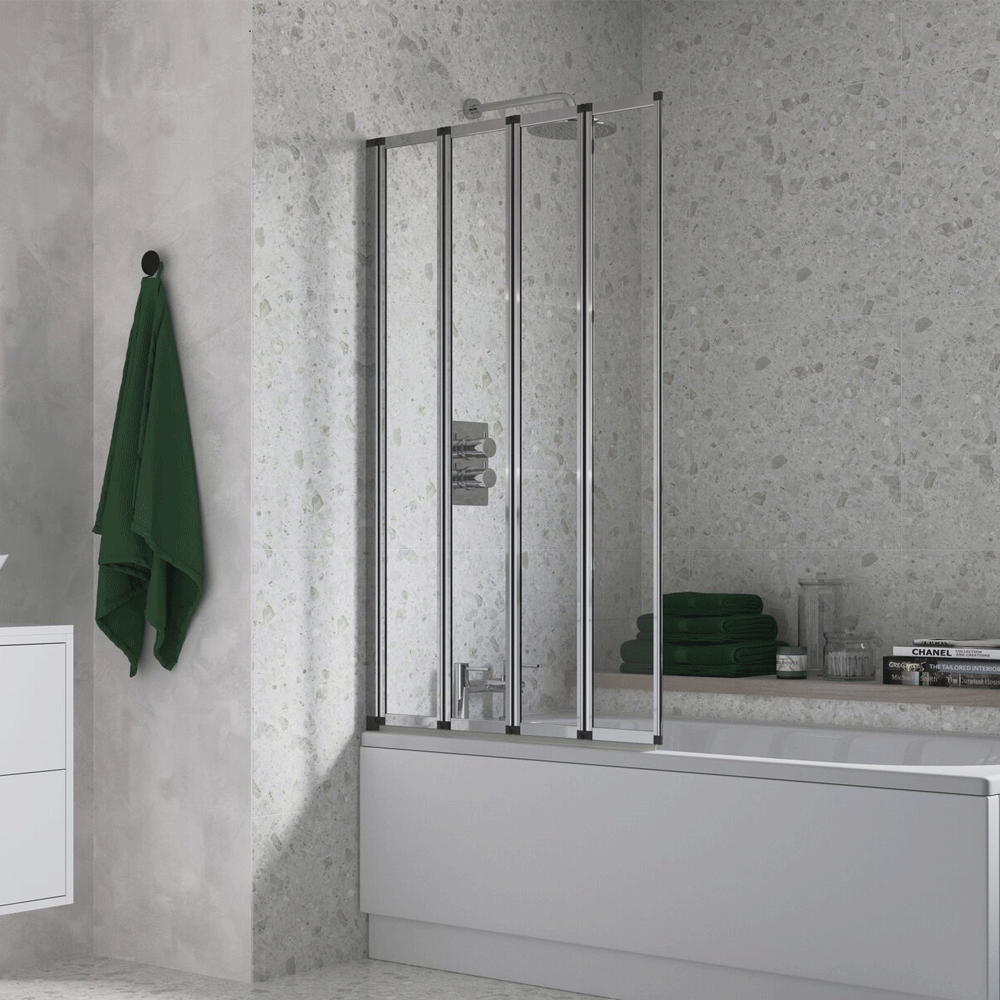 The Ari Design Framed Four-fold Bath Screen in Chrome.
The Ari Design Framed Four-fold Bath Screen in Chrome has a polished frame and folds handily back on itself, so you can tidy it away when not in use and move it aside when getting in and out of the bath. It also has 4mm toughened glass and a clear seal along the bottom.
For a frosted effect, the Volente Frosted Hinged Bath Screen in Chrome is an 8mm-thick bath shower screen which is ideal for a straight bath. The frosted effect gives added privacy during showering and looks elegant and stylish, while also being robust and practical.
As a reversible screen this means it can also be fitted to either end of the bath, while the screen can move both inwards and outwards, thanks to the hinges.
The Volente Frosted Hinged Bath Screen in Chrome.
If you prefer something a little more minimalist than the frosted screen but still like that style, then the Merlyn Single Curved Bath Screen in Chrome has a curved top and similar aesthetic, but without the frosted feature.
Made with 6mm toughened glass this is another reversible screen so can be installed at either end of the bath, while the frameless glass of the screen gives it a sleek look which will suit a contemporary or traditional bathroom alike.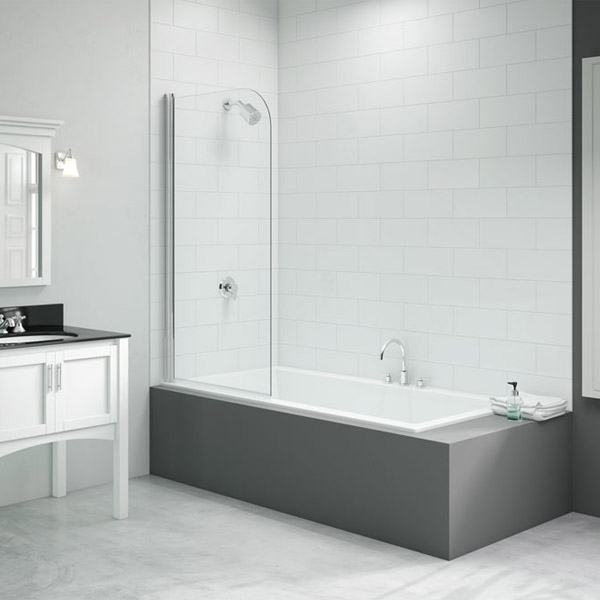 The Merlyn Single Curved Bath Screen in Chrome has a sleek, minimalist style.
No matter what your preference is, if you're searching for a reliable bath shower screen then you'll find a great range of products at Bathshack – and we're always happy to advise you on what might suit your bathroom best.
Whether you want a hinged or static screen, something with a polished chrome finish or a frameless screen, there'll always be something to suit – and at a great-value price.
If you'd like to browse our bath shower screen range, why not visit your local Bathshack showroom? Alternatively, you can chat to our team – just email us at info@bathshack.com or call (028) 9077 0188.