Festive Inspired Bathroom Style

Are you looking to update your bathroom in time for the festive season? Why not take inspiration from a Christmassy colour palette? Certain shades like green, red, gold and silver are associated with Christmas, but that doesn't mean they can't be in your home all year round! These colours will give your bathroom some 'oomph' and make it feel warm, cosy, and luxurious. Our guide will show you how to add festive-inspired style to your bathroom, from tiles to taps.
White
White, green, and red are the quintessential Christmas colour combo, just like a candy cane! To nail this festive-inspired look in your bathroom, choose white as your base colour and add red or green accents.
White is also a classic colour for any bathroom. At Bathshack, we stock a wide range of white tiles in many shapes, sizes, and styles. To prevent your bathroom from looking one-dimensional, choose a textured white tile such as marble or use two contrasting white tiles. For example, pair a white metro tile with a white mosaic. Another easy way to dress up a white tiled room is to choose a white tile with a glossy finish and lay it in an interesting pattern. For example, a white metro tile in a herringbone pattern will look stunning in any space.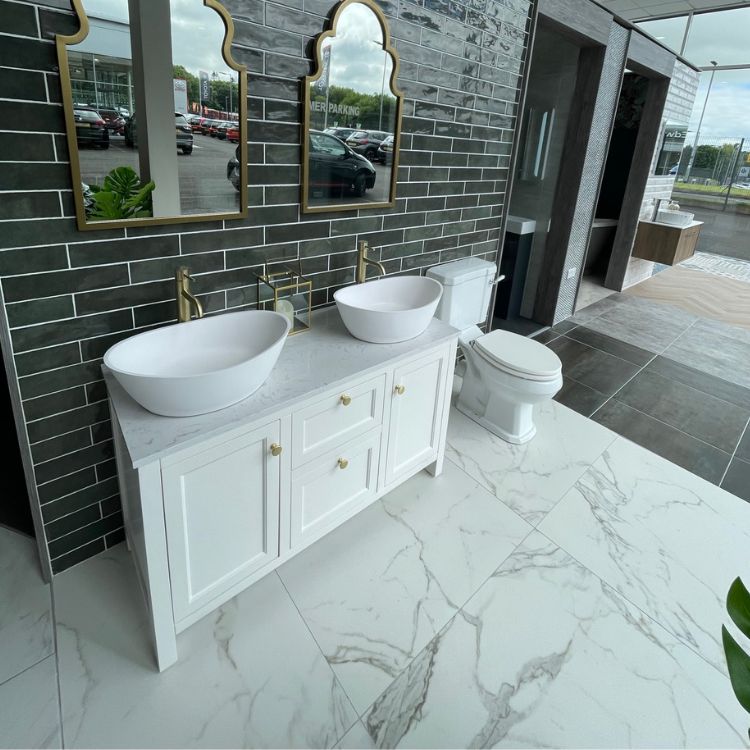 Instead of tiles, you could add some white furniture to your bathroom. We stock elegant white bathroom furniture for traditional and modern bathrooms including vanity units of all sizes, W.C. units, and tallboys. To find the right furniture for your bathroom, shop here.
Green
Get inspiration from your Christmas tree by adding a splash of green to your bathroom! When the tree comes down in January, you'll still have some greenery to enjoy.
Our Metro Verde Bottle Green Biselado Brillo Tile will add retro glamour and luxury to your bathroom. Their gloss finish also reflects the light and makes them easy to clean. This tile looks beautiful when paired with traditional brass and gold accents such as taps and accessories.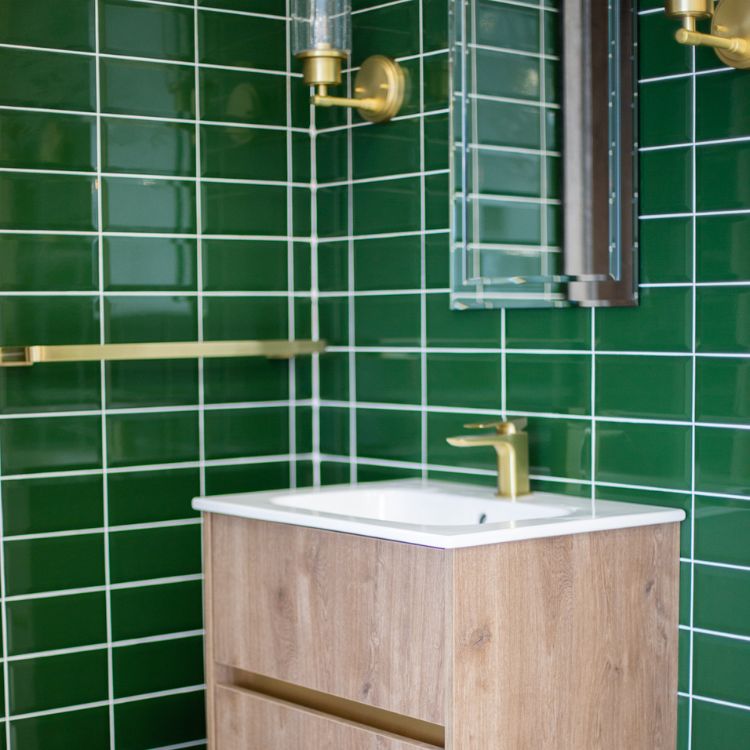 Alternatively, add some green bathroom furniture such as a vanity or storage unit. Green furniture is becoming more popular in interiors, so it's a great way to make an outdated bathroom look more on-trend. It will also keep your space neat and clutter-free, which is ideal if you are hosting visitors over the holidays. For that festive feel, we recommend forest green furniture from our Happi or Josef Martin range. Whether you're updating an ensuite or your main bathroom, these collections have furniture in several shapes and sizes, from countertop vanities to tallboys.
Red
No Christmas-inspired décor scheme is complete without some warm red accents! Achieve the look with some Cordoba bathroom furniture from our range.
The stunning Josef Martin Vario Unit is perfect for a contemporary bathroom. It adds rich colour to a bathroom that needs a lift, with a prism design on the front reminiscent of modern art. This streamlined, wall-hung unit will also save space in smaller bathrooms. Despite its compact size, it provides plenty of storage space to help keep your bathroom tidy. It is also fitted with a German-made Hettich drawer system which is soft closing, space-saving, sturdy and smooth running. Complete the unit with a countertop bowl and all basin mixer – we recommend a black bowl and mixer for a striking look in a modern bathroom. To view this unit in person, come and visit us in our Belfast Boucher Road showroom.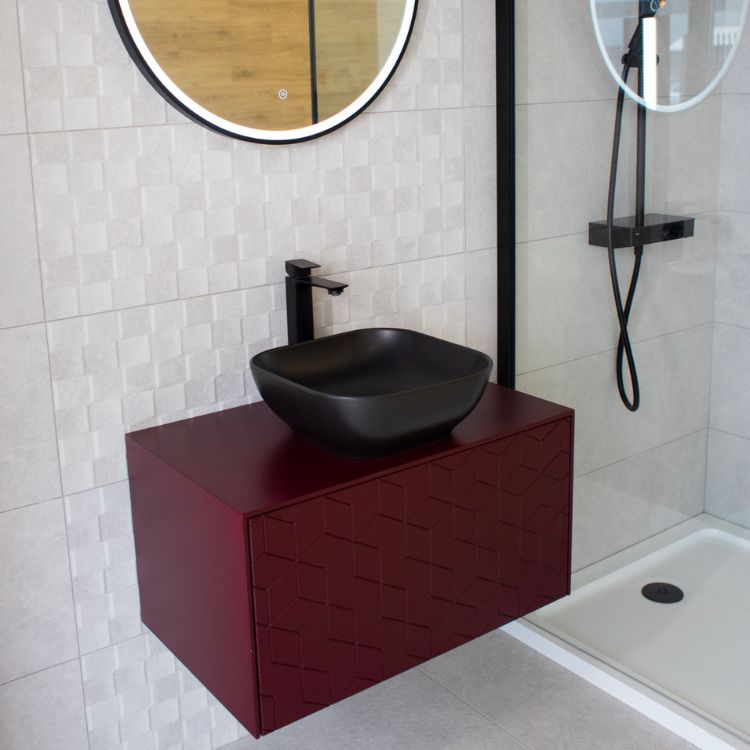 The designer look of the Josef Martin Cashel Unit will effortlessly enhance your bathroom. Its open design looks great in a contemporary space and has a beautiful simplicity that's very versatile. The Cashel will fit into most spaces, including smaller bathrooms and ensuites. It will also add a splash of colour to your bathroom and contrasts beautifully with white. Like the Vario, this unit is on display in our Boucher showroom!
For something a little lower on the price scale, our Happi Cordoba Units will look just beautiful. The range offers tall storage units, wall hung and floorstanding vanities which are just as stylish as they are functional.
Silver
Add some festive sparkle to your bathroom with silver! Silver is a stunning accent feature and will make your bathroom feel incredibly luxurious.
If you want to add a touch of sophistication to your walls, then silver finish tiles are for you. Available in a diverse range of shapes and patterns to suit your style, our silver tiles are a modern way to add metallics into your space. The Devon Metallic Silver Tile provides a contemporary twist to the classic subway tile and looks stunning in a wet room or shower enclosure. Alternatively, use our Ena Metallic Tile for a feature wall and contrast it with the Even Metallic Tile for a high-end spa look.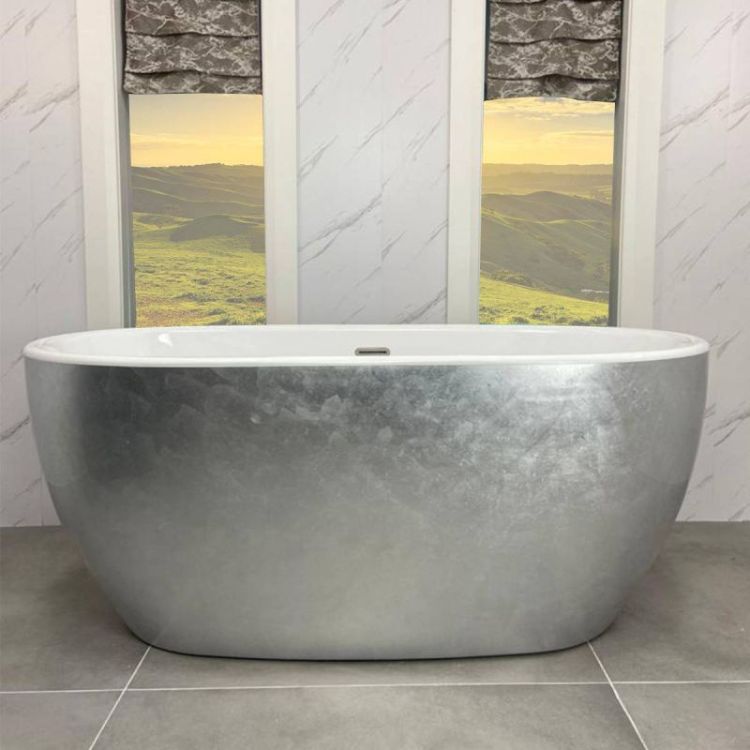 For a stunning showpiece in your bathroom, opt for a silver-plated freestanding bath. If you have the space, these tubs can even be placed in the centre of the room to take centre stage. Our silver freestanding baths come in modern and traditional designs from top brands such as Heritage and Cannes. To browse the full collection, click here.
Gold
Silver not your style? Why not go for gold! Gold is often used at Christmastime, whether it be for decorations or gift wrapping. It will also add a warm, opulent glow to your bathroom.
Add some glamorous gold to your bathroom with taps. Swapping out your taps is also a quick and cost-effective way to update your bathroom and make it look more expensive. At Bathshack, we stock basin taps, bath fillers and bath shower mixers so you can tie the whole room together with gold hardware. Shop the collection here and refresh your bathroom in time for Christmas.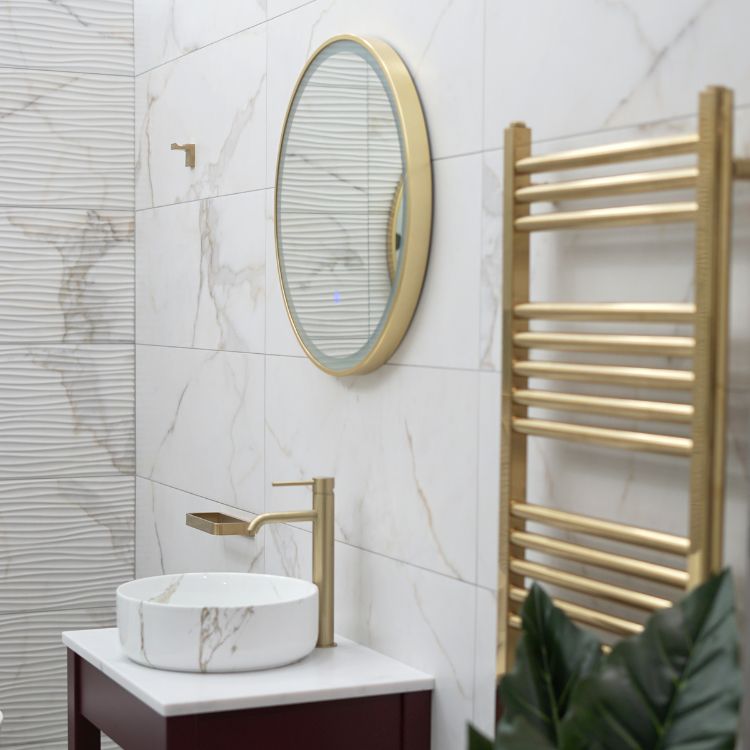 Feeling festive yet? Whether you're renovating your entire bathroom or simply changing a tap, we will help you transform your space this December. Shop online for delivery, or visit your nearest showroom. Showroom locations and opening hours can be found here.