Earthy autumn tones for bathroom cabinetry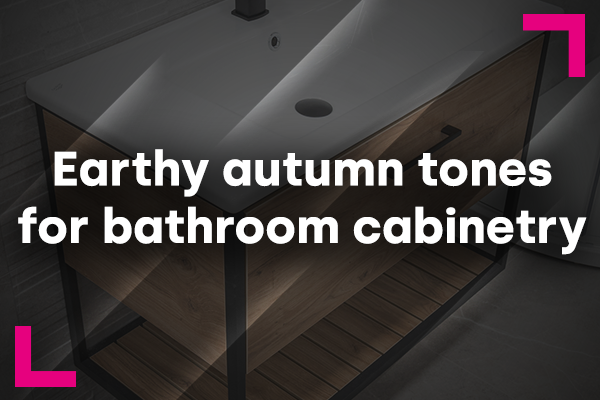 With nature-inspired tones always a popular choice for bathrooms, this is a trend which has continued to appear in homes throughout 2023 – and is a great idea for the autumn if you're planning to redo your interior. Earthy tones – including muted browns, greens and greys, along with oranges, reds and even yellows – are particularly associated with autumn and we have a great range of bathroom-ware within this colour palette, if you need some inspiration.
In this blog, we'll be looking specifically at earthy-coloured cabinetry, as we have a selection of vanity units in an array of rich, earthy tones which are perfect for adding a touch of warmth to your bathroom. Whether you want a floating vanity or floorstanding, a double or a single unit, we have lots of choice, whatever your preference.
Vanity units to suit every style
If you're interested in a space-saving vanity unit, then the Josef Martin Urbano Space-saver Wall-mounted Vanity Unit and Basin in Roble Azabache is a great choice.
With a single, roomy drawer, this compact unit has an oak design, the Roble Azabache effect giving it a deep grey-black tone which has a rustic vibe. This contemporary unit is wall-mounted to give it that floating effect, so will save space in a smaller bathroom while also giving an elegant appearance, regardless.
Fitted with a stylish inset basin and soft-close drawer, you can choose your handles separately to ensure a unique finish that suits your interior.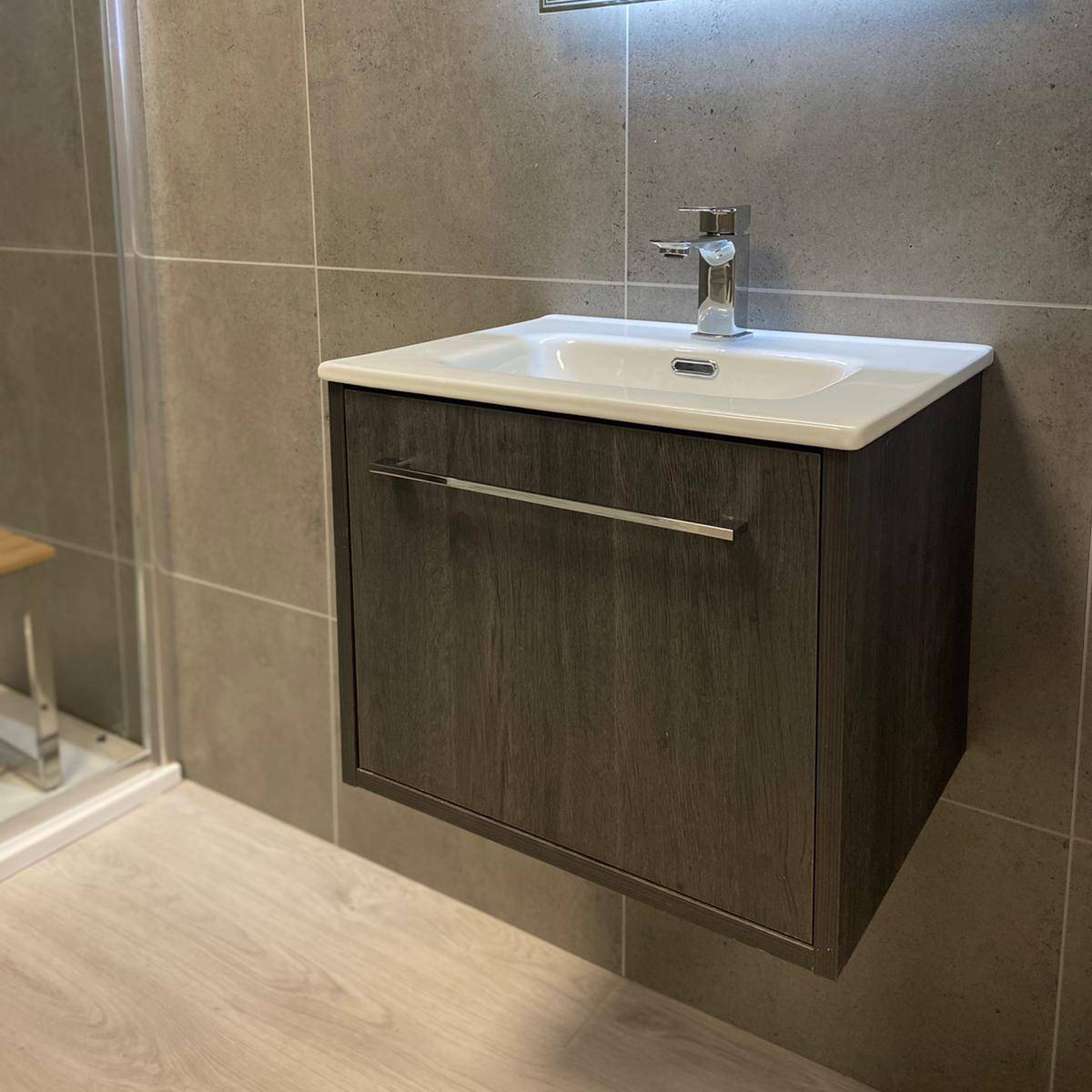 The Josef Martin Urbano Space-saver Wall-mounted Vanity Unit and Basin in Roble Azabache has a deep earthy tone.
Another sturdy unit with an appealing earthy tone is the Josef Martin Urbano WC Unit in Forest Green, which has brings the outdoors indoors with its deep forest-green tone, which can subsequently be colour-matched with the worktop. This handy unit is ideal for concealing the toilet cistern, so will keep your bathroom looking neat and tidy, while also reducing cleaning time, with the plumbing hidden away. It can further be paired with the matching vanity unit, which is sold separately to the WC unit, to create a stunning forest-green feature piece.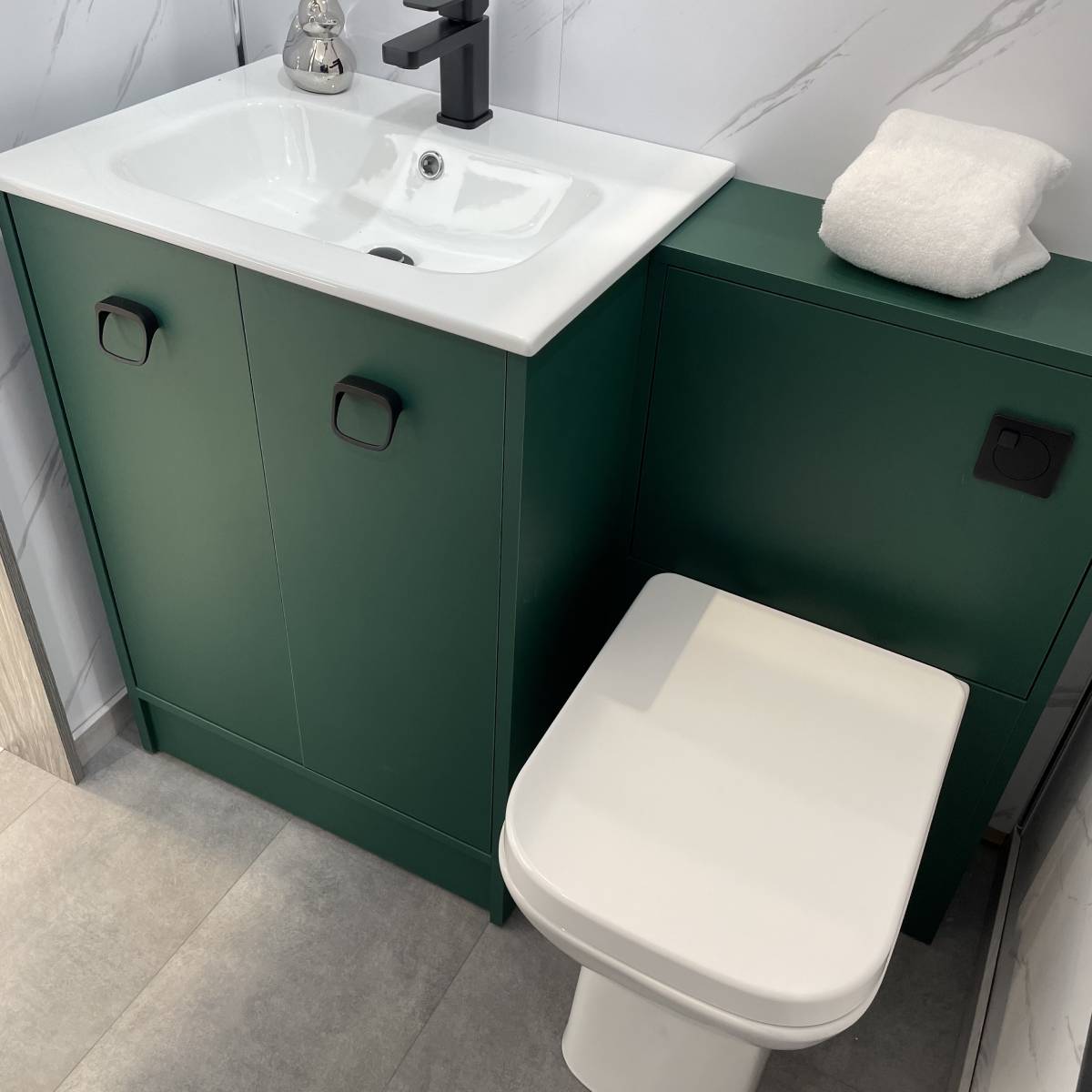 The Josef Martin Urbano WC Unit in Forest-Green.
For something a bit lighter in style, the Baltimore Oak in wood-finish MDF is a robust vanity unit which comes with two handy storage drawers and a one taphole basin. With a contemporary look, the drawers are both handle-less and slide easily open, with a soft-close mechanism ensuring that they don't slam noisily shut. The Bardoline Oak finish, meanwhile, has an authentic timber appearance, with graining detail that delivers a rustic charm to this piece.
With a rectangular inset white basin with rounded corners, this gives the unit a sleek style which, together with the oak-effect design, will complement a variety of décor.
If you want something a little richer in tone, however, then consider the Croft Wall-mounted Unit and Basin in Wood-effect MFC, which has a warmer finish.
This vanity unit also comes complete with a single taphole inset basin, along with one in-frame drawer with soft-close mechanism.
The large ceramic basin has additional ledge space around the perimeter of the sink itself, which is handy for keeping toiletries on, while there is additional storage at the base of the unit, with an open, slated shelf. This is ideal for keeping towels, toiletries, or even a plant – it can be used for whatever you wish and is a useful extra feature of the unit.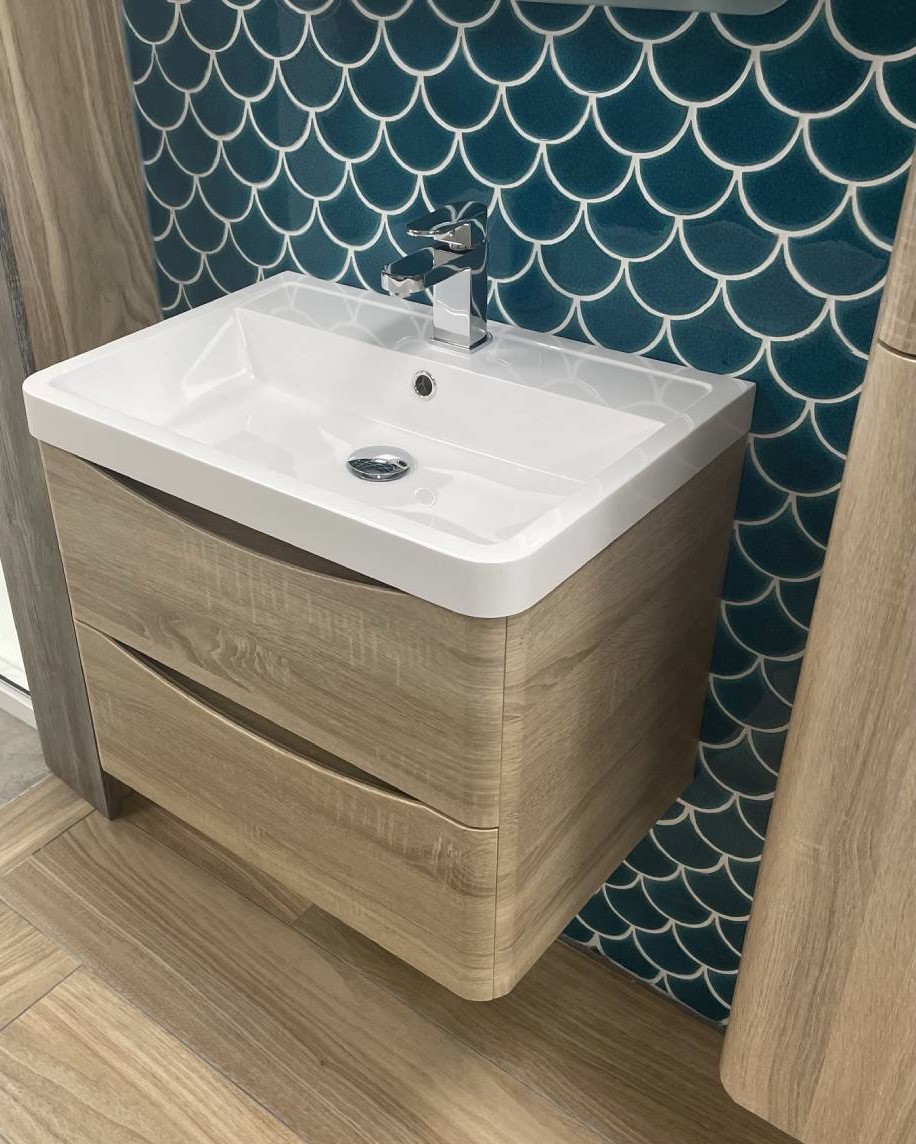 The Baltimore Wall-mounted Vanity Unit and Basin in Bardolino Oak has a lighter look.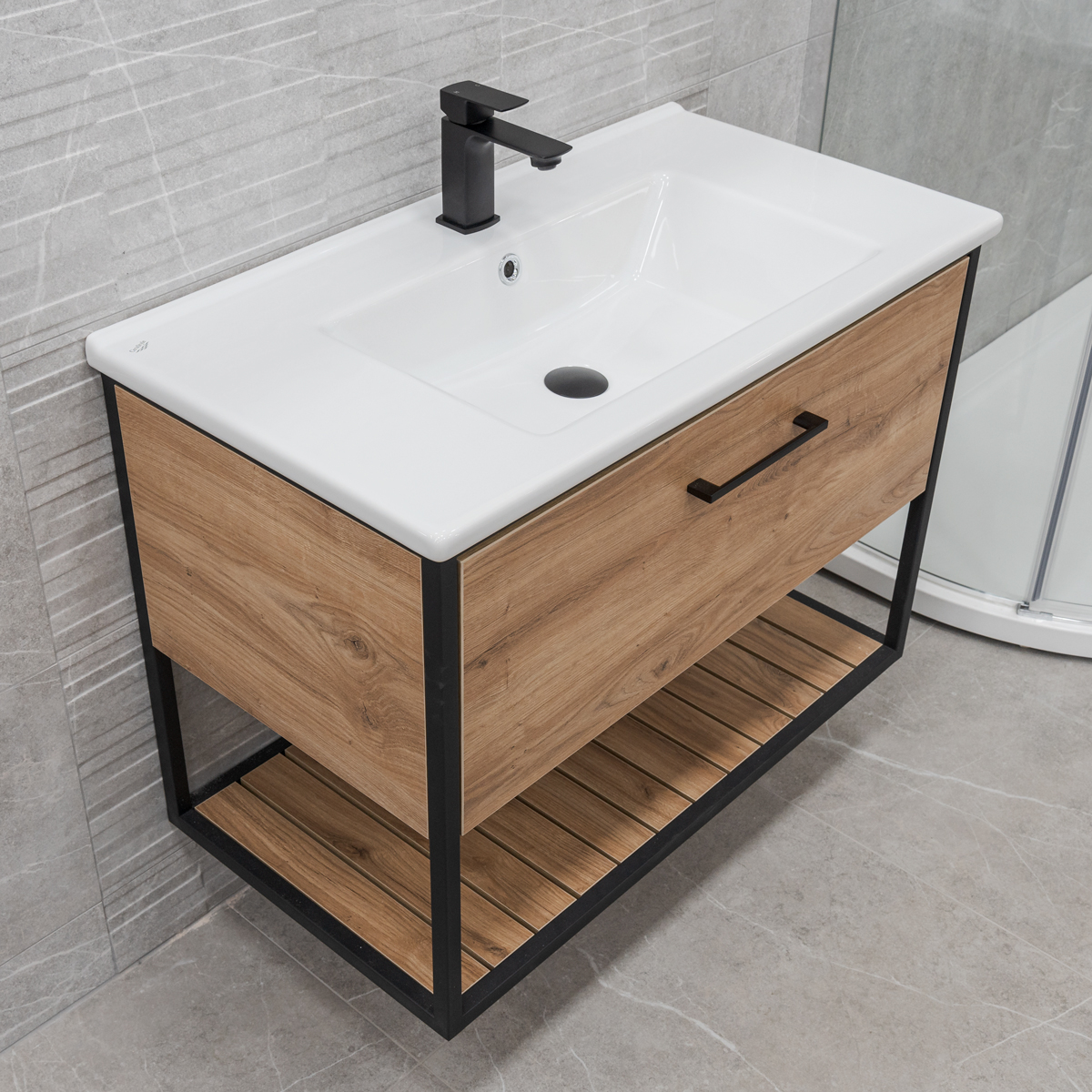 The Croft Wall-mounted Unit and Basin in Wood-effect MFC.
For a floorstanding alternative, then the Josef Martin Cashel Floorstanding Vanity Unit and Pebble Worktop in Cordoba Maroon Moisture-resistant MDF/HDF is a compact vanity unit which again comes with additional shelf space. This time, the shelf sits in the middle space between the basin and bottom drawer, which has soft-close runners to ensure that noise is kept to a minimum.
The deep drawer comes without handles fitted, so you can customise the unit to your individual taste, while there's plenty of room inside for storing your bathroom essentials. Designed for use with a countertop basin (sold separately), the unit also comes with a pebble-effect solid surface worktop for added convenience. Meanwhile, the rich maroon tone of the product will add warmth to your bathroom and will look great paired with neutral tones or with brass accessories – for example, a brass handle for the drawer, as pictured below.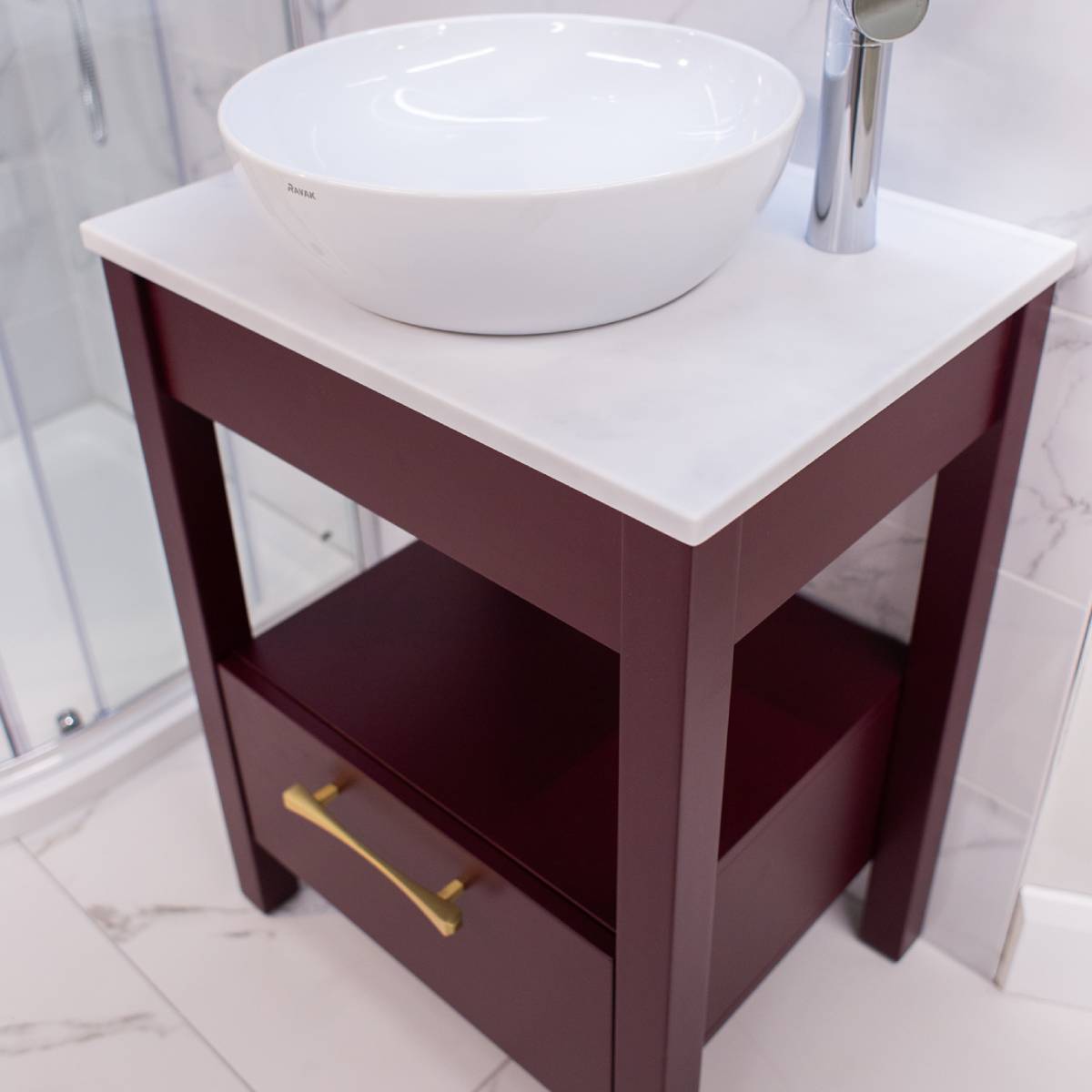 The rich maroon tone of the Josef Martin Cashel Floorstanding Vanity Unit will add warmth to your bathroom and has great storage space.
Moving to the other end of the colour palette, but still within the earthy tones spectrum, the Josef Martin Roubaix Wall-mounted Vanity Unit in Yellow Sand Moisture-resistant MDF/HDF will add a touch of brightness to your bathroom. This warm ray of sunshine has a single wide drawer for storing your essentials which you simply push to open – so, no handles required – while the soft-close mechanism also ensures that it doesn't noisily slam shut when you're finished.
Again, this is a unit designed for use with a countertop basin, which you can choose separately, while the worktop comes already installed. With an attractive contemporary design, this unit has chunky end gables which add character and depth, which also drawing the eye, along with that vibrant colour. If you're looking for something a little bit different for your bathroom and want to inject some colourful style into your interior, then this is an inspired choice.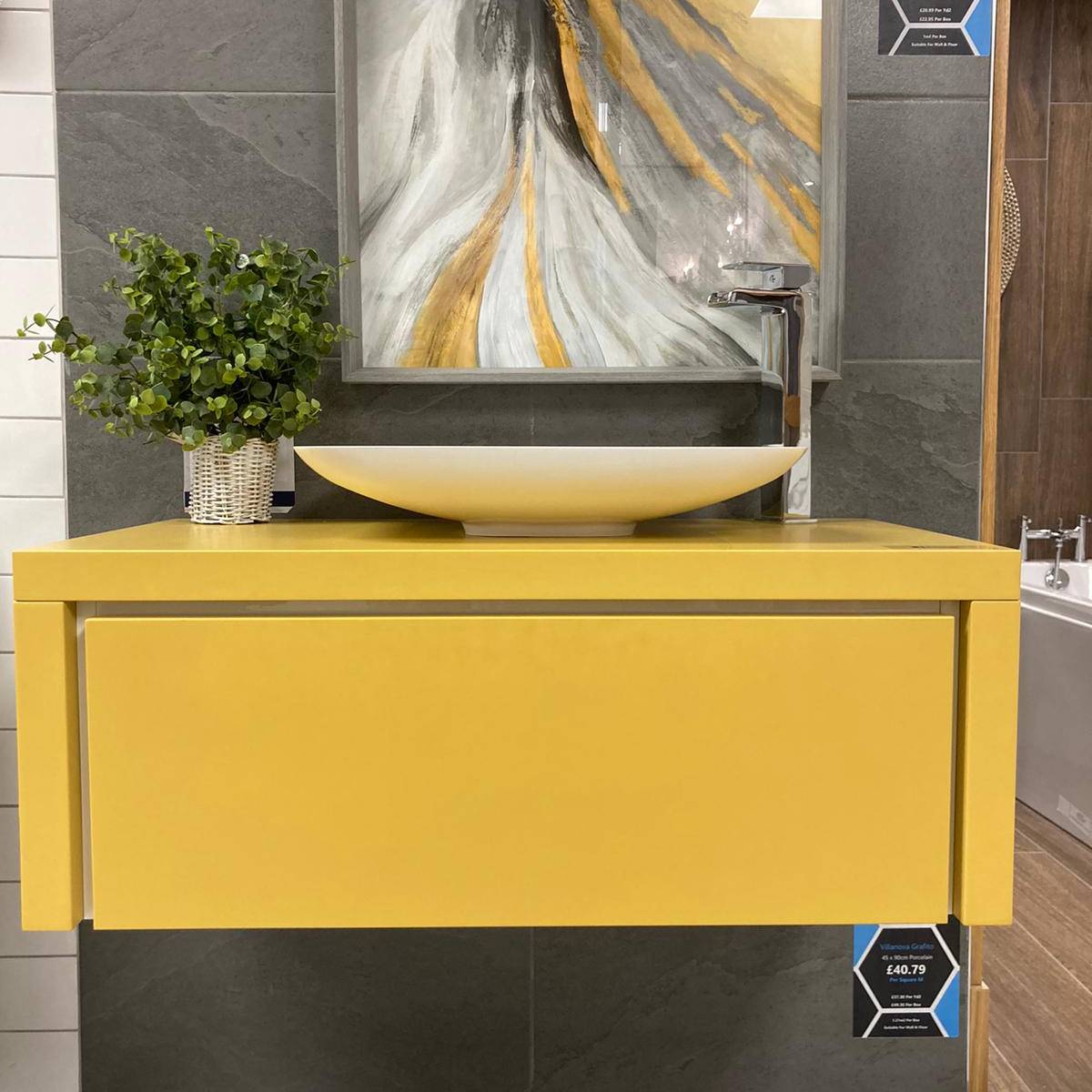 Add a pop of colour to your bathroom with the Josef Martin Roubaix Wall-mounted Vanity Unit in Yellow Sand.
With a broad colour palette to choose from, incorporating earthy-inspired cabinetry into your bathroom can take many forms – and we have a great selection to choose from at Bathshack. Whether you're looking for a single unit, double, wall-mounted or floorstanding, we have something to suit everyone. We also have a range of finishes, including matt, painted and more, with fluted features and various other design available. Just chat to our team for more information or call into your nearest showroom to check them out firsthand.
For more information about our vanity unit range, email our team at info@bathshack.com or call (028) 9077 0188. Alternatively, our online chat is available if you have any queries.