Bathroom Decorating Tips for Landlords

As a landlord, you understand the importance of keeping your property in top-notch condition. One of the most frequently used rooms in any home is the bathroom, which means it's essential to pay extra attention to its upkeep and design. One area that is often overlooked in rental properties is the bathroom which can be a key selling point for potential renters and can greatly impact the overall impression of your property. In this blog, we will provide you with some bathroom decorating tips that will help you make your rental property more appealing to tenants.
Choose Durable and Easy-to-Clean Materials
When it comes to bathroom materials, durability and ease of maintenance should be at the top of your list. Avoid anything too delicate or high-maintenance that could easily break, scratch, or get stained. Opt for materials like porcelain, ceramic, or vinyl flooring, which can withstand heavy foot traffic, humidity, and spills.
Stick to a Neutral Color Scheme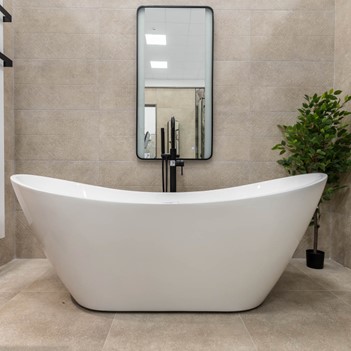 While bright colors and bold patterns might be trendy, they're not always the best choice for a rental property. Instead, stick to a neutral color scheme that can appeal to a wider range of tenants. Consider using shades of white, beige, or gray for the walls, floors, and fixtures. These colors are timeless, easy to match with other décor, and create a clean and fresh look.
Install Adequate Lighting
Good lighting can make a significant impact on any room's ambiance and functionality, and the bathroom is no exception. Ensure that your bathroom has enough lighting to create a bright and inviting atmosphere. You can achieve this by installing overhead lights, wall sconces, or a vanity mirror with built-in lights. Also, consider using energy-efficient bulbs to save on energy costs and increase the bathroom's sustainability.
Add Storage Solutions
A cluttered bathroom can be unappealing to tenants, so make sure to provide adequate storage solutions. Depending on the bathroom's size and layout, you can install shelves, cabinets, or baskets to keep towels, toiletries, and other essentials organized. You can also use hooks, towel bars, or a wall-mounted magazine rack to save on floor space.
Consider Installing a Shower Curtain
Shower curtains are an inexpensive way to add color, pattern, and personality to a bathroom. They're also easy to install, replace, and clean. When choosing a shower curtain, select a fabric or material that's water-resistant, mildew-resistant, and machine-washable. Also, opt for a color or pattern that complements the bathroom's existing décor.
Upgrade the Fixtures
Old, outdated fixtures can make a bathroom look dull and uninviting. Consider upgrading the fixtures, such as the sink faucet, showerhead, and toilet handle, to give the bathroom a fresh and modern look. When selecting new fixtures, consider the bathroom's existing style and colors to ensure a cohesive and harmonious design.
Add Decorative Accents
A few well-chosen decorative accents can go a long way in elevating a bathroom's design. Consider adding items like a vase of fresh flowers, a decorative soap dispenser, or a piece of artwork to add interest and personality to the space. However, be mindful of the bathroom's size and avoid over-cluttering the space.
Provide Adequate Ventilation
Proper ventilation is crucial for any bathroom to prevent mold, mildew, and other moisture-related issues. Make sure your bathroom has an exhaust fan or a window that can be opened to allow fresh air to circulate. Also, regularly check and clean the ventilation system to ensure it's functioning correctly.
Consider Installing a Mirror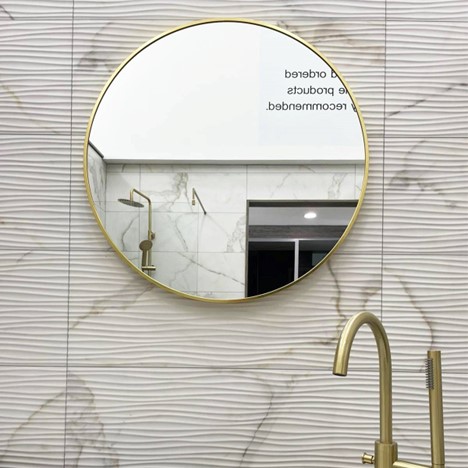 A mirror is an essential element of any bathroom, as it's necessary for personal grooming and hygiene. However, a mirror can also serve as a decorative element that can make a bathroom look more spacious and bright. Consider installing a large mirror or a mirrored cabinet to add functionality and style to the space.
Don't forget about the little details!
Finally, don't forget about the little details that can make a big difference. Make sure that all hardware such as door knobs and drawer pulls are in good condition and match each other. Provide a shower curtain and liner that are clean and in good condition. And don't forget to add some decorative touches such as some plants or a piece of artwork to make the space feel more welcoming.
In conclusion, when it comes to decorating a bathroom in a rental property, keeping things simple, clean, and functional is key. By following these bathroom decorating tips for landlords, you can create a space that is both inviting and practical, and that will help attract and retain high-quality tenants. If you need any assistance in style choices or colour schemes, our staff at Bathshack are always delighted to help with queries and advice! Or if you're looking for some inspiration, feel free to pop into one of our showrooms and we're certain you'll find something that fits your style and budget.