Hosting visitors this festive season? With December almost upon us, you might be looking to update your guest bathroom. If it's looking a little worn or gloomy, there are many things you can do to make it look and feel more stylish, cosy, and inviting! Our guide will show you 8 ways to update the guest bathroom from choosing the right colours to simply adding a few accessories.
Choose a Base Colour
The colour scheme of your guest bathroom is hugely important when creating a welcoming atmosphere. And since guest bathrooms are most often ensuites or small bathrooms, creating the illusion of more space is essential. Light-coloured tiles will make a small bathroom look bigger, brighter, and more welcoming. For a classic look, you can't go wrong with white. This White Marble Wall & Floor Tile will add warmth, opulence and visual interest to your guest bathroom while expanding the space.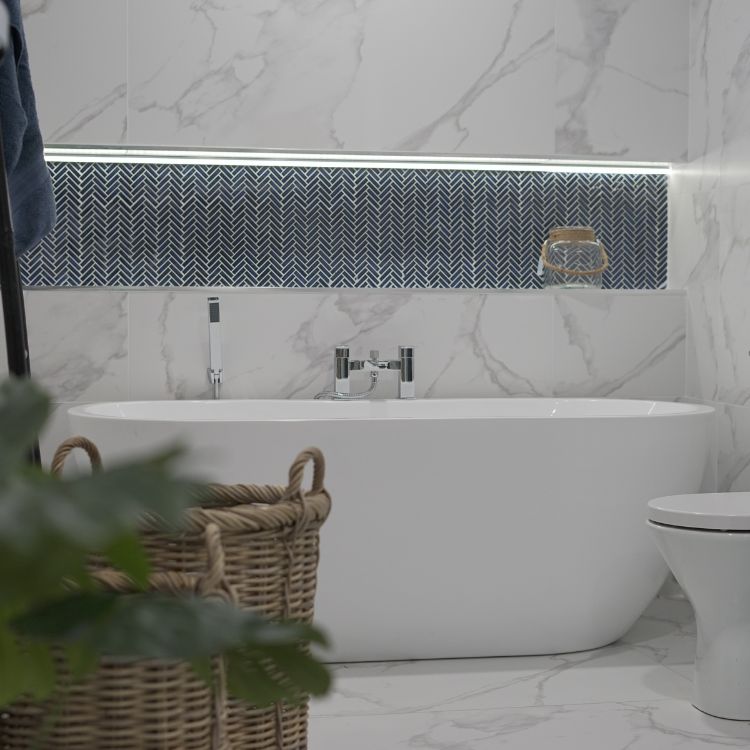 Alternatively, warm neutrals such as a soft grey or cream will provide continuity and flow, creating the illusion of space and a warm, calming effect.
The size of your tiles can also make an impact on your guest bathroom. Large format tiles result in fewer grout lines, which expands a compact space and makes it feel less 'busy' for a more relaxing atmosphere.
Accent Colour
Adding a bright pop of colour will enhance the look of your guest bathroom while having a positive effect on your guests' mood. One of the most cost-effective ways to do this is to create a feature wall with a metro tile in an accent colour. For example, our Metro Navy Biselado Brillo Tile will add some invigorating colour to your guest bathroom without being overpowering. Alternatively, the Metro Verde Bottle Green Biselado Brillo breathes life into traditional and modern bathrooms and goes with almost every colour.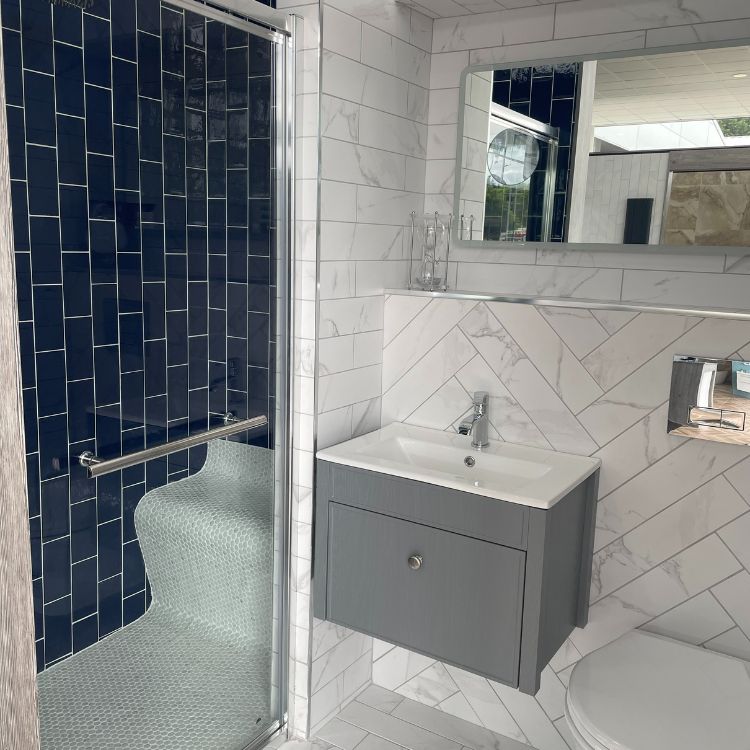 For a much quicker solution than tiling, you could add a vanity unit in a bold colour. Our vanity units come in a wide range of colours like yellow, pink, blue, maroon, and green. Our Josef Martin units can also be spray painted in the colour of your choice so you can impress your guests with a bespoke piece of furniture! Contact us or visit us in-store to learn more about our customizable Josef Martin units.
No matter what accent you choose, why not add matching towels and a bathmat to make your guests feel extra special?
The Importance of Storage
A vanity unit is more than just a design feature – it should provide enough storage for your guests and keep the place neat and tidy. If you have a small guest bathroom, go for one of our wall-hung or cloakroom vanities to save space. Despite their compact size, these units provide plenty of storage space for a clutter-free guest bathroom.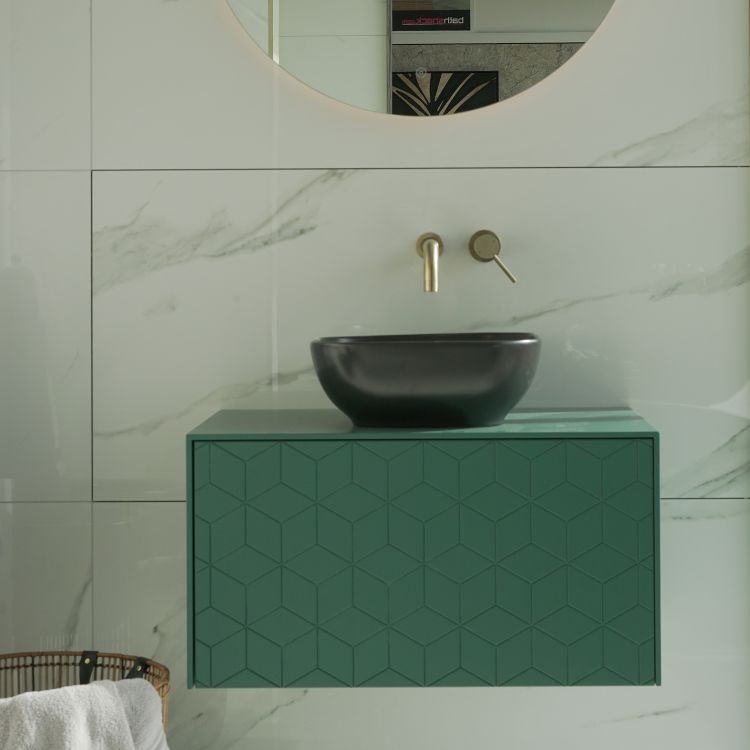 Add Lighting
A guest bathroom should feel bright and open, especially on dark winter mornings and evenings. Choose a lighting solution that illuminates the whole room and prevents it from feeling small and cluttered. Many of our ceiling lights feature LED bulbs, which provide excellent task lighting. You could also up the wow factor with a chandelier!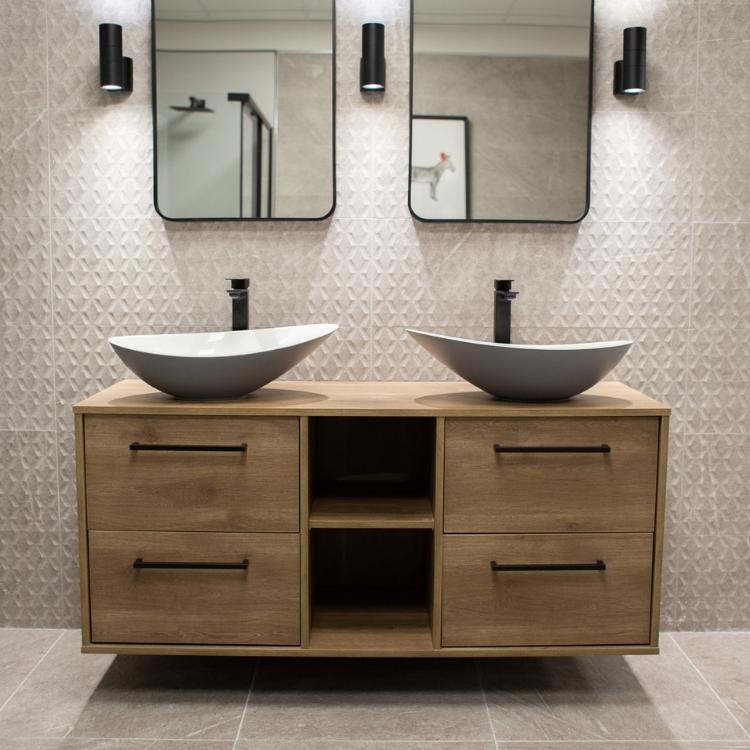 A guest bathroom should also have mood lighting to create a warm, relaxing atmosphere when needed. We recommend adding wall lights as these cast light upwards on the wall to set the right mood. Your guests can switch off the ceiling light, turn on the wall lights, and unwind with a relaxing bath or shower.
The Perfect Mirror
LED mirrored cabinets are perfect for a guest bathroom. This all-in-one solution combines LED lighting, a mirror and storage for your guests' essentials, so they prevent clutter and conserve space in a small bathroom. They are also ideal if you don't have the budget for separate storage and lighting.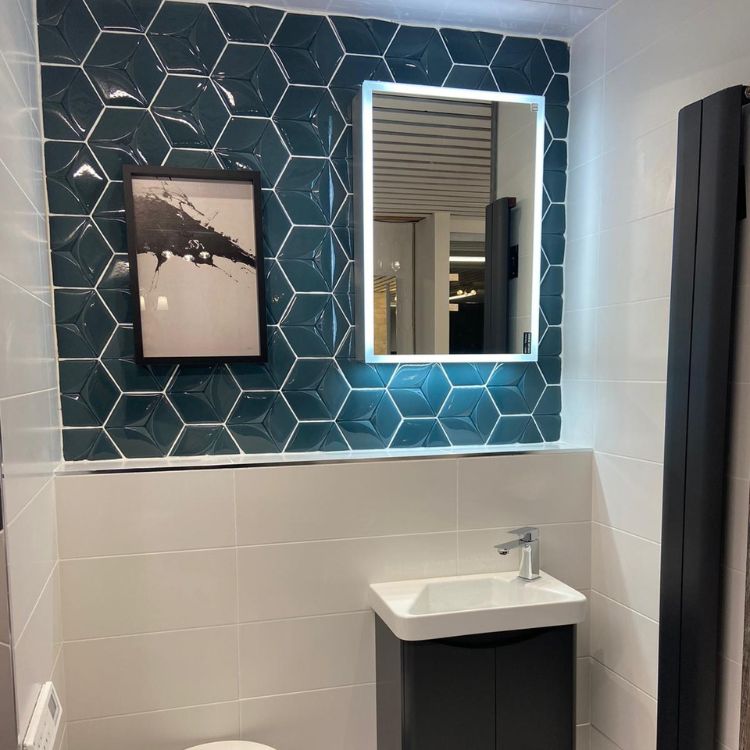 If you're feeling fancy, choose a cabinet with a shaver socket so guests can enjoy a little hotel convenience!
Add a Heated Towel Rail
Want to add a touch of hotel luxury to your guest bathroom? Invest in a heated towel rail! This will keep your guest towels toasty warm while keeping the room at a comfortable temperature. Heated towel radiators usually take up less space than standard radiators as they can be put up higher on the wall – perfect for a small bathroom. Our heated towel rails come in many designs, sizes, and heat outputs, so choose one that best suits the style and size of your guest bathroom.
Change Your Taps
Are the taps in your guest bathroom a little worn or not working as they should? Although a small detail, the right taps will enhance the look of your bathroom and increase its functionality. If you don't have the budget or the time to do a complete revamp, simply swapping out your taps can completely transform the space!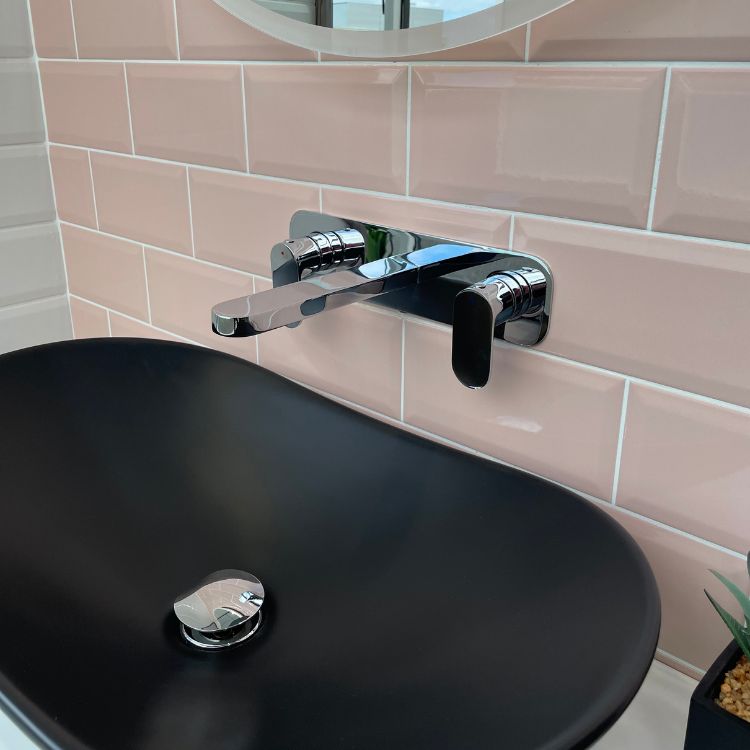 Our taps come in a wide range of designs to suit modern and traditional bathrooms. Finishes include gold, black, chrome, or brushed brass, so choose one that best enhances your existing décor. To shop the range, click here.
Accessorise!
Transforming your guest bathroom could be as simple as adding some accessories for a fully functioning space. Bathroom accessories also double up as stylish design elements to enhance your décor.
Help keep your bathroom clutter-free, germ-free and stylish with a soap dish or dispenser.
Add a towel ring, hooks, or bars to keep your towels neatly stored in an easy-to-reach location. A robe hook will do the same for a dressing gown.
Keep the shower neat and tidy with a shower basket.
Don't forget your toilet brush!
Add some fluffy towels and a scented candle to make the place feel cosy and more welcoming.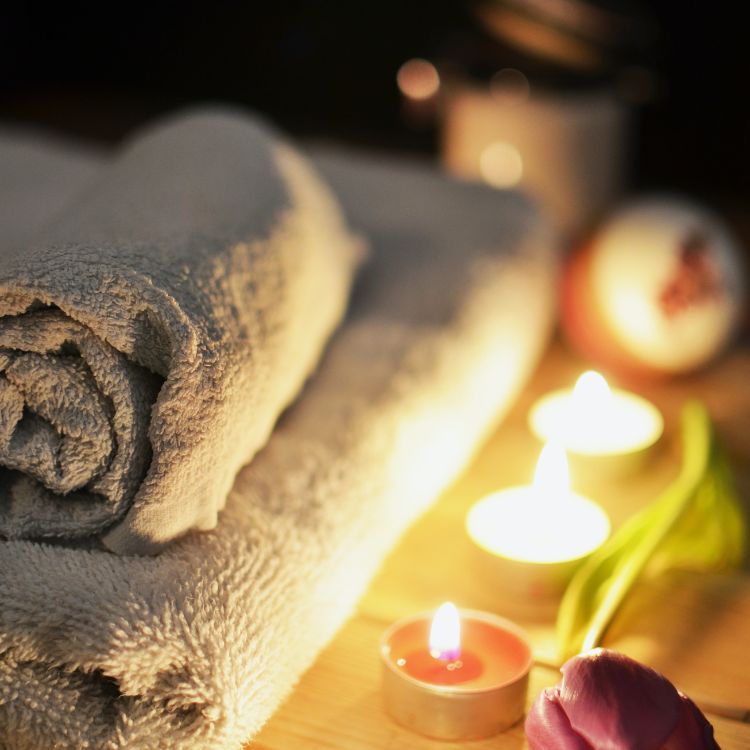 All our accessories come in a wide range of styles and finishes, so you can easily find the right product for your bathroom design.
Whether you have a budget big or small, there are many things you can do to update your guest bathroom. Even adding just a few accessories will make all the difference in creating a welcoming atmosphere for your visitors. To create the guest bathroom of your dreams, shop our full product ranges online or visit your nearest showroom. For showroom locations, click here.