8 Christmas Gift Ideas for Bathrooms

Stuck for Christmas gift ideas? Whether you're buying for family, friends, or a partner, a gift for the bathroom might be just what you're looking for. We've put together a list of 8 bathroom-related presents to help you, from high-tech gadgets to bath accessories. No matter your budget, our guide is sure to inspire you!
Bath Caddy
A bath caddy is the perfect gift for someone who enjoys a long soak in the bath. Our multifunctional Viktor Benson Bath Caddy and Bath Board will create the ultimate bathing experience for a loved one. It allows them to light a candle, relax with their favourite book or tablet, and enjoy a cheeky glass of wine as they sink into a sea of bubbles.
This unique bath caddy is made of high-quality, 100% natural bamboo and features a waterproof wooden finish. It is also anti-slip and adjustable to fit all tubs. There is no assembly required - just extend the arms to fit the bathtub, and you're ready to go!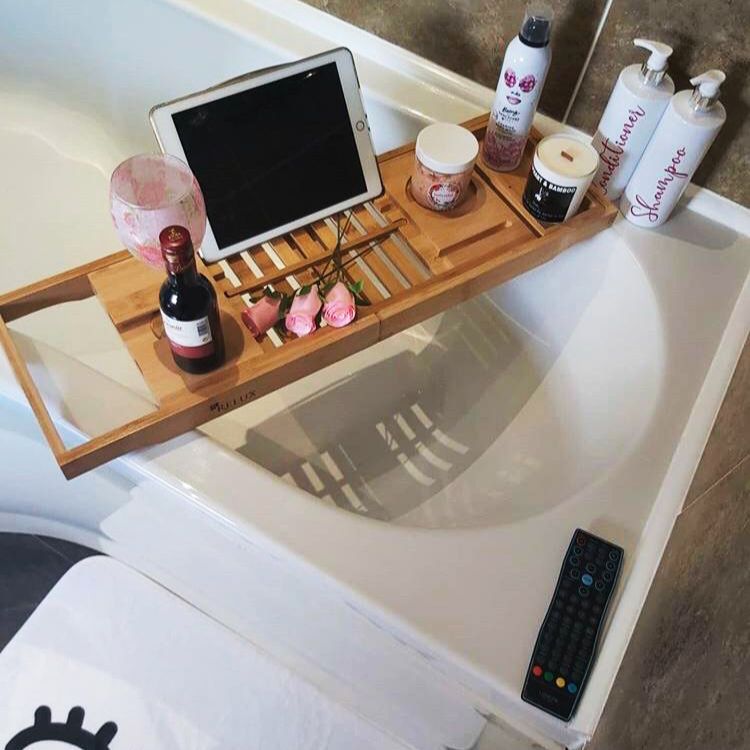 If the person you are buying for doesn't have a bath, why not get them a shower basket? It is the ideal gift for a student or young person who has just moved out of their family home. They'll never have to bend down to reach their shower gel again! Our Stainless Steel Over-Hook Three-Tier Basket is easily hooked over the shower door and has a slimline design to suit enclosures of any size.
Bathroom TV
Does your spouse love watching TV as much as much as they enjoy a bath? With the gift of a bathroom TV, they can enjoy both at once!
A bathroom TV is the height of high-tech luxury! Enjoy the benefits of built-in HD Freeview, a heated screen to prevent it from misting up, a built-in amplifier, and a remote control so you can change the channels or volume without sitting up in the bath. Our bathroom TVs are quick to install, so you can lie back and enjoy your new TV sooner rather than later – however, you should hire a professional electrician to fit it correctly and safely.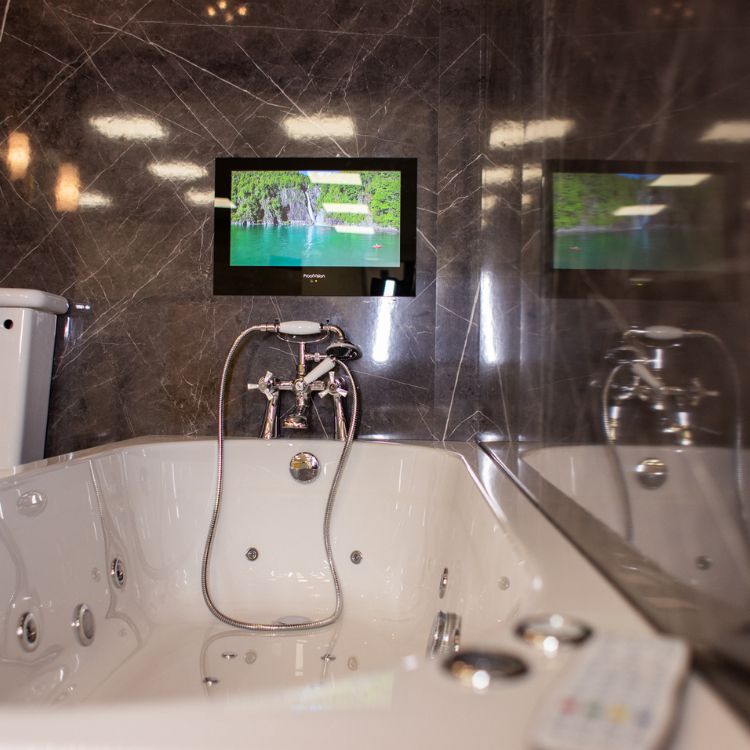 All our bathroom TVs have an ultra-thin profile and can be embedded into the wall. This creates a neat, streamlined look for a modern bathroom. They come in a range of finishes from white to black, so you can easily find a model that suits your bathroom décor – some even have a mirrored finish to provide two functions in one!
All our TVs have an IP Rating of 65, which means they are fully waterproof for the bathroom and have been rigorously tested to meet all safety standards. They also come with a Warranty for your peace of mind. To shop the range, click here.
Mirror
An elegant and stylish mirror could be a thoughtful Christmas gift for someone looking to up the style factor in their home. Our mirrors come in many shapes, sizes, and designs in traditional and modern styles. For example, a black framed mirror will look great in contemporary space, while a round hanging mirror or brushed brass frame will enhance a traditional design scheme. Alternatively, go for a frameless option for a minimalist look. Our mirror will look stunning in any room, not just the bathroom. They can add depth and texture to a bedroom, kitchen, or living room, just like a piece of art.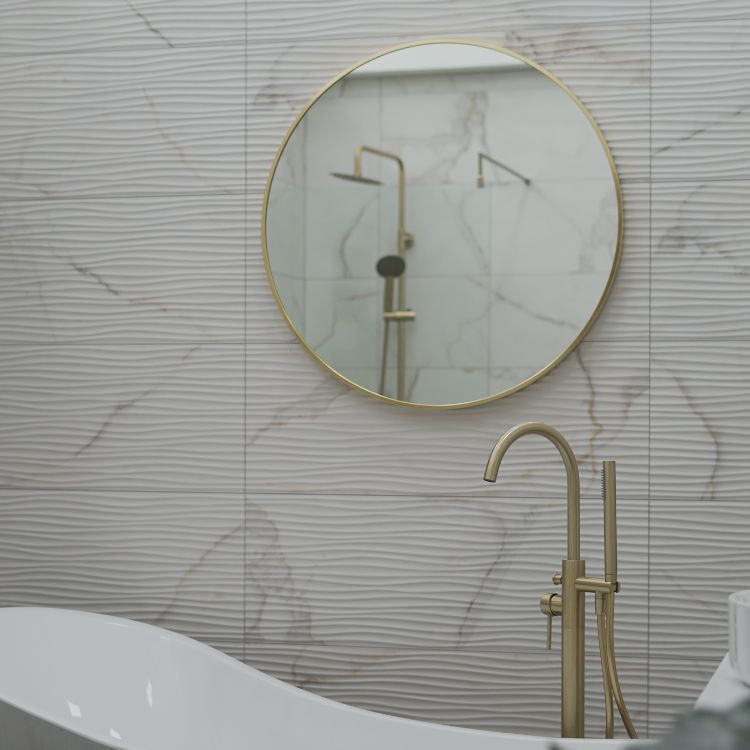 Our mirrors are both stylish and high quality. Each model is made from premium-grade materials, and all wood frames are constructed from engineered wood to withstand high moisture environments. To explore the full range, click here.
Soap Dish & Tumbler
A stylish soap dish and matching tumbler could be the ideal last-minute gift for someone who is difficult to buy for. Or if someone in your life just bought their first home or renovated their bathroom, they may be thankful for those little accessories that provide the finishing touches to their new bathroom!
Our soap dishes and tumblers are available in various styles and finishes, from frosted glass to brushed brass. To find the perfect set for your loved one, browse our selection of Bathroom Accessories.
Candles
A candle is one of the easiest Christmas presents to buy and is the perfect accompaniment to a relaxing bath. They can even be placed on a bath caddy to make time in the tub more calming, luxurious, and romantic.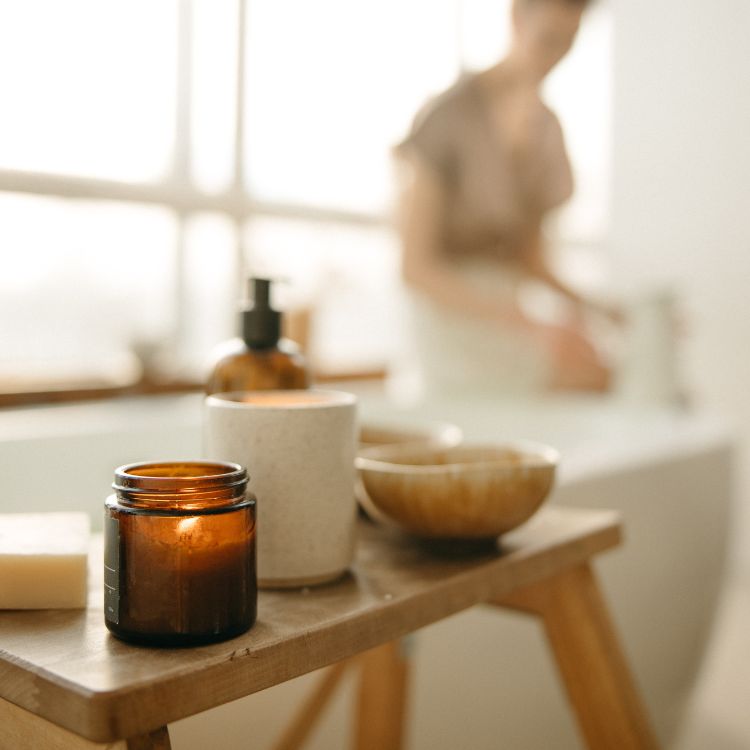 You could get your loved one a candle in their favourite scent if you know what they love, or get them a completely different one to try out. Choose a relaxing scent such as lavender or a warm, festive one like cinnamon or spiced citrus!
Towels
A set of matching fluffy towels makes any bathroom more luxurious and stylish. Either hung on a heated towel rail to keep them toasty warm or on a towel bar/ring, they will enhance any colour scheme and tie the room together! Towel sets may include a bathmat, hand towel, bath towel or face cloth, with many stores offering Christmas sets at this time of year.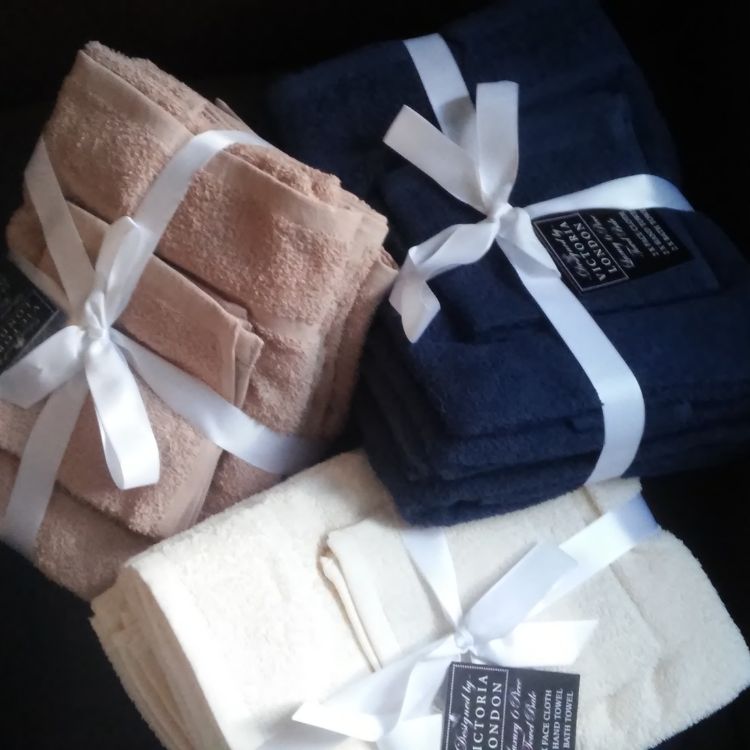 Bath Bombs
A colourful bath bomb is the perfect, budget-friendly stocking filler for any bath owner! Bath bombs come in a variety of fun shapes, colours, and scents, so you can choose one that best suits their personality. Instead of bath bombs, you could also get bubble bars, bath melts, or bath oils for a relaxing and enjoyable bath.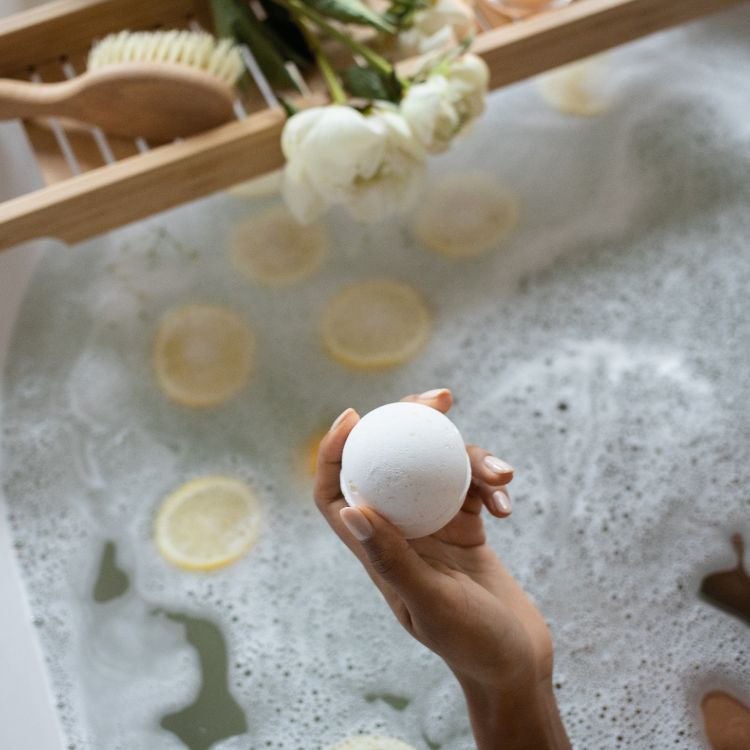 Toiletry Gift Set
A toiletry gift set is an affordable and foolproof present for anyone. It is also the perfect gift for those who seem to have 'everything.' Toiletry sets can include anything from bath wash and soap to moisturiser or shaving cream, ensuring they have all the accessories they need for their bathroom. We recommend purchasing a set that looks good on a countertop vanity or shelf.
A bathroom gift might be the perfect idea for friends and relatives that are difficult to buy for. Or, why not treat yourself to a gift this festive season? No matter who you are buying for, make sure you get it done in time for Christmas. Order your gift online today, or call into your nearest showroom. Happy shopping!