SKU: ARICC
Ari Rimless Close Coupled Fully Back to Wall Toilet & Soft Close Seat (20481) White Ceramic
Product Details
Close Coupled WC Pan, Cistern & Soft Close Seat
Fully Back to Wall WC Pan Design
Hygenic Rimless Pan Technology
Gloss White Finish
Push Button Flush Mechanism
High Quality Ceramic Construction
Product Information
Ari Rimless Close Coupled Fully Back to Wall Toilet & Soft Close Seat
Sleek, stylish and superbly modern.
This Rimless Close Coupled toilet boasts sleek lines, gentle curves and a glossy polished white finish that is sure to elevate your space with its stylishly modern edge. Although we don't tend to view a toilet beyond its basic function, it is a core aspect of any bathroom and is thus important to choose a toilet that can contribute in terms of style. This toilet won't just add a touch of style, it will elevate your space with its compact sleekness, compact design and glossy white finish. What's more, it features a robust ceramic construction in order to ensure excellent durability so that it will be able to sustain its brilliant shine and lustre for years to come.
The perfect space saving solution.
The compactness of this product contributes sleek aesthetics to your space, but also makes it a fantastic choice for bathrooms on the smaller side that wish to maximising on space. An incredibly space-efficient and innovative product, its overall minimalist look created by the rimless design is perfect for achieving a sleek, tidy look that is bang-on trend. What's more, the close coupled design means the WC pan and water cistern are 'closely coupled' together into the one streamlined unit that cleverly combines a toilet's essential parts. Moreover, unsightly pipe work is hidden within the toilet which creates an overall look of compactness. If your bathroom is on the smaller side, or if you're after that modern, minimalistic look, this toilet is perfect for you.
With features of added practicality too.
Aside from its space-saving design, this toilet has a few more features to makes for excellent levels of practicality. It features a soft close seat to eliminate any unwanted banging that might occur during those late night toilet trips. Its rimless design makes for much easier cleaning, as the absence of a rim means cleaning the inside of your toilet is just as easy as cleaning the outside. What's more, the specially designed distributor directs the water around the bowl to effectively clean all areas to result in a totally clean and efficient flush.
Signature Features
Close Coupled WC Pan, Cistern & Soft Close Seat
Fully Back to Wall WC Pan Design
Hygenic Rimless Pan Technology
Gloss White Finish
Push Button Flush Mechanism
High Quality Ceramic Construction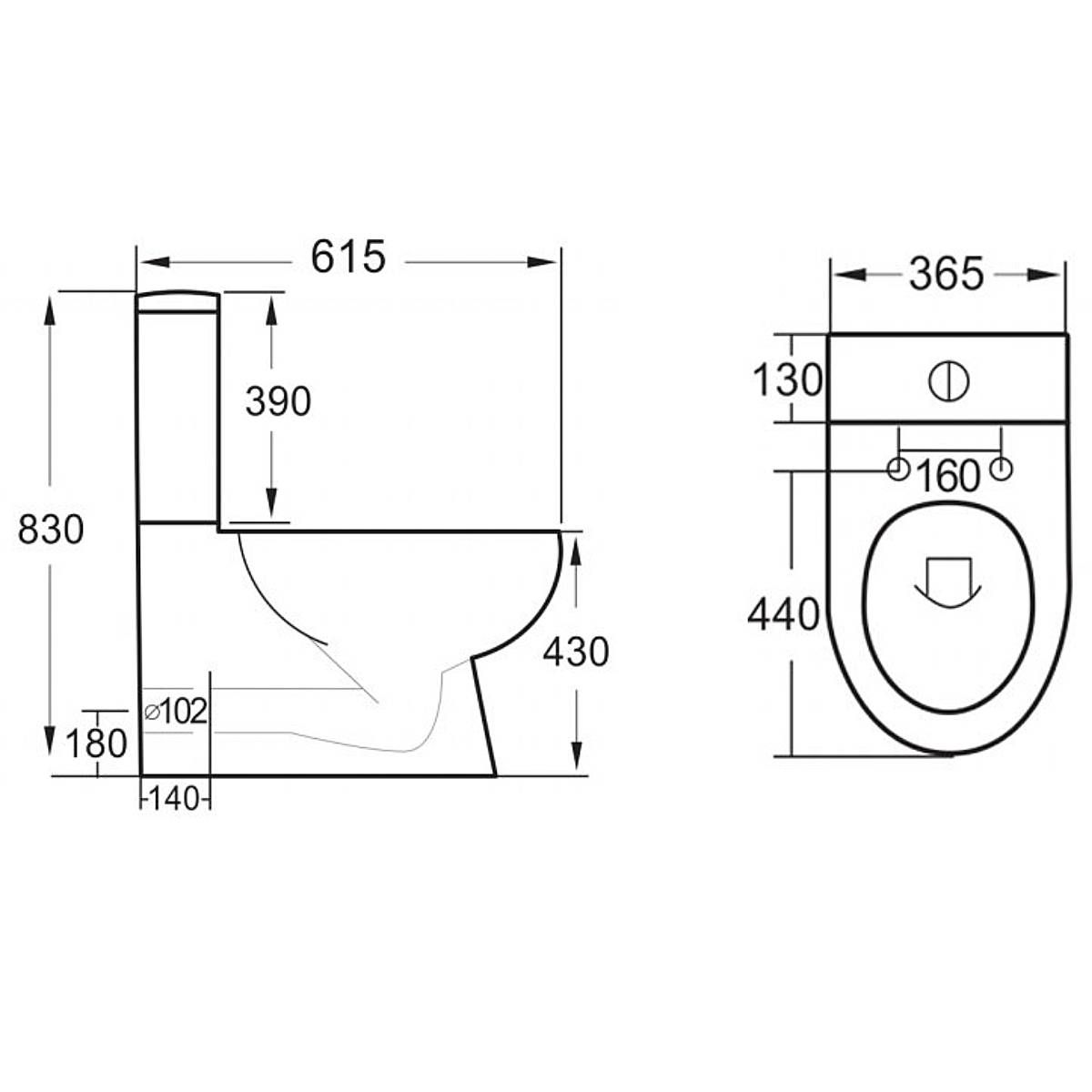 Frequently Asked Questions
What is this product made from?
This product is made from a robust ceramic construction and finished with a beautifully glossy white coat for a beautifully lustrous finish.
How is the durability of this product?
The high quality ceramic finish ensures an excellent level of durability meaning it will be able to maintain its shine and lustre for years to come.
What type of bathroom space is this toilet ideal for?
The compactness of the toilet makes it ideal for those looking to maximise on space and safe a bit of room. As such, it is the perfect toilet choice for bathrooms on the smaller side. In terms of aesthetics, this toilet would be perfect for elevating a bathroom with a modern edge. Although contemporary in its design, this product still features an overall beautiful simplicity and minimalistic look that would see it fitting in amongst a range of decors and styles.
What are the benefits of a close-coupled toilet design?
A close coupled toilet is designed so that it appears as the one single piece of ceramic, although it is composed of two parts. This creates the overall look of compactness that smaller bathrooms greatly benefit from. It is characterised by a minimalist design, which is perfect for achieving a much sought-after sleek and compact look.
Why does this toilet include a soft-close seat?
A soft-close seat means that the lid will close slowly, this makes it perfect for use in a family environment as you don't have to worry about little fingers being caught underneath. It also means that loud banging is eliminated, whilst also reducing wear caused by heavy shutting.
How is the cleaning of a rimless toilet?
A rimless toilet makes for much easier cleaner and thus great levels of hygiene. With a traditional toilet bowl, the cleaning of the outside is relatively simple, but when you must get inside the bowl for a deep cleaning, it becomes much more difficult. With a rimless toilet, there is, of course, no rim, and so cleaning the inside of the toilet is just as easy as cleaning the outside. You are able to see every portion of the toilet, and as such, there is nowhere for germs to hide, thus making maintaining excellent levels of hygiene much easier.
How is the maintenance of this product?
The excellent durability on this product means it is largely able to maintain itself –just easily wipe over on the gloss white surface in order to keep your toilet sparkling clean.
Delivery Information
Service

Small Deliveries

Large Deliveries

Mainland UK - Standard Delivery

1-2 days from dispatched

£10.99

£29.99

Northern Ireland - Standard Delivery

Next working day from shipping

£10.99

£29.99
Please note products we do not hold in stock will take longer to be delivered. Please contact us for more accurate delivery times if you need your order urgently.

We found other products you might like!