Shower ideas for small bathrooms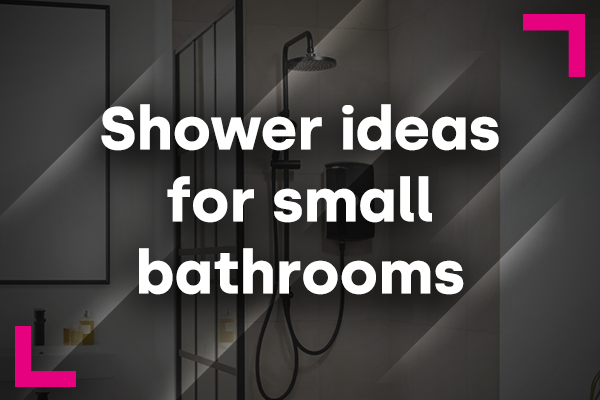 If you have a small bathroom and want to include a shower but aren't quite sure if you have enough space then the good news is that, regardless of room size, there are various options for showers in small spaces. While the go-to option is often to install a shower-bath, it's often possible to still have a separate shower area, if you think creatively.
We've shared some ideas below on how you can incorporate a shower into a small bathroom and make the most of what space you have.
Quadrant showers
Most small bathrooms will probably be able to fit in some sort of corner or quadrant shower, which uses the two straight edges of the walls as the back of the shower and then has a curved or cornered front. These showers are great for saving space and will fit into the corner of the room, out of the way. Installing a glass door or screen will also help to create the illusion of more space.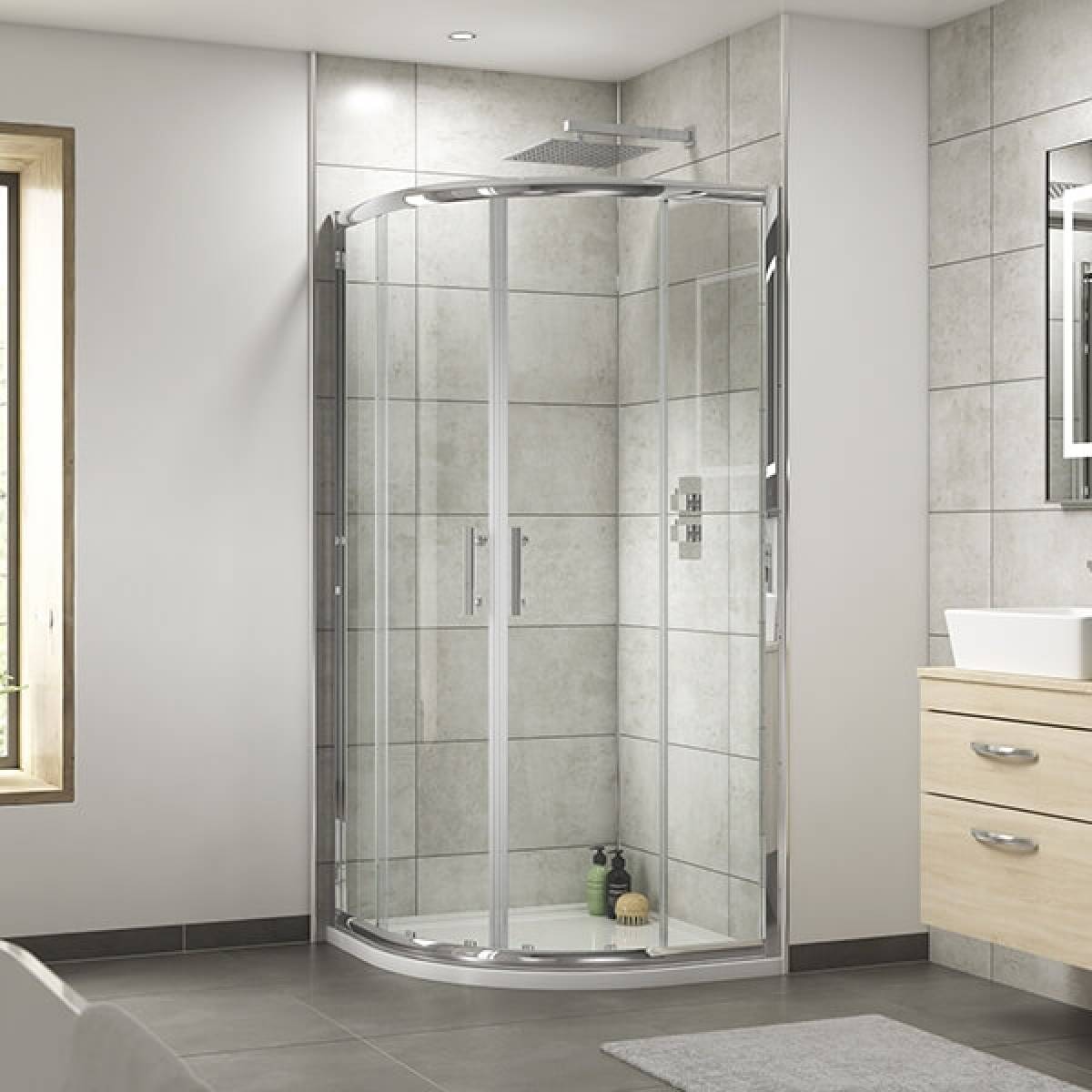 A quadrant shower like the Nuie Pacific is a great option if you have a smaller bathroom.
Other quadrant door options include frameless, sliding and hinged – all of which have their own design benefits, depending on what you're looking for. Quadrant showers are also great if your small bathroom has a sloped ceiling or is awkwardly shaped.
An offset quadrant shower, meanwhile, is similar in design but is set flush against the wall and is longer to give more room inside – which may or may not be an option if you have a very small bathroom space.
Walk-in showers and wet room areas
Even if you have a smaller bathroom, you can still install a wet room area – in fact, removing the shower enclosure and door can actually open up the space even more and make your bathroom appear bigger. It will help to maximise the space and you could either turn the entire room into a wet room or have a separate area for this.
The Kiimat Aqua Wet Room Panel in Brushed Brass is an example of how you can open up your small bathroom with a glass wet room panel to give the impression of more space. The overall look is one of elegance, while the lack of frame means the sightline is kept clear, giving a more cohesive look and allowing light to flow across the room. The brushed brass support arm of the glass panel also adds warmth and texture, along with a contemporary edge.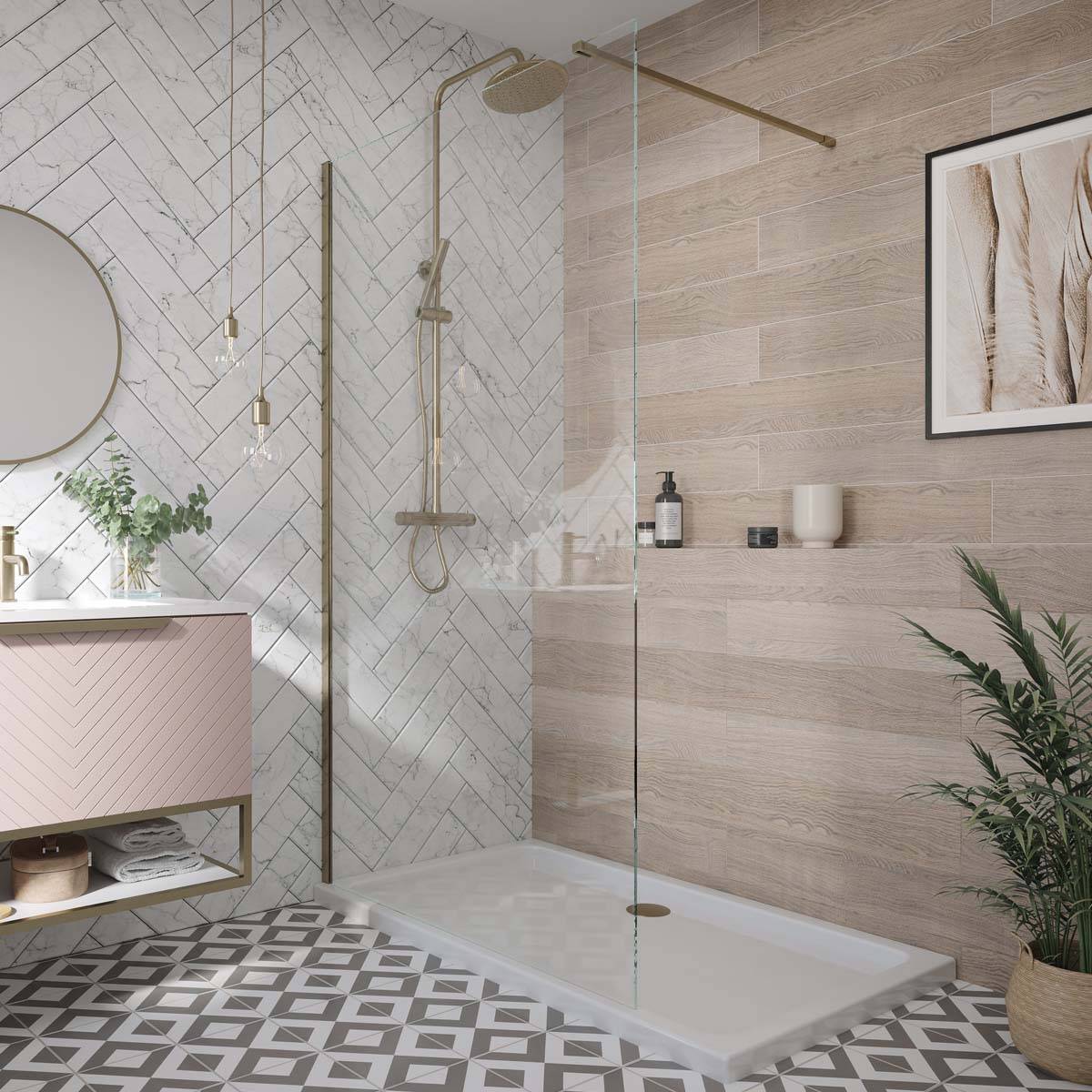 The Kiimat Aqua Wet Room Panel in Brushed Brass.
A walk-in shower is another option as the lack of enclosure will create a more seamless look, the view unencumbered by the frame of a shower screen. It, again, helps to open up the space and allows light to fill the room, particularly if you opt for a single fixed glass panel and forgo a door.
Choose natural colours
Choosing natural colours for a smaller bathroom will also help to create light and make the room appear bigger, while mixing in different styles and textures will make sure it doesn't come across as too clinical. Incorporating warming tones like brushed brass – either through the tiles or in taps, handles or other accessories – can also help with this effect.
More neutral colours also induce a natural vibe, making the environment feel calm and relaxing, so if you use this colour scheme within or around your shower, then it will give more of a sense of space.
Using large format tiles in your shower will also help to make it appear bigger, as the fewer grout lines that come with larger tiles creates that flowing aesthetic.
Shower baths
Of course, the other option is to go for a shower bath, which is a popular choice for many people with small bathrooms, as it combines the shower and bath in one, saving space. If you decide on a shower bath then you could subsequently make it into the feature of the room, using bolder tiles around the bath to create contrast and visual appeal.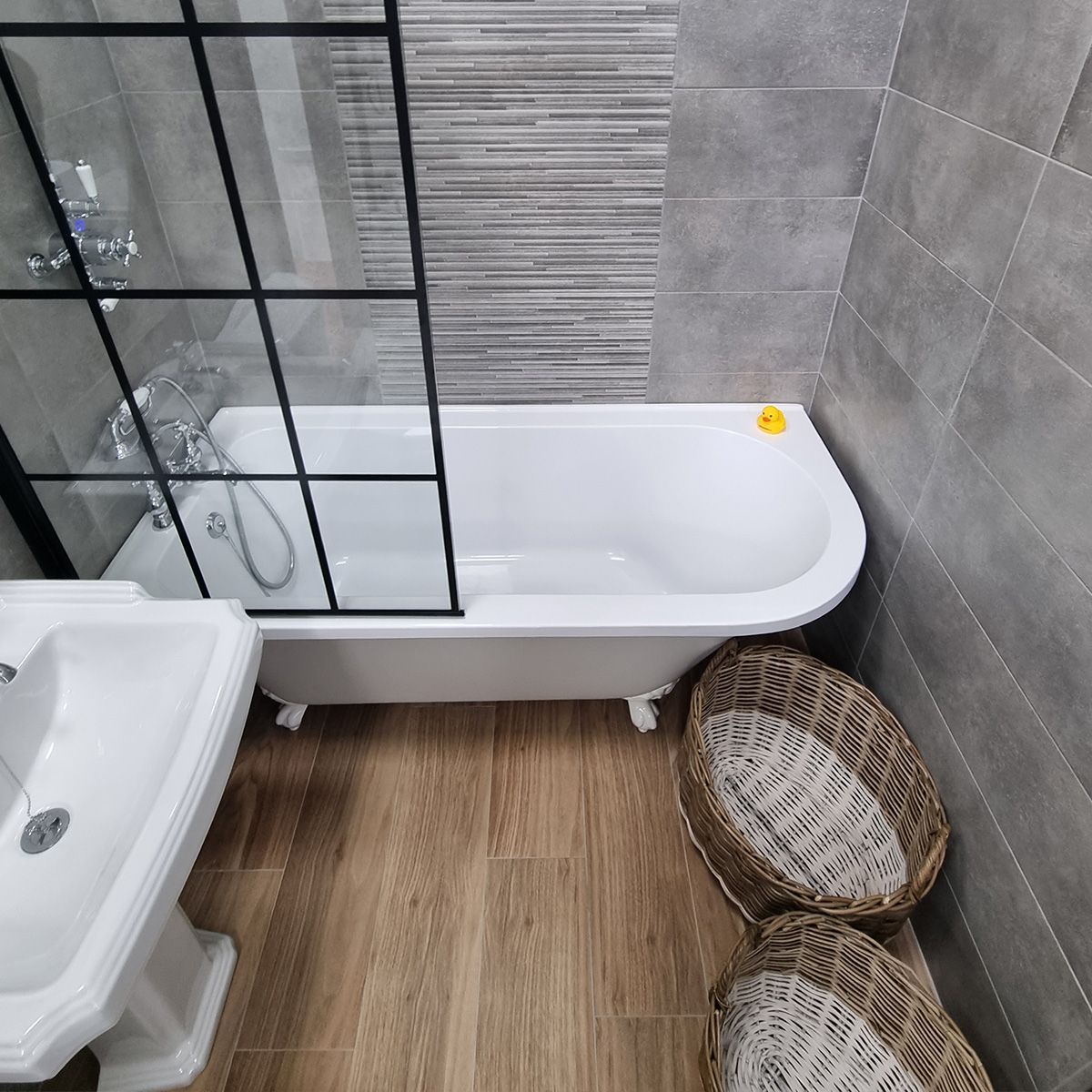 The Balmoral Freestanding Left-hand Shower Bath with Claw & Ball Feet, with the Nuie Square Framed Bath Screen.
As an example, the Balmoral Freestanding Left-hand Shower Bath with Claw and Ball White Feet in French Grey Acrylic is paired in the picture above with the Nuie Square Framed Bath Screen in Black. The black framed look of the shower screen contrasts with the bath while also adding interest and texture with the square framed design.
If you have a small bathroom, there are therefore lots of ways in which you can create a desirable shower area, regardless of the amount of space you have available. Whether you want to try the wet room look, walk-in shower or go for the more traditional corner shower or shower bath style, there's something to suit everyone.
We have a wide range of showers, baths and shower screens, along with various accessories at Bathshack, so whatever you need to create your ideal shower, we're here to help.
If you'd like some help with creating a small shower space, why not visit your local Bathshack showroom and have a chat with one of our team. Alternatively, email us at info@bathshack.com or call (028) 9077 0188.