Manager's Specials: Showroom Manager Cork
If you're planning a visit to our Cork showroom, then don't forget to check out our Manager's Specials – two top products specially selected by the showroom manager as being particularly worthy of your attention ...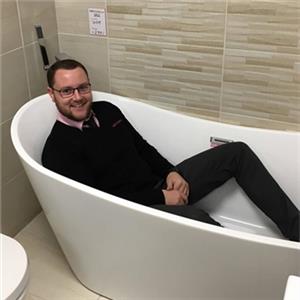 Gavin Carey, Cork showroom manager.
With a sleek modern design, the Eliseo Ricci Exclusiv Round Rigid Riser Shower in Chrome is Gavin's top choice of bathroom products and, now just £249 – down from £425 – it's a great-value item which will give you a high-end look for less.
"Our Exclusiv rain shower kit in chrome is one of our premium rain head showers," says Gavin. "It features a stainless-steel rain head which is adjustable in height, with 300mm of allowance up and down.
"The controls on the valve have a lovely diamond design texture which gives added grip for wet hands when switching between the side hose and rain head and adjusting the temperature up and down.
"The handheld side hose is also constructed from stainless steel, meaning this entire shower is designed for heavy use and should stand the test of time in a busy home. It's current price point of €309/£249 makes this premium product very affordable, so you're getting a high-end product at mid-range pricing."
With two handle options – the diamond crosshatch design and smoother alternative – this is a versatile shower which will subsequently bring practicality and style to your bathroom.
Recommended tile product
Moving onto tiles and Gavin's chosen Lancelot range has a natural aesthetic which evokes the organic look and feel of the outdoors with its neutral colour palette and ridged surface. This gives it both texture and visual appeal, while also creating a calming vibe which will make your space feel very relaxing.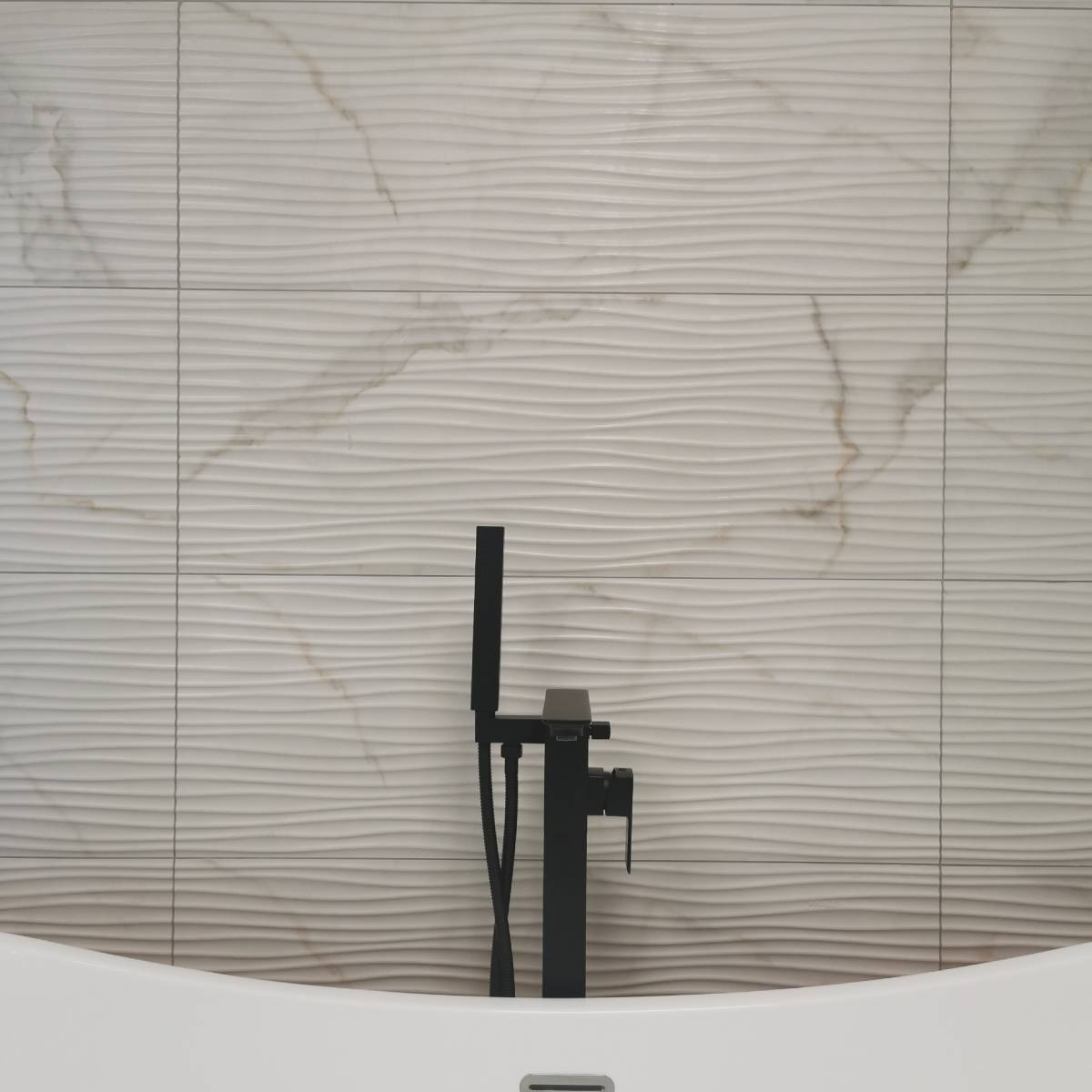 The Lancelot Gold Rectified Décor Matt Tile.
"Our Lancelot range of tiles consists of a Porcelain 60 X 60 Floor Tile (also suitable for walls), a 33.3 X 90 White Body Plain Wall Tile, and a 33.3 X 90 White Body Matching Décor Wall Tile," says Gavin.
"These stunning tiles have a mix of grey and gold veining running through them, meaning they are an incredibly versatile tile and would suit almost any bathroom setting.
"As a customer, you have total freedom to tie in, not only chrome, but black or brushed brass features in the room. You also have free range to pick from our many colour options in vanity units – these tiles will complement every colour available!"
With a choice of different finishes and shapes available, the Lancelot range offers the opportunity to mix and match styles, or to simply choose your favourite and incorporate it into an interior with contrasting or complementary tones.
Perfect if you want to add elegance and style to your interior for a great value price, this tile will elevate any space and is an inspired choice all-round.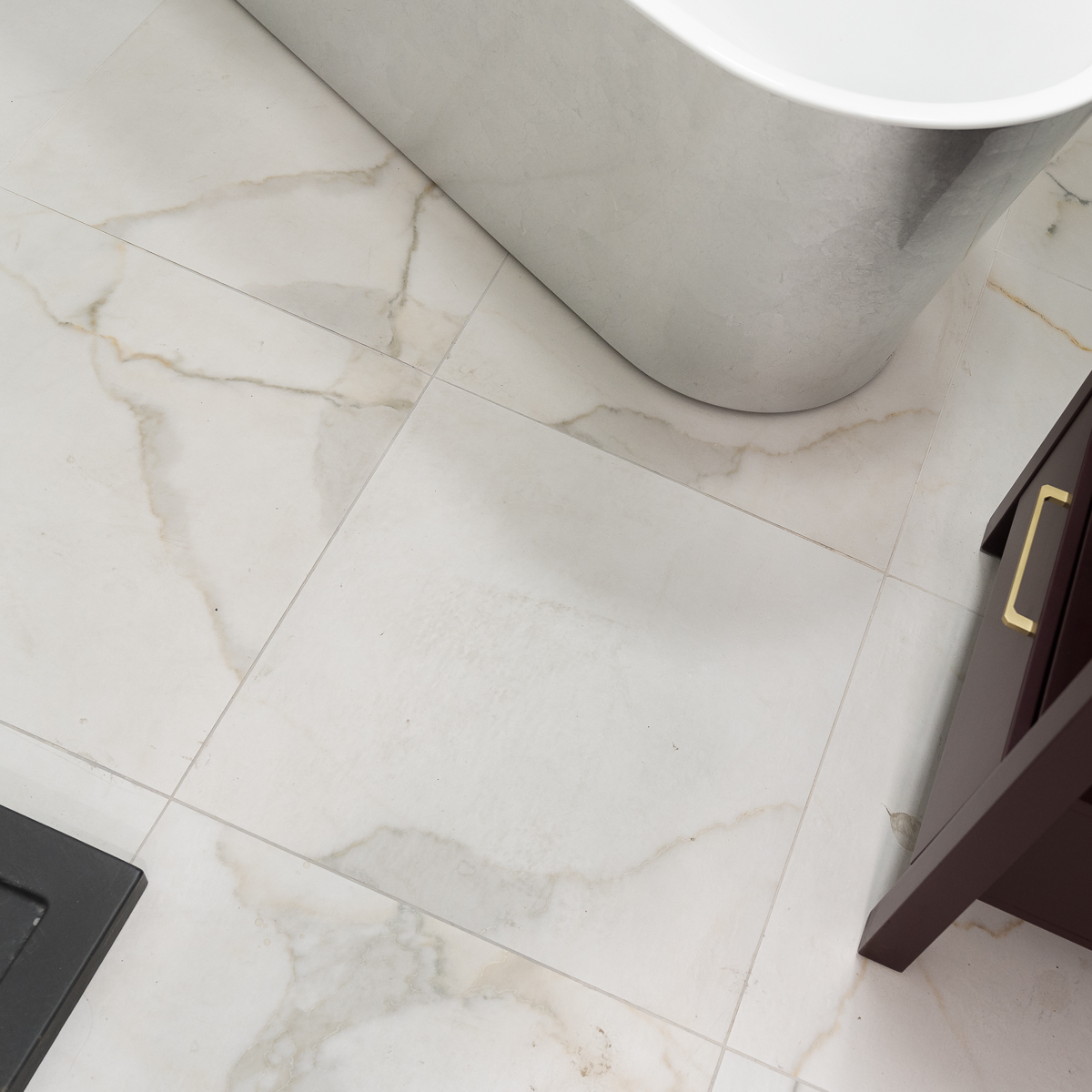 The Lancelot Gold Rectified Matt Porcelain Tile.
If you'd like to find out more about our Managers' Specials, then why not visit our Cork showroom for a firsthand look? Our team is also available at info@bathshack.com or you can give us a call on (028) 9077 0188 if you'd like information about any of our tiles and bathroom products.